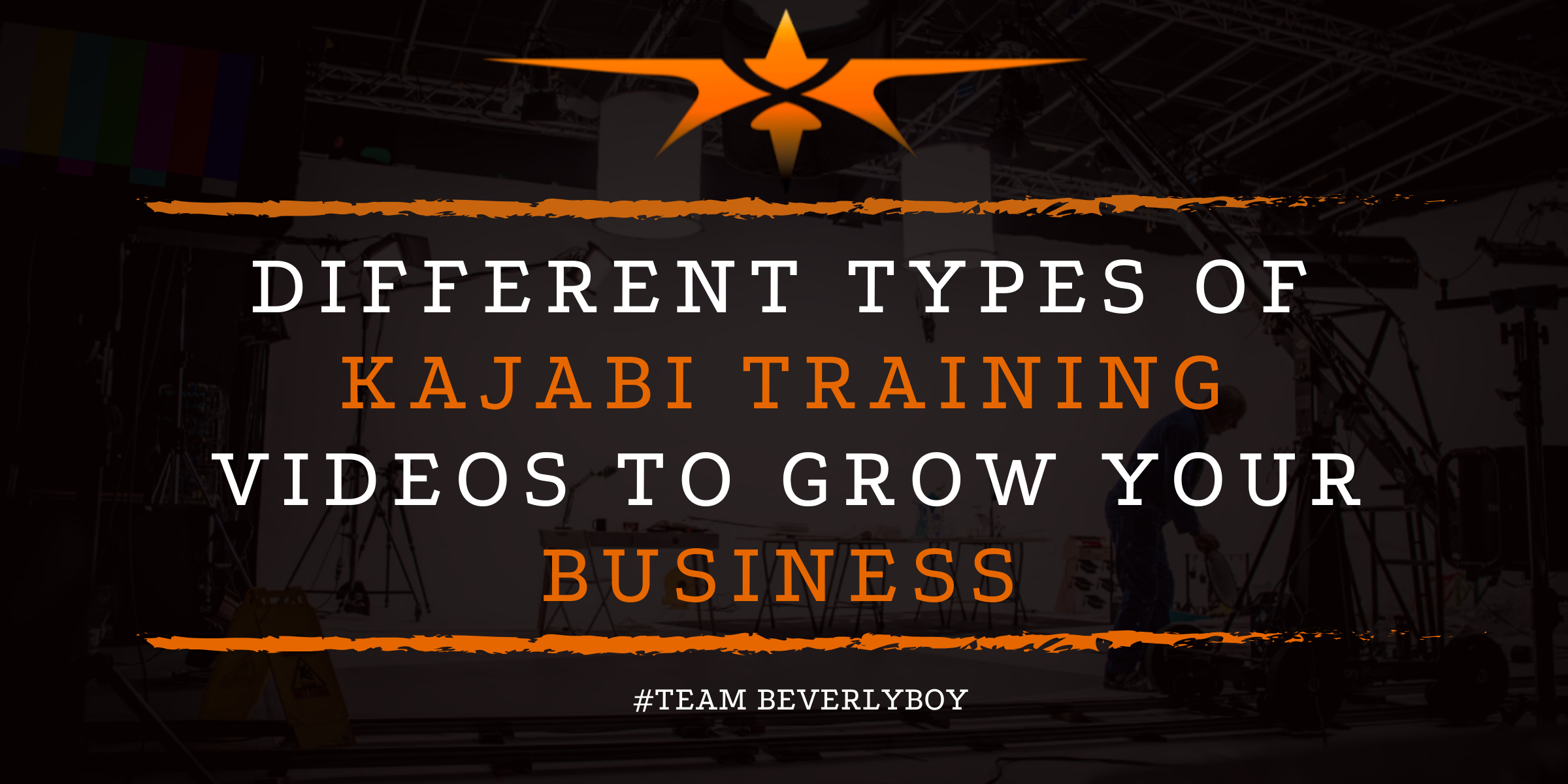 Different Types of Kajabi Training Videos to Grow Your Business
If you're looking for ways to grow your business, you might want to try one of these many different types of Kajabi training videos to get started. From tutorials to listicles, online learning has never been so fun, and with amazing ROI and super conversion rates, there's no better way to increase revenue for your business than with an online course!
Why Produce an Online Training Course on Kajabi?
Never heard of Kajabi? Or just not sure why you should produce an online course that you can sell access to? Kajabi is an online, educational course platform that allows virtually anyone to teach and train students with customizable online course content on virtually any topic. Kajabi basically makes turning a passion or special skill set into a potentially profitable online course that your audience will love!
Ease of use isn't the only major attraction drawing educators and course creators to Kajabi, though! The e-learning industry is rapidly growing and gaining popularity. It's expect to reach a global $240B by 2022 and continued growth is projected to drive this industry to $375B by 2026! Many average people are able to make professional style teaching and training videos that they can use as part of a comprehensive online training course on Kajabi or other platforms to gain direct, or passive, income.
If producing Kajabi training videos that you can use to grow your business and generate revenue for your brand sounds like something you want to do, consider any of these different types of Kajabi training videos to get started!
Emotionally Connecting Training Videos
Making sure that you are emotionally targeting your ideal market with your training video content is important to the success of your kajabi training. You have many opportunities to connect with your audience depending on the content that you create for your training videos. Making an emotional connection that draws on the strengths, joy, fear, love, or various other emotional elements relative to your audience with your training video is a great way to drive home a real connection.
Educational or Instructional Videos
Most training videos are considered educational or instructional in style, but consider your use of carefully crafted step-by-step training and how this can build trust and authority among your audience. These types of kajabi training videos, that heavily focus on showing off your expertise and the value that you can provide work way better than any sales video ever could in establishing trust, boosting audience engagement, and developing a lasting relationship between your business and your target consumer.
Behind-the-Scenes Training Videos
What's it like working at your business? What can a new employee learn about the brand by coming behind-the-scenes? These types of Kajabi training videos are important to use in new employee onboarding. They're also great for use in helping prospective customers or clients to see the value in your brand early on, particularly as your brand connects with your audience's interests.
Consider the use of these types of training videos to show off your core values and the similarities that your business might have when thinking of how you can make a long lasting impression on your target audience.
Product or Service Demonstration Videos
Teaching or training your audience on the best ways to get the most out of the products or services you offer for sale can help you to grow your business or brand. Kajabi training videos that focus specifically on providing product or service demos that your audience can use to maximize their understanding of your offer is key! These types of Kajabi training videos can include a variety of different details and data, largely based on the products or services that you offer for sale.
Instructional Product Videos
The creation of instructional product videos to accompany the products that you offer for sale is a great use of Kajabi training videos. These videos can replace the standard product manual providing new product owners with access to insight into the details of the product, how to use it, what it does, and even how to troubleshoot any potential problems that a new customer might have when setting up a product or otherwise first putting a new product to use.
FAQ Style Videos
Do customers frequently have a lot of questions about various aspects of your business, your products, or your services? One of the best types of Kajabi training videos that you can create in this instance is FAQ style videos that seek to answer the common questions that your audience tends to have. These types of videos save time for your customer service team so that they don't have to keep repeating answers to the same questions, and they can improve customer trust providing them ease of access to answers to their questions without requiring them to call customer service.
As you can see, Kajabi training videos can really take a wide variety of potential directions depending on your business and the unique needs of your brand. The public learning platform, Kajabi, is open to a wide variety of different educational video types and training programs depending on the unique needs of the content creators that are most interested in utilizing the platform. Want help creating Kajabi training videos that you can use to teach or train an audience of your choice? Give Beverly Boy Productions a call!