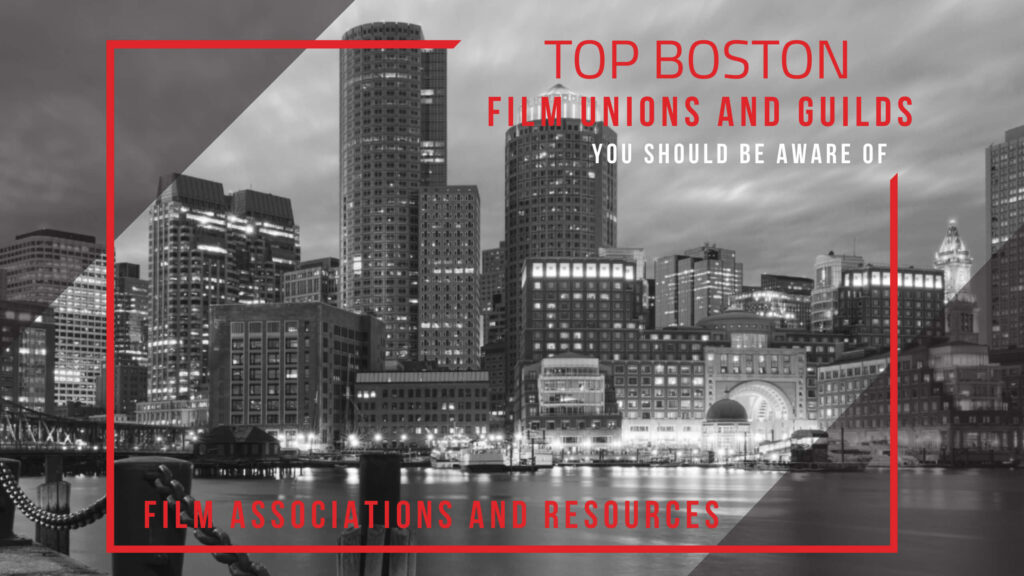 Top Must Know Boston Film Unions and Guilds
Boston, Massachusetts, may have the richest film industry in the northeast with ample Boston film unions and guilds throughout the area to provide assistance to professionals in the Boston video production industry. If you're looking for entertainment trade associations in Boston, check out this list that we've compiled for you. We'll help you understand the importance of getting help to protect your artistic and legal rights. Each of the organizations below provides membership opportunities that offer protection for Boston filmmakers as well as support in the journey toward meaningful contribution to the local film industry. Each of the Boston film and TV associations listed below are in no particular order. Feel free to check them out and decide which provides the best assistance for you or your next project.
Boston Unions and Guilds
Phone Number:
781-376-0074
Address:
10 Tower Office Park Suite 218
Woburn, MA 01801
The International Alliance of Theatrical Stage Employees of New England, Chapter 481, is the local IATSE for filmmakers in Boston and surrounding areas seeking support from Boston unions and guilds. This chapter has represented technicians and artists in the area since 1989 and continues to thrive in New England, offering various means of support to Boston filmmakers. For those consider Boston film unions and guilds as a means of education, benefits, and assistance, visit the IATSE Local 481 chapter website.
Phone Number:
323-876-0160
The International Cinematographers Guild is a group of talented camera professionals and technicians that create visual images for the big screen, commercials, and TV. This program offers support to members, including economic stability, educational assistance and workshops, contract agreements, and more. The unity that comes from the Local 600 Cinematographers Guild is recognized in all that this program provides.
Phone Number:
212 977-9655
Email:
The IATSE Local 161 Chapter is part of the International Alliance of Theatrical Stage Employees and Moving Picture Technicians. Like many of the unions, this offers several member benefits, including production assistance, coordinators, and various forms of resources for all phases of filmmaking, including commercial screening and television series creation. The Local 161 has jurisdictions in 23 states, including Massachusetts.
Entertainment trade associations in Boston
Phone Number:
617-973-8400
Address:
136 Blackstone Street, 5th Floor
Boston, MA 02109
The Massachusetts Film Office provides several benefits like most of the entertainment trade associations in Boston. Members enjoy various incentives for production and can find a wealth of resources related to production, such as state agencies, weather overviews for production planning, and several links to local Boston film unions and guilds for assistance. Visit the Massachusetts Film Office for additional details.
Boston film & TV organizations
Phone Number:
617-444-9408
Email:
The Massachusetts Production Coalition is a worldwide film production and media creation organization that helps talented film professionals from Massachusetts connect with members of various Boston film and TV organizations through networking events, educational programs, and other opportunities. Members of the Massachusetts Production Coalition enjoy access to creative agencies that include engaging production support programs for a thriving future in the industry. For more information, check the website for local events and services.
Phone Number:
617-871-9667
Address:
Women In Film & Video, New England
P.O. Box 118
East Boston, MA 02128
Women in Film and Video New England is a local production support agency that provides proactive assistance to women in the film and video media industries. Offering educational forums as well as networking events and extensive resources, WIFVNE includes 44 Women in Film Chapters nationwide and consists of more than 13K members.
Boston Film associations and resources
Email:
Address:
NewEnglandFilm.com
PO Box 2792
Providence, RI 02906
New England Film is one of several Boston film associations and resources available to support media production in Massachusetts. Look to New England Film for details on tax credits that are available in New England as well as for details on recent events and upcoming educational opportunities and networking programs that allow you to set your best foot forward in the industry. For more information about New England Film, which was founded in 1997, visit their website.
Phone Number:
617-792-6155
Address:
The Color of Film Collaborative
P.O. Box. 990976.
Boston, MA 02199
The Color of Film Collaborative is one of several Boston film unions and guilds that can be found offering organizational support that fosters creativity in the production industry. Featuring a diverse group of people, The Color of Film Collaborative fosters organizations that create productions that include artists of color. The Color of Film Collaborative is an organization that supports positive images of people of color and aims to create diverse opportunities for those involved. Additional details on TCOF contributions, events, and filmmaker resources can be found on the website.