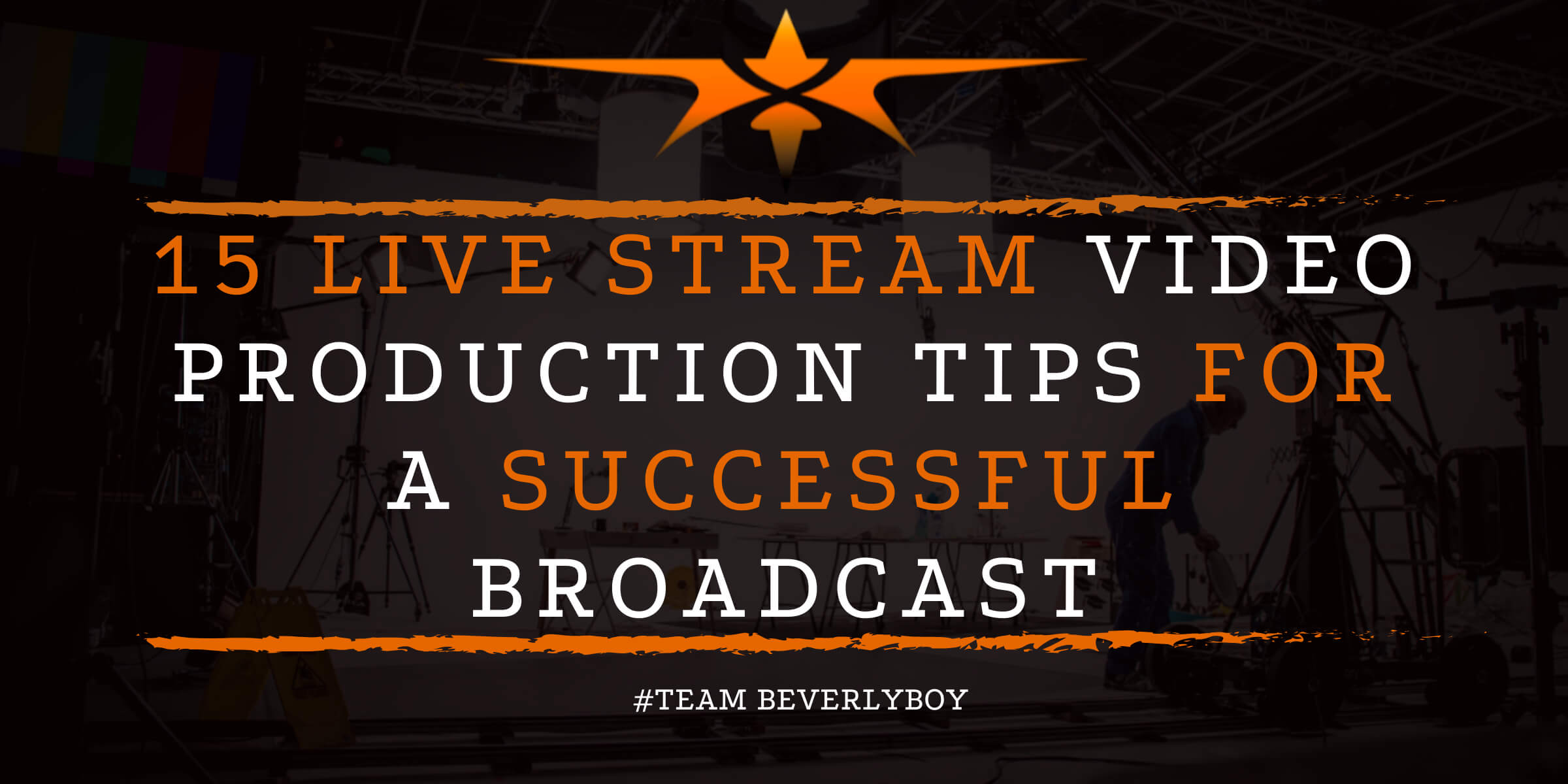 15 Live Stream Video Production Tips for a Successful Broadcast
When it comes to broadcasting live, there are no do-overs and you can't go back! That's why we recommend you follow these live stream video production tips to help you achieve success with your live broadcasting. Whether you're looking to share a special event, a live meeting or conference, or something entirely different, live stream video production requires some quick thinking and certain critical behaviors in order to successfully deliver your content to the desired audience.
While you can't be sure that everything about a live streamed event or broadcast will go without a hitch, there are several steps you can take to reduce the likelihood of potential setbacks or negative outcomes during the critical points of your live stream. Follow these top live stream video production tips from Beverly Boy Productions for a successful broadcast.
Backups are Everything! Always have at least 1!
There's an old saying on set, particularly when broadcasting, that if you have two, you have one and if you have one, you have none. This is in reference to backups of your equipment, gear, and important items such as cameras, cords, cables, connectors and anything else like batteries and other needs that could break, die, or otherwise fail requiring replacement during a shoot. Backups are incredibly important, especially when broadcasting live.
Newer isn't Always Better!
When it comes to equipment, sometimes getting new equipment isn't always a better option. Checking your equipment specification and needs before you purchase new equipment, and especially in advance of your live stream, is key. Not all "New" equipment is definitely ideal for live streaming.
Charged Devices Are Always Important.
If you're not charging your devices ahead of time, you're taking a huge risk during your live stream. Devices should be charged and ready ahead of your stream.
Internet Speedtest is Your Friend!
You can't live stream without strong internet connection. Check your connection and speed at speedtest.net before going live and make sure you've got consistent uptime. One of the greatest live stream video production tips we can provide is to have a backup internet plan just in case!
Always Run a Test.
Before live streaming you must run a test! If you're not preparing to test your equipment in advance of your live stream, you're taking a huge risk. Test everything before going live including your camera setup, the mechanics of your equipment, and any hardware or software tools that you'll be using.
Lighting is Vital.
Particularly when filming in new locations, you might not realize what the lighting is like, but it's very important to check your lighting to ensure quality. Proper lighting of your set or filming area is very important to the outcome of your broadcast.
Prepare Early & Provide Time for Hiccups.
When it comes to providing live stream video production tips that you can actually use, consider the importance of preparing early and providing adequate time for any potential hiccups, hurdles, or challenges that you might face. You don't want to find out during your livestream that you overlooked something important because you were rushing.
Pay Attention to Sound Capture.
If you're operating next to a microphone, pay close attention to the capturing of sound. A microphone that can hear the sounds of the room can also hear you talk! Make sure that you're not speaking during your stream and that you're not airing your laundry by having personal conversations near a microphone during a live stream.
Better Equipment Can Often Lead to Better Streams.
While newer isn't always better, it can be and more importantly, there are times when better equipment can result in better streams. Providing your camera operator with a monitor can improve your stream as can providing them with better camera equipment. If you can provide better equipment, do it!
Multi-Camera Live Streams are More Engaging.
If you really want to provide your audience with an engaging opportunity, you're going to have to provide them with a multi-camera live stream broadcast. The use of more than one camera when producing your broadcast improves audience engagement by providing multiple viewpoints, offering the potential for capturing mixed action and close-ups too.
Make Checklists for Everything Important.
Checklists are vital. You should have checklists for setting up your livestream, checklists for rehearsing the live stream and checklists for the show itself. With so many things occurring so quickly, checklists will help you to keep things on track and prevent overlooking anything important along the way.
Rehearsing the Entire Stream Ahead of Time is Ideal.
Certainly this cannot always happen, but if you can manage to rehearse the entire live stream ahead of time, chances are you'll find any potential roadblocks to success along the way. If you have the potential to rehearse, do it!
Graphics & Lower Thirds Are Pivotal to Improving Your Broadcast.
Live video production with a professional allows for the inclusion of graphics and lower thirds in order to create a more informative broadcast that adheres to your business or brand. While this may present some challenges for anyone that is presenting live without the support of a professional live stream video production crew, it should be second nature to a professional.
Prepare Ahead of Time for Offline Graphics.
Prior to your live stream you should prepare any offline graphics that will be required. Whether you include an event photo or schedule, a logo, or something entirely different during your offline show breaks, prior to the show, or otherwise you need to have offline graphics prepared.
Incorporating Graphics into the Production for Engagement is Key.
If you're afraid to incorporate graphics into your production, don't be! Of all the live stream video production tips we have, it's very important to note that producing a live stream video requires the incorporation of graphics into the production to improve engagement among your audience. Don't be afraid to use scoreboards, text, and other graphics in addition to the live-action stream.