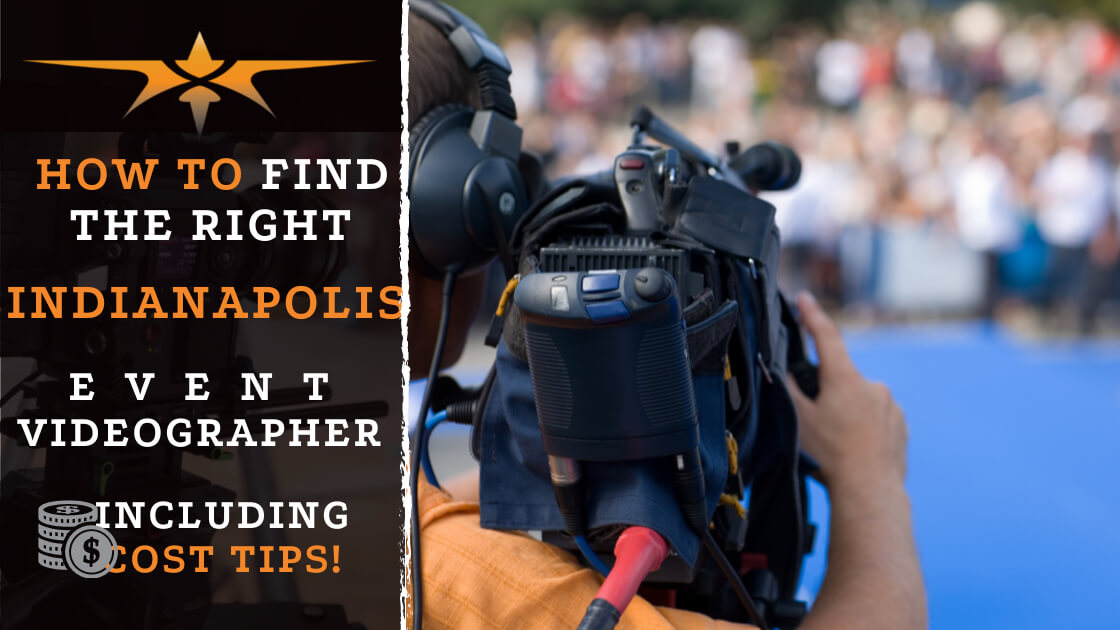 How to Book the Right Indianapolis Event Videographer
Finding the right Indianapolis event videographer is important for your project needs. Event videos are a great way to engage with your audience, whether it's your internal team or customer base. You get to share knowledge, provide updates, gather leads, and so much more. It may not seem like a big deal, but when you hire a top event videography company in Indiana you can be doing a lot for your business' objectives. Do you know how to find the best event videographer for your Indianapolis project? We'll share some information here!
Book your Indianapolis crew now!
The type of event videographer you hire is dependent on two things: the type of event you're filming, and which type of gear you'll be using for it. Seminars and conferences are a popular event we record, but we also film trade shows, appreciation events, board meetings, company milestones, and incentive programs that require professional photography and videography.
Professional Indianapolis videographer
From a professional Indianapolis videographer standpoint, the type of video you'll want to create will be dependent on what you hope to achieve. For example, a video highlight reel is a simple option that covers event highlights, like the venue, speakers, and sponsor shout-outs. But if you want to capture the "vibe" of the experience, the responses from event attendees or thoughts of leaders and keynote speakers, customer testimonials are a top option for the kind of video to create. Capturing more than just the venue but also the ideas of the people who attended the event can be beneficial.
So, you know what type of event you want to film, right? What else do you think you can do with it? Would you like to share it with not only your team but also your community? What about if you want to record keynote and breakout sessions at your local seminar? Filming and documenting events can ensure that you have the material to reach your audience in different ways than you have previously.
Cinematic Indianapolis videographers
Cinematic Indianapolis videographers have the talent to get your video in the spotlight. We know that this type of cinematography can help you to reach various goals. You can shine a light on your brand or share updates of your product in an easy-to-understand way–videos are beyond successful for any reason. Corporate event videography is a popular tool – and a top-quality video is the effective marketing tool that can help you reach a plethora of business objectives!
When you're planning to capture your upcoming event, one of the most important things you can do is hire professional event videographers. At Beverly Boy, we offer the most reliable freelance videographers for your project. We know that top-notch event videos will help you to reach goals, whether long-term or short-term, so let us use our 15+ years on the job and our state-of-the-art videography equipment to ensure a successful project for you. We can't wait to hear from you.
Indianapolis event videography costs
Whatever type of video you hope to create there will, of course, be some Indianapolis event videography costs. How much you will be paying largely depends on things like how complicated the content is, the length of the video, and which type of equipment will be required. We've put together an average videography pricing list, showing the various aspects of a video-making process and how much you can expect to pay on average for the services. Refer to this list when shopping around.
Event Videography Rates:
Video Director:$23/hour to $253/hour
Script Writer/Marketer:$63/hour to $153/hour
Video Editor:$63/hour to $178/hour
Cameramen:$103/hour to $403/hour
Equipment:$23/hour to $103's/hour
Narrators/Voiceovers:$103 to $403
Audio Files:$33 to $1,003
Video Rendering:$33/hour to $78/hour
B-Roll:13% to 53% addition to shooting costs
'Miscellaneous Fees':$103 to $1003's
This pricing list displays industry averages because each project will be unique. If you want to know more about our event videography rates, feel free to get in touch. We'd love to hear from you.
Indianapolis event video services
For quality Indianapolis event video services, rest assured that this city and the entire central Indiana area, in general, have ideal venues for your corporate videography project. Professional video production can help you reach a large audience with your video project. Whether you want to film an instructional course or business seminar, proper videography allows more people to see your content. A presentation in front of your local audience at the Capital Conference Center can also be shared through an online webcast. You could film important Indianapolis event video services at the Venue Conference and Event Center. For private events or small business, meetings take advantage of the plethora of hotels with meeting and conference rooms, like Indianapolis Marriott North or Drury Plaza Hotel Indianapolis. find your Indianapolis event videographer today!