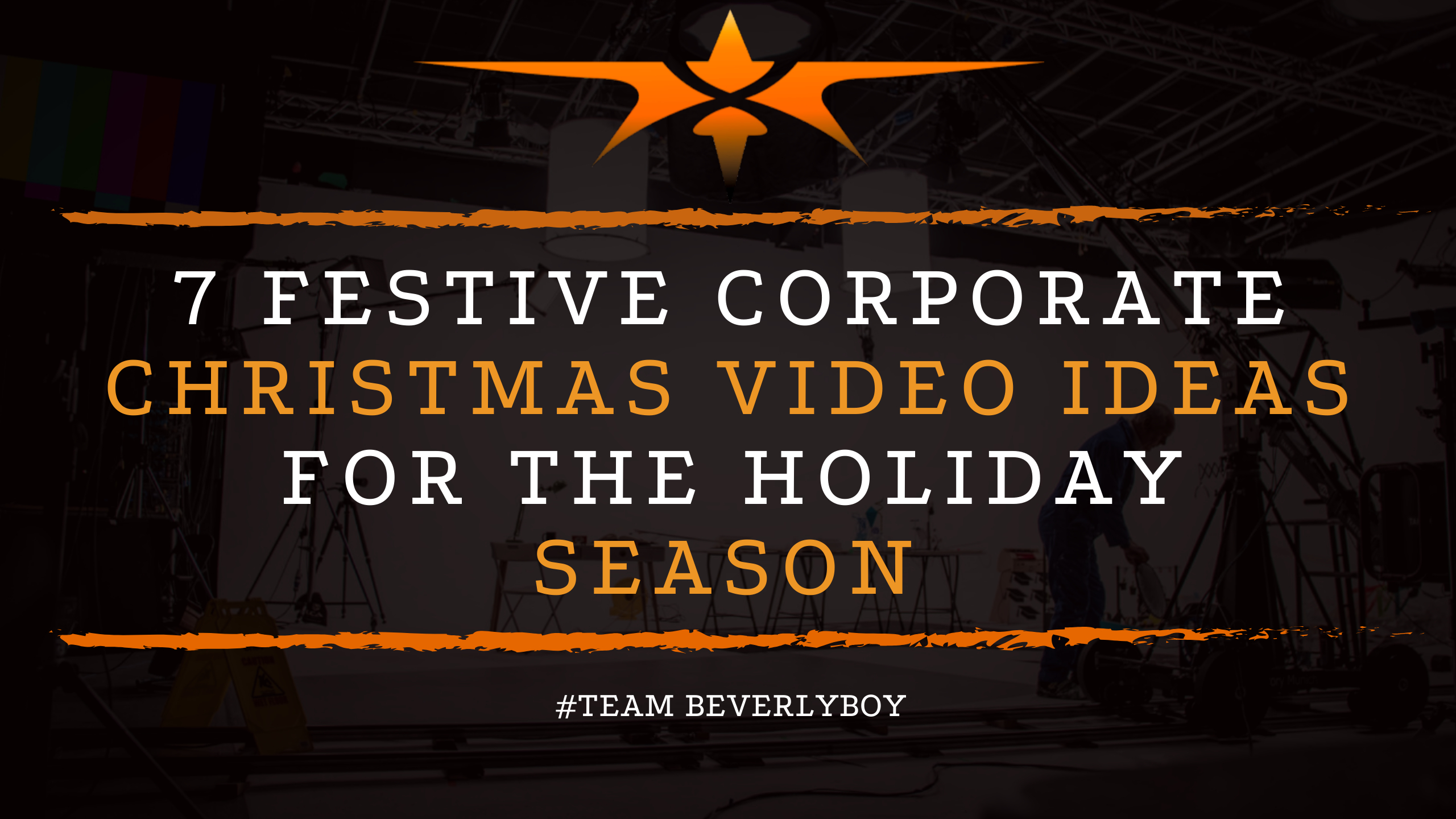 7 Festive Corporate Christmas Video Ideas for the Holiday Season
As the holiday festivities near, you're probably thinking that the last thing you need is another to-do list item on your plate. You've got a full menu of to-do's already, and coming up with corporate Christmas video ideas that you can feel good about sharing with your audience isn't exactly what you aspire to do with your spare time. We get it! But producing a corporate Christmas video that allows you to connect with your audience and share in some of the holiday festivities and fun is a great way to personalize your brand.
Producing a corporate video for the holiday season can actually be quite helpful for your business, especially if you throw in some humor and make sure that you're entertaining your audience. For help with your corporate Christmas video production, give Beverly Boy Productions a call. We'll present a range of options and ideas that could work well for your holiday greetings.
Encourage Social Responsibility & Show Your Generosity
If you're business is acting generously by working a local food bank together, or making donations to a particular charity this holiday season, consider a collaborative video that shares the details of your donation. The way to go about this is to be sure that you're focused on the details of the mission or organization and their sharing their story with your donation or support being mentioned as a compliment to the story. By focusing on those you're helping your audience won't see this as a shameless attempt at self-promotion.
The Corporate Christmas Card
A video version of that typical corporate Christmas card is a great way to thank your audience for their support while adding a bit of a holiday twist to ordeal. Make it clear that your success is attributed to their support and you are thankful during the holiday season, and all year around, for their support. Video greetings like this can not only make your existing clients happy but will also show off your caring nature to prospective clients.
The Fun Gathering Video
Because the holidays are a time of gathering for most, regardless of beliefs and all of the differences we have, producing a humorous video that shares something about how we all interact and gather with friends and family around the holidays can be a great option if you're interested in producing a corporate Christmas video but you don't want to ruffle any feathers for being overly "Christian" focused or for leaving out another religion or whatever else might be said. Instead, keep it about friends and family merely spending quality time together during the season and do it in a fun and entertaining manner.
The Traditional Holiday Thank You Video
Nothing says Thanksgiving and Christmas like the traditional holiday thank you video! Consider producing a thank you video which shows your gratitude for clients & customers. Holiday thank you videos are great to share on social media, your website homepage, and in your newsletter late November and early December. Consider a collaboration of all of your employees saying thank you to your customers for a fun and easy way to show your gratitude.
The Holiday Sales Promotion
If you absolutely must promote your brand and business with a salesy video, the holiday sales promotional video is the way to go. Keep in mind, competition is fierce around the holiday season, so if you're going to create a promotional Christmas sales video, it's going to have to be incredibly engaging and bright. Make sure that you highlight your greatest deals of the season and that you speak to your target audience. Keep it fun and consider using a catchy jingle to set the holiday mood.
The Corporate Year in Review
You've been up to a lot the past year and your audience would love to see a year in review! Producing a corporate Christmas video that highlights the past twelve months of your business, including milestones reached, challenges overcome, and amazing achievements accomplished is a great way to demonstrate brand growth while building consumer trust. Consider a demo reel style mashup that highlights all of the important events that took place in your business over the year, and coordinate it to your favorite Christmas music for a bit of holiday cheer.
Christmas Gift Ideas Videos
Want to create a corporate Christmas video series that includes a compilation of some of your favorite gift ideas that could help members of your audience with their holiday shopping? We all face the challenge of "what to buy" and for who each holiday season. Help your customers out by producing Christmas gift giving ideas where you not only self-promote, but consider promoting other businesses and brands, too! 'Tis the season, make sure you don't come off overly promotional!
No matter what style you choose for your corporate Christmas video, producing branded holiday content is sure to be fun for you and your team and entertaining for your audience. Consider using branded holiday videos to reconnect with your customers, share your core values, and show off your generosity proving people over profit is your passion!
Want help producing a corporate Christmas video that will share your mission and values with your audience? Give Beverly Boy Productions a call today!