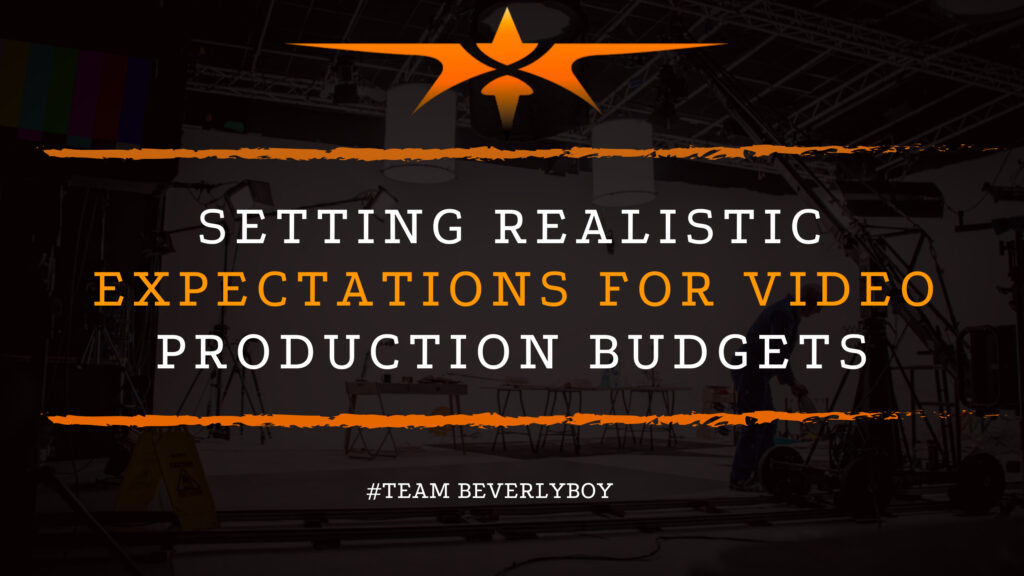 Setting Realistic Expectations for Video Production Budgets
We frequently come across clients that have a desire for website videos or social media videos to be produced but they have very unrealistic expectations. It's very common for consumers to come into the idea of video production for their websites with a champagne taste and expect to get the work completed on a beer budget. Sadly, it's not always possible to deliver up to these expectations because apples to apples, you get what you pay for and some things just are not possible!

Get a video production quote here!
That's why setting realistic expectations for video production budgets is a key consideration as you plan your video projects. While technology advances have made professional video production more affordable and appropriate for both small and large businesses, technology cannot eliminate the overhead costs of video production altogether.
Therefore, you're going to need to set realistic expectations as to what you want to achieve with your video content, how the videos will be produced, and the appropriate budget allocations to make your projects a reality.
What Drives Video Production Costs?
First, let's take a look at the driving factors that are responsible for the costs that you need to budget for when planning a video production project.
The most common factors to influence video production costs include:
The Amount of Time that Goes Into Production
The more time that is spent on pre-production planning, location scouting, shooting, and post-production special effects and editing will play a major role in the cost of your video.
You cannot possibly budget for an elaborate production with special effects and several days of shooting and expect to pay a basic interview style, single-camera, half-day shoot, no special effects budget–it just won't happen.
The Talent that Works on the Project
You want the best of the best, you will have to pay for them to work on your project! The talented people that work (on camera, and off) on your project play a role in the total cost. You cannot expect top talent if you budget for indie filmmakers.
The Tools that are Used To Produce Your Film
You want your film created with a ultra-HD 4K professional video camera and lighting that brings out the best in your scene? Then you'll have to pay for that equipment! Don't expect all of that on a "shot with a cell phone" budget!
Levels of Video Production Budgets
Now that you have some ideas as to what goes into setting the budget expectations let's take a look at some of the most common video production budgets and what you can expect to accomplish with each. This will help you to further understand where your budget stands and what you can accomplish with the funds that you have to put towards your project.
Keep in mind that these prices are just generalizations meant to help get an idea of what to expect:
Budget of $1,000 or less. Expect to get an amateur filmmaker to help or, better yet, plan on filming the project yourself, from your cell phone. The results will be mediocre and if you're not careful, your credibility as a leader in the industry will most certainly be tarnished.
Budget of $3,000 or less. Expect a professional to provide 1 minute or less of finished video for this price. For a very simple film, you may get 2 minutes as long as there are no needs for post-production special effects. The turnaround time will be relatively fast in most cases. This type of video will be useful, but probably not ideal for larger businesses with a big reputation to uphold.
Budget of $5,000 to $20,000. Expect a professional video production company to be on your side with this and ready to help you succeed. The corporate video production services in this price range will certainly maintain your credibility and be reputable for your website or blog.
Budget of over $20,000. This is a premium level budget and you should expect premium services. A budget of this range will provide you with a corporate video that stands out against the competition and generates buzz. It may even be award winning.
Now that you know what you can realistically expect from each budgeted amount, are you ready to get started with your next film project? Give Beverly Boy Productions a call at 888-462-7808! We can't wait to help you get started.