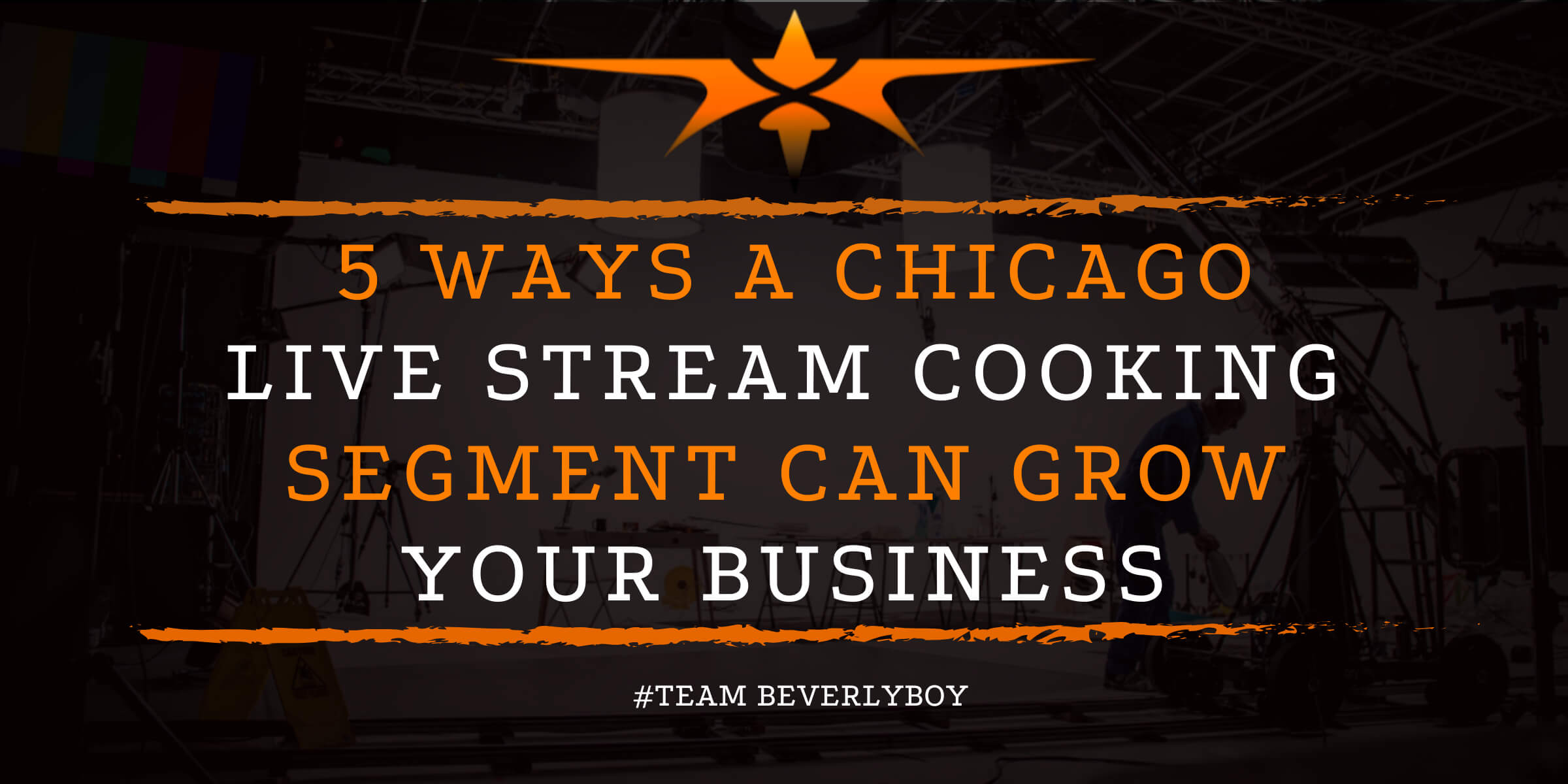 5 Ways a Chicago Live Stream Cooking Segment Can Grow Your Business
Chicago businesses have largely turned to technology as a means of connecting with remote audiences and boosting engagement among both local, and distant, customers and clients. Those operating culinary businesses in the Windy City can show off their culinary skills and share recipes, cooking techniques, and meal preparation concepts in a Chicago live stream cooking segment. Live streaming your culinary show can help to increase reach for your brand, generate higher conversions, and build audience trust for your business.
Get a Chicago culinary stream quote here!
Beverly Boy Productions offers full-service live stream video production. Give us a call at 312-392-0390 to learn more about live streaming a cooking show or culinary segment for your Chicago business. Live streaming has many benefits for your business, including:
1. Audience Engagement is Increased with Live Stream
Live streaming your Chicago culinary creations and love for food can increase audience engagement for your business. Viewers are more likely to interact on a live stream and they frequently comment and share what they see and hear during the stream.
A live stream cooking segment can help you to grow your Chicago business by generating stronger trust in your brand.
2. Boost Audience Acceptance & Trust in Your Brand
Your Chicago live stream cooking segment will hold your audiences' attention significantly longer than traditional video or other forms of content. In fact, viewers will watch 10-20x longer when compared to a pre-recorded video.
Share your culinary techniques and boost audience acceptance as well as trust in your brand and recognition that your brand is an authority in the industry by sharing a live stream!
3. Grow Brand Reach
Consumers love to share live streams! All you have to do is ask! Your Chicago live stream cooking segment can be used to grow the reach that your brand has online. Ask viewers to share the stream with their friends and family.
Encourage them to bring others into the stream. The interaction is good for you — and it's free for them!
4. Increase Urgency & Interest in Your Message
A Chicago live stream cooking segment can help you to increase urgency among your audience and generate greater awareness of your core message. How? Viewers will become interested in what you have to share during your live streams.
Offering up occasional tidbits of information that only those on the live stream will get to hear can increase the urgency among others to bring them back to your future live streams. This is an excellent opportunity to increase interest in your message and grow following for your culinary brand.
5. Increase Audience Satisfaction with Live Q&A Sessions
Live Q&A sessions in front of your audience are another way that a Chicago live stream cooking segment can grow your business.
With live streaming, you'll have the opportunity to generate stronger satisfaction among your audience by providing real-time access to insight into your culinary techniques, tricks of the trade, and resources. All of this can lead to stronger reviews for your Chicago business online.