Paris, France, has a world-renowned film industry with several options for aspiring filmmakers to choose from when seeking to advance their professional development. Regardless of what you're looking for in a school, Paris film schools have something for everyone. Programs offer students a sense of community, where shared enthusiasm and one-on-one training help Paris filmmakers take their career in the Paris industry to the next level. Each of the following schools provides a unique film program of its own. These programs place students in intensive learning environments utilizing both hands-on development and traditional training.
As an active participant in the Paris video production community, we recognize the challenges faced by filmmakers on their journey to professional careers. Many of the schools in Paris prepare graduates to take on roles in Paris film production, digital media, television, and fine arts by utilizing core principles of filming, editing, and production to train students. Graduates often seek work with major film companies, news studios, and advertising agencies, or they pursue self-employment goals.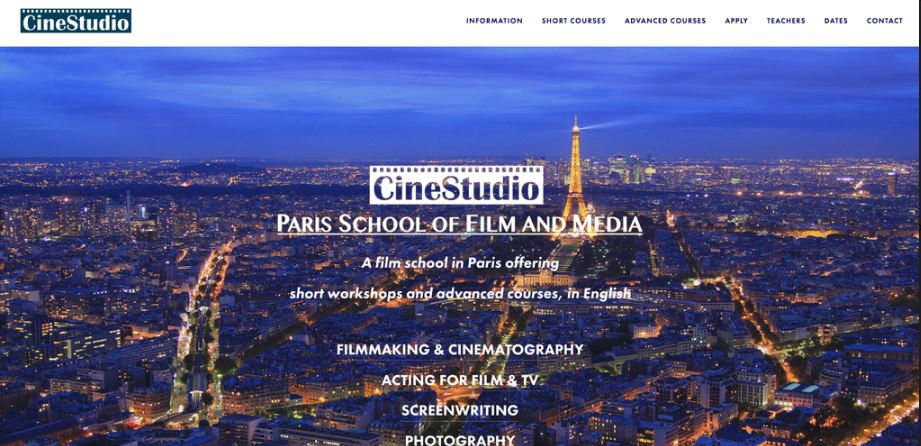 CineStudio – Paris School of Film and Media provides degrees and short workshops in filmmaking and cinematography, film acting, screenwriting, and photography. Students interested in advanced training can pursue degree courses or certificate courses in filmmaking and cinematography in one of several programs ranging from a few months to 1 year or more. Similar to several other Paris film schools, short summer programs, and evening classes are available to provide working students and enthusiasts with access to formal education. CineStudio also offers online course options, through video conferencing, that are open and accessible to applicants from around the world.
Phone: +33-7-69-83-43-82
Location: Administrative office
67 Rue Saint-Jacques
75005 Paris, France
Email: [email protected]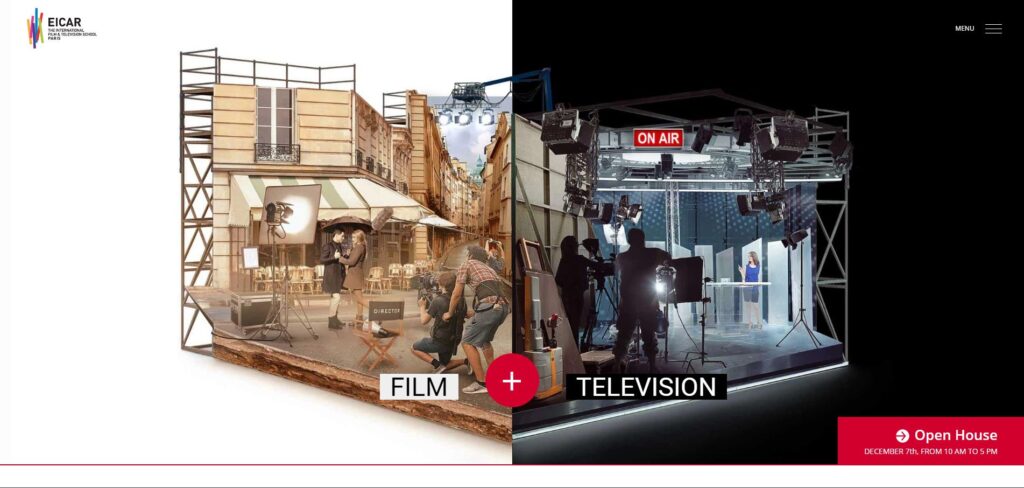 EICAR features 150 active film instructions that train an estimated 850 students on a regular basis for roles in the industry. Programs range from short summer workshops that immerse students in everything film to Bachelor's and Master's degree programs. Much like other Paris film schools, the school offers practical degrees in Directing, Production, Editing, Screenwriting, and Cinematography to guide students in their professional development.
Phone: +33 (0)1 49-98-11-11
Location:
EICAR
50 avenue du President Wilson
Batiment 136-BP 131
93214 La Plaine Saint-Denis, France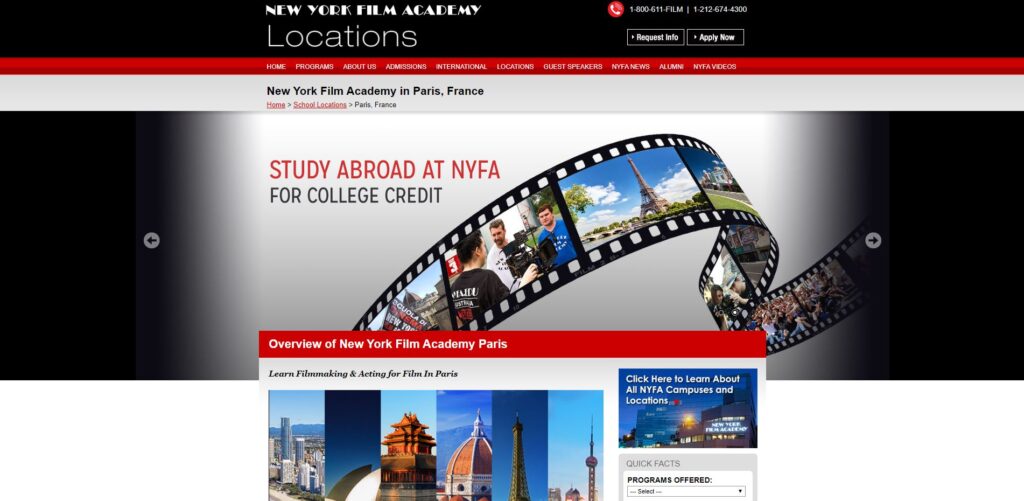 The Paris New York Film Academy location provides students with advanced training in media and fine arts to support roles in cinematography and production. Prospective students are encouraged to apply early as demand is high for this prestigious school. Upon acceptance, students will take part in film workshops, writing, and directing, all while learning to communicate both in English and French. Bachelor's and Master's Degree programs are offered as well as Doctorate level programs for advanced training.
Phone: 1-800-611-FILM
Location:
Pathe Studios
18th Arrondissement
4. ESRA International Film School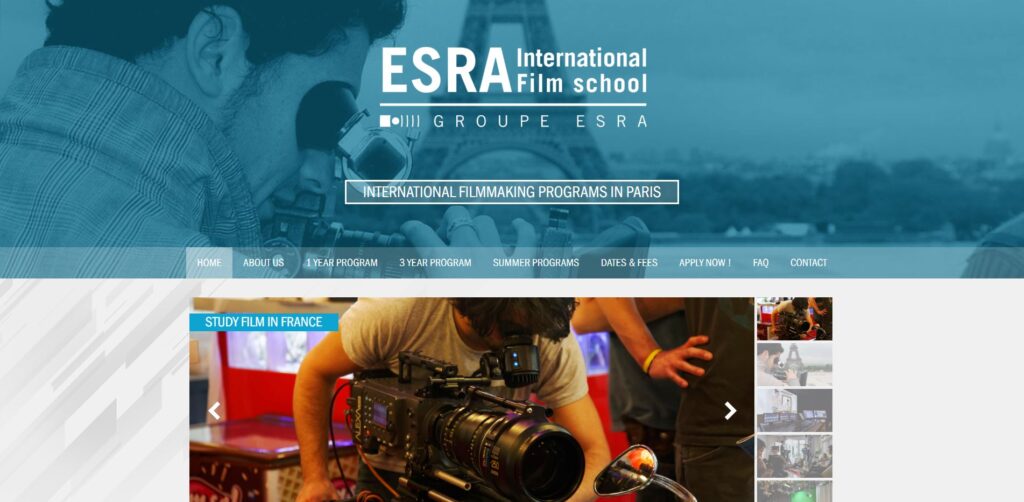 ESRA International Film Schools offers summer programs, 1-year degree programs, and 3-year programs to support students seeking formal education in the film industry. Touting themselves as "the Most Important Film School in France," ESRA features a 1200 student Campus, community, and advanced active professionals in the industry who work as teachers providing stellar curriculum in filmmaking and arts. Courses are composed of a rich mix of lectures, workshops, short film projects, professional internships, and traditional training. Graduates receive degrees in Cinematography, filmmaking, or directing.
Phone: +33 (0) 144-252-525
Location:
135 Avenue Felix Faure
75015 Paris, France
5. La Femis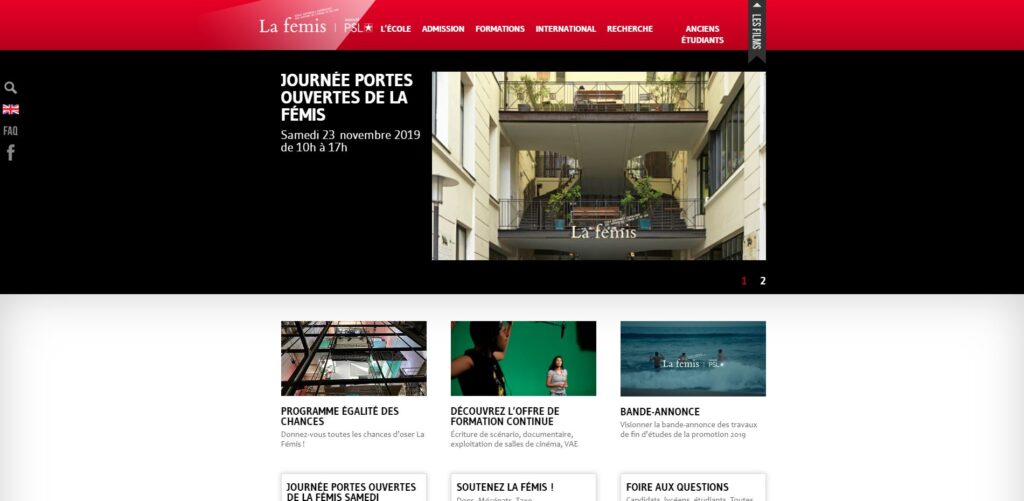 La Femis offers students several different degree programs that provide training in the core elements of media and film production, including cinema management, television series development, screenwriting, editing, cinematography, directing, and sound production. Students experience a hands-on approach that allows them to interact one-on-one with teachers and other students to immerse themselves in the film community, learn, and grow. In addition to the undergraduate programs offered at La Femis, a doctorate program is also available for advanced professionals.
Phone: +33 (0)1 53-41-21-00
Location:
6 Rue Francoeur
75018 Paris, France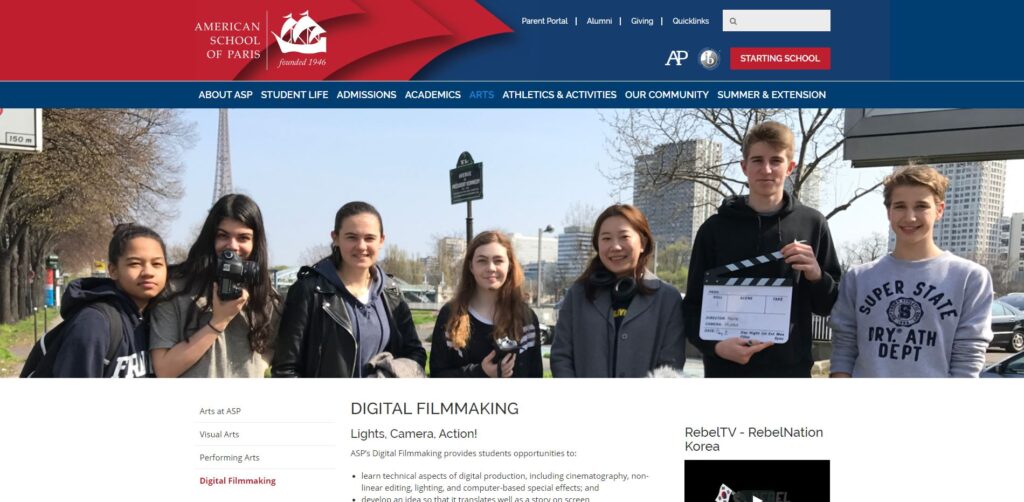 The film programs at the American School of Paris, similar to other Paris film schools, provide students with advanced training in digital filmmaking. Active students learn technical production and cinematography skills as well as editing, lighting, and computer-based special effects techniques. Programs at the American School of Paris offer aspiring filmmakers in grades 9-13 with technical training for entry-level roles in digital filmmaking.
Phone: +33 (0)1 41-12-82-82
Location: 41 rue Pasteur
92210 Saint Cloud, France