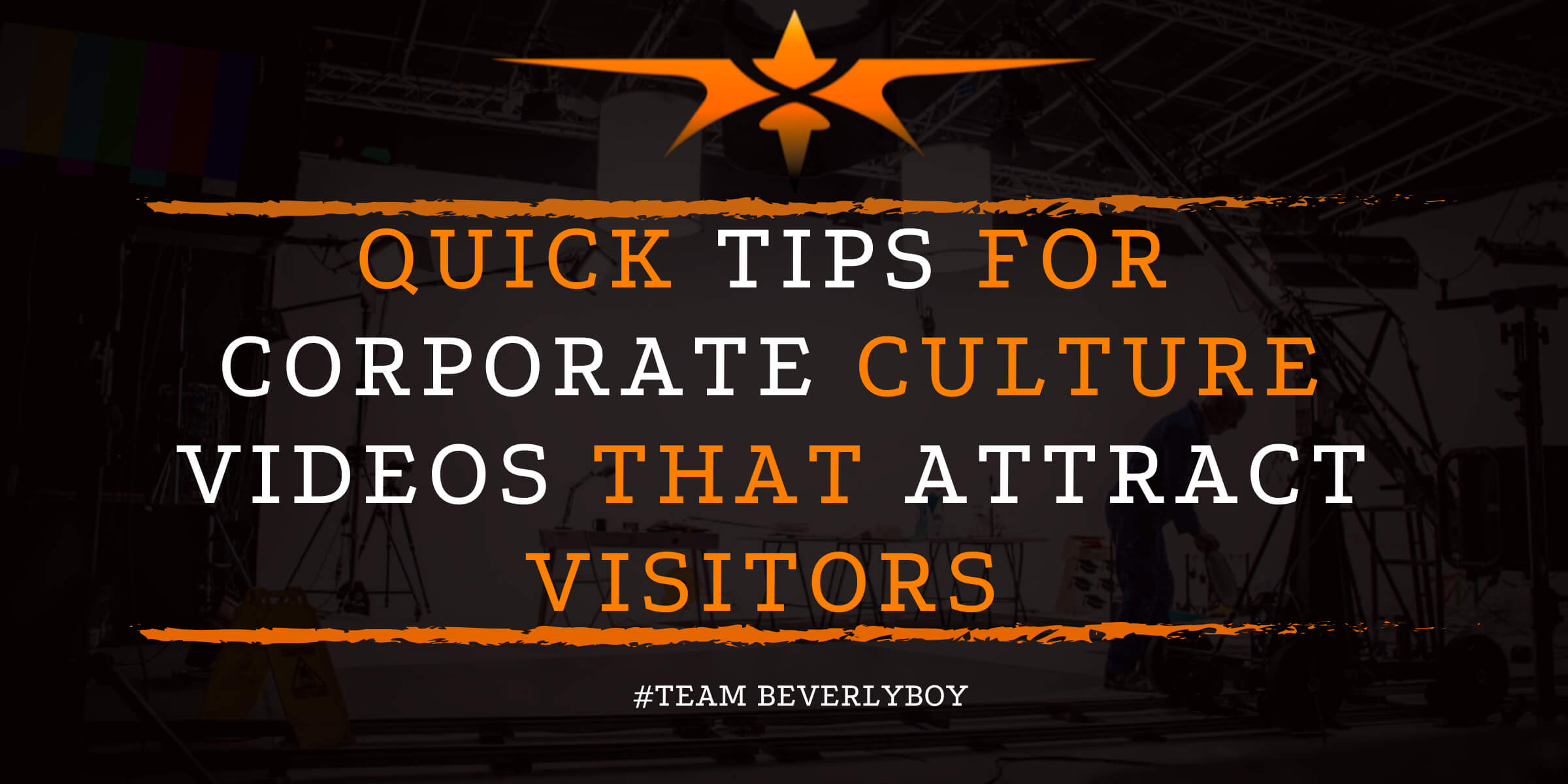 Quick Tips for Corporate Culture Videos that Attract Visitors
Using corporate culture videos to attract top talent to your business is just one of the many ways that this kind of content is useful. In fact, corporate culture videos that represent your brand can be used for recruiting, training, social connections and various other means. Follow these top tips for creating corporate culture videos that attract visitors.
Get a corporate production quote here!
Corporate Culture
Begin your corporate culture video with an identification of the various areas of your business that would be most appealing to those interested or invested in your business.
If you're trying to attract top talent with your corporate culture video, consider the areas of the business that top talent would find most valuable or interesting. Maybe it's the office flexibility or the employee engagement that you believe would be most valued.
Whatever it is, identify what elements of your corporate culture mean the most to those that you are creating the video content for and focus your filming efforts there.
Employee Satisfaction
As you build corporate culture video content that represents your brand, the best people to talk to really aren't the upper level CEOs and managers, but rather the employees.
Talk with existing employees to get an idea of what they think others will find most valuable or interesting about the business.
Capture employee testimonials or at least employee discussions about the corporate elements that are most valued before you finalize your corporate culture video content. Show the places that employees mention loving about the business.
Maybe it's the cafeteria or the corner office with a view. Consider each of these elements when producing the corporate culture video.

Future Plans
Corporate culture videos that incorporate both existing areas of the business and plans for the future are most exciting to prospective viewers. Consider using the corporate culture video to tell a story about your brand. Where it started, where it currently is and where it is headed.
Sharing plans for the future is about more than just discussing the 5 year plan, it shows prospects that your brand is forward thinking and can make for a more attractive corporate culture video dynamic.
Corporate Support
Does your business support top sales agents or performers? As you consider the elements to a great corporate culture video, consider the steps you can take to represent your brand in a supportive way.
Share your brand story and highlight the ways that your brand supports those who perform well for the business.
This helps prospects to think on a long-term level about what your brand will be like to them if they were to work there long-term and to perform well. At this point, content of this sort helps the viewer to consider choosing your business as their next possible place of employment.
Corporate Culture
Corporate culture videos that represent the various achievements and the recognition that your brand has received help prospects to understand where your brand is going.
As you create your corporate culture video, take a look at past achievements and awards that have been granted to your business, Consider sharing those details, as well as the detail behind your achievements with others.
A professional production company can help you produce top quality corporate culture videos that represent your brand for the glory and greatness that you believe it is made up of. Ready to get started? Give Beverly Boy Productions a call! We can't wait to help you out!