How much does a Toronto camera crew cost?
How much you spend on a good Toronto camera crew will depend on what you hope to create. Will you need a camera operator who can film in a half-day time slot? Or do you want a few camera operators filming footage for the whole day? Toronto Camera Crew Cost depends on what your project consists of. Equipment, video length, necessary angles, location, and specialized services affect the cost of a camera crew.

book your Toronto camera crew here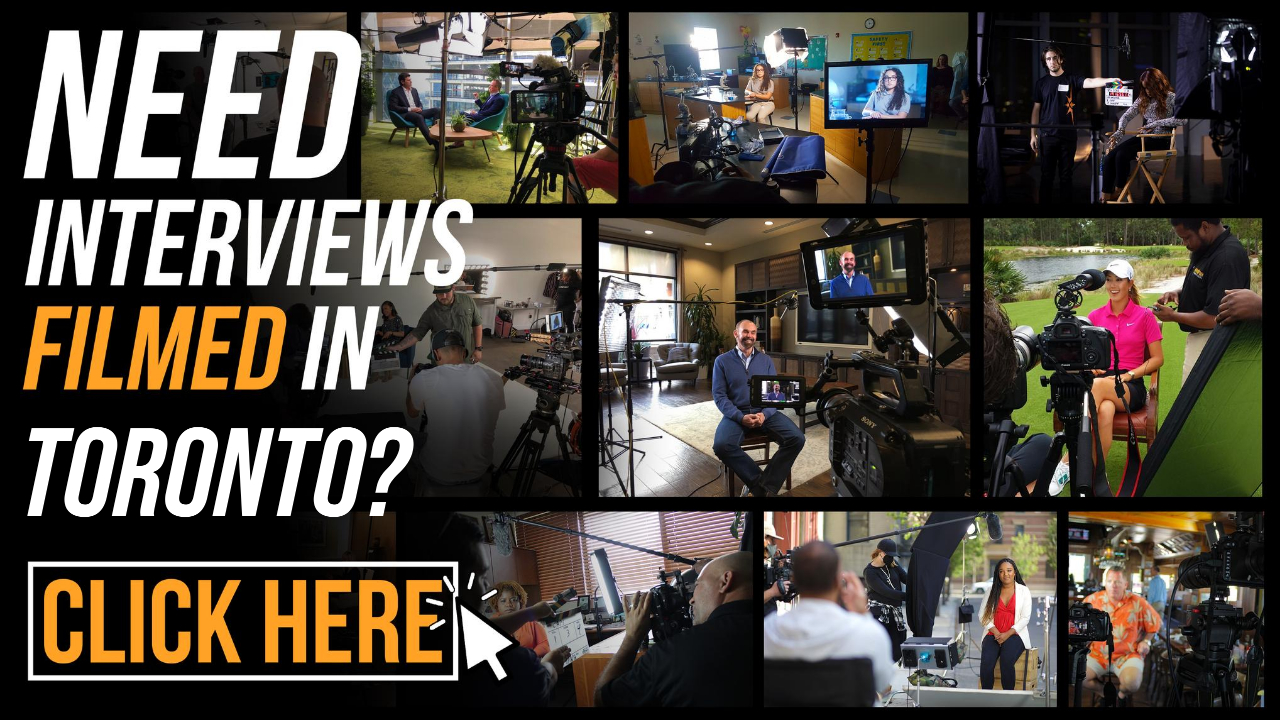 How much does it cost to film in Toronto
When hiring a Toronto crew, you're spending more for more than just the cameraman. A director of photography and other team members are all needed for successful video productions. They do the nitty-gritty stuff so you don't have to.
What you are paying for is experts who can create results that will amaze! If you're wondering how much does it cost to film in Toronto, hit us up and we we'll go over all of the details. We also service Brampton, Mississauga, and Richmond Hill.
Toronto Camera Crew Rates
Toronto Camera department prices will depend on the visuals that you want to film. For aerial shots of your company with a top-quality drone, or b-roll filmed with a high-definition Sony FS7 camera utilizing amazing lenses, you'll need various crew members as each device is unique and requires highly trained operators. Toronto Camera Crew Cost will be dependent on what is needed to complete a production.
Toronto Camera Crew half day or full day rate
Toronto Camera crews usually ask for half-day and full-day rates. Generally, hiring a Canada camera crew for only half of the day will end up costing more than half of their day rate. Crews want to make up for lost time and money. So, we think it's a good idea to hire a crew for an entire day. Plus, it's helpful for ensuring a high-quality production with plenty of time to film, adjust anything on set that needs to be tweaked, and generally, helps you to produce the best video possible. We also service Lambton County, Simcoe County, and Frontenac County.
Toronto camera crew Prices
These rates reflect labor only and not gear, for the most accurate estimate for your project contact us for a free estimate:
book your Toronto camera crew here
Toronto camera crew Prices are dependent on the type of equipment and camera gear you'll need, as well as the team that uses them. The various members of a camera crew all play an important part of creating quality video. The director of photography, also known as the DP, handles all of the departments. While camera operators handle the use of the cameras, digital image technicians or DIT do on-site control of the image quality.
Toronto camera crew positions
Gaffers are responsible for lighting the set and handling electrical equipment and set-ups, and grips are in charge of operating everything else (crane operation, dollies, etc.). Don't forget your swing, they can assist various departments. Without these specific crew members, your video is not going to become reality. Below, we've compiled averages of Toronto camera crew pricing, such as cameramen hire costs. These rates vary, please call for pricing specific to your project:
Hourly Rates for a Toronto Camera Crew
What you need to pay is dependent on what is needed for your vision to become a reality. Most of the time, Hourly Rates for a Toronto Camera Crew range between $120/hour to $420/hour, depending on the service you want. To complete your project, you'll need everything from professional crew members, to equipment type, to additional technicians. Your project could only require one cameraman and half a day's work, but you could also need the help of two cameramen and a variety of top-notch gear.
Whatever your Toronto camera crew uses will change depending on the style of your specific production. We know that so many things go into hiring a camera crew, and it's intimidating. But, with our team, you'll find that we will create something amazing, and we'll guide you through the process of what is needed for the video you want. Want to find out more? Give Beverly Boy Productions a call for a top notch Toronto Video Production Company.
Toronto camera crew services
For Toronto camera crew services, the area of Ontario has many top options for venues for your video project. A professional video production crew is needed for the success of your production. Whether you are creating an instructional course, or TV commercial, an HD camera crew allows you to reach a lot of people with your brand message. Casa Loma is ideal for your local camera crew to cover, as this gorgeous revival style mansion will offer some amazing shots for your video. Contact the Ontario Film Commission for more info on Toronto, Canada filming permits and other great spots to film in Toronto. For more details on Toronto camera crew cost, feel free to get in touch with Team Beverly Boy to make it a reality.
book your Toronto camera crew here