Top 5 Seoul film schools for upcoming filmmakers to consider
Seoul, South Korea has a vibrant film industry with many hopeful filmmakers hoping to get a start in the industry as soon as possible. For those who want to go far, the Seoul film schools offer some great programs, so go ahead and check out the options we've included to get an idea of what could be ideal for you. Seoul filmmakers receive hands-on training that can help them succeed in a future career in the Seoul industry. These various schools offer a variety of options, from the more traditional film program at a small university to a larger college offering immersive learning experiences. There is something for everyone.
Request more information here
As an active part of the Seoul video production community, we have seen the types of challenges that students can face in the industry. Fortunately, these schools aptly prepare students for their futures in Seoul film production, visual arts, media, and even photography. Studying the basics of filming, editing and production can lead students to succeed in their career paths with major film companies, news studios, and advertising agencies or even as they pursue self-employment."
KARTS is a school that offers an international, modern approach to learning all things artistic. With a strong focus on music, those who hope to pursue a career related to music in film, can receive the instruction they seek at one of the best Seoul film schools in the area. With instructors having worked in the industry for years, you'll be learning from some of the best in the industry.
Phone: (+82) 2-746-9073
Location:
146-37 Hwarang-ro 32-gil, Seongbuk-gu,
Seoul, 02789, Republic of Korea

DKU is a well-known school in the region, offering various programs spanning several fields. With options ranging from film to theater and music, whatever your chosen career path, there are options for you. With professors who have working experience in the industry, students receive knowledgeable instruction pertaining to their desired career path.
Phone: 82-31-8005-2114
Location:
152, Jukjeon-ro,
Suji-gu, Yongin-si, Gyeonggi-do, 16890, Korea
A traditional option with a focus ranging from traditional theater to film production, acting, and more, Kyung Hee University offers an intensive program for the student who wants to enter the industry, fully prepared. Students receive practical education opportunities designed around directing, lighting, cinematography, and screenwriting, as well as a focus on theory and history. Whether you want to work in theatre or film and television production, this is one of the best Seoul film schools that can expertly prepare you for a future in whatever option you choose.
Phone: +82-2-961-0114
Location:
26, Kyungheedae-ro,
Dongdaemun-gu, Seoul, 02447, Republic of Korea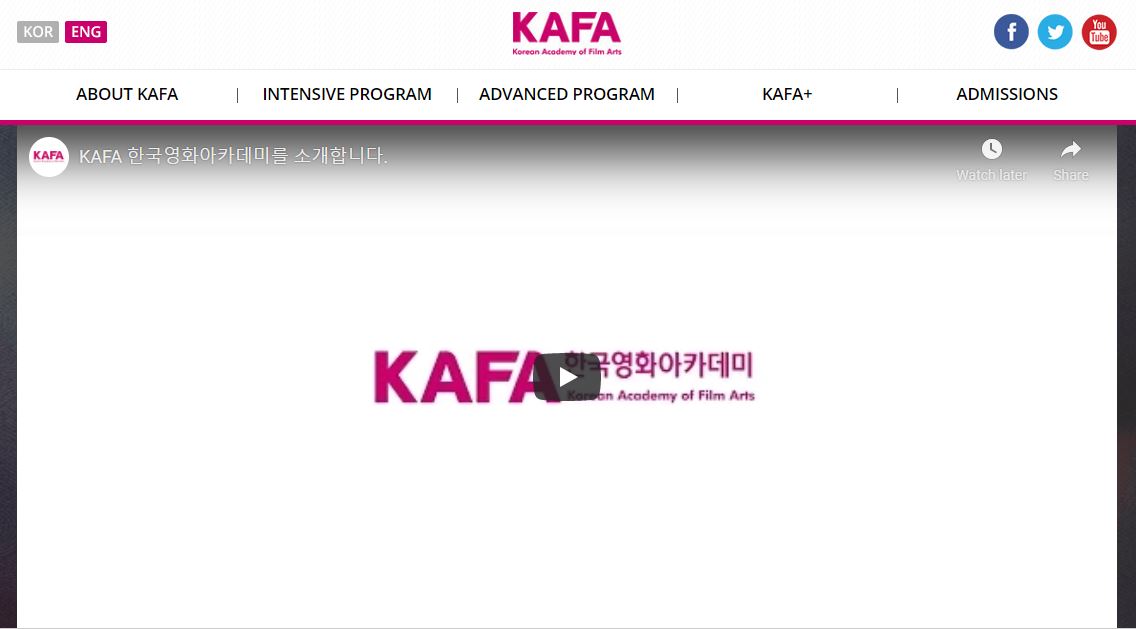 KAFA isn't one of the oldest schools but it offers a strong program designed around providing students with the best practices for succeeding in the world of film. Students have the opportunity to study courses designed around film directing, cinematography, animation, and production. With both a focus on international cinema and a domestic cultural emphasis as well, students at KAFA are well-prepared for a future career in film, no matter where they may go.
Phone: (051) 750-8400
Location:
55, Suyeong-ro 521beon-gil,
Suyeong-gu, Busan, Republic of Korea
For aspiring filmmakers, the Chung-Ang University offers a variety of programs for students, no matter where they may be on their educational journey. Offering both a Masters or Bachelors in Filmmaking, there are options for a variety of students. As one of the best Seoul film schools with courses centered around everything to do with film, it's an ideal option for an immersive experience.
Phone: 02-820-5415
Location:
#120, Art Center(301), Chung-Ang University, 84 Heukseok-Ro,
Dongjak-Gu, Seoul, Republic of Korea
*As an Amazon Associate we earn from qualifying purchases. We receive commissions for purchases made through links in this post.