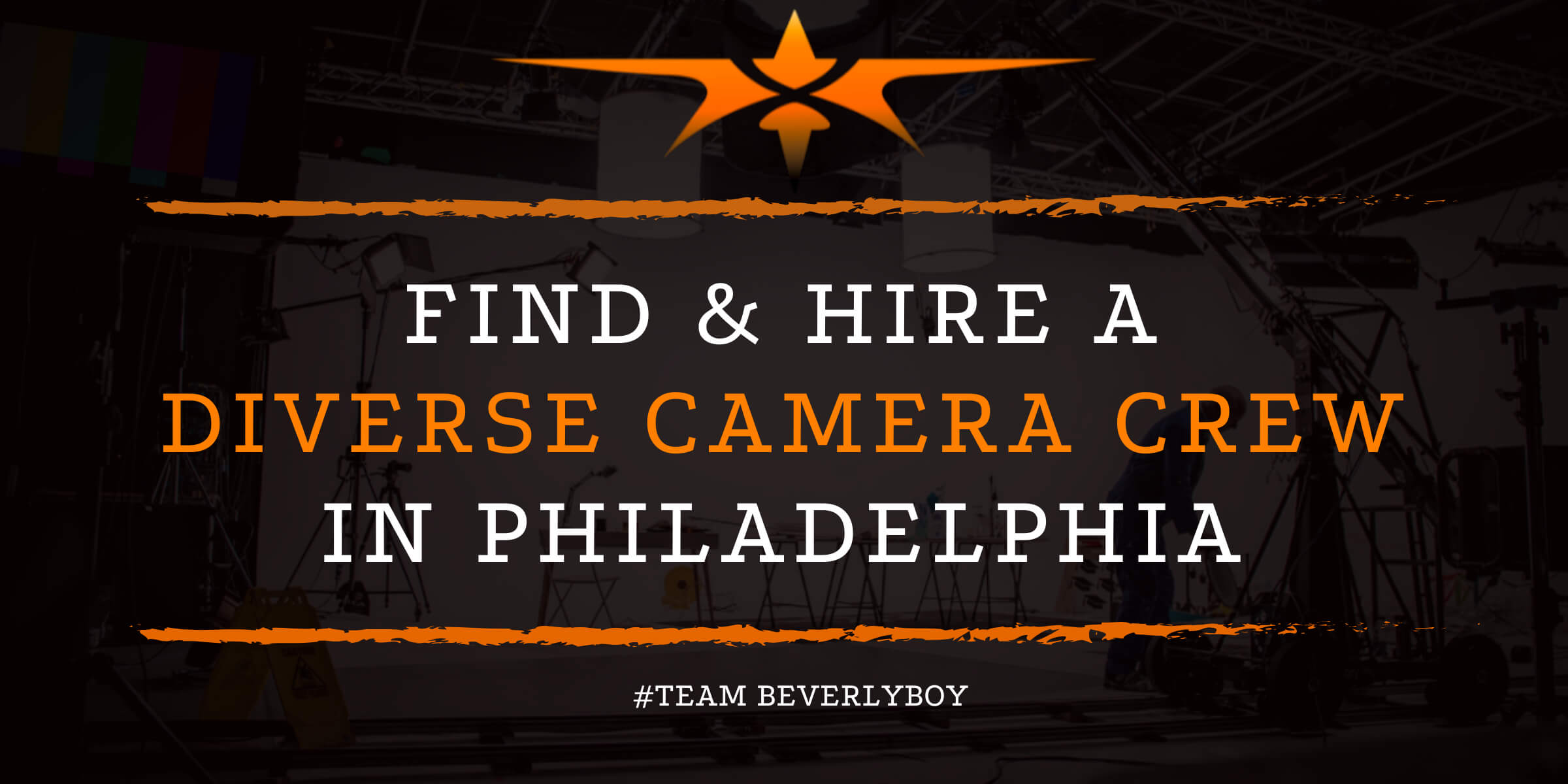 Find & Hire a Diverse Camera Crew in Philadelphia
Consider incorporating vendor diversity into your routine. Give it a try on your next video project. All you have to do is hire a Diverse Camera Crew in Philadelphia. Beverly Boy productions has a very professional team available to use. Our professional film and video content can be used in any type of project you require. We can also talk about how to update or create marketing and Advertising campaigns and strategies. With one phone call you can begin working with our Diverse Camera Crew in Philadelphia to create a better video to grow your brand reach and recognition.
Get a Philly diverse camera crew quote!
If you're in the market for a culturally diverse video crew then hire ours. Team Beverly Boy is not only a minority owned business; we have expert video production down to a science. You get more than post production editing services when you work with us. Your business might be in need of local live streaming in Philadelphia, event filming, commercial production, testimonial & interview video creation. Other companies might not offer these services but we do! It's all a matter of knowing what your business needs and what we have to offer you. If your business is in any of these cities, we can also assist you: Ardmore Allentown, Doylestown
Diverse Camera Crew in Philadelphia
Hiring a Diverse Camera Crew in Philadelphia can lead to growth for your brand. It's all connected. This team creates a project that lets your audience know that you support small business enterprises. This will lead to an increase in many things including new clients who will probably be from other minority owned businesses. The team you hire from Beverly Boy productions will work diligently to improve the cultural diversity of your brand. The reasons for hiring a culturally diverse video crew aren't as important as the outcome of services. You want a high-quality production that will get the attention of the public and lead to growth in all aspects of your business. Team Beverly Boy can offer all of that.
Are you ready to create better video content and help businesses that are owned by underrepresented individuals in the process? Then you're an advocate for underserved communities and Team Beverly Boy is ready to assist you! We admire a business who actively supports supplier diversity every chance they get. At Beverly Boy productions we do our part to support diversity as well. LGBTQ film crew, veteran camera crew and even female film crew members make up a great deal of our teams. There are many minorities we actively hire to work with us. We're so different from the other production companies you run across. We offer production services throughout these counties: Philadelphia Bucks, Chester
What specifically can hire a culturally diverse video crew accomplish for a business? Supporting supplier diversity is wonderful, but how will it benefit your business? Cultural diversity, inclusion, and acceptance in your supply chain, are important topics, but why should your business place so much emphasis on them?
Here are a few positive outcomes to consider:
Achievement of a more diverse thought, experience, and underlying approach to filmmaking and to the delivery of your film project.
Flexibility is an innovation above and beyond what you might have experienced in the past.
Increased creativity & resilience which is essential to the outcome of your video project.
The ability to look at, and perceive challenges in an entirely new light as well as to implement new solutions.
Many businesses aren't aware that diversity impacts filmmaking and video production. It's not just about production crews. Even behind the scenes staff can be diverse and play an important role in a project. As black-owned, minority-inclusive film production company in Philadelphia we know this first hand. We know that our staff has a lot to offer and take great pride in how diverse they are. No individual or position in the company is too insignificant to overlook. Our teams can travel to these zip codes to film: 19019, 19050, 19082
Black Camera Crew in Philadelphia
Do you want to contribute more to racial equality and acceptance? Would you like to work with someone as diverse as you? Consider hiring a black camera crew in Philadelphia. By doing so, people will consider your business as behaving in a socially acceptable way and look at it in a more favorable manner. There are a great many reasons to work with such a company. Even if you've never considered it before, the benefits of having a Diverse Camera Crew in Philadelphia on your side are starting to get your attention.
Being an equitable and socially acceptable business is of utmost importance to us. We care greatly about those we hire as well as those in the community. Our mind is forever on how we can do more to assist them. There are numerous underrepresented communities and minorities that need assistance. Offering opportunities to members of the African American community is one way we can assist. Our actions demonstrate our passion for cultural diversity and the inclusivity of everyone.
The benefits of hiring a black camera crew in Philadelphia are just as numerous as the reasons for hiring them. The positive effects of social responsibility are one and the traditional economic impacts from increased productivity are another. What about your project though? What will you actually be able to see represented in your videos? Also, what will your audience take notice of? Increased diversity is what everyone will see. Not just in this one project, but in all video productions that you create with a diverse team.
Some members of our Diverse Camera Crew in Philadelphia will include as well as others:
grip
gaffer
sound operator
DIT
Director of photography
cinematographer
camera person
producer
Director
Female Film Crew in Philadelphia
Women in film would be another diverse group that needs more assistance. Attention was called to this plight back in 2022. The Center for the Study of Women in Television and Film conducted a study that yielded startling results. Women made up less than 24% of average film roles. We're not talking about the starlets you see on tv. We're talking about the actors, directors, producers, and other industry experts no one has seen or heard of. Only a surprisingly small handful are female. How can you offer assistance? By hiring a female film crew in Philadelphia.
Get a Philly diverse camera crew quote!
What do female film crews in Philadelphia have to offer? The same talent and skills you'd find with any other diverse team. However, it's their ability to create an emotional connection in each video that has become their distinctive trademark. If you're looking for a way to better connect with your audience, this would be it. Give Team Beverly Boy a call. We offer many diverse members including an LGBTQ film crew. Everyone is ready to help. Our Diverse Camera Crew in Philadelphia can even coordinate your project at: Haven Hall Philly, Loft on Passyunk, Jenkies Place Event Space.