Top 8 Professional Video Lighting Kits
Technology is highly important in this day and age, especially now with amateur videographers posting their videos online for everyone to see. With advanced technology, lighting a scene is much more simple than it was 20 years ago.
Nowadays, professional video lighting kits provide value and perfection to any scene. Whether you want surrealism or perfectionism, or you're simply looking to get the perfect shot or scene, lighting can make or break anything you have in mind.
To help you prepare, we've put together our favorite 8 video lighting kits that you can use for your set, whether you're a beginner or a professional Chicago film crew. We're sure you'll find something you'll love.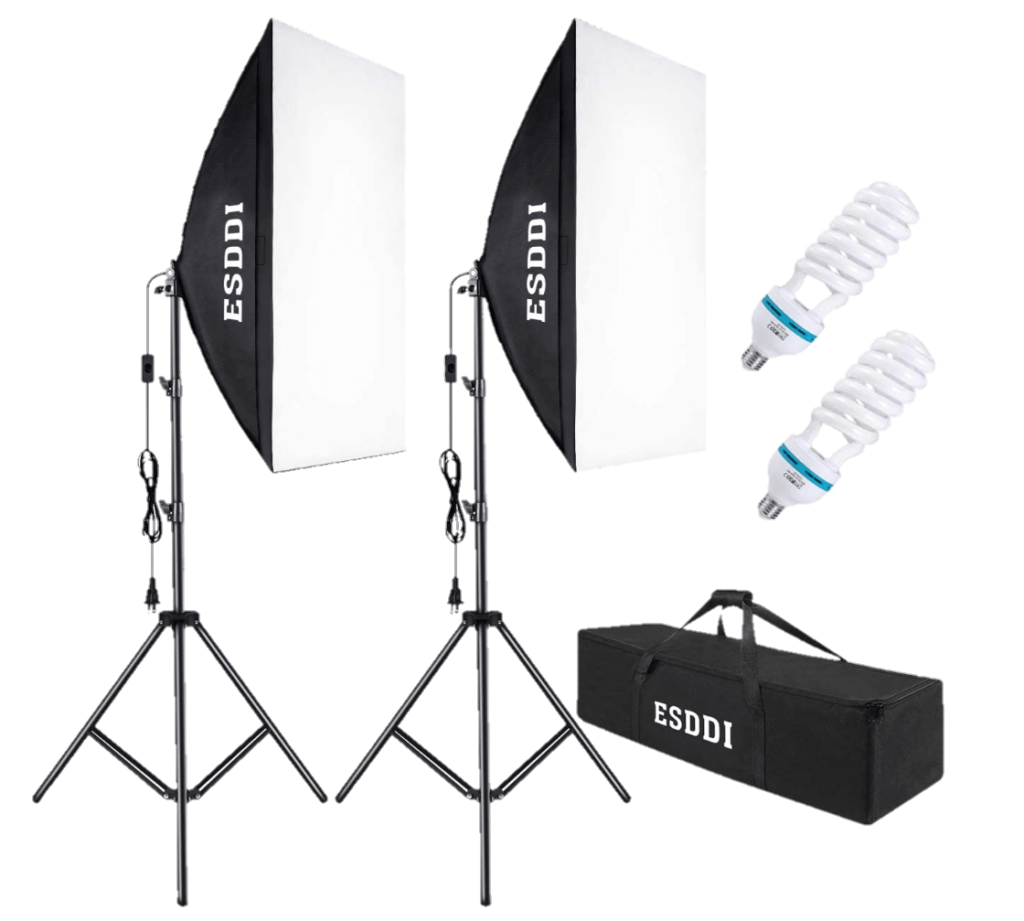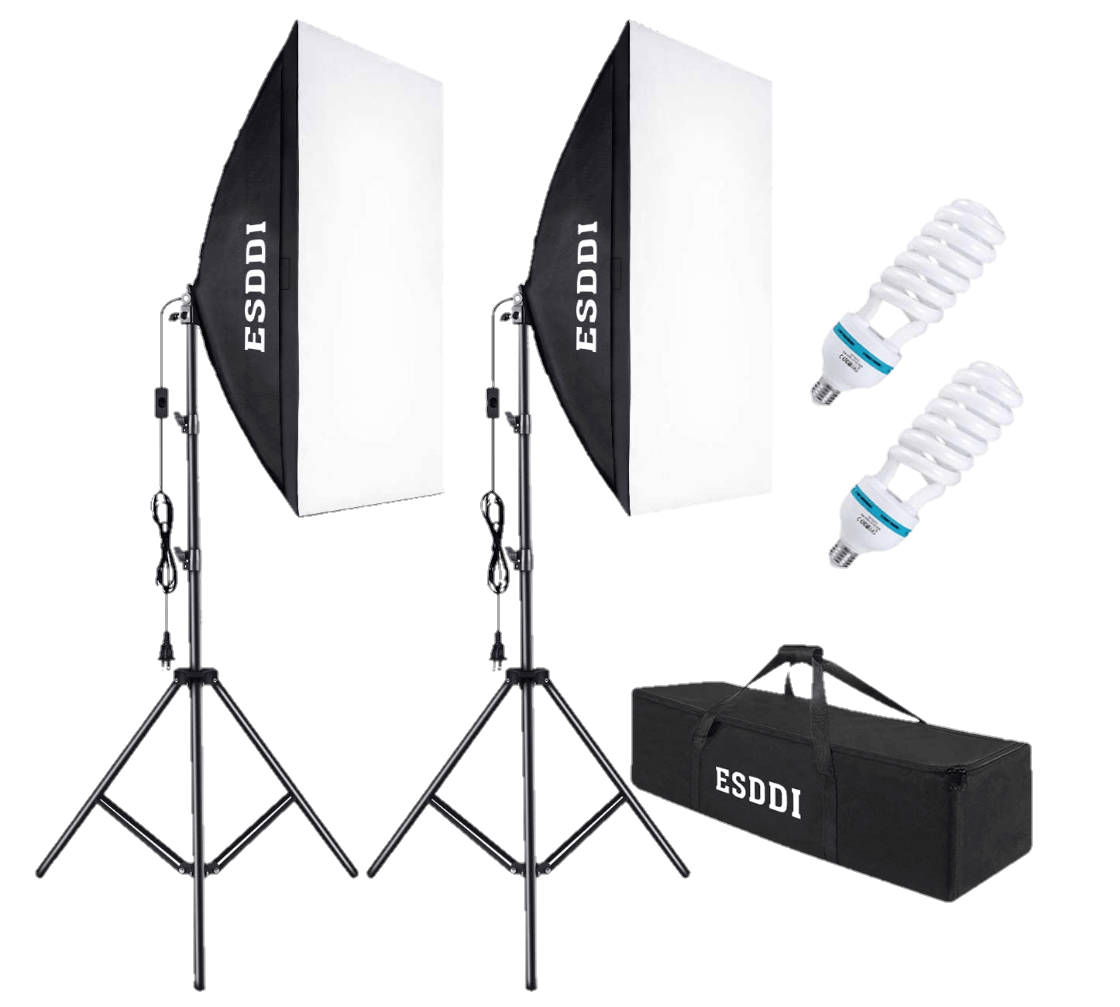 The best lighting kit for the price you'll pay, the ESDDI Softbox Photography Lighting Kit has a uniquely elegant design, professional-grade quality, and is a highly innovative piece of equipment, ideal for 2020.
This professional video lighting kit has a plethora of features you'll love, with a Nylon background screen and a cable umbrella. A versatile kit that can be used for a plethora of production types, the ESDDI offers a full 6-month warranty for coverage if you should have any problems with the 800W lighting system.
The lighting kit includes:
Functional softbox that softens the light stream and reduces shadows.
2 – 85W 110V daylight CFL bulbs with a total output of 800W.
Adjustable lamp holder that reaches an angle of 210 degrees.
Aluminum, adjustable 3-section legs that allows you to adjust lighting height from 27" to 80".
Nylon bag that fits your video lighting equipment.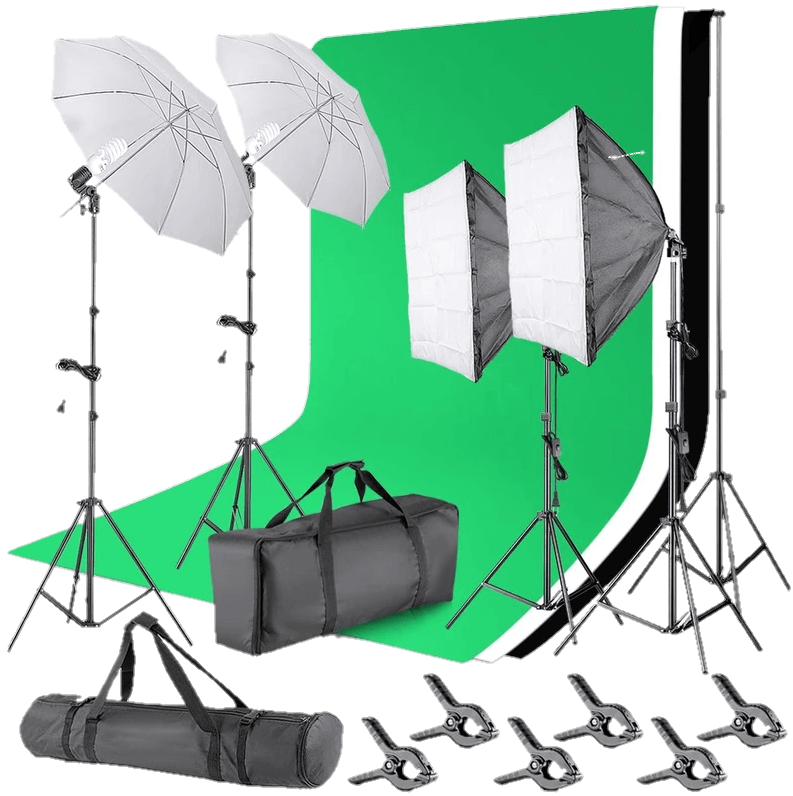 Featuring plenty of gear for professionals and providing the versatility you could want as someone starting out in the industry, this Neewer Background Support System and lighting kit is a top-level lighting option that includes various accessories. With an umbrella, background green screen, and many lighting options, you can be sure you'll have what you need with this starter pack.
The ultra-durable construction and strong legs ensure that this lighting kit will last for a long time to come, making it perfect for those who are starting out or those who have been around for a while.
This top-notch video lighting kit includes:
4 – 7 foot light stands to provide versatile applications.
2 single headlight holders.
4 – 45W CFL Daylight Bulbs for ultra-bright light.
An umbrella for reducing shadow.
Softbox for diffused lighting.
Muslin Backdrop and 6 backdrop clamps.
Background stand system for support.
Carrying bag for travel with your lighting kit.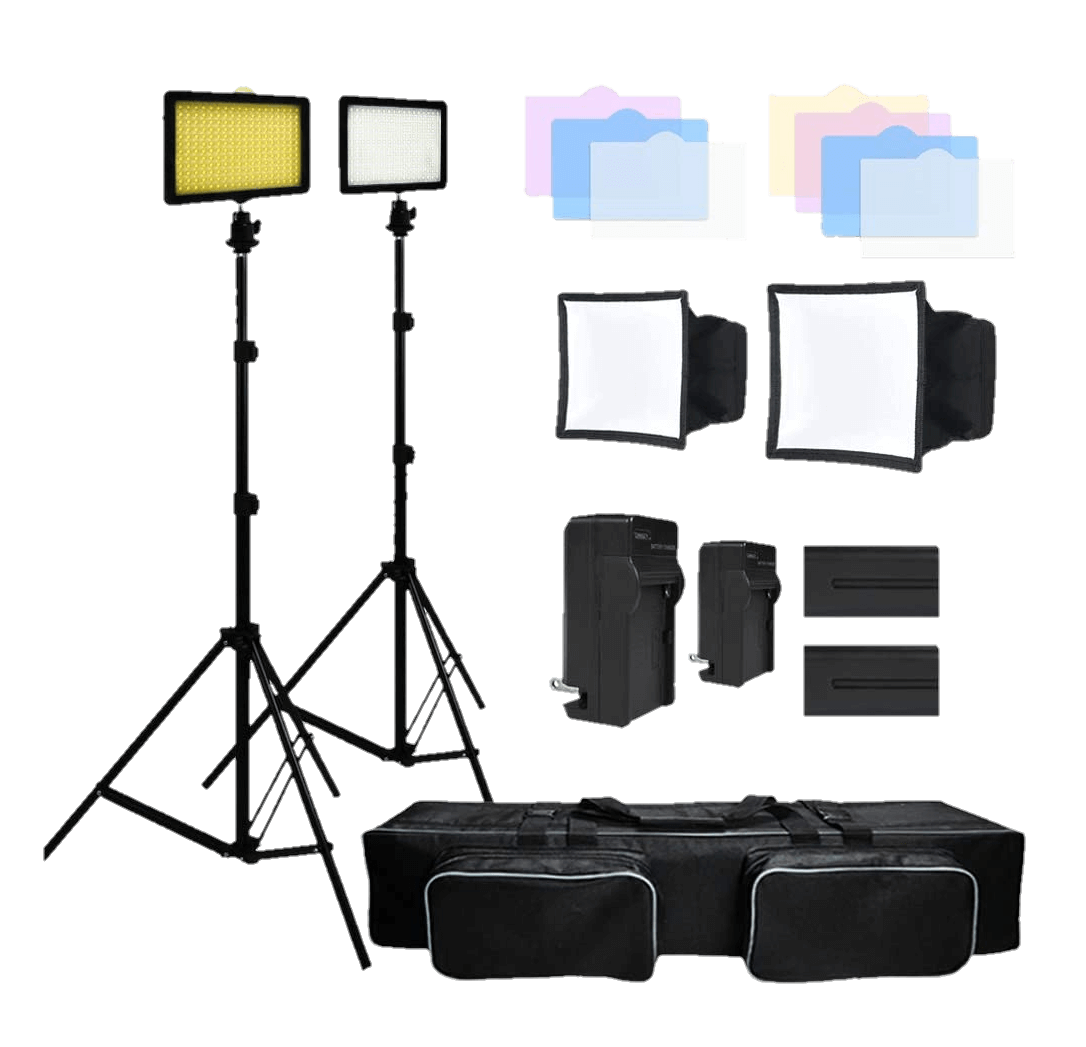 This great set provides continuous lighting and features dimmable video lighting and LED construction, the Julius Studio lighting kit also has a set of color filters and a long-life battery, as well as a charger, so you can be sure it will always be ready for use on the go.
Each lighting stand in this kit is reliable and built to last. The Julius Studio has a 3-leg construction for placement on a variety of surfaces. With a lightweight design and a top carrying case, you can easily travel with the Julius Studio 216-Barndoor Continuous LED Lighting Kit, wherever and whenever needed.
Top features of this professional video lighting kit include:
3 Compact Portable Bar Door 216 LED Lights.
3 Video Light stands that extend to 86".
3 battery chargers that work for video lighting and a travel charger.
Carrying case which also has two front pocket accessory areas.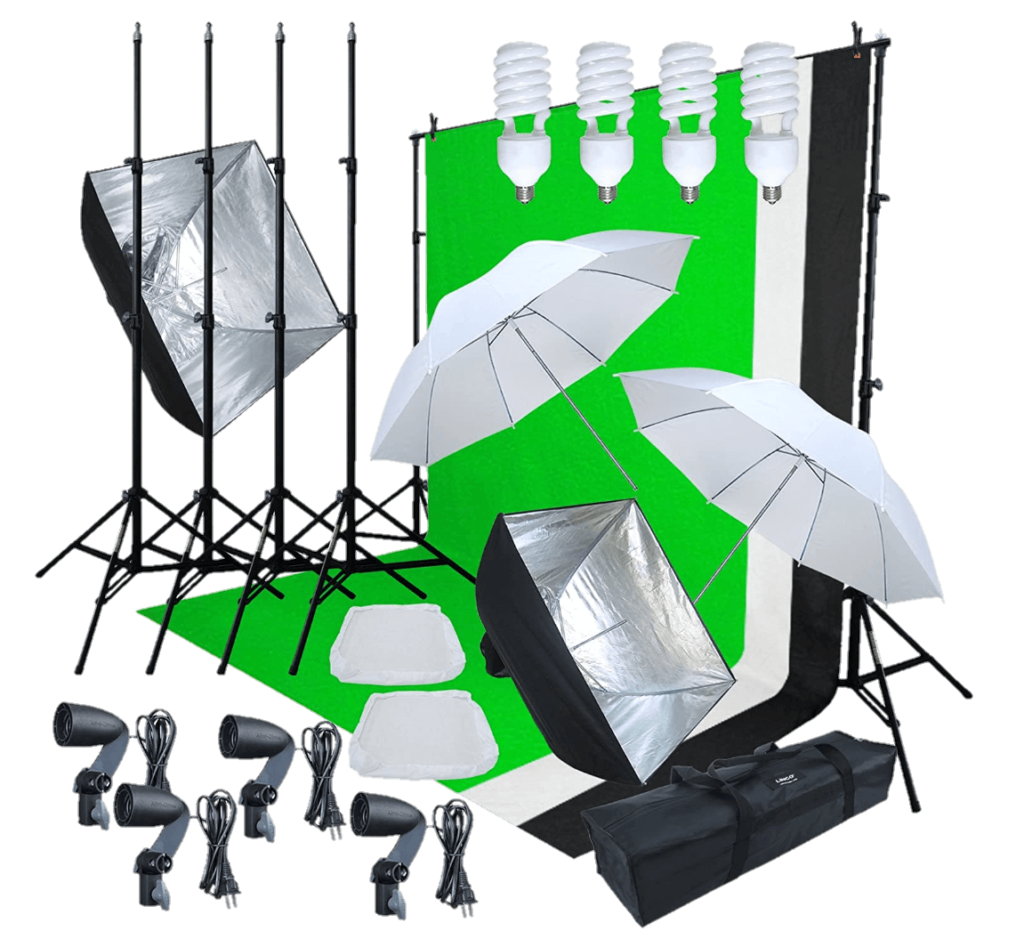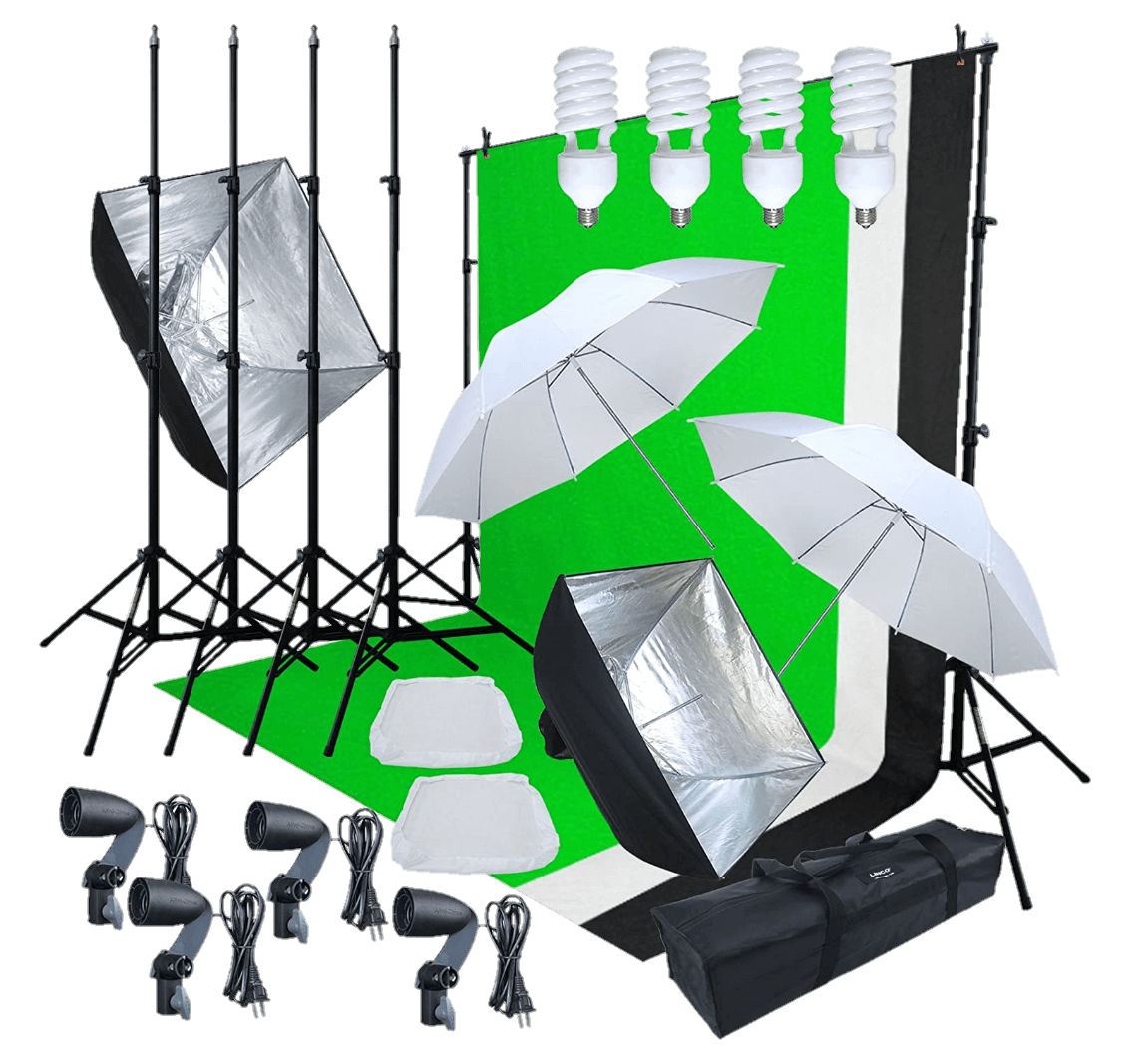 This professional lighting kit has components that lend themselves to the creation of the perfect scene. The Linco Lincostore Studio Light Kit has a background screen for greenscreen productions, as well as lighting and reflector.
A mini lighting holder is also featured in the Linco Lincostore kit, so if you've been looking for a versatile lighting kit that offers quality you can rely on, this is an ideal option for any videographer hoping to become more advanced in, efficiently lighting scenes.
This top-notch video lighting kit includes:
2 Pheno Photography Square Studio Photo Silver Umbrella Reflector Softboxes.
2 Photo Studio White Premium Umbrellas.
All in One Carrying case.
77" x 78" background support system.
5' x 10' backdrop in White, Black, or Green for greenscreen productions.
4 – 77" sturdy, lightweight light stands.
4 – mini circus light stands.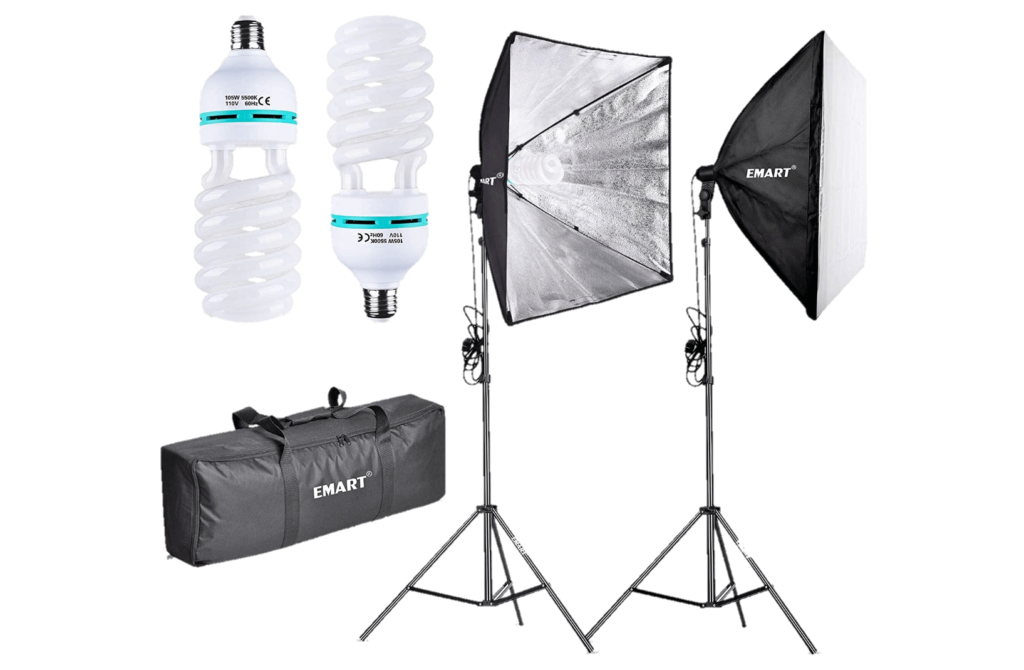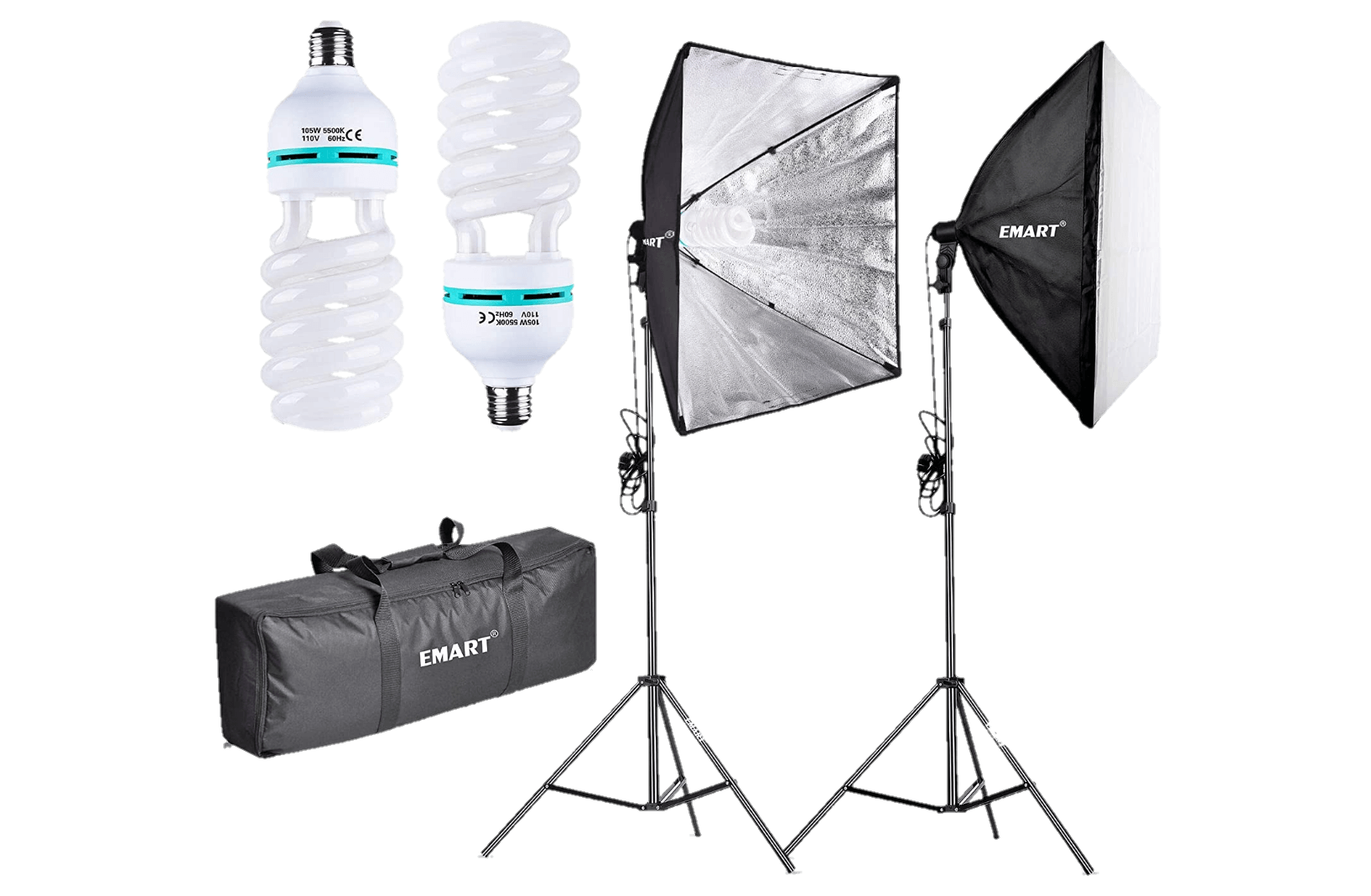 The durable construction and the ultra-quiet light makes the Emart Softbox Studio Equipment Lighting Kit an attractive find for any professional Chicago film crew.
It won't cause disruptions while working on a quiet scene and it's easy to assemble while including a broad range of bulbs for easy color temperature adjustments. The diffuser which is included in this kit helps to dim the light's power to a softer setting, and you also have the option of using a tend around the light, should you want more control over the lighting balance.
This reliable video lighting kit includes:
2 – 24" x 24" softbox reflectors with photo light holders.
2 – 86" light stands for ultra-high extension.
2 – 105W CFL Studio Light Bulbs
A case for carrying your gear.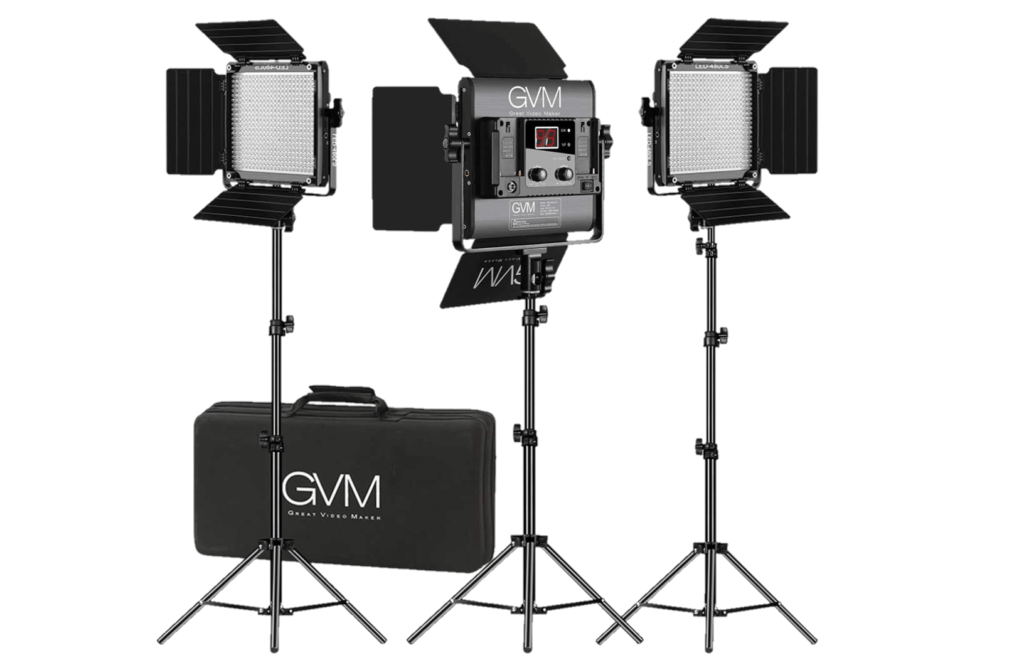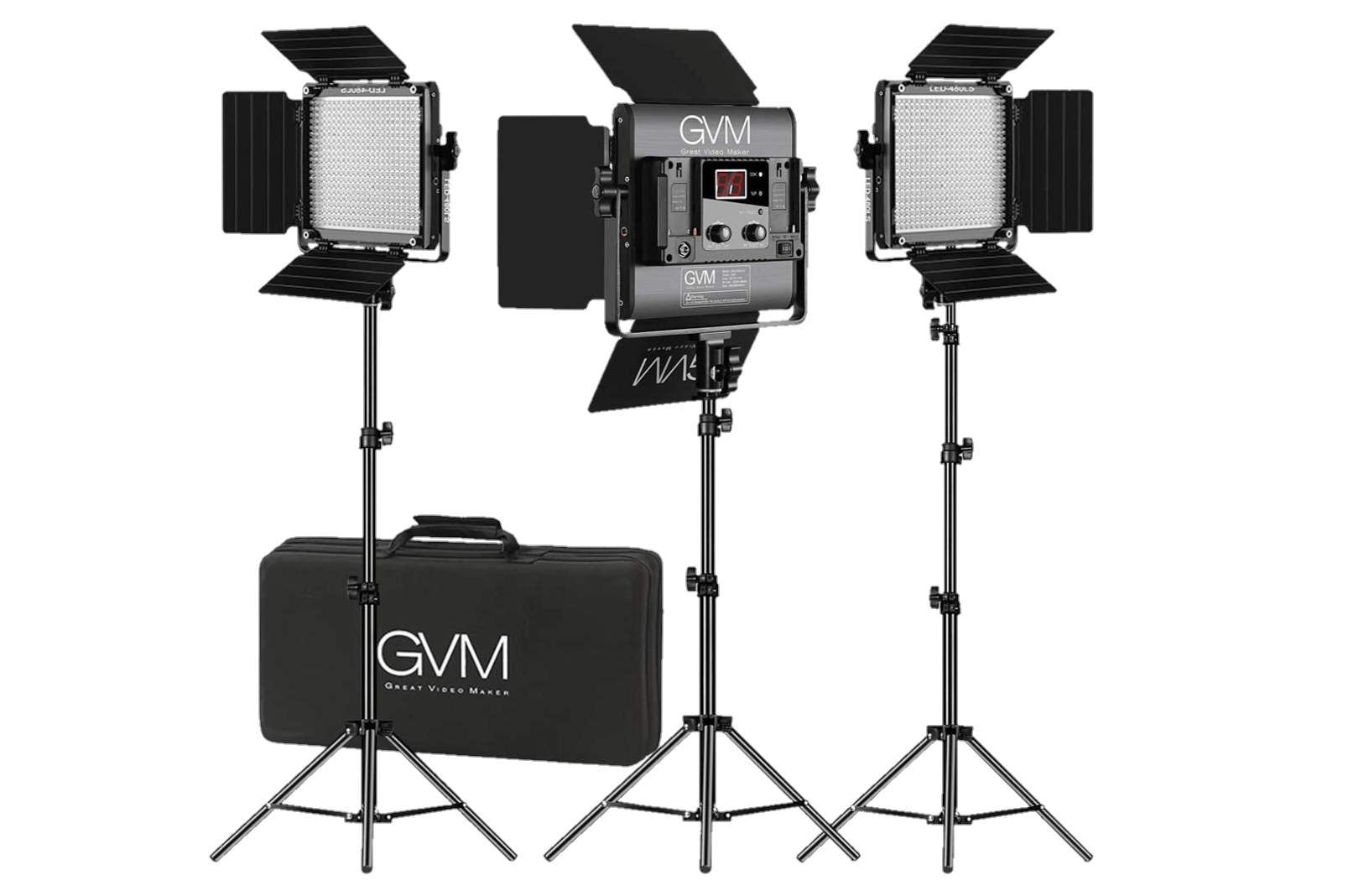 An industry-standard LED Lighting kit featuring a one-year warranty to cover any potential mishaps in the first 12 months makes the GVM Dimmable Bi-Color LED Light Kit an option any beginner videographer could want.
Because it's so portable, this GVM can be used on a variety of sets, whether you're shooting in Lincoln Park or Chicago Loop.
It also includes a variable light range of 2300 to 6800K and is ideal for a variety of production styles which include action videos, etc. You can easily control the color temperature and brightness, and get the color tones you'd be able to get with the most professional lighting set.
The GVM Dimmable Bi-Color LED Light Kit includes:
3 dimmable LED light panels
3 Light Stands.
A carrying case.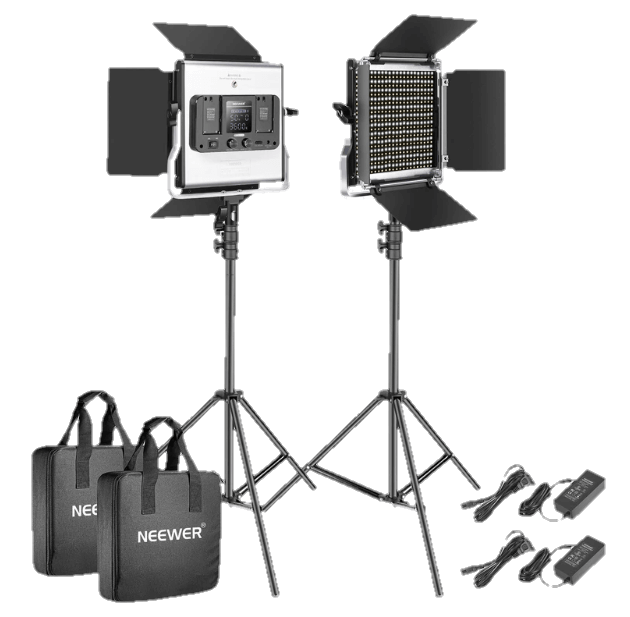 The Neewer 528 LED Video Light system includes APP intelligent controls for easy use and has the kind of innovative technology you'd want to see in a 2020 LED kit.
The professional lighting offered by the Neewer is great for outdoor studio lighting, on the set, or on-the-go. It's unique, long-lasting metal design ensures longevity while the LCD Display is what many a professional Chicago film crew could want. The Li-ion battery option also helps this be a top option for use in the outdoors or travel.
The Neewer 2 Pack 528 LED Video Lighting Kit includes:
2 – SNL530 LED Video Lights.
2 – White diffuser filters
2 – power adaptors and power cables.
2 carrying cases for the LED panels
2 light stands that can be adjusted to 6 feet and are versatile to meet any need.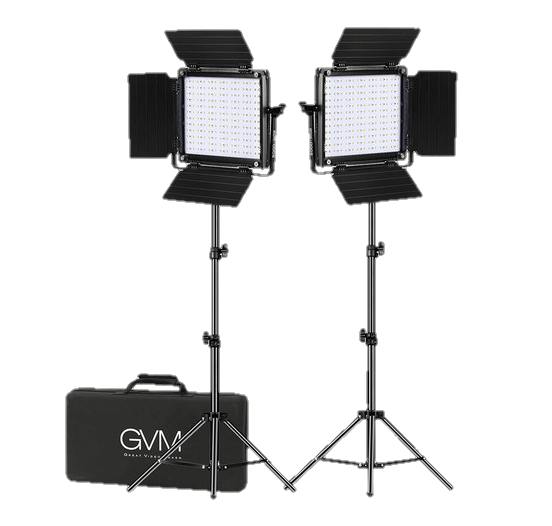 The GVM RGB LED Video lighting kit provides app support for light control from your phone, making it a very convenient option. Any camera crew would appreciate the GVM light kit which offers the option of simulating 8 different types of scenes, smoothly and effectively.
It also simulates a filming environment of a candle, TV, cop car lights, or even lightning. This kit has a lighting panel range of 3200 to 5600K, making the GVM RGB LED a professional video lighting kit that any studio would be happy to use, especially for beginners.
This kit features:
Simulated lighting modes for 8 different scene types.
Multiple output options including RGB or color temperature between 3200 and 5600K.
RGB 800D support.
Control all lights as single master light.
168 LED Beads and 84 RGB Beads for 100K hours of light life.
There are many options to choose from as you look for the best quality video lighting kit for your professional Chicago film crew. At Beverly Boy Productions, we're here to give you ideas of what you need by offering our favorite picks in terms of quality and versatility, as well as of course, the best illumination for a variety of sets. What are you looking for in your next professional video lighting kit?