Covid Safe Video Production in Durham, NC
Looking for Covid Safe Video Production in Durham, NC? In early 2020, Americans were unphased by the idea that a super virus was killing China people in mass quantities, surely it couldn't cross the ocean and enter U.S. Soil? That seemed to be the thought until March 2020 when COVID cases in the United States began to climb and filmmaking, as well as all other non-essential businesses, were put to a screaming halt. Since then, COVID safe video production in Durham, NC as well as in cities and states nationwide has been a key focus for the CDC and various film organizations and guilds.
Beverly Boy Productions has closely monitored the recommendations and guidance by the CDC and the North Carolina Film Office in opening up our film sets and studios during the COVID-19 pandemic. Our film sets follow strict guidelines to ensure the safety of our cast, crew, contractors, and those in the community.
Get a Fast Free estimate!
COVID Safe Production In Durham
To keep Durham residents and those working in the city safe, the North Carolina Film Office and the CDC came up with a set of standards that all filmmakers and producers must follow when allowing cast and crew to operate on set.
These guidelines closely resemble those required for many other businesses and include:
Wearing face coverings when on the set, in public places or in close proximity to others, and when social distancing cannot be maintained.
Face coverings are required unless you are working on set in front of the camera.
Limiting mass gatherings on the set or off.
Following disinfecting guidelines as set forth by the CDC and using only EPA approved disinfectants.
Maintaining at least 6 feet of social distance whenever possible.
In addition to these rules, OSHA also addressed safety on film sets for staff and crew.
OSHA guidelines require that:
Filmmakers allow cast, crew, and staff to work remotely when possible.
Filmmakers increase airflow on set and provide improved ventilation.
Producers and all other cast and crew members wear face coverings unless on camera.
All non-essential travel is limited and those visiting the set avoid travel to "known COVID hot spots."
PPE equipment is paid for and provided by the filmmaker.
Video Production Drop Kits
In addition to the widespread changes made to how we operate on the film set, changes were made internally by Beverly Boy Productions in an effort to adapt and continue to provide desired film production equipment to those seeking to produce videos when film sets and studios were closed. In March 2020, we began distributing video production drop kits to clients that were interested in filming from their homes or offices. This professional-quality video equipment comes disinfected and ready to point and shoot from your own home office.
Our video production drop kits provide COVID safe video production in Durham, NC for those seeking an alternative to visiting the studio or the film set.
Additionally our drop kits:
Feature contactless delivery for your safety.
Come ready to set up and easy to use.
Feature remote operation capabilities for use in a completely hands-free experience.
Can be delivered, and picked up, at your convenience.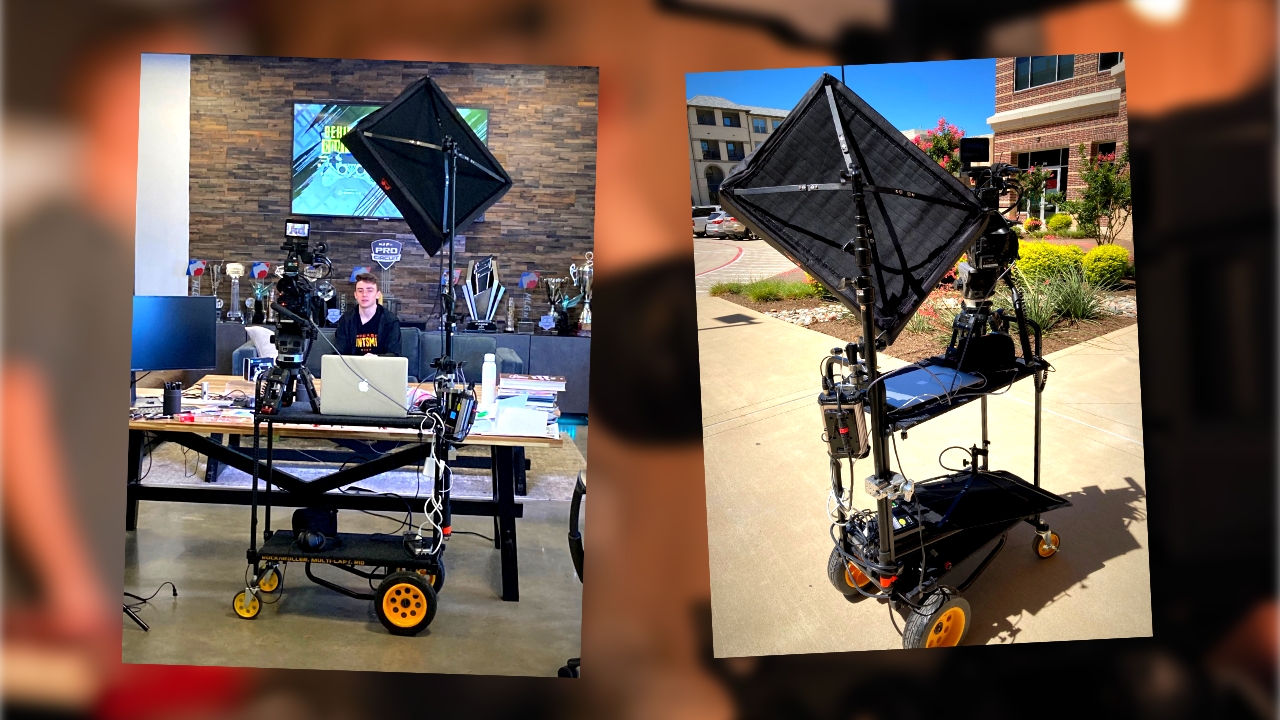 Want to learn more about our COVID safe video production in Durham, NC and the steps that team Beverly Boy will take to keep our cast, clients, and crew safe? Give us a call!