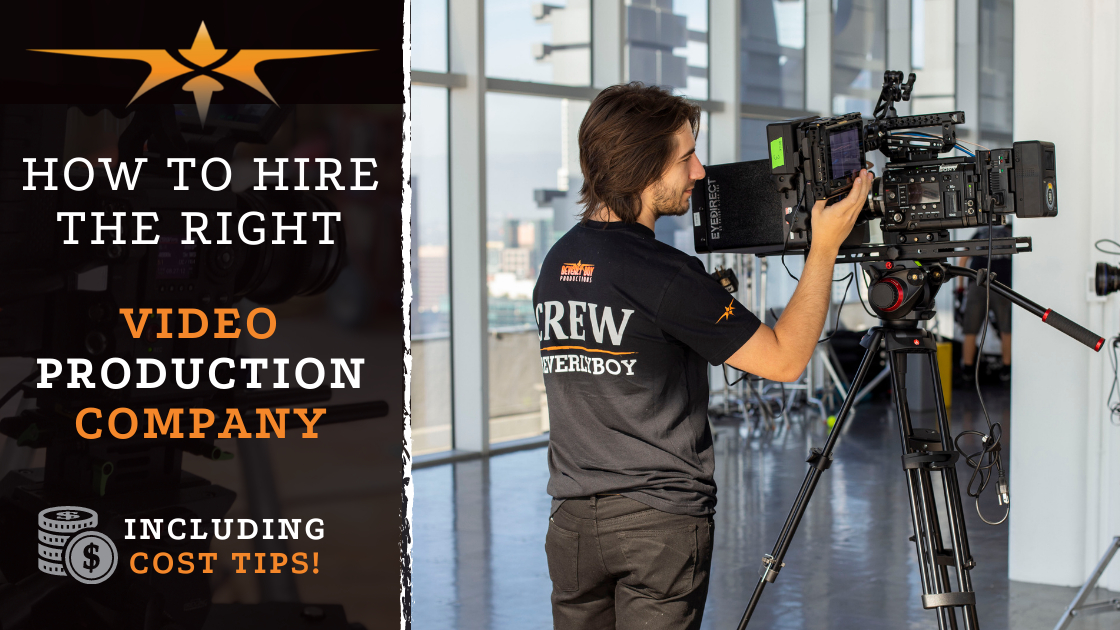 How to Hire the Right Video Production Company
We know that video marketing is crucial in growing your business. They're used by businesses of all types and sizes with one thing in mind: exposure and connecting with your targeted audience.
The first step to getting started is hiring a video production company, a team of talented and experienced individuals that can bring your project to life. If you don't have experience with any companies, you could start by Google searching "video production company" or ask for reviews, but that's easier said than done. You need a competent team that can create a video that's best fit for your company's goals and objectives.
In this article, you will find a basic guide and tips on how to hire the right video production company. You don't want to put your project in the hands of just anyone, after all!
While production companies will help you crunch the numbers, it's extremely important to have a budget in mind before approaching anyone with your project. Many factors are going to affect the price of your video. The type of video you're creating, the duration of it, and the equipment and staff used to create it are all going to affect how much you pay.
To assist you in establishing a budget, we've created a per-hour pricing sheet for you to reference. Don't worry about the hard work – we've got your back.
Video Production – Pricing Sheet:
Video Director: $25/hour to $250/hour
Script Writer/Marketer: $60/hour to $150/hour
Video Editor: $60/hour to $175/hour
Cameramen: $25/hour to $400/hour
Actors/Presenters: $50/hour to $500/hour
Narrators/Voiceovers: $100 to $400
Equipment: $25/hour to $100's/hour
Studio Shooting: $100/hour to $400/hour
B-Roll: 10% to 50% addition to shooting costs
Audio Files: $30 to $1,000
Video Rendering: $30/hour to $75/hour
'Miscellaneous Fees': $100 to $1000's
When approaching a company with your project, we highly recommend preparing for the consultation and knowing your budget. This way, video production companies can tell you what they can do with your specific budget. (Remember: the more you invest into your video, the more your production company can impact your targeted audience.)
Schedule a Free Consultation
Now that you have a budget in mind, it's time to discuss your plans with a video production company and schedule a free consultation. Thankfully, most seasoned shooters offer free consultations. With years of experience, it's easy for them to sit down with you and discuss various areas of your project such as its content, budget, and time frame.
Aside from your budget, there are a few more things to bring to the table during your consultation. To help your company better understand your project as a whole, don't hesitate to explain your business. Telling your production company the nature of your business, as well as its goals and objectives, will help your company create a video that best suits your needs. (The "right video production company" can almost immediately take this information about your business and determine what type of video is best for you!)
Hiring a Professional Video Company
After describing your business, we recommend addressing your budget range, as well as your project's time frame. A video that needs to be completed in 2 weeks is going to cost significantly more than a video that doesn't need to be completed until the following quarter.
Lastly, if possible, we recommend saving a sample video that best describes what you're interested in creating. A reference video helps your production company determine what qualities you'd like to include in your own production.
The right video production company will take these parts of your project and provide you with a quote then and there. It's that easy!
Hiring a professional video company doesn't have to be a stressful process. Whether you need an in-studio production, on location footage, or a green screen setup, Beverly Boy Productions can do it all. Give us a call today to see what we can do for your latest project!
East Coast Headquarters
9200 Belvedere Road
West Palm Beach Florida 33411
West Coast Headquarters
17251-D East 17th St.
Tustin, CA 92780