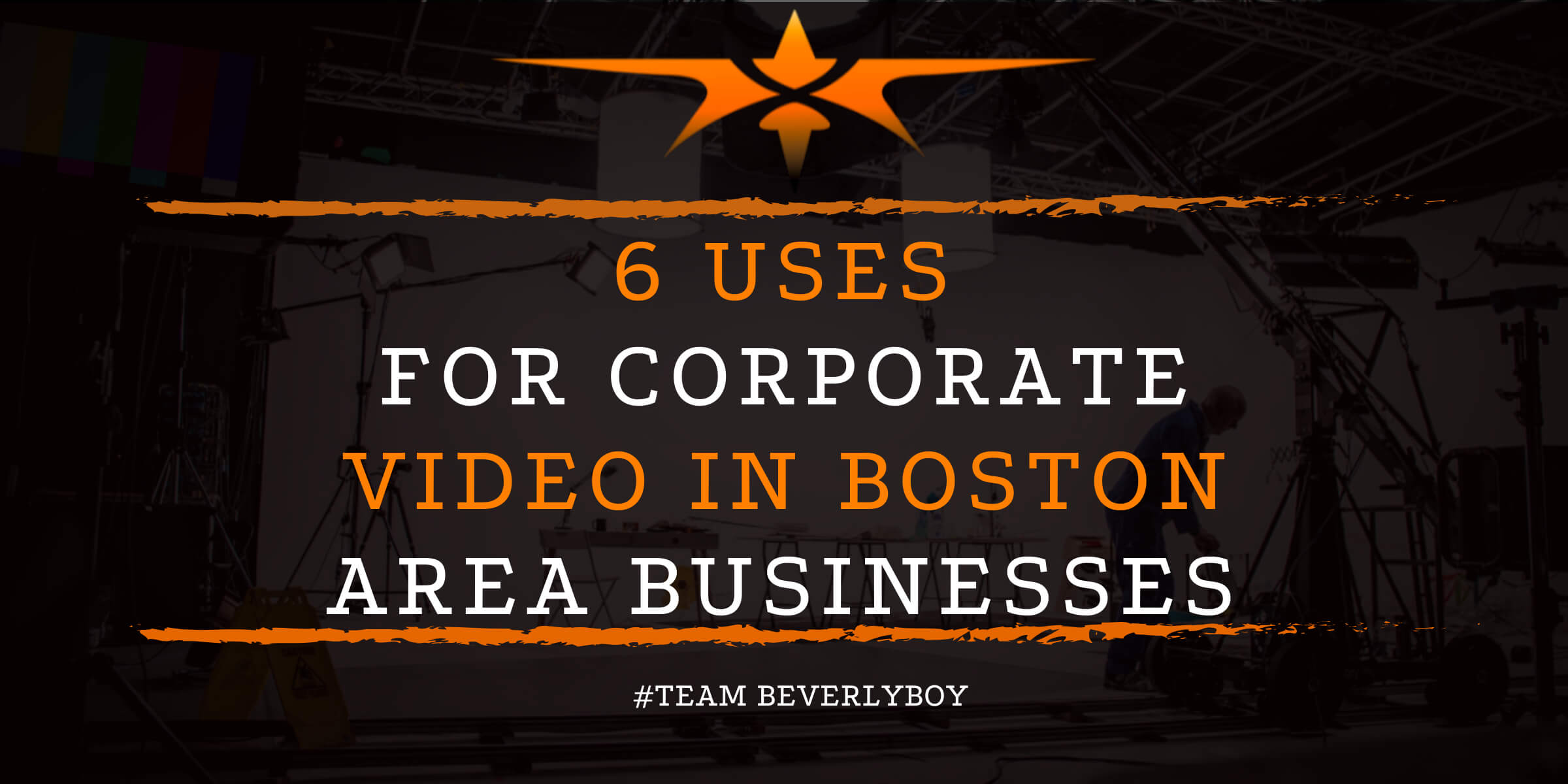 6 Uses for Corporate Video In Boston Area Businesses
Look around and you'll find one common point in the marketing of most businesses throughout the city of Boston — what is it? It's video! In fact, video is literally all around us. Not just being used by Boston business owners, but also by our local government, by schools, by major retailers and consumer products companies, as well as by just about any other type of business imaginable. From TV to cell phones, corporate video in Boston area businesses represents the voice for the brand.
Get a Boston corporate video quote here!
At Beverly Boy Productions, we specialize in full-service video production with a heavy focus on corporate video production for businesses throughout Boston as well as nationwide.
In our more than two decades of operation, we've found corporate video in Boston area businesses to be highly effective and beneficial to these local brands. In fact, it's especially useful when these 6 types of corporate videos are incorporated into their marketing campaigns.
1. Social Responsibility Videos
Now, more than ever before, social responsibility videos are incredibly important and valuable to a Boston business. Why?
Because today's generation wants to know more about the businesses and brands they purchase from. They want to know that brands are giving back to the community.
They want to know that businesses treat their employees well and that they care about their customers (even the ones that are on the other side of the world).
Corporate social responsibility is a very BIG deal to consumers, which is why we find ourselves frequently engaging in the production of this style of corporate video in Boston for local business owners.
2. Testimonial Videos
Our extensive history of producing corporate video in Boston has resulted in hundreds of testimonial videos being created over many years.
In fact, testimonial videos are one of the most commonly used forms of corporate video that are the most affordable for Boston business owners and can be most effective.
These videos are almost guaranteed to deliver a satisfactory ROI for the brand while generating greater trust and acceptance among the desired audience. They can go a long way in building up trust and commitment to the brand.
3. Corporate Profile Videos
The company profile video or corporate profile video is often used to introduce your audience to your business.
Whether you're sharing the video with prospective consumers or potential stakeholders, doing so provides a broad outlook of your business to the intended audience and helps them to understand the products or services that you provide.
These corporate videos are ideal for delivering information about your mission, values, history, various other details relative to your brand.
4. Promotional Videos
Promoting your business with corporate videos can help you to boost brand recognition among your audience to build a stronger sense of awareness and familiarity for your products or services.
Promotional videos are great if you're launching a new product or intend to offer a brand new service. Promotional videos tell a story that influences consumer purchase decisions for the products or services provided by your brand.
5. Recruitment Videos
Recruitment videos provide an excellent opportunity for Boston businesses to extend their reach and potentially bring on new customers, employees, or supporters.
Corporate recruitment videos help to draw attention to openings within the business, usually for employment, and may give the audience an impression of success and growth.
The idea is to provide viewers with insights into how the company operates, what the corporate culture is like, and why they should consider applying to an opening position or offering within the business. These videos are extremely useful in growing a team.
6. Internal Communication Videos
Producing corporate video in Boston is something that Beverly Boy Productions has specialized in for several years and, over our time working with local business owners we've seen a lot of different uses for corporate film production within the business.
It all really depends largely on the individual needs of the business, and what we can do to help you, and your business out.
Internal communications videos represent a unique tool that allows businesses to connect with clients or employees, to deliver internal information such as updates to corporate policy, individualized assistance, new client or new employee onboarding, or various other details.
They're a great way to keep those who are most important to your business fully informed and up to speed with what's going on inside the brand.