Top Film Grip Tools
If you're new to the role or interested in expanding your toolbag so that you can perform all necessary steps associated with becoming a great grip, certain pieces of equipment are simply a must. If you don't have a tool pouch, that should be the first thing that you buy as you simply cannot be a grip without one. We're outlining various other top film grip tools that you will use throughout your career in this exciting field.
As a grip, you are responsible for ensuring that lighting, rigging and various other elements of the set are prepared in a way that is safe and sound. You must be able to ensure lighting is hung, cameras rigged, and microphone setups prepared throughout the set with no risk to the actors, camera crew, or other members of the production team that will work below. Several basic tools are required to make this happen.
Basic Hand Tools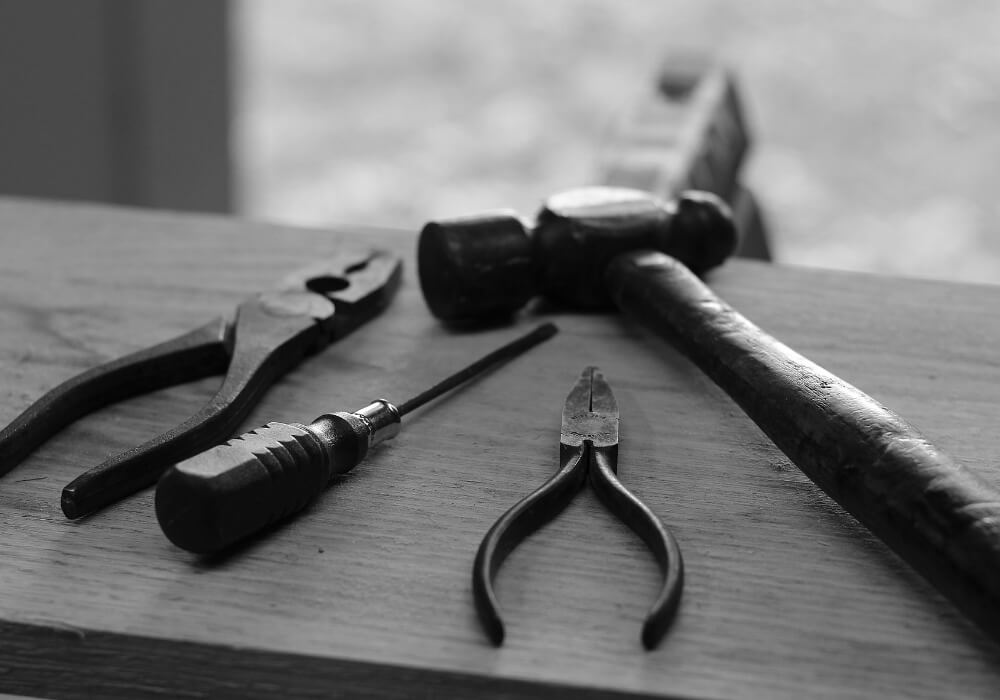 Grips need the basics. Several screwdrivers, a measuring tape, and a razor or utility knife will get you started. If you don't have these tools in your tool pouch, it's time to head on down to the hardware store to get them.
Screwdrivers will be used on all sorts of equipment and setups. Ideally, you'll have both metric and non-metric wrenches and star bits, as well as Allen wrenches too. As you work on the set, you will quickly realize that often times it's the least expected size or type of bit that you need to get the job done–so make sure you have the oddballs.
A measuring tape helps the grip to measure several different things on the day to day work on the film set. The tape is often used to plan out dolly tracks from point a to b. It may also be used to measure windows or other openings before making final cuts. Without a tape, you're essentially flying blind.
Gloves
You can't grip much of anything without gloves. You will need several pairs of gloves in order to perform your duties of grip. Make sure the gloves are durable and will not only protect your hands but will also provide a means of keeping them warm in cold environments.
If you're working with small pieces and need your hands free. Consider a pair of fingerless gloves or those with several fingers covered by the flipped back ports so that you can roll them out the way when using the fingers and cover the flaps back when you are not doing something technical in nature.
A 4-Foot Level
In addition to basic hand tools, grips need to be able to appropriately check the level of various setups. A 4-foot level can be used on the dolly track to ensure safety and proper construction. While you may be saying, "But I am a Grip, I won't be laying dolly track." Think again! Many grips find that on lower budget projects they are responsible for laying dolly track and take on the role of dolly grip even if they are the key.
Flashlight
Sometimes you will work in dark places. Sometimes you will work underthings. An LED Flashlight with a powerful light source will ensure that you can see when the lights are out. Make sure you also have plenty of batteries so that your light works when you need it. It's also a good idea to get a light that can work underwater. This way, if you must work on sets that include water or if you work in the rain, you will have proper lighting to do so.
Chalk & Markers
As a grip, you should carry chalk and permanent markers to help you label gaffer tape and update the chalk clapper. Chalk may be used to mark equipment in various other situations too. Don't be stuck asking around for something to write with just because your tool bag doesn't have a marker inside!
Additional Miscellaneous Tools
In addition to the above tools, a grip should have an assortment of miscellaneous tools to help him perform the job. Claps, clothespins, gaffer tape, multipurpose tools, and various other equipment will make the job easier. As you prepare your bag for work as a grip, pay close attention to picking tools that can clip to your belt or can easily be stored in a small toolbox that you can have with you on the set. This way, when the need to change or fix something arises, you'll have what you need to get the job done!
Are there any other top film grip tools that you can think of? Let us know if we missed something!