How to choose the right Philadelphia County video production services in 2021
There is a lot that you can do with reliable Philadelphia County video services. A talented team can help you translate your vision to a video product that can help you present your brand in a new light.
Get a Philadelphia County video quote here!
If you are not yet aware of the power of online video content, or the benefits companies are accruing from producing and publishing videos on social media, let's look at a breakdown of some of the recent statistics.
Now, 83% of markets would be willing to increase their dependence on videos as the marketing media, if money and time were not a constraint. In addition, according to Tubular Insights, 64% of consumers purchase a product after watching a social media video.
Philadelphia County video production is a great investment to make because of the ROI.
In fact, 52% of marketers agree that video offers the best ROI. There's little question on the importance of video for marketing and branding. Consider hiring the right team to deliver the best Philadelphia County video production services in 2021.
Boost Your Business
Philadelphia County businesses need professional video production services to leverage on the fact that, social media posts with video receive 48% more views. Platforms like YouTube and Facebooks are the best platforms for marketing; guess what is the most viewed content on these platforms?
Video. So, are you thinking about getting into video marketing? A professional video production agency in Philadelphia can help your Pennsylvania business to grow and become a force to reckon with.
Beverly Boy Productions is comprised of talented experts with the passion to deliver professional video production services for local businesses and brands in Southeast Pennsylvania.
Contact our office today at 215-279-9332 and let our experts provide bespoke Philadelphia County video production services that will take your brand to a whole new level.
Philadelphia County, a Great Place to Film
Philadelphia County is home to some stunning sights including iconic hotels like the Four Seasons Hotel, and shopping centers like the Mayfair Shopping Center. In case you are scouting for some attractions in the city to feature as backdrops in your video, you can check out amazing landmarks like the Independence National Historical Park, Fairmount Park Conservancy or the Society Hill Historic District. These locations are truly breathtaking.
In addition to the outdoor locations we have looked at, Philadelphia County is also home to some unique historical buildings and landmarks located throughout the county including the Philadelphia City Hall, the Eastern State Penitentiary, or the Liberty Bell. These sites are rich in the history of old Pennsylvania.
Proudly servicing the entire Southeast Pennsylvania area including Richmond, Blockley Township, Passyunk Township, and Germantown Township.
Video Production Costs in Philadelphia
Video production costs in Philadelphia County and the costs in other major counties in Pennsylvania are the same. The charges you are going to incur will be based on the experience of the production crew, and the unique needs of your film project.
Day rates will begin from $250 going upwards for each camera crew member. These costs vary depending on the expectations and skills of the individual.
Typical
Philadelphia county production crew rates
can include:
Equipment – up to 100s per hour
Studio Shooting – up to $410 per hour
Film Director – approx: $260 per hour
Script Writer –

approx

:

$160 per hour

Cameraman – $60 – $410 per hour
Narrator – >$410 per hour
Audio Files – up to $1010
Video Rendering – up to $85 per hour
Editor – $50 –

$185 per hour

Actors – $60 –

$510 per hour

B-Roll – expect to pay a percentage between 10 and 50% of your total cost
Miscellaneous Fees – can cost very little up to 1000s extra
Philadelphia County video production services and individual costs differ from one service provider to another. But what is critical is to hire a crew that has the expertise and professional experience to deliver on the needs and expectations of your video project.
Live Streaming in Philadelphia the "New Norm"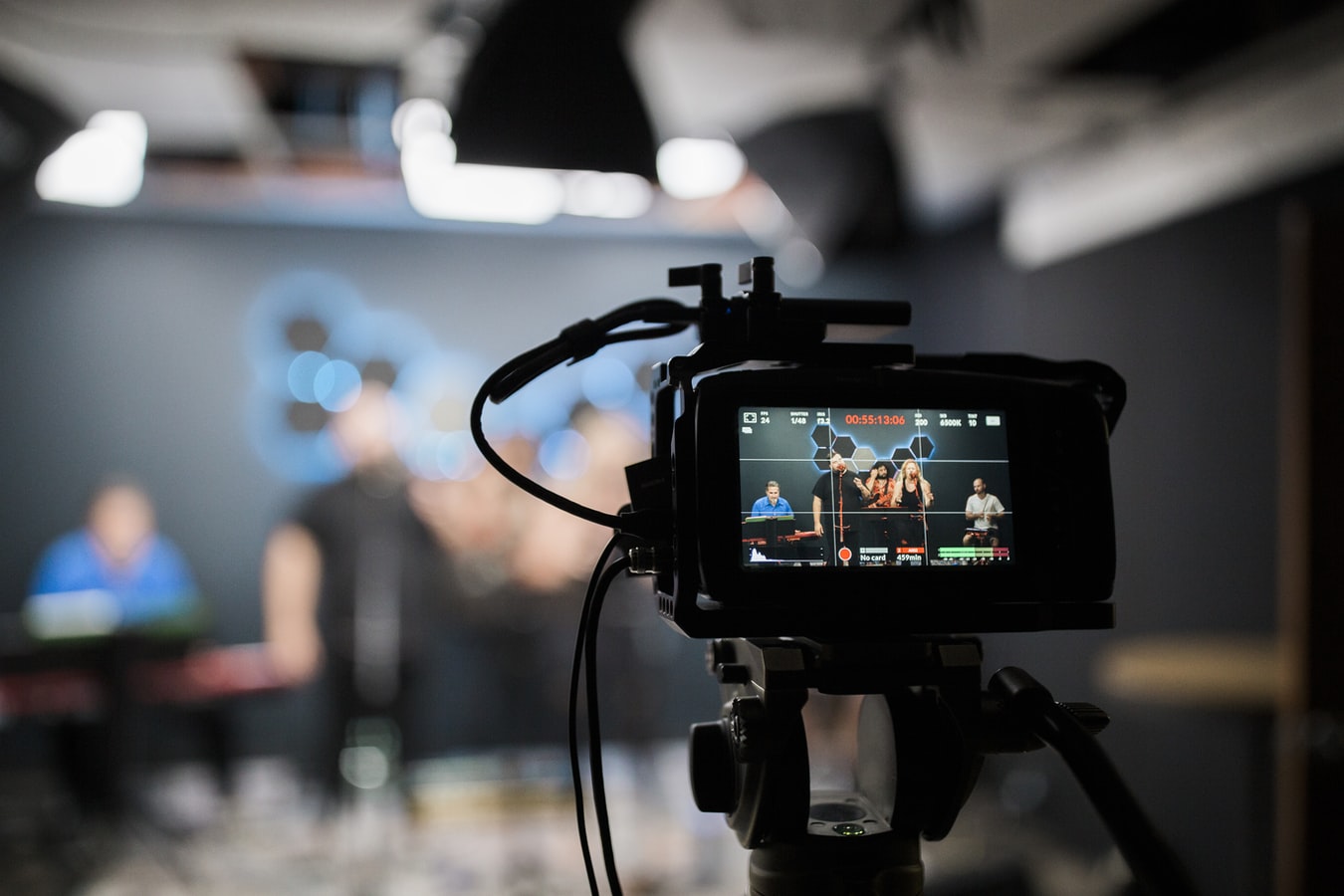 Many Philadelphia business owners are now living a "new norm" since COVID-19 came to the global scene and changed life as we know it. The introduction of lockdowns and social distancing made it hard for businesses in Pennsylvania and other parts of the country to operate as usual.
But as solutions started streaming in, businesses jumped on the use of remote features that enabled real-time interactions. Right now, live streaming in Philadelphia is the "new norm." Any brand in any county can take advantage of professional live streaming production services.
You can easily access professional film crews in Philadelphia if you need the following services:
Funeral live streams, Church services & Weddings.

Conference live streams & Virtual meetings.

Webcasting virtual concerts & Graduations.

Bonded cellular streaming, 3G/4G/5G, and Mobile Satellite uplink trucks.

Live polling, LiveU & Paywall platforms.
Connect Your Business
The addition of livestream technology has allowed many Philadelphia County companies to communicate, engage, and interact with their remote audiences through professional live video feeds.
In fact, many brands will continue to share their livestream video content regularly, even after the Covid-19 restrictions are lifted, and we get to a new norm. Our company streams on several RTMP compatible services including YouTube Live, Ustream, Wowza Media Server, Akamai, and Twitch.
From the TriCaster to the Livestream studio HD550, professional crews are using high-end gadgets to support reliable livestream videos that can help brands achieve all sorts of goals.
You can use this platform to host webinars, training sessions, interviews, and even shows. Livestream video technology allows these businesses to boost viewer engagement and deliver interactive content that includes live Q&A polls, audience chat features, and customized call to action offers targeted to each viewer.
Hiring the Right Philadelphia Camera Crew
Get a Philadelphia County video quote here!
As we mentioned earlier, hiring a Philadelphia County camera crew to help you produce professional quality videos for your business is an important step for any business to take. We are now going to share with you the tips you can use to find the right crew. Start with a quick search for local providers in your area.
Beverly Boy Productions offers full-service film production including pre-production planning, filming, and post-production editing. Drop us a line at 215-279-9332 and work with a creative team that can tell pioneering stories.
Once you shortlist the providers you have searched for, it's time to start the real process of finding and hiring a professional film crew in Philadelphia. Next, conduct a background search on the providers.
It is important to mention that you are going to find some amazing film companies that can offer professional Philadelphia County video production services, but you are also going to interact with crews that know how to market their services, but lack in the ability to walk the talk; they are called imposters.
Next, a film crew in Philadelphia should be able to show up on site with more than the tools for the job, and the crew. A professional team should also be big on creativity, storytelling, and the ability to bring your vision to life on film.
At the initial stages, discuss your budget and timelines with each film crew. This process will help you to sift out the crews that cannot work with your budget limits and time constraints.
Finally, keep in mind that you get what you pay for. Film production services in Philadelphia County differ due to each service provider's cost and level of experience.
If you want a quality video product that meets your needs and promotes your brand effectively, you may end up spending some more cash on the project. So, take time to do your homework.
Look at the history of the company and also check some of the videos they have produced in the past to determine the if the quality of the videos is what you are looking for. Once you go through these steps, you will have a good chance of hiring the right Philadelphia camera crew for your business.
Corporate Video Production in Philadelphia
Video is the best marketing content for businesses of all types and sizes. In fact, by 2022, 82% of the global internet traffic will be attributed to video – this is 15 times higher than the statistics in 2017.
Marketing videos are drawing a lot of results to organizations in Pennsylvania. Invest in video content as your primary marketing media and get your brand visible.
Just to refocus, the purpose of this article is not about whether you need video for business or not, it is about showing you the importance of creating a powerful video marketing strategy that can help you elevate your game in 2021.
Corporate video production in Philadelphia County can help increase your brand reach and boost audience engagement, while increasing the chances of viewers watching your video on your website to convert.
Is there any reason why you should not take advantage of the benefits of corporate video marketing in 2021?
Consider going for
Philadelphia County video production services
if you want to achieve the following:
Increase the marketing value

of your content,

drive more leads

, and

increase conversions for your brand.

Improve the understanding of your project. 97% of video marketers report that customers use videos to understand their offering much more.
Improve the your first page rankings in Google search engine results

by as much as

157% or more.

Web Pages with video

are more likely to end up in the first page

.

Increase the sales of your business by as much as 81%. Viewers prefer to make a make a purchase after

viewing a video about the brand.

Create a connection with your audience.

44% of audience

members

prefer watching a video over reading about products

or services.

A successful email campaign with open rates of

as much as 19%

. Placing the word "video" on the subject line of your increases the likelihood of the email being opened.

Increase landing page conversions

by

as much as 80%

.

Increase the organic traffic of your site by

as much as 55%

.
These are some benefits that you can access if you are serious with corporate video production in Philadelphia. Start off by making the decision to go for video marketing campaigns in 2021.
Booking an Event Videographer in Southeast Pennsylvania
Philadelphia County video production services offer more than just the creation of live streaming videos and marketing campaign videos.
You can hire professional videography services for interviews, customer testimonials, and even conferences. Capturing your business events and sharing them with the world is also a great use of video production services.
In fact, booking an event videographer in Philadelphia is a great move that will build your brand awareness, and boost the attendance of future events.
We understand that someone might think, "Can't I just use my camera to cover my event?" We would like to share with you two reasons why we recommend hiring an event videographer:
Professional quality

–

event videographers

understand that presenting your image in a professional way builds value to your brand, intrinsically. So, once your viewers watch the final video, they will mirror the quality and professionalism of your video to your products and services.

A team that stays out of your way –

event videographers know how to weave through the event using unique gear, to capture amazing shots without causing any distractions as the activities of the event progress.
Team Beverly Boy has you Covered
Booking an event videographer in Southeast Pennsylvania who can create a unique video that meets all of your business expectations, is a huge asset. You can literally bring any idea you have to life.
So, if you need a professional crew to help you cover your upcoming corporate business events in 2021, contact Beverly Boy Productions.
For over a decade, our company has been helping marketers or clients like you to create unique videos that communicate their messages in creative ways.
To learn more about our Philadelphia County video production services, drop us a line at 215-279-9332 and we will get back to you shortly. We look forward to working with you in 2021.