Employing the Right Bronx County Video Production Services in 2023
If you are looking for an experienced team to provide high-quality Bronx County video services, this article is here to guide you on how to pick the team that will handle your upcoming Bronx County video production. But before we discuss the tips, let us look at the effect of video in marketing.
Get a Bronx County video quote here!
For instance, 88% of markers who invest in video for marketing and branding were satisfied with the ROI they get; this is especially true for videos on social media. Video marketers also get 66% more qualified leads every year. The power of online video content is unmatched.
Take some time to identify the right service provider, so that you can benefit from investing in Bronx County video production services in 2023. If you want to grow your audience and increase the visibility of your brand, you must get started on videos.
Start Video Production
Bronx County businesses need professional video production services to leverage their abilities to be visible in a world where 500 hours of video are being uploaded to YouTube every 60 seconds. How will you attract the attention of your audience in a noisy marketing world?
A professional video production agency in the Bronx can help your New York business to increase its ROI and visibility in the market.
Beverly Boy Productions is a top video productions company that is experienced in delivering professional video production services for local businesses and brands in South New York. Talk to our friendly admin team at 646-448-8787 and learn all about our Bronx County video production services and the years of experience we bring to the table.
Bronx County, a Great Place to Film
Bronx County is home to many beautiful sights including impeccable hotels like the SpringHill Suites by Marriott New York LaGuardia Airport and shopping areas like Throggs Neck Shopping Center. Filming in the county opens up shooting different place of the county. Consider a scene at the Bronx Zoo, New York Botanical Garden, or the Wave Hill Public Garden & Cultural Center. Each of these locations offers beauty adn serenity.
In addition to the number of landmarks that we have mentioned, Bronx County is also home to some unique historical buildings and landmarks located throughout the county including Van Cortlandt House Museum, the Edgar Allan Poe Cottage, or at the Bartow-Pell Mansion. You can make use of these amazing locations to shoot a scene of your next video.
Proudly servicing the entire South New York area Schuylerville, Charlotte Gardens, Park of Edgewater, and South Bronx.
Video Production Costs in the Bronx
Video production costs in Bronx County is relatively the same as the costs in other major counties in New York. The pay you are going to incur will be based on the experience of the production crew, as well as the unique needs of your film project. Day rates start from $250 per camera crew member, and it depends on the skillset and expectations of the individual.
Bronx County Production Crew Rates
Can Include:
Actors – $64 –

$514 per hour

Equipment – up to 100s per hour
Film Director – approx: $269 per hour
Script Writer –

approx

:

$164 per hour

B-Roll – expect to pay a percentage between 10 and 50% of your total cost
Miscellaneous Fees – can cost very little up to 1000s extra
Studio Shooting – up to $414 per hour
Narrator – >$414 per hour
Audio Files – up to $1014
Cameraman – $64 – $414 per hour
Editor – $54 –

$189 per hour

Video Rendering – up to $89 per hour
Bronx County video production services and individual costs are not the same when you look at the offers of two service providers. The critical part is knowing how to hire a crew that has the professional experience to take on your video project.
Live Streaming in the Bronx is the "New Norm"
There are many business owners in the Bronx who started experiencing life in a "new norm" ever since COVID-19 plagued the world and caused the institutionalization of lockdowns and social distancing rules throughout both New York and other parts of the country. Live streaming in Bronx is the "new norm" and communicating through these remote features is helping many brands to engage with their clients wherever there are in the county and beyond.
Fortunately, live streaming production services are widely accessible from professional film crews in Bronx who are skilled in:
Live polling, LiveU & Paywall platforms.

Funeral live streams, Church services & Weddings.

Webcasting virtual concerts & Graduations.

Bonded cellular streaming, 3G/4G/5G, and Mobile Satellite uplink trucks.

Conference live streams & Virtual meetings.
Connect with Your Audience
The way many Bronx County companies are using livestream technology to deliver professional live video feeds to their remote audiences is a trend that will continue even after Coronavirus lockdown restriction are lifted.
The livestream video content we stream is broadcasted through different RTMP compatible services including Twitch, Wowza Media Server, Ustream, Akamai, and YouTube Live.
From the TriCaster to the Livestream studio HD550, the use of livestream video is enabling brand to host regular employee meetings and trainings with ease. Brands are also able to interact with their audience through Livestream video technology. The advantage of using this platform has changed the way business interact at a scale never tried before.
These businesses are now able to boost viewer engagement and deliver interactive content that includes live Q&A polls, audience chat features, and customized call to action offers to each viewer.
Hiring the Right Bronx Camera Crew
Get a Bronx County video quote here!
Hiring a Bronx County camera crew to help you produce professional quality videos may not be a straightforward process. You need to be patient and focused in going through the process. So, the first order of business is to perform a quick search for local providers in your area.
Beverly Boy Productions offers full-service film production including pre-production planning, filming, and post-production editing. Drop us a line and let us help you bring your ideas to life.
Let's get back to the tips you need to know before hiring a professional film crew in the Bronx. The initial step is to research on the prospective providers. In your search online, you will find high skilled film companies that can provide top-of-the-line Bronx County video production services, and you will also discover quacks that present a false image of their services.
The next thing is that a film crew in Bronx is so much more than the equipment and experience under their belt. The most important thing to check is whether they are great at creativity, storytelling, and the ability to bring your vision to life on film.
Take time to discuss your budget, project deadlines, and the unique needs of your project with the film crews you have shortlisted. You need to address all these points so that you can pick the perfect partner that fits with your project needs.
Finally, remember that you get what you pay for. Film production services in Bronx County usually vary based on the cost and experience of the production crew. To get the best quality videography service, you may have to end up spending a little bit more than you expected.
So, conduct your background search, sample out the videos the prospective service providers have produced in the past, and get a cost estimate from each crew to be able to settle on hiring the right Bronx camera crew for your business.
Corporate Video Production in Bronx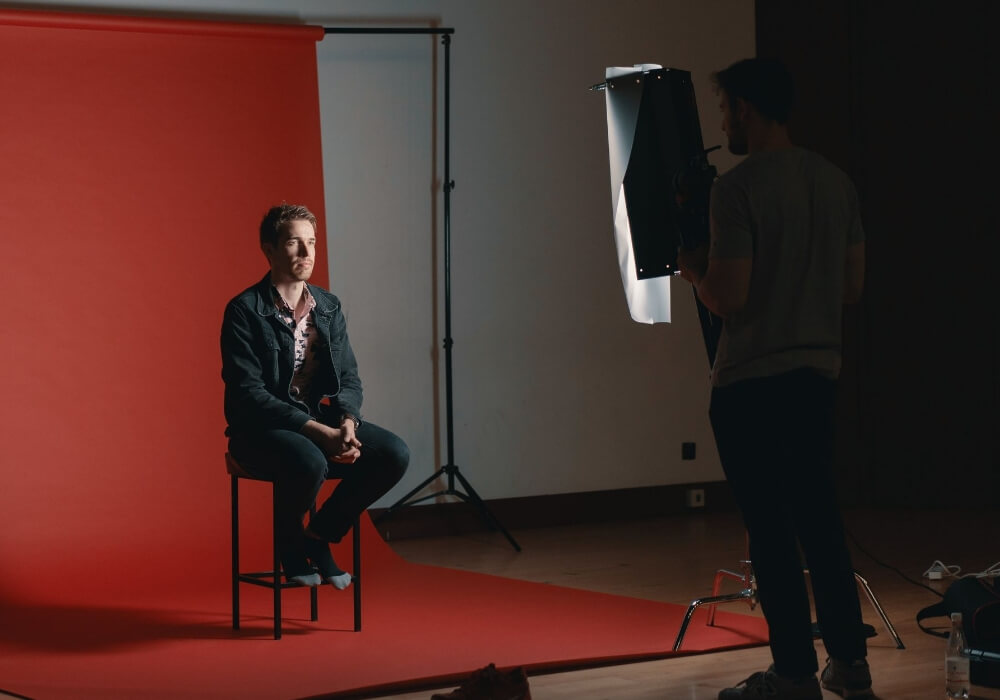 When talking about the best marketing content for businesses of all sizes, video is the most effective of them all. In fact, 90% of businesses that have invested in quality marketing videos have reported to have increased their ROI because of the use of video content as the primary marketing media.
At the core of our discussion is an idea that does not involve whether or not you need video for business, or the number of videos you need to produce in a week or a month. What we are driving at is the point that you need to come up with a powerful video marketing strategy if you want to take your business to a whole new level in 2023.
Corporate video production in Bronx County has the power of increasing a brand's reach and, at the same time boost audience engagement which will enable viewers staying on your site to convert. There is great opportunities for your business if you consider corporate video marketing in 2023.
Bronx County video production services
is important for your corporate video production if you want to:
Increase the marketing value

of your content,

drive more leads

, and

increase conversions for your brand.

Increase the email campaign open rates by

as much as 19%

.

Increase landing page conversions

by

as much as 80%

. Video has the capacity to compel a viewer to action.

Increase your organic reach by as much as

157%.

Web Pages with video

are more likely to result in first page

rankings in Google search engine results.

Connect with your audience in a more meaningful way.

44% of audience

members

prefer watching a video over reading about products

or services.

Increase organic traffic by

as much as 55%

to your website.

Increase your company sales by as much as 81%, because consumers end up making a purchase after

viewing a video about the brand.

Achieve your year-over-year revenue growth by 13.3% compared to the expected 8-9% for businesses without video marketing.
These are some of the advantages of investing in corporate video production in the Bronx. If you need help with planning your video marketing campaigns in 2023, give us a call, we are open to help.
Booking an Event Videographer in South New York
Bronx County video production services certainly cover more types of videos, they are not limited to marketing campaign videos and live streaming videos. Capturing your business events and using the highlights to promote your next event is a service that you can get after booking an event videographer in the Bronx.
Once you promote your events with quality visuals, you can build brand awareness, and even score more attendees for your future events. You may think, "Can't I just film the event myself?"
There are a few reasons we would like to give on why we recommend hiring an event videographer:
Professional quality

–

event videographers

capture the event in a cinematic way. You will get a professional quality video that will present your brand in the best way possible.

A team that stays out of your way –

event videographers can cover your event without interfering with any single activity. They will use different types of equipment to take the best shots of different aspects of your event.
Look No Further Than Team Beverly Boy
Identifying and booking an event videographer in South New York is a great thing because you will have a creative partner who can meet the expectations set forth by your business.
So, if you are looking for top-notch Bronx County video production services from a veteran production team to cover your corporate business events in 2023, contact Beverly Boy Productions at 646-448-8787, and we will deliver 100% on your video needs.