Singapore, Asia offers residents and visitors a healthy film industry with several options for aspiring filmmakers to choose from when seeking to advance their technical training in the film industry. If you're considering attendance at one of the several Singapore film schools in the area, continue reading to learn about the programs available at each school. These schools provide students with a community where shared goals and aspirations make one-on-one training exciting and fun. Singapore filmmakers seeking to launch their career in the Singapore industry will find these schools have a balanced mix of hands-on and intensive training as well as traditional teachings that would likely be expected of a stellar film program.
As an active player in the Singapore video production community, we realize the struggles faced by aspiring filmmakers. Fortunately, graduates of these programs often find strong careers in Singapore film production, digital media, and fine arts. Students that study core principles in filming, editing, and production generally excel in career paths with major film companies, news studios, and advertising agencies or as self-employed freelancers.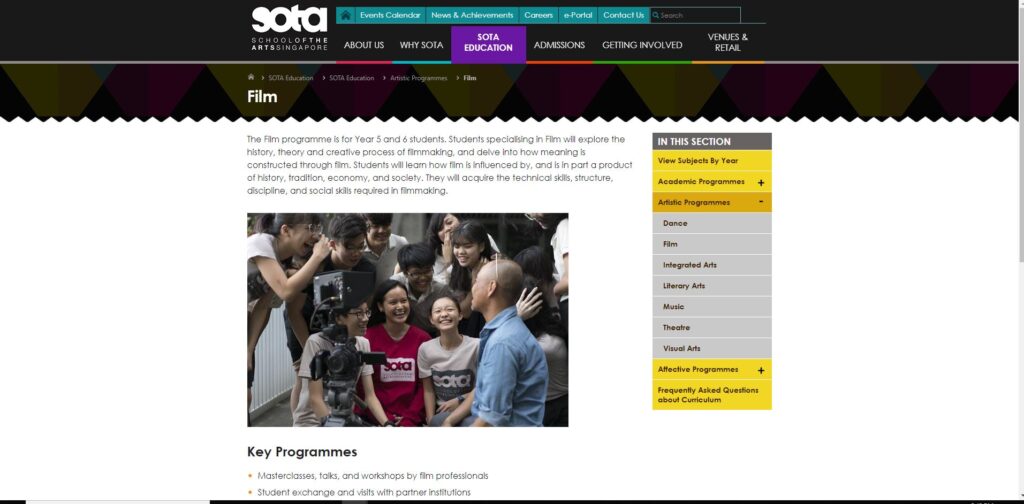 School of the Arts Singapore provides film programs for year 5 and 6 students seeking to advance their roles in filmmaking and creative arts. Key programs offered here, similar to several Singapore film schools, include workshops, masterclasses, and film competitions that guide students using a hands-on approach to training and learning. Students that participate in the School of the Arts Singapore will acquire technical skills and structure for later roles in the film industry.
Phone: +65-6338-9663
Location:
1 Zubir Said Drive
Administration Office #05-01
Singapore 227968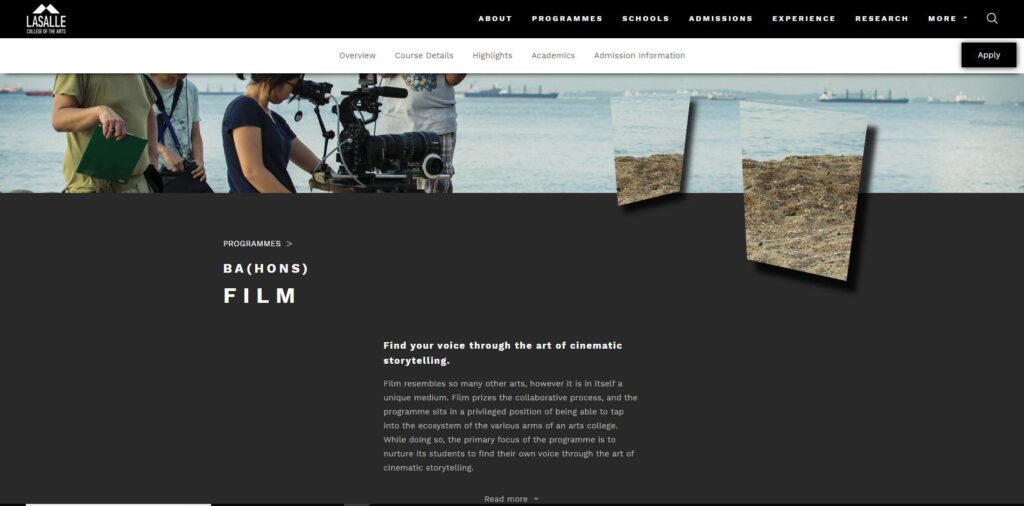 Lasalle College of the Arts provides a 3 year, Bachelor's program in Film that immerses students in the art of storytelling and cinema. Active students participate in courses full-time where they learn practical techniques in professional filmmaking while navigating the complex demands of the industry. Courses in production, sound recording, editing, and all aspects of film media are offered.
Phone: +65-6496-5000
Location:
1 Mcnally Street
Singapore 187940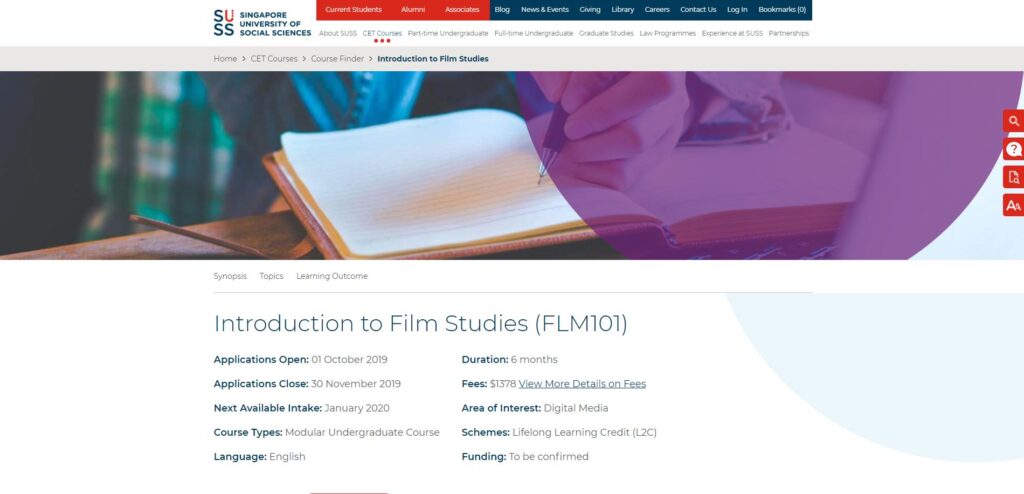 Singapore University of Social Sciences offers an Introduction to Film Studies (FLM101) program that is 6 months in length. Students interested in studying Film will learn film form, cinematography, editing, and sound techniques for the ability to closely read films an analyze the techniques used by professional filmmakers. Similar to several Singapore film schools, the Singapore University of Social Sciences course is taught by active media professionals.
Phone: +65-6248-0188
Location:
Singapore University of Social Sciences
463 Clementi Road
Singapore 599494
The NGEE Ann Polytechnic School of Film and Media Studies provides students with several opportunities to gain training in the industry, including both full-time and part-time courses. Full-time programs train students in Media post-production, Film, sound, video, mass communication, and visual effects. Students work with actual clients, take part in masterclasses and unique film projects that offer an immersive learning experience with plenty of hands-on training and technical skill support.
Phone: +6466-6555
Location: 535 Clementi Road
Singapore 599494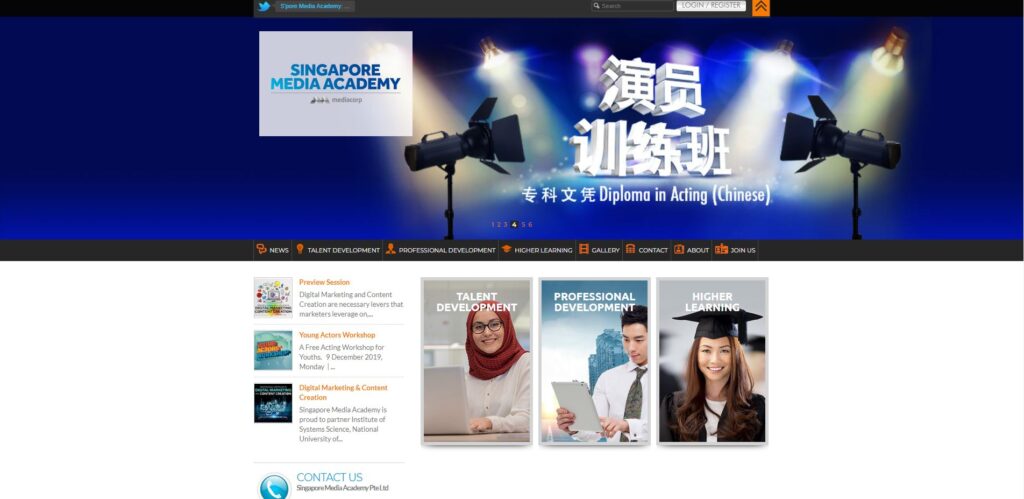 Singapore Media Academy offers several opportunities for students to advance their skills in filmmaking, including an institute of higher learning, talent development, and professional development programs. Students that participate in the higher learning programs at Singapore Media Academy gain relevant skills in media similar to those taught at several Singapore film schools in the area. Diploma programs include acting, Film and Television, Audio Engineering, Production, and Script. Training is conservative, relevant, and immersive.
Phone: +65-6435-6000
Location:
1 Stars Avenue
Mediacorp Campus
Singapore 138507