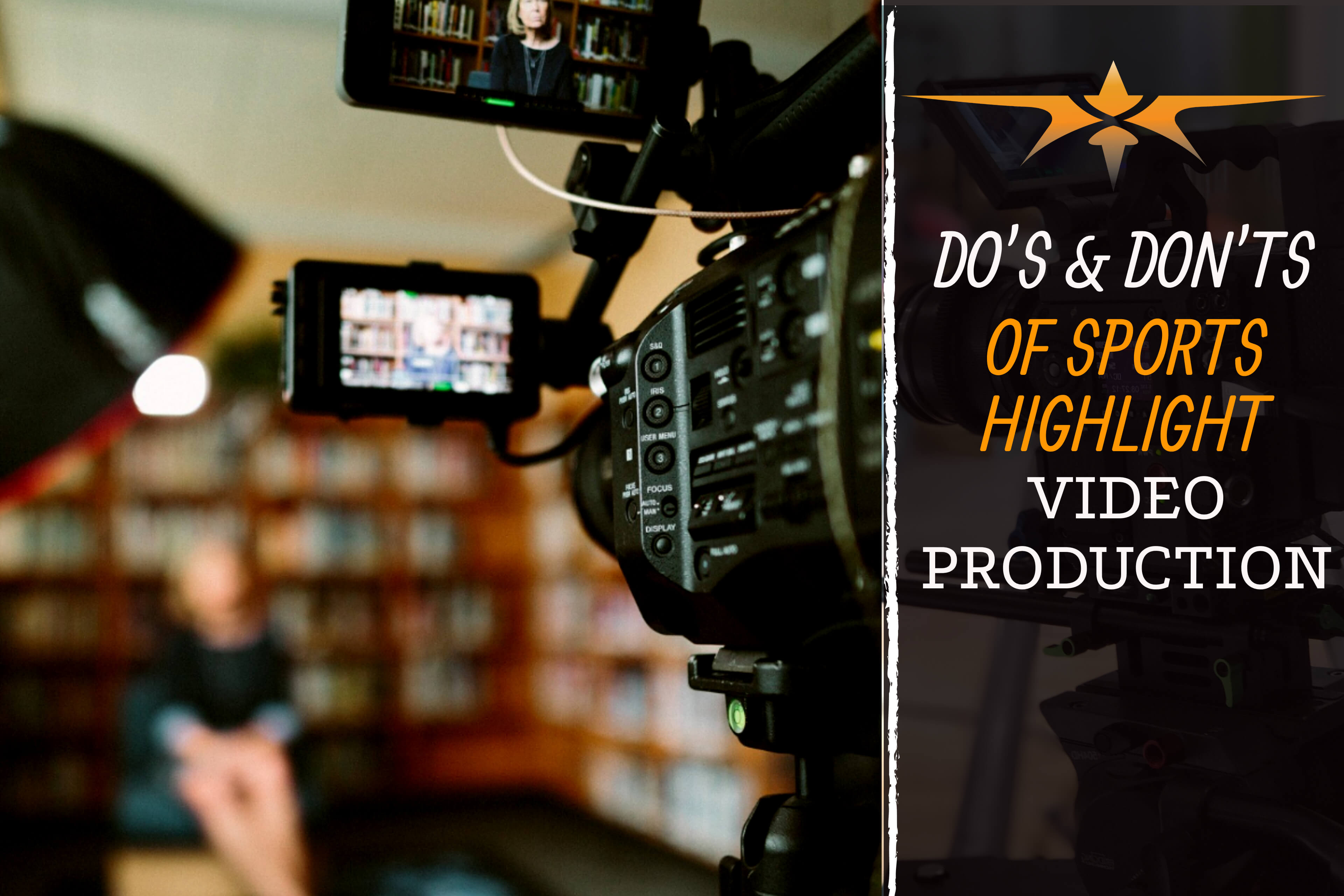 The Do's and Don'ts of Sports Highlight Video Production
As an aspiring athlete, there was once a time when you could focus on playing your game silently hoping that recruiters would find you. But lack of access to the resources that we have today made getting found incredibly more difficult than it is now. However, don't take the increase in resources and ability to get found the wrong way, it's not any easier to stand out now than it was then. In fact, athletes potentially face more competition now than they ever did before which is why sports highlight video production is no longer something that you can afford to overlook as an athlete, especially if you're interested in making a career out of your game!
Whether you're entirely new to video production, or you've dabbled in the creation of a sports highlight or video reel before, these do's and don'ts of sports highlight video production are going to help you define exactly what direction to take your sports highlight reel in!
What to Do When Creating a Sports Highlight Video
Sports highlight video production is something that you should start thinking about very early on in your career. This way you can be sure to capture footage throughout your career, especially showing off how you've progressed and sharing your commitment to the team, and to sports in general, as you grow.
It's really best to hire a professional sports highlight video production crew to come to several games each season so that they can capture video clips that can then be used in your highlight reel. However, whether you're able to hire a pro or not, there are some steps you can take to achieve success in the production of a highlight reel including:
Make sure to use special effects to highlight yourself prior to each play in order to draw the audience's attention to the correct place on the screen.
Be sure to film each game with high quality footage.
Try to avoid any parent yelling or cheering in the footage.

Coordinate your video so that your best clips show ahead of anything else.
Consider filming at least 1 or 2 full games that you can include in addition to your highlight reel. This way coaches and prospective recruiters have the ability to watch you in action and how you interact with others without it being broken down into a highlight.
Finish with a call to action that includes your name, phone number, or other contact information at the need of the video.
What NOT to Do When Creating a Sports Highlight Video
If you're not able to work with a professional sports highlight video production crew, it's going to be incredibly important for you to fully understand where your highlight reel could potentially go wrong. This means, you've got to stop and think about what you shouldn't be doing more so that what you should. Since you'll likely be the one playing the sport, the filming will be left up to your family, friends, or someone else. This means you'll want to inform whomever you're trusting with the camera on what NOT to do which includes:
Yelling! Clips that are littered with yelling, cheering, or family comments are not ideal.
Capture the same shots over and over. If you're only filming for the purpose of a highlight reel, it's very important to film different footage and shots. Being focused on the same play is not going to make you look like a pro!
Capturing footage from the same location. You need to show progression and commitment. Do not show all the same game! It will look like you've not had much of a career.
Any negativity during the game. You need to come off as a team player and someone that's been actively (and positively) involved with the game over an extended period of time.
Benefits of Hiring a Sports Highlight Video Production Crew
If these do's and don'ts have you struggling to figure out where to begin or why, you're not alone! In today's extremely competitive sports industry, it's important to stand out for recruiters and that means you absolutely must have video highlight reels to show off your skills. With hundreds, or potentially thousands, of athletes competing against you for the same position, within the same school, or roster, the steps you take now to stand out later could literally be the difference in whether you engage in a winning career or your athletic potential just fizzles out.
Hiring a sports highlight video production crew is your best chance at creating professional quality highlight reels that stand out and show off your skills and abilities to recruiters. If you really want to get noticed by college or professional level recruits, sports highlight video production is something that you absolutely must budget for at least during your junior and senior year.
To learn more about Beverly Boy Productions sports highlight video production services and the many benefits of working with a professional to produce your sports highlight videos, give us a call! We'll put more than two decades of professional filmmaking to work for you in creating the highlight video of your dreams. If you're ready to get noticed by college recruiters, we're ready to help!