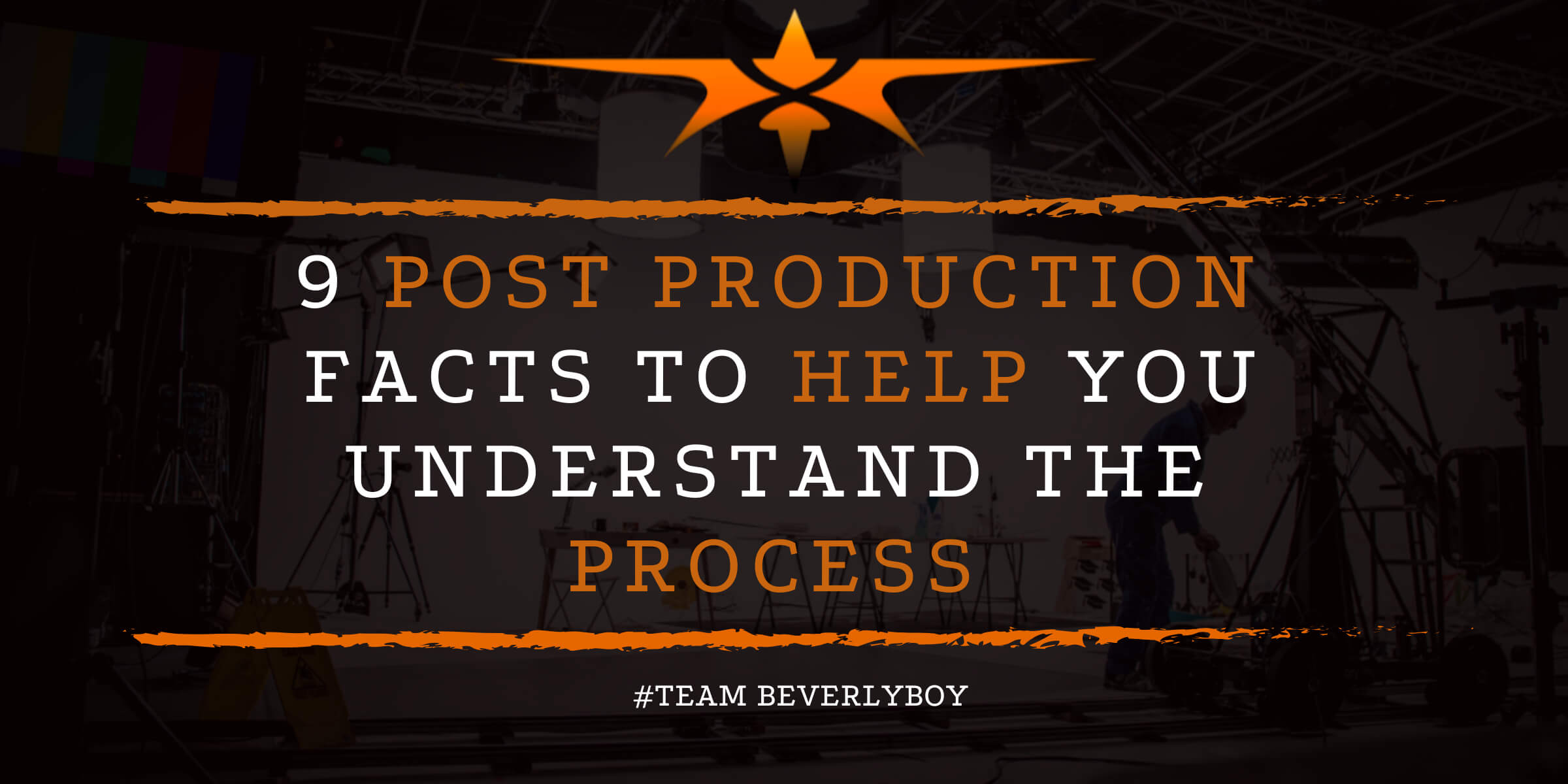 9 Post Production Facts to Help You Understand the Process
What is post-production and why is it such an important and time-consuming element of the video production process?
This is a common question that comes from clients that are wondering why there is so much involved in the POST production process that takes place after the footage is produced. We've compiled these 9 post-production facts to help you understand the process and what to expect.
A Post Production Supervisor Will Help You See the Process Through.
The fact is, the post-production supervisor will see the entire editing process through and is responsible for ensuring that the final cut delivers the story and all its glory in exactly the format that the Director intended.
They'll help you see the process through and act as a liaison between you and the editors and other staff that are working hard to see your project through to distribution. Also, they're in charge of making sure the production stays on budget throughout the end stages and that client needs are appropriately met, so don't be afraid to talk with the post-production supervisor about any questions or concerns that you have along the way!
Prepare to Help the Post-Production Supervisor Clearly Understand Your Needs.
Before post-production work can begin, the post-production supervisor will need to fully understand your needs and the appropriate elements of the project. They'll use this to prepare a budget and delivery timeline that works for their crew and for you, the client.
The best way to prepare for post-production is to help the supervisor understand your needs as fully and clearly as possible. If you need the project completed by a certain day, tell them! If there's a particular element you're most concerned about, let them know! Also, be as timely and critical with feedback as you can be!
Post Production Workflows Vary.
You may have been through the process of post-production for another project before, but we need you to know that post-production workflows vary with the projects.
A workflow may be adjusted based on the type of camera that was used to capture the footage or based on the quality or quantity of footage shot. Please don't be alarmed if the post-production workflow that you're seeing is different from what you have seen in the past. But don't be afraid to ask questions!
Before Editing Starts, the Editor Must Ingest the Media.
Maybe you're looking at a post-production workflow and timeline thinking, "why does this editing step take so long?"
But we need you to know that great editors are going to fully organize and ingest the initial footage before they take any steps in actually using the footage for the final cut. This takes time! The editor will work to sort through footage and organize it into folders or bins so that they can work with it throughout the editing process. Please don't be alarmed if we ask for a little time to get this done right.
Offline Editing Doesn't Mean It's Not Happening.
Just because we're editing offline doesn't mean we aren't working on your project. The editor has compiled the project into an editorial program and is working offline to produce the best possible final cut for your film. Please provide any detailed scripts, notes, or outlines that support the creative vision for the editor to work with and know that just because editing is taking place offline, this does not mean it is not happening.
We Look for Critical Client Feedback to Make Your Film Great.
If you don't tell us something is not the way you like it, or that you are particularly unhappy with something, we can't fix it. We look for critical client feedback to make your film great. Once we get the footage into a place where we feel client feedback and approval is needed, we'll send it to you for feedback. Please be critical so that we can truly bring your film to the next level.
After Client Review, the Editor Will Still Have Work to FInish.
We'll ask for client review but after that, there is still work to be done. The editor will need to confirm the sequence of files to the greatest quality version of the original media available. After your approval, we still need to remove any temporary elements and media replacing it with final versions. This too will take a little time.
Mastering Involves Assembling the Film Into a Single Project.
In the finishing stages of post-production, the editor will assemble the files into a single deliverable that is ready for you to share with the world. Mastering involves assembling the voice over, final mix, colors, graphics, and visual effects files so that you receive a finished file that delivers the powerful footage you've been waiting on.
Final Deliverables Are Provided to Client and Our Work is Done.
The editor's work is not over until the final deliverables are provided to the client. After we deliver the final files to you or distribute them according to plan, then our post-production work can be considered complete. Until then, anything could happen!
Ready to work with a professional production company that uses a post-production process that ensures your film's success? Give Beverly Boy Productions a call. We'll put our two decades of professional video production to work for your film.
Get a Fast Free estimate!