Top 5 Washington D.C. Film Studios You Should Consider for Your Shoot
If you're searching for Washington, D.C. film studios, we've got you covered. We've created a list of noteworthy options for you to consider for your upcoming project. The film and video production industry in Washington, D.C. has grown exponentially over the past decade. People crave cutting-edge video content for social media marketing. As a result, production houses have popped up all around the area. Local D.C. studios and sound stages are available for all kinds of productions, such as movies or a tv spot for branded content. This list covers all of the top-notch D.C. studios that help bring these productions to life.
get a free DC film studio quote here
It doesn't matter if your project requires a green screen studio or a plain white Cyc wall, Washington, D.C. has some of the best resources available to meet your project's needs.
Thanks to things like top-notch equipment and professional stage lighting from a D.C. production team, we guarantee that your project will be in good hands. With that said, let's take a closer look at some of the top D.C. production studios!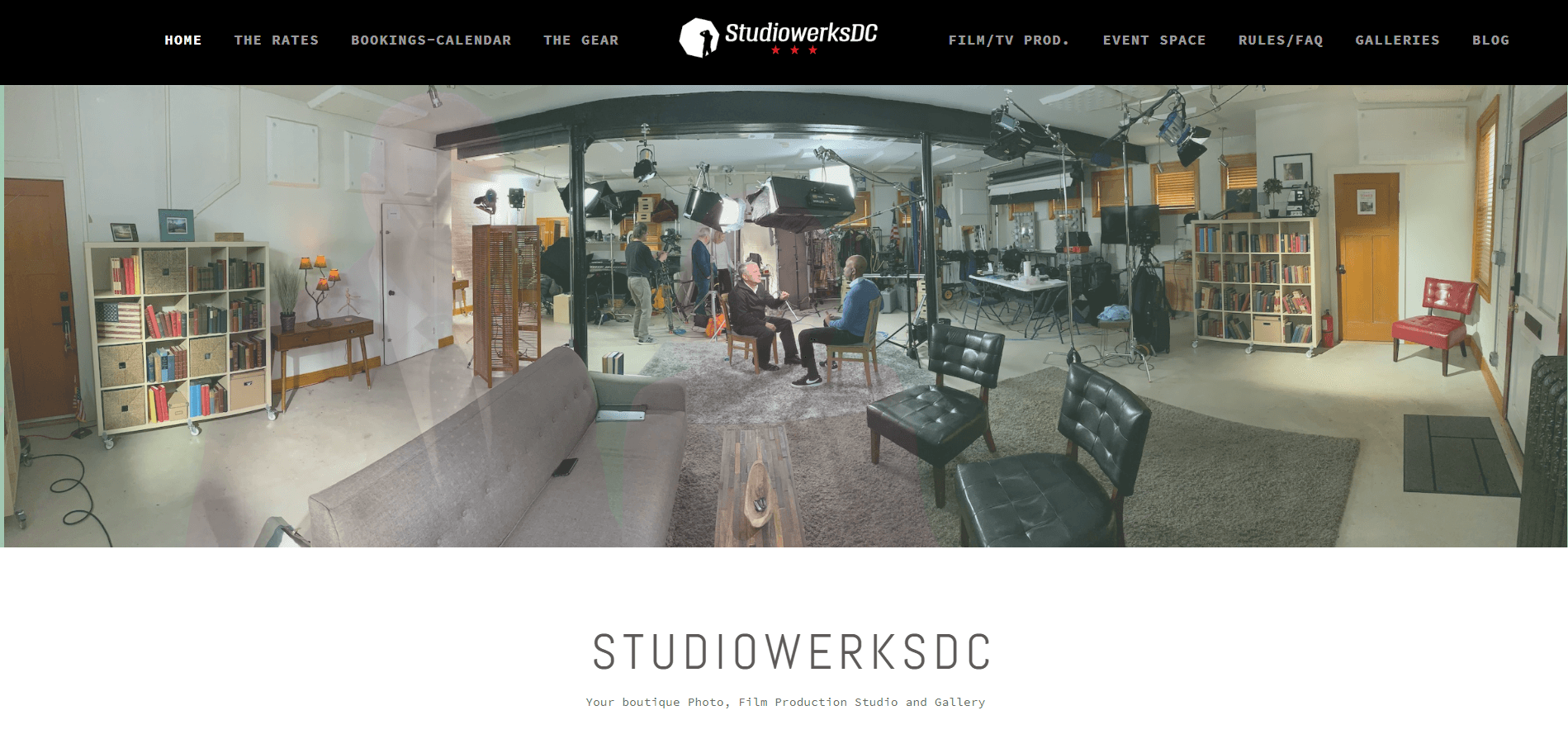 This studio offers 1,250 square feet of space for you to bring your latest project to life. This commercial studio facility is set on Capitol Hill, featuring cutting-edge Profoto, Kino Flo, and Adorama equipment. StudiowerksDC's studio design is great for film and T.V. thanks to its acoustics and various background options.
Additionally, it's only 13 minutes away from the Ronald Reagan Washington National Airport. If anyone working on your project has to travel, this studio is a very convenient option.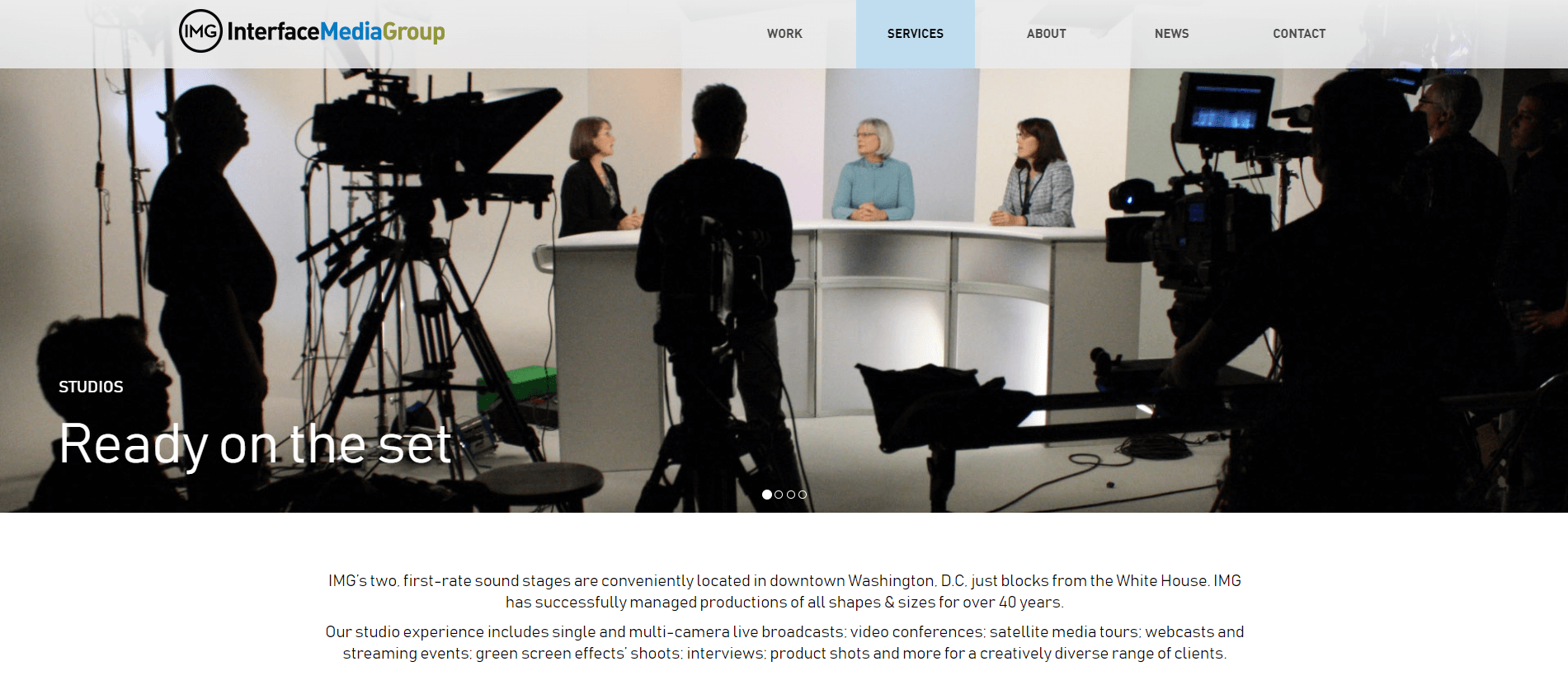 Located in downtown Washington, D.C., Interface Media Group is only blocks away from the White House. This studio has over 40 years of experience in the business and its two, first-rate sound stages have served clients from all around the globe. Equipped with full lighting, grip, and HD & 4K displays, you're guaranteed to film with top-notch soundstages and gear.
If your project requires additional configurations, IMG offers in-house set options like conference rooms, green rooms, and cafés. IMG also has an in-house Digital Media department that handles all aspects of webcasting and live streaming, so if your project requires global transmission, IMG has you covered.
Washington, D.C. – An Amazing Place to Rent a Film Studio for Your Next Shoot
In case you want to take your project outside of the studio setting, Washington, D.C. has many phenomenal locations for filming. It's easy to take your film project to the National Mall park. This park features iconic monuments such as the Lincoln Memorial and the Washington Monument, as well as lush lawns that can serve as a fresh, green backdrop. We also recommend checking out some of D.C.'s best restaurants, where food tastes even better after a long day of shooting. Some of our favorite places include the El Rinconcito Café and the Old Ebbitt Grill.
Additionally, Washington, D.C. is a film-friendly city. If you're looking for information on film permits and local accessibility, check out the Office of Cable Television, Film, Music, and Entertainment. We hope that the resources in this article can aid you in your search for Washington, D.C. film studios.
Subject Matter is a world-class studio that handles every aspect of video production. This studio possesses experienced, talented crews that know how to produce a killer video. Expert teams are able to create and execute ideas through all areas of communication, especially video marketing and video production.
Whether you need bites and b-roll production, webinars, or media training, Subject Matter is a one-stop-shop that can do it all.
Celebro has a top-notch production space in Washington, D.C. This company prides itself in its cutting-edge technology and automation that will take your project to the next level. If you're looking for a top-notch newsroom, this studio has a great green screen space for broadcasting. It also has an outdoor space with the White House and National Monument in the background. (Talk about a view!)
International broadcasters such as BBC, MTV, and Discovery Channel have utilized Celebro's services. This studio consists of experts in the field that are excited to get started on your latest video.
From corporate content to political, DC Video Studio offers a myriad of services. Its 40′ by 25′ cyclorama and green screen facility can assist you in generating a top-quality production. On top of great camera and lighting equipment, all studio rental packages include amenities such as a green room, kitchen, and Wi-Fi.
This studio is located between Washington, D.C. and the Dulles Corridor, which is a very accessible area. In addition to its convenient location, this studio offers plenty of free parking and direct load-in, making your job just a little easier.