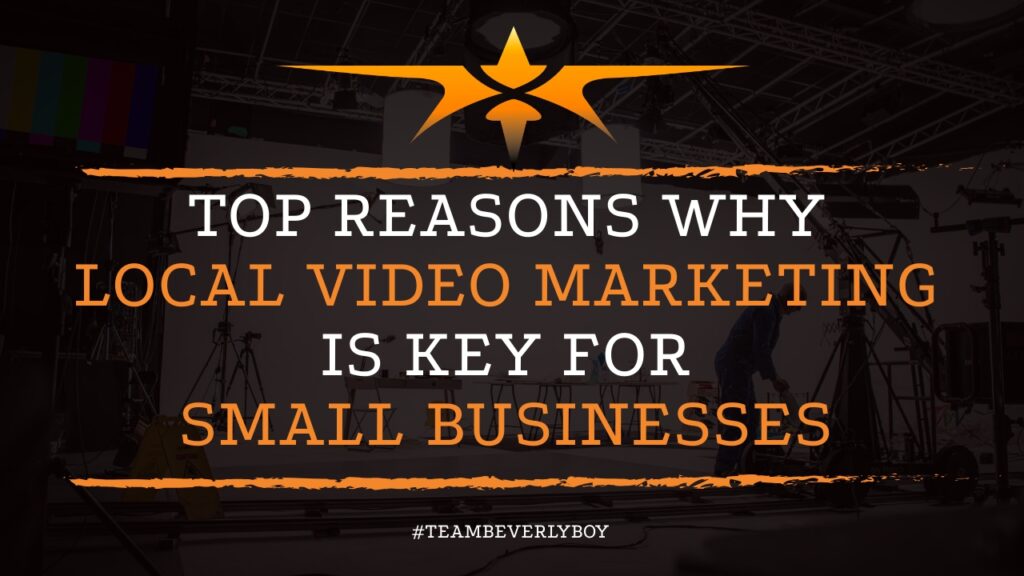 Top Reasons Why Local Video Marketing is Key for Small Businesses
As a small business owner, your marketing budget is likely rather tight with little budging room. Therefore, you may find it difficult to justify spending thousands of dollars on local video marketing campaigns, especially if you're not fully aware of the advantages of local video marketing. We're outlining the top reasons why local video marketing is key for small businesses like yours to help you get a stronger understanding as to why this is so important.
Whether you're looking to launch your first video marketing campaign or this is one of several campaigns that you're working on, the steps you take to bring viewers to your business through local video marketing efforts can lead to significant improvements in your SEO rankings, the amount of time viewers stick around on your site, and your brand loyalty.
Why is Video Marketing So Important for Small Businesses?
Video is helpful for local businesses because it provides customers with a means of connecting on a more personal level with your brand. Visualizing a place helps your potential visitors to get a better feel for whether they may be comfortable there and may encourage them to hop in their car and head over for a visit.
Local video marketing allows you to highlight specific details that only other locals will truly understand. Again, you can connect with your audience on a more personal level which builds brand trust and loyalty.
Local Video Marketing Attracts New Customers
You can use local video marketing techniques to drive new customers to your store or brand. Consider presenting your local video in a way that will help potential new customers to view you as a staple in the community; a brand that they must learn more about.
You can present your videos in any of the following manners:
Provide a day in the life of video that explains the process of operating your storefront and what customers can expect from day-to-day if they visit.
Offer a lifestyle video that helps customers to see how your brand features a similar vibe to that of the community.
Include an FAQ video to help potential customers or new customers get to know your brand and find quick answers to the questions they may have.
Provide an event video that showcases your grand opening or a major sale that will keep those in the neighborhood interested in what you have to offer.
Local Video Marketing Brings Prospective Visitors to Your Website
Just as local video marketing can generate new customers for your, it can also help to drive potential or prospective customers to your brand. Would be customers that are not even aware that your brand exists can find you through local internet marketing which is improved when you host videos on your website and your YouTube channel or social media pages.
Target your video with paid search ads that are specific to the zip codes that you wish to generate customers from for an added mix of prospects to see your brand. This way, if someone searches Google for "restaurants in [CITY]" will find your restaurant. Use the keywords that relate to your business to drive traffic from actual potential customers.
Use Social Content Videos to Encourage Local Visitors
Social videos can attract locals to your business. Consider exciting things like promotions, special products and services, or limited assortment items that are especially targeted to locals or to those who follow your social media.
Use Customer Spotlight Videos to Build Social Clout
Loyalty and social clout will help you to generate ongoing business from new and old customers. Showing off the positive results that your customer is thankful for will help to build greater trust in your brand.
Use Product Review Videos to Encourage Customers to Take Action
Got a new product? Create product review videos that can be used as part of your local marketing strategy to drive visitors to take action and purchase your new product. Showing them how the product works and what's in it for them if they purchase will help to convert more leads.
Include Welcome and Thank You Videos to Show Customers You Care
Sending your customer a welcome video or a thank you video as a token of your appreciation will help them to see that you care for them and appreciate their business. Consider sending the video in an email followup or to their registered social media account as a means of showing your support for their interest in your brand.
There are so many ways that local video marketing can be used to generate additional value to your small business. Consider these top reasons why local video marketing is key for small business and let us know what works best for you and your brand!
Here's a video Team Beverly Boy produced to aid in the video marketing campaign for Casa Do Brasil