5 Reasons to Book Omaha Remote Shooting Kits
It is important to get remote shooting kits because they allow contactless video recording and exposure control, which are safety features that are key when filming during COVID-19.
The same way you operate your camera and lighting system in your normal studio setup, remote shooting kits can record top-quality video footage with limited contact & zero face-to-face interaction. We are helping our clients in the entire Eastern region of Nebraska including nearby cities such as La Vista, Bellevue, Papillion, and Fremont, with sanitized rigs that will enable them to film their projects as they follow COVID-19 safety precautions. Let's now look at the top 5 reasons to book Omaha remote shooting kits.
Book your Omaha drop kit now
#1 Social distancing with Remote Video Kits
Although social distancing has interfered with the normal approach of video production, camera crews are still new finding ways to adapt to the changing environment. To adapt to the times, remote video kits are the best equipment you can use.
Why? Well, one kit contains a lens, microphone, lighting, and live web streaming production capabilities. At Beverly Boy, we customize a virtual filming package to fit your needs.
In addition, the filming package will include equipment such as teleprompters, wireless camera equipment, additional lighting, and audio, or anything that your project needs to ensure quality recording continues, as you observe social distancing standards. Just to paint a picture of what goes on, a technician will install the Omaha remote shooting kits and leave the room when filming begins.
#2 Hands-free production with Omaha Video Drop Kits.
Contactless video production is safe because hands-free production will reduce the risk of COVID-19 transmission. Once a client provides us with their unique business needs, we will design customized Omaha video drop kits for their projects. Each kit has specific features and capabilities to be of service to a unique project.
When you book a mobile shooting kit in Omaha, you have to be clear on what you want to produce, so that the perfect video drop kit solution can be prepared to satisfy your production goals. There are various resources required for each type of project. Our team can set up a single camera system with basic remote features, or a complex multi-lens camera system that features all necessary components, and additional video production equipment, that can be operated wirelessly.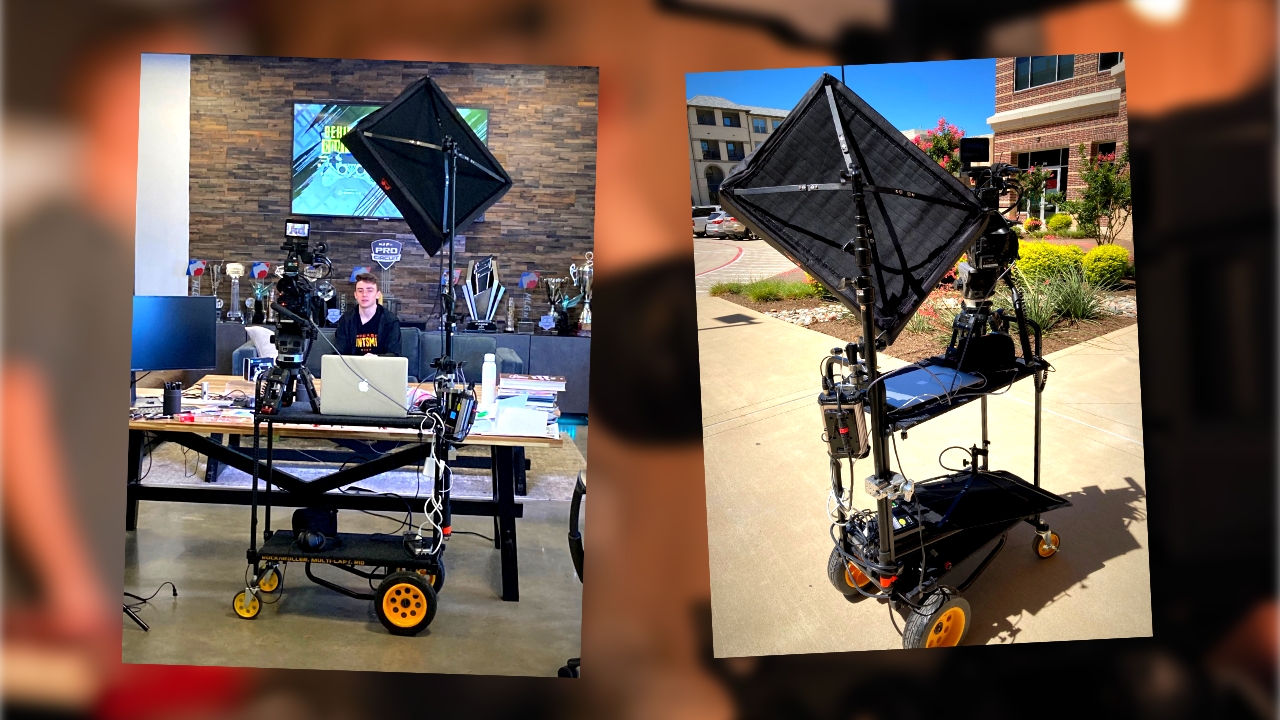 #3 A Virtual Filming Package Meets Your Needs
At Beverly Boy Productions, we provide Omaha remote shooting kits that feature similar production equipment, to those used when a normal on-site camera crew is covering an event in a specified location. The only difference is that the crew filming the project will not be in the room where the footage is being recorded.
You need a virtual filming package that has simple to operate equipment and remote step-by-step shot coordination for capturing the footage for your viral video. A virtual filming package contains a high-quality camera that is positioned on a moving cart, which is fitted with audio gear, lighting capabilities, and a laptop to control any on-site operation. Everything you require to film a professional video as you adhere to the social distancing guidelines is in this kit. It is now possible to avoid an increase in Coronavirus risks when you use the virtual filming package.
Book your Omaha drop kit now
#4 Get Omaha Production Gear on Demand
Whether you want to film a project in Omaha downtown Northeast area, or in Prospect Hill, you can easily schedule the delivery of your Omaha remote shooting kits for your production. Call Beverly Boy Productions today and we will help you in the fast processing of your Omaha production gear on-demand order.
Once you get a sanitized production kit, content production is simple. The moving cart and camera equipment are designed for you to make minimal adjustments. Depending on your needs, the camera can be set up in a specified position, but the lighting and audio positioning can be done remotely. In some setups, all the gadgets can be controlled remotely. Once the recording is complete, the equipment is returned, sterilized, and ready for use.
#5 Sanitized Production Kits for Your safety
It is crucial to have sanitized production kits at this point because they provide a safe environment for filming. As video production continues to face its own challenges as COVID-19 spreads, safety measures have to be provided, and that is why contactless, Omaha remote shooting kits are handy.
At Beverly Boy Productions, we are working to help companies, agencies, and individuals to produce professional videos through sanitized production kits. If you want to continue with your filming projects regardless of Coronavirus worries, talk to our team, and get a customized remote production kit. Shoot your project with a remote kit that is controlled by a drop kit technician who will ensure that social distancing is adhered to during the shoot.
If you want to find out more about filming using customized Omaha Remote Shooting Kits, give us a call. We will show you how simple it is to continue with your video projects as you follow the social distancing policies that have been laid down by the CDC. Talk to Team Beverly Boy today and get the contactless delivery of Omaha video drop kits to help you achieve your production goals.