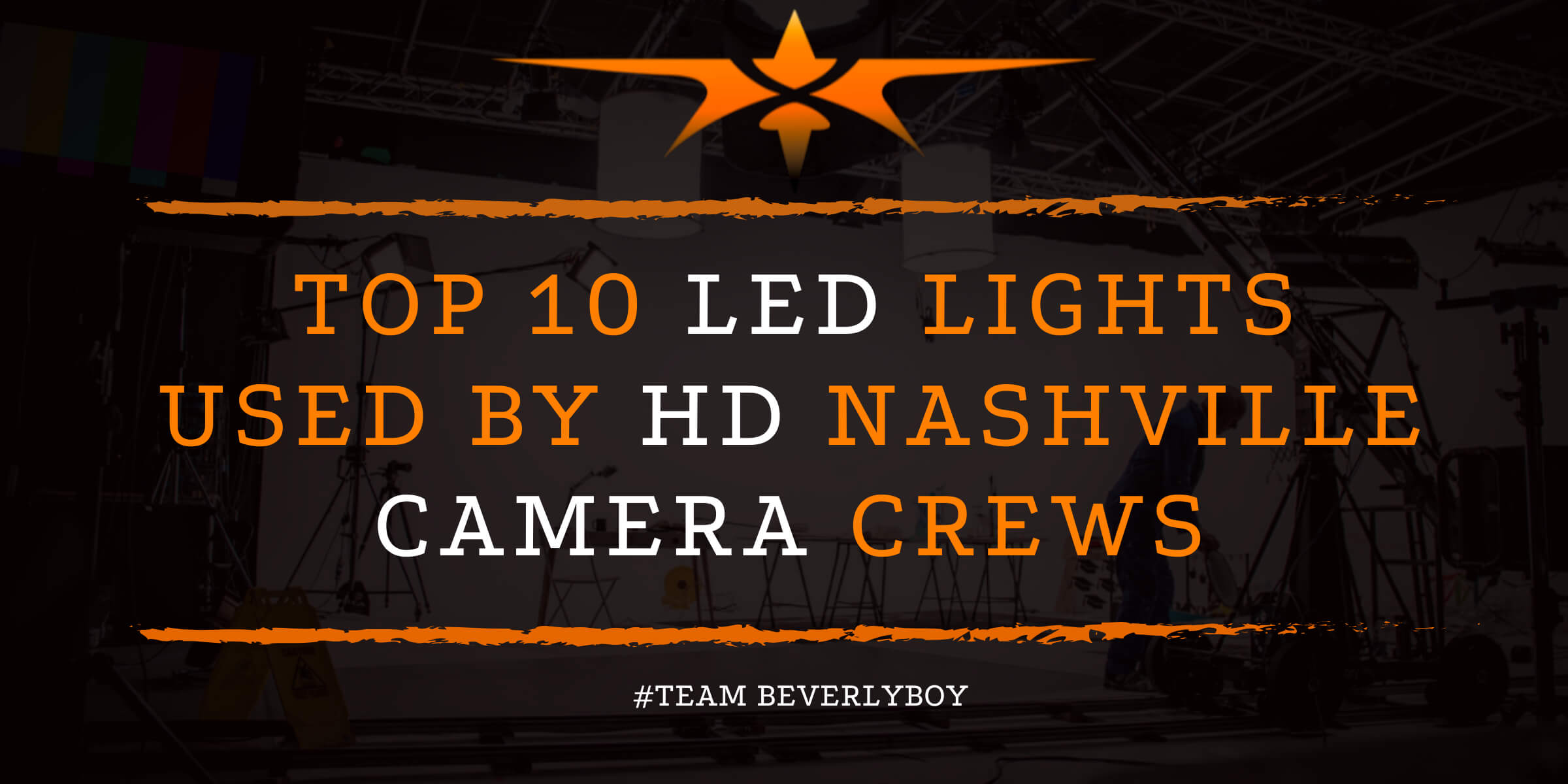 Top 10 LED Lights for Video Production
LED lights are a favorite option for professional crews these days. They offer limitless color options, barely any heart, and are great energy savers.
Also, top HD Nashville camera crews appreciate how LED lights are flicker-free, and because they're available in so many different colors, it's easy to get the versatility needed for a variety of sets.
No wonder, so many top crews love them. We've compiled a list of the best 10 LED lights for video production that can help you have the best set lighting possible.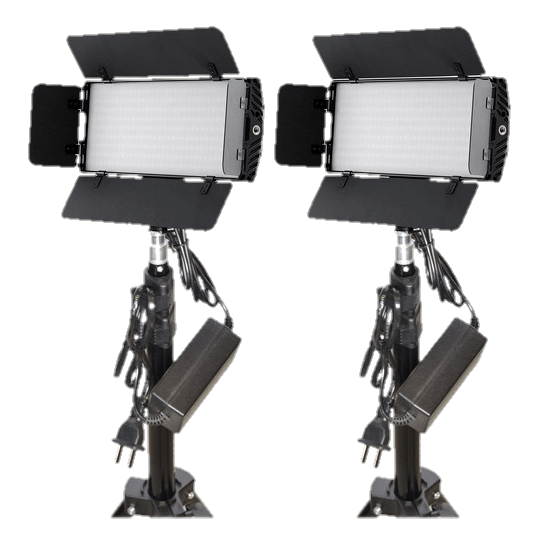 The Bescor Photon LED 2-Light Kit offers dimmable technology and because it can be used with a full-function power adapter or NP-F batteries, it's great for use on the go. Whether you want to use it indoors or on-location, it's dependable anywhere that you need it.
Professional HD Nashville camera crews also love the range of colors provided from 3200-5600K.
The set features two Photon LED panels that can reach up to 78 inches total length. Available for under $250, this professional-grade LED, light set is a great option that can be used on any set.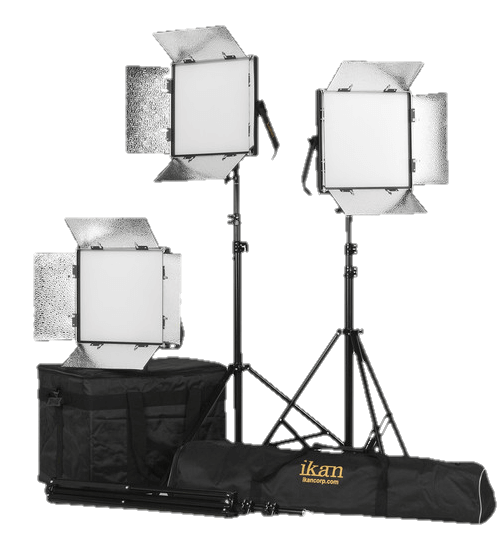 With 10 percent to 100 percent full dimming capabilities, the IKan Lyran 1×1 LED lighting offers a wireless remote control that means you can use it off-set.
Four-leaf barndoor technology helps to limit light spill and you can also easily add or remove option light intensifiers for versatile use.
The V-mount battery plate as well as a Gold Mount plate are also offered with this LED lighting kit, which allows for optimal portability.
With a cost of $2000, the iKan Lyra LED lights are definitely not for anyone budget-shopping but they most certainly are ideal for the best outcome when lighting sets and scenes.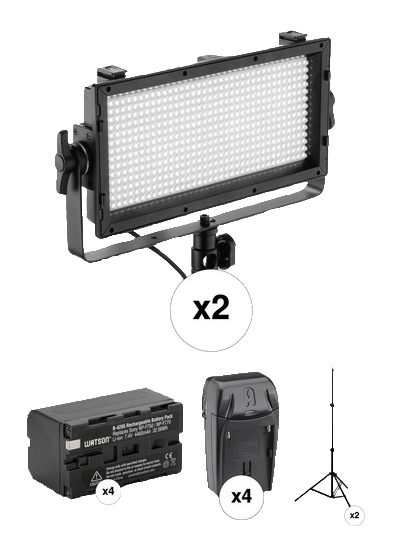 A top LED light kit, the Genaray is available $390 and as a relatively affordable LED light option, a lot of the best HD Nashville camera crews love how portable and dependable it is.
Videographers who have jobs all over also appreciate that the Genaray Spectro Essential 500 has optional battery power which means you can use it in a variety of situations or while on the go.
With a panel light that provides great output for crews shopping on a budget, the Genaray Spectro Essential 500 2-lights kit offers the kind of lighting you can use for interview situations or setups where you need versatile lighting options.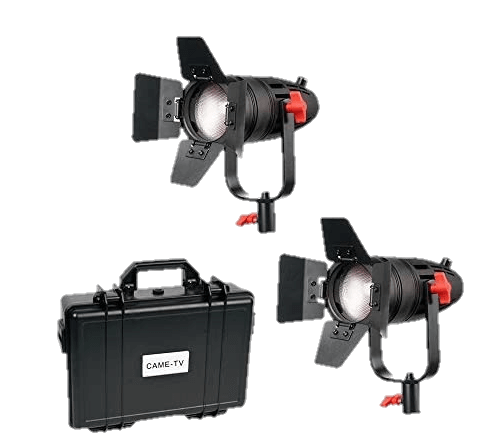 While the price is a bit of an "ouch" at $600, this LED light kit offers dependable professional level lighting that provides the kind of output that professionals need for the best outcome on-set.
The CAME-TV Boltzen 55W LED Fresnel Kit is easy-to-use, plus because it features a built-in magnifying Fresnel lens, you can be sure that you'll get the results you're looking for.
While the price is a bit higher than some other options, it also provides the option for diffusion and adding key light and full scene coverage.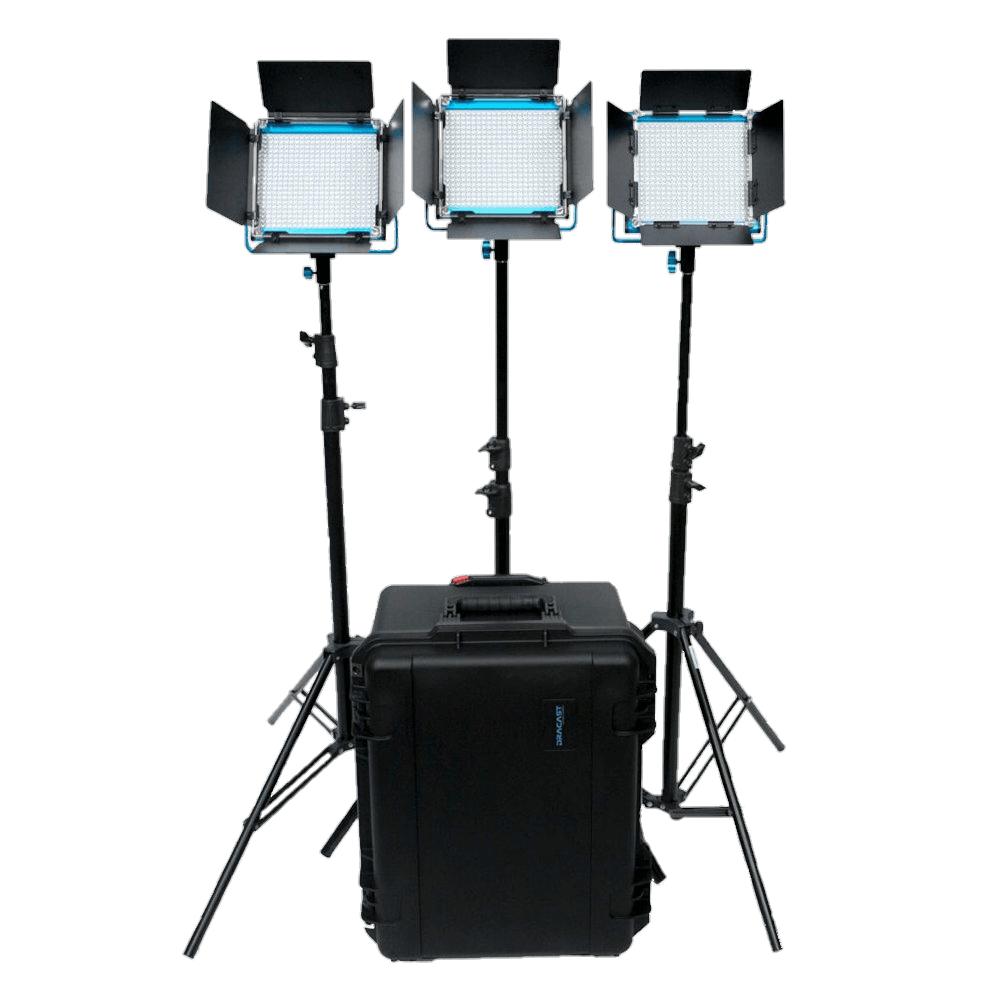 A LED light kit with bi-color panels and 4-way barndoors so you get the most optimal versatility, the Duracast S-Series LED500 3 light kit may be considered pricey at $799, but don't be scared by the price tag.
The majority of LED light video professionals love that this option includes a light stand, diffusers, an NP-F Battery plate that ensures optimal battery power, plus a multi-voltages AC adaptor, you can use this light kit anywhere you need to, whether at the studio or on-location.
You can use the light from zero percent to full, 100% lighting capacity easily and effectively.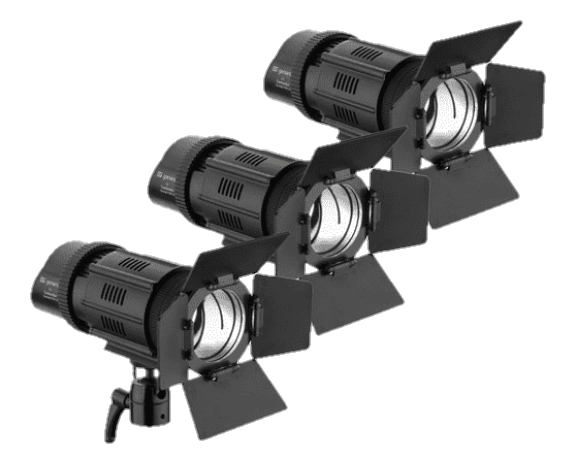 Finally, a 3-light LED kit that offers the opportunity for dimming from 10 percent to 100%, this option is a dream for HD Nashville camera crews.
It also offers an adjustable lens for lighting that can focus in different directions, beginning at 55 degrees, and allowing a down-focus of 25-degrees.
The Genaray Contender LED kit allows you to use it in a variety of situations or locations, and it can even help you create a sunlight effect indoors.
While this LED light kit is available at $900, the intensity and focus options make it a 3200 to 5600K variable kit that is worth the high cost.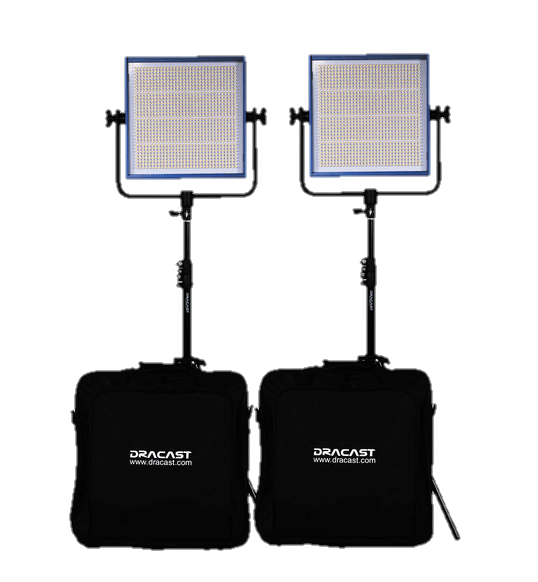 The Dracast LED1000 Pro features a color range between 3200 and 5600K that helps you get the best color creation and vibrancy on set.
This professional LED light is quite pricey at $1100, but it has output equivalents that are close to 1000w when you compare it to traditional hot lighting.
Because it doesn't use too much electricity and can be used with standard power, and V-Mount 12 VDC batteries, this LED light is ideal for on-the-go use while remaining a high-grade professional model that top crews love to use.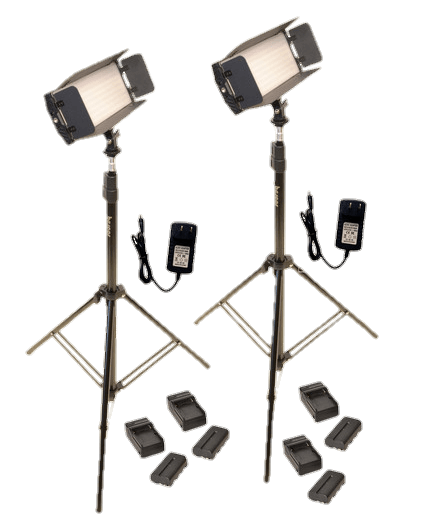 This LED light is perfect for professional productions and priced under $350 and a bit more advanced than the Bescor model above, it's a great option for beginners and advanced videographers alike.
With the built-in dimmer, you can get the ideal LED light output to range from 10 percent to 100 percent–whatever works best for you. The Bescor FP-312K 2-Point LED offers a variable color temperature of 3200-5600K.
This professional-grade lighting kit includes barn doors, LCD digital readout, and diffusion that ensures you get the versatility you need on set.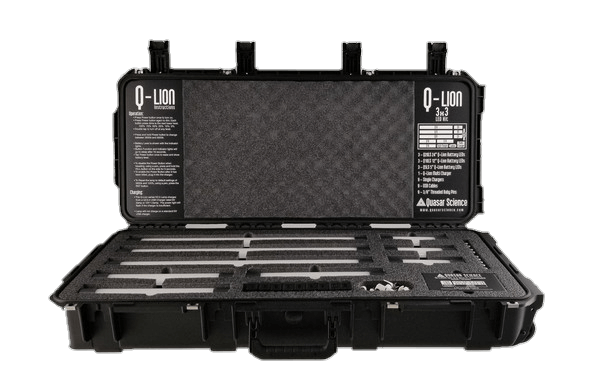 A full-function, 3×3 LED light set with nine lights and maximum RGB control over each panel, the Q-LION is a favorite for the more challenging video production projects, such as sci-fi films or music videos where you need practical lighting. It's also ideal for when stylized recordings need, fill nights.
While the price tag of $1500 may be a bit high, the Q-LION is what any professional gaffer would love to use.
Top crews know that these LED lights are ideal for any professional job. As a number 1 pick for our video professionals, the Q-LION 3×3 is an option you can depend on.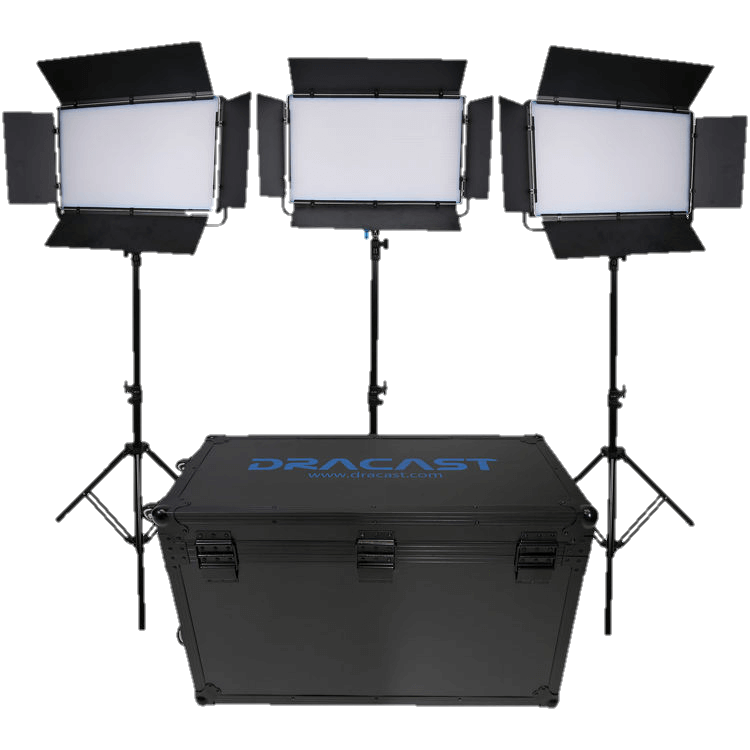 The Dracast LED2000 Kala LED light offers reliable LED output from panels that can be used remotely via control capability.
Adjust lighting on set easily and effectively while staying seated, thanks to the remote control Dracast LED2000 Kala set.
With 4-way barndoors and a V-mount battery plate plus a top-notch multi-voltage AC adapter, the Dracast LED2000 Kala model can be used for various jobs on-the-go.
Also, it offers variety in color temperature with a fully dimmable appearance that delivers the type of quality you need at $1699.
Of all the light kits and LED lights on this list, which one is your favorite? Beverly Boy Productions can help you choose from this wide range of LED Lights so you can get the most vibrant and dependable lighting for any set or project.
As professional HD Nashville camera crews, what are you looking for? Remote options, dimmable technology, power control—let us know what you look for in your lighting kit.