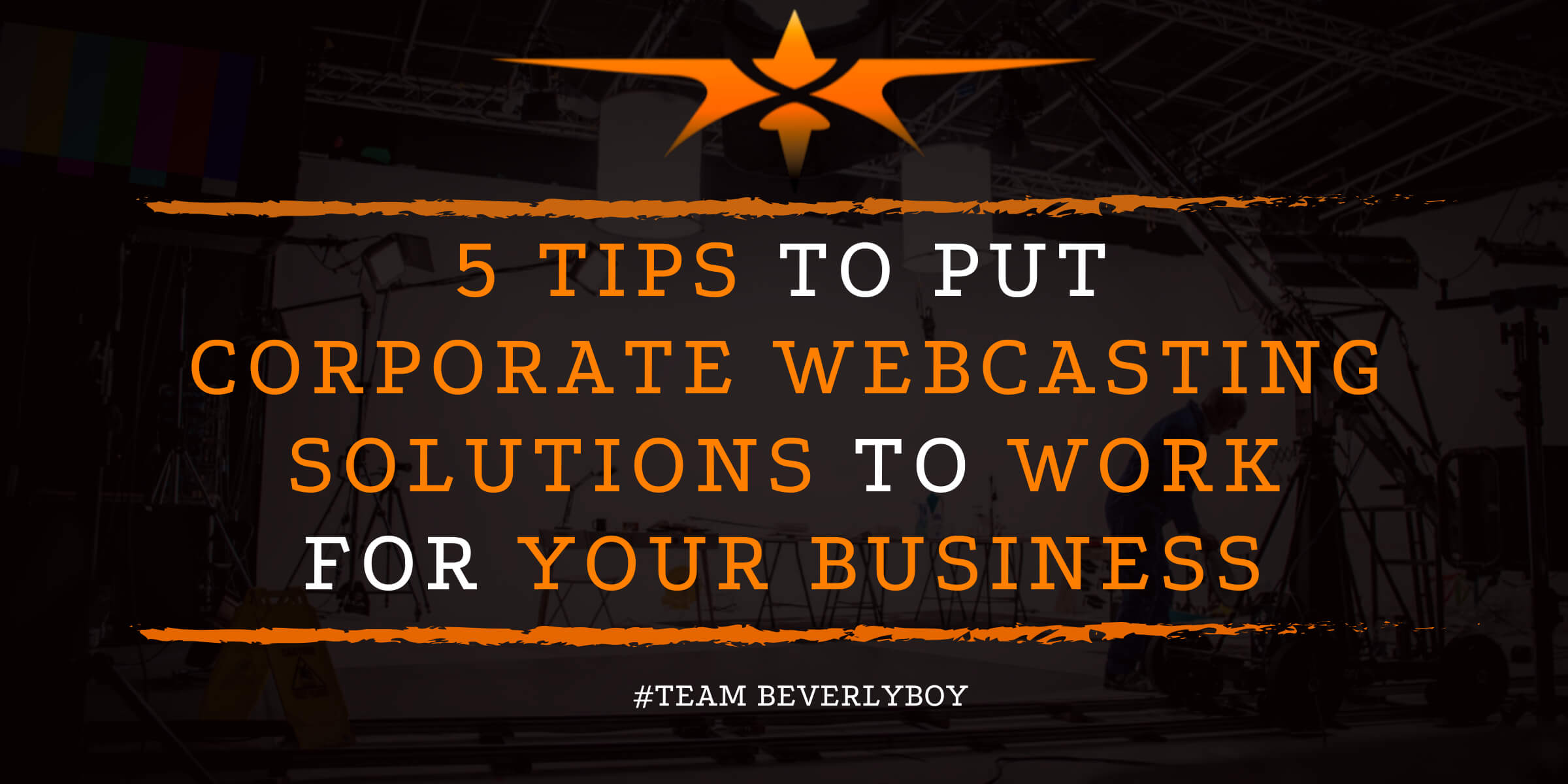 5 Tips to Put Corporate Webcasting Solutions to Work for Your Business
Businesses are working to use a wide range of solutions to their advantage at all times as they vie to connect with consumers from all angles. Many are turing to corporate webcasting as a way to keep employees and consumers connected on a regular basis. As average attention spans shrink, and more time is spent online than ever before, brands are finding that video content is the most appropriate offering to deliver to consumers. These 5 tips will help you put corporate webcasting solutions to work for your business in connecting your audience with your brand.
1. Recognize Audience Needs, And Deliver
The first step to using corporate webcasting or live streaming to your business advantage is to recognize the unique needs of your audience and to deliver. Before you begin recording corporate web content it is important to determine who your intended audience is. If you will deliver content to employees, customers, investors–no matter who the content is intended for, early recognition of the audience needs is vital to the successful delivery of your content.
2. Prepare in Advance for a Large Audience
Live webcasting events often fail due to technical struggles as simple as failure to plan for a larger audience. Servers crash, video feeds fail, audience members leave disappointed. But you can fix this!
Businesses that plan in advance for a large audience will be less likely to encounter technical troubles related to lack of server capacity or other hosting problems. Whether you host your webcast publicly or privately, being proactive in your stance to ensure you don't run into technical issues is vital to the success of your stream.
3. Don't Forget that It's a Live Webcast for a Reason
Corporate webcasting is easy to plan in regards to a script and a plan, but the best live webcasts recognize that viewers are attending for the real-time experience. They genuinely want to be a part of the live action and, a live stream that is too heavily scripted and that lacks engagement or real-time adaptation to the audience, is no fun!
As you plan your corporate live webcast consider ways to engage your audience and keep them connected throughout the event. Encourage feedback throughout the live stream. Webcasting engagement options include Q&A sessions, polls, and various other engagement activities that allow you to adjust the content of your event in real-time to meet the unique needs of your audience.
4. Focus on Quality
Corporate webcasting solutions that have a heavy focus on quality perform better than those that operate behind a iPhone! Educational content that is engaging, professionally created, recorded in real-time and delivered with exceptional quality will show everyone on the other end of your webcast that you mean business! Don't risk your reputation being scarred from the lack of quality. Hire a professional to help you deliver corporate webcasts that are exactly what your audience expects from your brand.
Low quality audio or video will lead to a lack of audience retention and may be distracting enough to lead the viewer to leave your webcast. High quality audio and video is vital to the success of your webcast. Keep this in mind as you consider whether to attempt the webcast yourself or to hire a professional!
5. Be Proactive in Predicting Viewer Needs
As you deliver the live webcast to your audience it is important to take proactive steps in determining what your consumer audience wants or expects to hear from you. You can use previous content as a way of helping you to predict what your audience wants. Predictive content delivery options that are built into your webcast library can later deliver content to your audience based on their unique interactions.
The goal here is to always listen to your audience and be prepared to deliver exceptional content that meets their unique needs. The more you are willing to adapt and adjust your corporate webcasting solutions to meet the needs of your audience, the greater your audience retention and interaction will be.
Ready to hire a professional? Give Beverly Boy Productions a call! We will put our two decades of experience to work in producing top quality corporate webcasts that exceed your expectations. Give us a call to discuss your needs and what we can do to assist you.