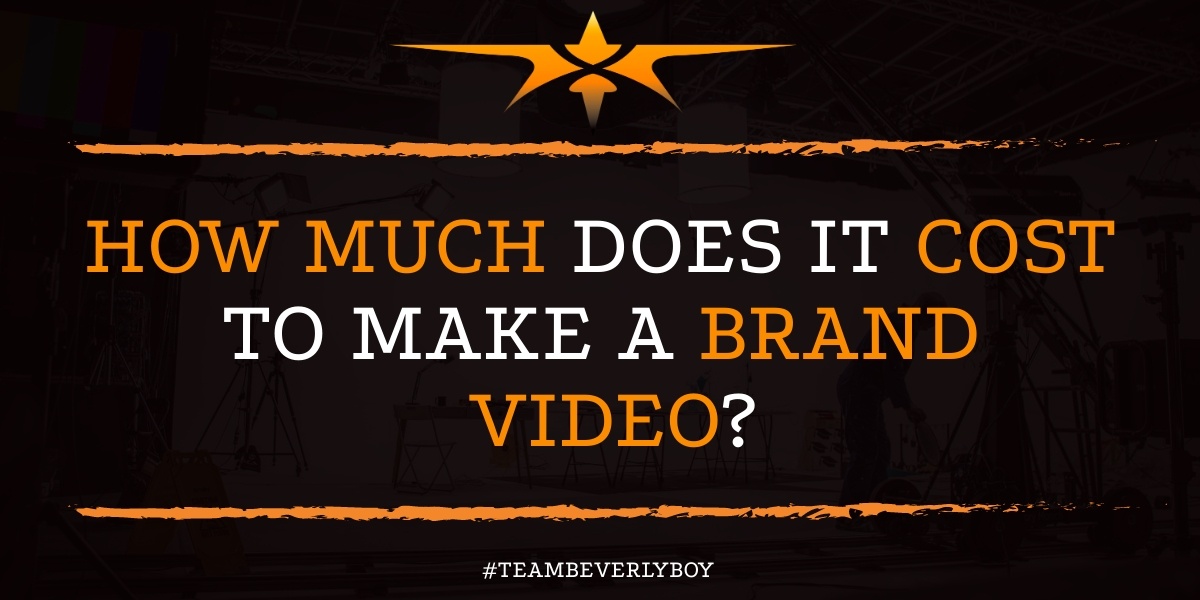 How Much Does it Cost to Make a Brand Video?
Like most creative projects, a brand video from one business will certainly look and cost something very different than a brand video from another business. If you're wondering, ' How much does it cost to make a brand video? ' the reality is, it really depends.
The cost of branded video content creation can vary greatly just as any other creative project would result in variations in total expenses and fees. But, this doesn't make creating a budget any easier for the marketing department — so we're breaking down what goes into figuring out the cost to make a brand video to help you plan and budget accordingly.
Ballpark Estimates for Branded Videos
First, let's take a look at the ballpark estimates for branded video content. A good rule of thumb is to estimate video production costs in the range of about $1,000 per finished minute. However, this is the absolute lowest estimated cost that you can expect for your branded video and, you may be better of using a slightly higher figure so that you aren't surprised by the associated fees when you actually get started. The reality is, video content can range in price per finished minute from as low as $1,000 to as high as $20,000 or even more.
Estimating your brand video
Instead of estimating your brand video at a cost of $1,000 per minute, let's assume a cost of $3,000. This way, you have some wiggle room apart from the essentials like professional camera crews, and appropriate editing you can add things like animated graphics, and talent. This means, if you're creating a brand video that is 2 minutes long, you can expect a cost of about $6,000.
Where do Brand Video Costs Come From?
Where do Brand Video Costs Come From? Let's take a look at where these expenses are coming from. You are probably thinking, " how can a brand video cost so much when all we need is a few shots and an editor? "
However, in reality, there is a TON of work that goes on behind the scenes in creating branded video content. So, when you ask, " how much does it cost to make a brand video? " What you're really asking is, "how much is each professional's rate to work on the creation of my branded video content?"
Brand video cost breakdown:
● Film Director – >$250 per hour
● Script Writer – >$150 per hour
● Cameraman – >$400 per hour
● Editor – >$175 per hour
● Actors – >$500 per hour
● Equipment – up to 100s per hour
● Studio Shooting – up to $400 per hour
● Narrator – >$400 per hour
● Audio Files – up to $1000
● Video Rendering – up to $75 per hour
● B-Roll – expect to pay a percentage between 10 and 50% of your total cost
● Miscellaneous Fees – can cost very little up to 1000s extra
Book your Brand Video Here!
Marketing Video Production Budgeting
So, now that you know how much each professional involved in the creation of your brand video will charge, let's take a look at some of the factors that to budget for that will add to your overall production fees.
These include:
● Video graphics and animations.
● Special effects produced during and post-production.
● The addition of professional talent and voiceovers.
● Multiple shoot locations.
● Video production equipment. For example: Cranes, Gimbals, Drones, etc.
A professionally produced brand video can easily rack up a lot of added costs. For a real-time quote on video production services, give Beverly Boy Productions a call. We'll answer the question how much does it cost to make a brand video? Based on your vision and our professional production experience, we will work up an accurate quote.