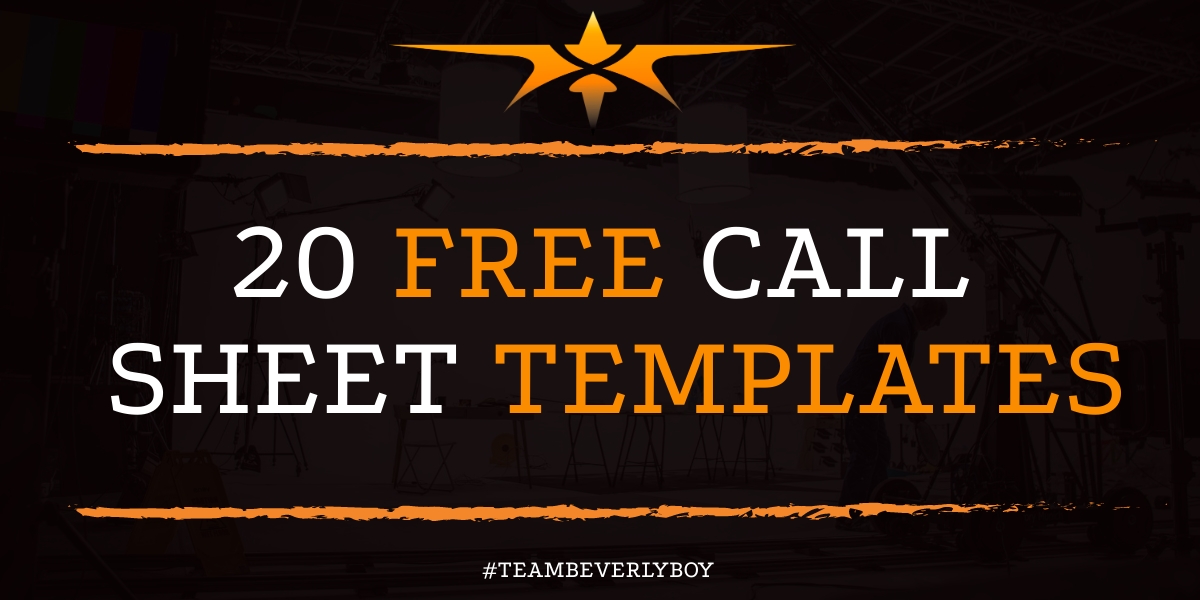 20 Free Call Sheet Templates
Individuals in the film industry value film call sheet templates as they can save time and effort in producing efficient work schedules. Whether shooting a short movie, feature film, or a documentary the call sheet is an absolutely vital document that provides necessary information for a successful & efficient project. We've put together a list of 20 free call sheet templates to provide filmmakers a little something for every style of production.
Within these call sheet templates, you will find a breakdown of production information, call time and location of the shoot, relevant details on weather, forecast, and emergency treatment locations, as well as key details on how long the shoot will last and the individual needs for each scene. Use these free call sheet templates to organize your production shoot days.
This full-feature call sheets include all of the vital information you'll need to produce your film with ease. Set description, scene details, cast and crew info, and the location, as well as character insights and miscellaneous instruction areas, are included.
The commercial call sheet template features key information for the production team including the name and phone numbers of all important workers on the set. Additional data includes location address, set details, and data relative to the commercial production scene.
This detailed call sheet features input areas for every vital piece of data that you will need for effective film shoots. Areas for departmental notes, transportation data, and key information on each of the key individuals in the shoot can be filled into this call sheet template.
This basic call sheet template features essential details about the meeting, contact phone numbers, and any pertinent additional information that may be required to deliver data about the production to the team.
A simple call sheet that includes key details on the performer, dress rehearsal information, and stage setup diagramming. This call sheet template is ideal for delivering to the stage crew prior to the dress rehearsal.
This full-feature event call sheet template provides essential space for key deliverables in the production, logistics, and post-production areas. Use this call sheet template to stay organized throughout the shoot.
The crew call sheet template provides space for key elements of the production as well as areas for motivational quotes of the day. Additional data includes set, scene, cast, and page count details as well as location atmosphere and stand in detail.
The sample call sheet is great for beginning filmmakers as it includes detailed examples of the data that should be included for each field of the call sheet. This template offers plenty of areas to outline the shoot schedule and footage allotment information.
The essentials call sheet includes relative data inputs for the set, scene, pages, and cast information as well as location data, atmosphere, and props details. You'll find space to outline vehicles, call times, and make-up call times on this call sheet template.
The fundraising call sheet template includes areas for you to keep track of key information relative to fundraising for your movie or film. Keep track of key donors, history, and donation amounts with this free call sheet template.
The crew call sheet includes areas for key details on character, cast, and status as well as to outline transportation needs and position details. This call sheet template even includes valuable space to define props, wardrobe, and other special features.
The Photo Shoot call sheet template can be used for detailed shoots or to outline strategic planning for images captured on set. Use this template to capture photos for use in the marketing and promotion of your film.
This basic, essential time outline provides key information on how each day works and includes crew call time, talent call time, and key weather details. Producers, directors, and mealtimes are also included on this sheet.
An essential feature call sheet that includes crew call times, emergency information, wardrobe call details, and other vital features. Use this call sheet to organize your day and keep your crew informed.
The phone contact call sheet template provides plenty of areas for you to keep track of essential communications with your film crew and those involved in the production.
The key data call sheet includes essential areas for travel, accommodations, and production crew contact details that are important for the cast to be aware of. Use this call sheet to keep your crew informed.
This sheet includes cast, sets, and synopsis that will be essential to delivering call sheet details for your entire team. Include essential production requirements on this sheet to keep the crew informed.
Use the bare essentials call sheet to outline contacts, crew, and call plans for your shoot. Key information on follow-ups and required information can also be outlined on this sheet.
The complete call sheet template uses a clean and easy to follow a design that offers locations for all essential information on cast, crew, and characters as well as set descriptions and location notes.
The daily details call sheet lists all essential businesses and contacts for a shoot day. Use this call sheet to keep track of the essential contacts being coordinated for your film shoot.