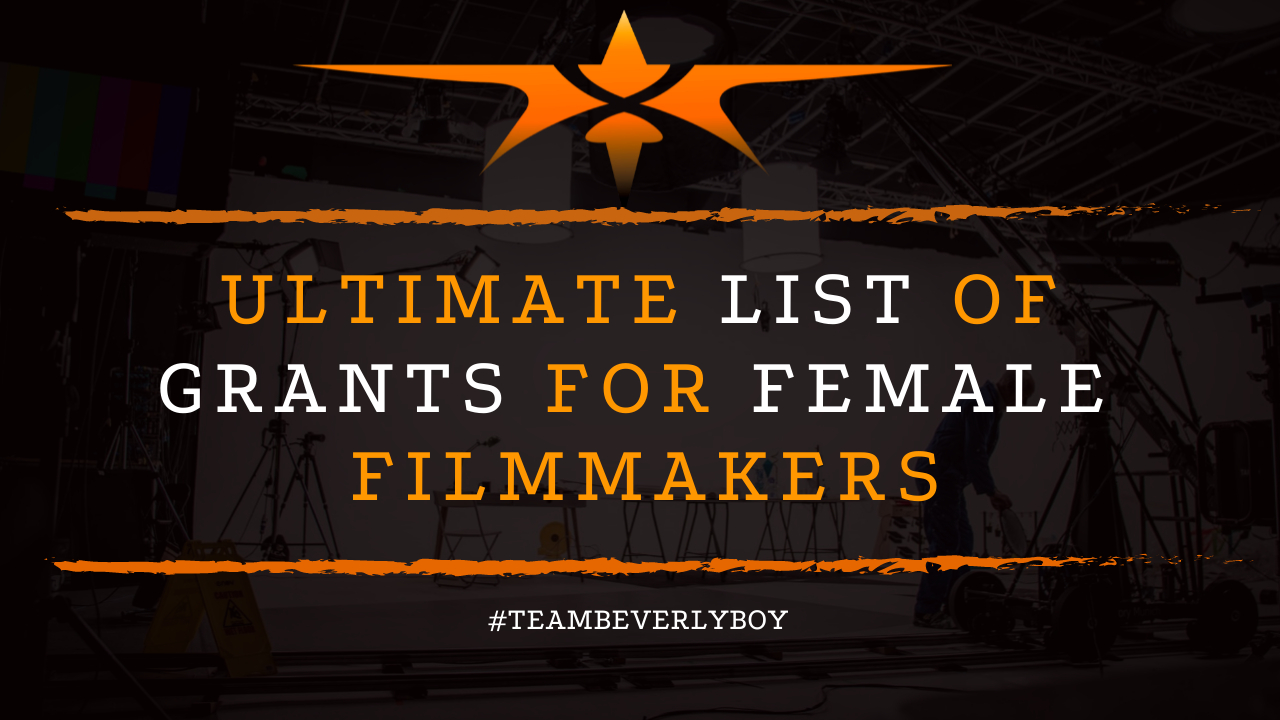 Ultimate List of Grants for Female Filmmakers
Women working in film and television have established a unique role in the industry for themselves, but as with other industries, they also face a lot of challenges. Inequality is evident in a variety of funding programs. As well as in the various grants and unique support opportunities that are made available for female creators. However, that's not to say there are not grants for female filmmakers. Because the reality is there are actually quite a few opportunities for women in the film industry. In fact, the number of grants for female filmmakers is growing!
And although there continues to be a lack of balance evident in the number of grants that are targeted to women versus those to other groups.
The visibility of women in film and the supports offered do appear to be rising.
In this list of grants for female filmmakers you'll find a variety of different opportunities to consider.
Check out the grant provider's website for each grant listed below for additional information on deadlines for applications and other important qualifications factors.
Nancy Malone Marketing & Promotions Grant for Filmmakers
The New York Women in Film & Television Nancy Malone Marketing and Promotion (MAP) Grant provides a $5,000 grant for female filmmakers that fully direct a project.
Films that are co-directed by a male partner are not eligible for this female only film grant. Which one may use for a variety of filmmaking activities.
But you may not use for travel or living expenses in association with the production. Eligible films must have already completed production or have locked picture before applying.
The Sondra Kelly Award for Female Filmmakers
The Sondra Kelly Award which is in conjunction with the Writer's Guild of Canada is disbursed annually to women screenwriters.
This film grant provides $5,000 to a female screenwriter that is mid-career. And can be used for a variety of project-related tasks. Including research and development for a self-initiated film project.
Award timing varies and 2021 recipients have already been awarded but future awards may be applied for via the WGA of Canada website.
Women in Film Dallas ARRI Camera Course Grant
The Women in Film Dallas (WIFD) Scholastic Grant Fund Camera Course Grant by ARRI provides a full ARRI systems training course for women who receive the grant.
Although this is not a cash grant it is helpful in providing career development for women and the course they provide is worth $1,500 retail. This is available to women only.
Chicken & Egg Pictures Open Call Grant
An open call to women that are interested in assistance, Chicken & Egg Pictures offers several grants and awards to filmmakers including women & men.
The Chicken & Egg Award does not accept unsolicited applications but there are awards from Chicken & Egg which are open call.
Application deadlines vary, with the deadline for 2021 having already passed but additional grant programs are likely to come available over time.
Women Make Movies Fiscal Sponsorship
Several grants for female filmmakers may be available at various points of the year and on a rolling basis through the Women Make Movies Fiscal Scholarship.
As a non-profit, tax-exempt umbrella organization, Women Make Movies provides fiscal scholarships to eligible women filmmakers that are actively seeking funding for films they wish to produce.
Because the fiscal scholarship is rolling, they accept applications throughout the year. And scholarships are granted as deemed an appropriate fit for all parties involved.
Women in Film & Video Fiscal Scholarship
With application deadlines varying in spring and fall each year, the Women in Film & Video Fiscal Scholarship represents another unique opportunity for female filmmakers.
Like several of the grants for female filmmakers previously listed, the Women in Film & Video Fiscal Scholarship requires that projects remain consistent with their charitable mission.
And that the project be women-led or women-focused. It's also important that the project not be produced solely for the purpose of financial gain.
Women in Film & Video DC Carolyn's First Decade Fund
Applications for the Women in Film & Video DC Carolyn's First Decade Fund are accepted annually based on submissions that are received and evaluated anonymously.
Filmmakers, particularly female filmmakers, with interest in this grant must be a WIFV member in good standing, have been out of film school for at least 3 years but less than a decade.
And must be working in the industry for under a decade. Those who receive the grant are asked to provide a written report detailing how award money was spent once annually.
Astraea Lesbian Action Foundation Grants for Female Filmmakers
Providing U.S. based film grants for women and trans-women who are part of the LGBTI social change community.
The Astraea Lesbian Action Foundation offers multiple options to assist in funding projects. They particularly look to fund projects that closely relate with cultural issues.
And those that are directed as social change although a variety of lesbian female or trans-female film projects would be considered.
The Future of Film is Female
Providing a number of financial grants and support options for women filmmakers.
The Future of Film Is Female represents a unique organization that offers financial and promotional support for women entrepreneurs in the film industry.
Individual grants range from $500 to $1,000. But a variety of programs are available to assist women in achieving their filmmaking projects.
Through various financial support offerings year-around.
Inside Out's RE:Focus Fund
Grants for female filmmakers were once solely targeted to women that sought the traditional path.
But a variety of LGBTQ programs are now available to financially support female filmmakers of every image.
Inside Out's RE:Focus Fund provides financial support. Including film grants for women, trans-women, and non-binary filmmakers that are sharing LGBTQ stories.
Grants vary as do financial supports but the programs has distributed over $50,000 to date since it was established in 2018.
In Summation
As you can see, there are a variety of grants for female filmmakers. That range from offering small financial supports to those which can almost entirely fund a project.
If you're a female filmmaker with interest in acquiring funding, consider any of these grants for female filmmakers.
Or consider performing a quick search online for additional grant opportunities based on the individual details of your project. It won't disappoint!