5 Reasons to Book Tulsa Remote Shooting Kits
It is important to keep safety first when filming during COVID-19 to ensure that you have exposure control; Tulsa remote shooting kits provide contactless video recording.
When it comes to using the remote shooting kits, your crew can operate the kit the same say they would operate the camera and lighting system in a normal studio. The remote filming kits enable camera crews to produce top-quality video footage with limited contact & zero face-to-face interaction.
Our team is providing businesses in the entire Northeast Oklahoma area with the remote filming kits, including clients in nearby cities like Bixby, Claremore, Okmulgee, and Bartlesville. To understand the importance of using the package, here are the top 5 reasons to book Tulsa remote shooting kits.
Book your Tulsa drop kit now
#1 Social distancing with Remote Video Kits
Video production with strict social distancing guidelines has become a challenge for most crews, but that has not stopped camera crews from crafting creative video content. Remote video kits are the best solutions for film crews since filming needs to be a safe exercise for both the camera crew and the individuals who are going to be filmed.
A kit will feature a combination of lens, microphone, lighting, and live web streaming production features. You will get a virtual filming package that is suited to fit the needs of your business. In addition, you can also have teleprompters, wireless camera equipment, additional lighting, and audio, in the package. This kit is the perfect solution for filming while following the social distancing guidelines. Tulsa remote shooting kits are installed by a technician who will remotely film in a different room from the one where the talent is being filmed.
#2 Hands-free production with Tulsa Video Drop Kits.
To reduce COVID-19 transmission, a production crew has to undertake contactless video production. This is a hands-free production that allows the crew to provide a safe filming environment for the people being filmed on camera and the camera crew.
With the wide selection of Tulsa video drop kits available, each one is created to suit a unique need. When you book a mobile shooting kit in Tulsa, you are going to discuss your production needs with your supplier, so that they can design a video drop kit solution that will be effective in your quest to achieve your production goals. These rigs can feature a single camera system with basic remote features, or a multi-lens camera system that has all the added video production equipment required to film your project, wirelessly.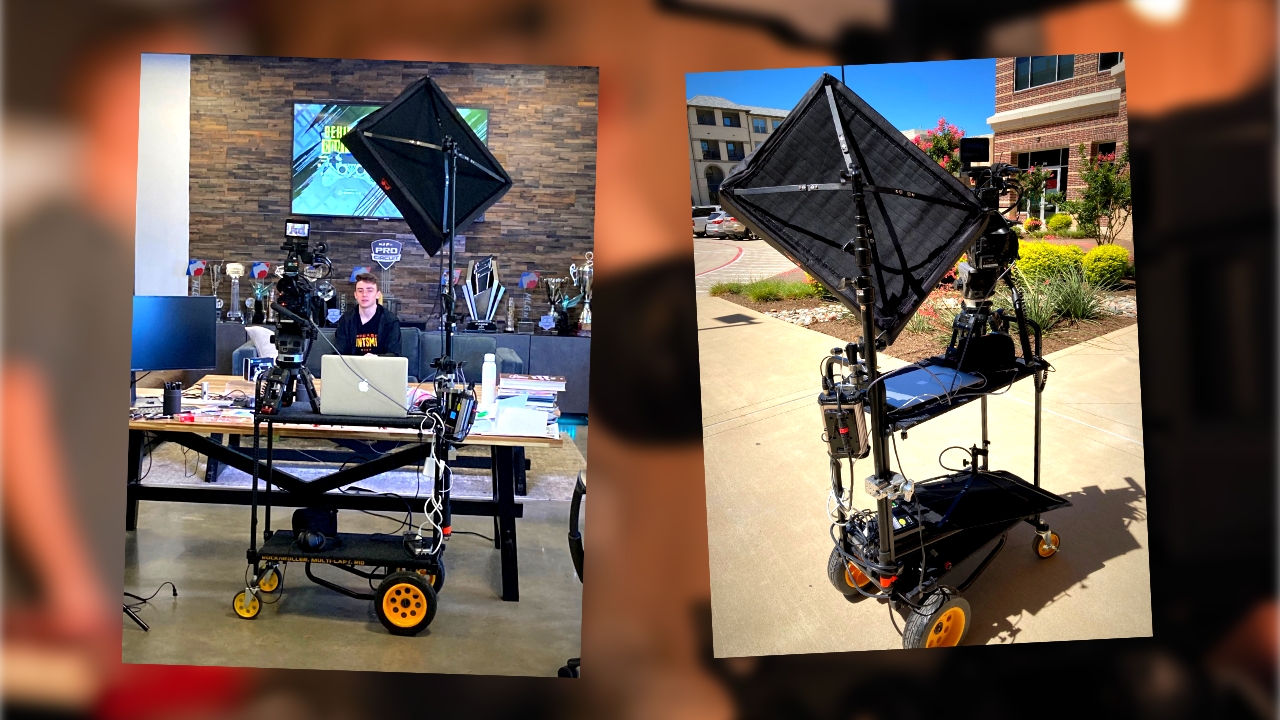 #3 A Virtual Filming Package Meets Your Needs
The same types of production equipment that a usual on-site camera crew uses to cover a project, is the same ones that Beverly Boy Productions uses in the Tulsa remote shooting kits. But now, the difference rests in the fact that the camera crew will use the kits to film high-definition videos while they in a separate room, from the one where filming is taking place.
The virtual filming package will have easy to operate equipment and step-by-step shot coordination that makes it possible for wireless filming of your viral video. A typical virtual filming package will have a quality camera, a laptop, audio equipment, and lighting, all positioned on a moving cart. This setup is ideal for a film crew that wants to continue with their production plans while reducing the increase of Coronavirus risks.
Book your Tulsa drop kit now
#4 Get Tulsa Production Gear on Demand
If you have planned to shoot a project in Blue Dome District or Fair Heights, you can schedule the delivery of Tulsa remote shooting kits with ease. Just contact Beverly Boy Productions to discuss how you will go about ordering your Tulsa production gear on demand. Producing great video content with a sanitized production kit will help you to film anywhere.
In most places, social distancing is a must and even in a production set, safety is key. That is why the moving cart and camera equipment are designed to enable a camera crew to cover an event remotely. On the rig, the camera, lighting, and audio are operated by a remote from another room. When you are through with recording, the equipment is taken back, sanitized, and ready for the next crew to use it.
#5 Sanitized Production Kits for Your safety
Sanitized production kits will help your crew and the people being filmed to stay safe during this period when COVID-19 is challenging how we operate in the production community.
Among the various ways Beverly Boy Productions is working to provide professional video production services, the company is offering contactless, Tulsa remote shooting kits to help camera crews to film safely. Sanitized production kits allow teams to shoot regardless of COVID-19 news reports. A drop kit technician will operate the equipment remotely, enabling the camera crew to stay in a safe space, where transmission of Covid-19 is not possible.
Are you thinking about hiring Tulsa Remote Shooting Kits? Beverly Boy Productions is ready to simplify your production processes, as you adhere to the social distancing policies laid out by the CDC. Our contactless delivery of Tulsa video drop kits will help you to continue with your production efforts.