Top 8 Atlanta Film Schools for Beginning Filmmakers to Consider
While there are many fantastic film schools in Atlanta, Georgia, we know that only one is best for you and what you want to do. We've created a list of noteworthy schools to look into before pursuing your Atlanta filmmaker track. As an Atlanta video production company we understand the trials and challenges of the journey you want to embark on. So we hope this list of the Top 8 Atlanta Film Schools helps you find the one that's best for you. Break a leg!
Request more information here
Georgia State University offers several programs of study, including undergraduate and graduate degrees and even a doctoral degree! Students are given opportunities to participate in conferences with graduate students and their professors on topics such including the black experience in America and the quickly-changing methods used to present visual and sound media. The campus is the largest film school in Georgia, as well as the third largest film school in the continental USA.
The goal of the undergraduate program is to prepare students to enter the film/theatre industry in any number of positions, from acting and directing to ticket sales and freelance productions.
Phone Number:
404-413-5171
Location:
25 Park Place, 10th Flr
Atlanta, GA 30303
The Georgia Film Academy can provide students a certification upon completing 18 credit hours (3 courses at 6 credit hours apiece) as well as the possibility of participating in an internship with a professional film company (also worth 6 credit hours). Completion of the program will earn students a GFA Production Certification, which is meant to show that they have been trained to handle entry-level jobs across the film industry. Some of the possibilities include work as a Production Assistant, Camera Operator, Editor, and Wardrobe/Make-up artist.
By allowing students the ability to choose their specialization through their choice of coursework and giving students access to professional companies through internships, the Georgia Film Academy does a stand-out job of creating human capital for its graduates.
Phone Number:
404-962-3094
Location:
461 Sandy Creek Rd
Fayetteville, GA 30214
Film Connection Atlanta has two main programs that students can choose to participate in; film production/editing and cinematography. Film production students are given the exciting opportunity to work with a professional director on their own script ideas. Upon completing the script to the satisfaction of your mentor, students are sent to LA or New York to pitch their ideas to a film company executive who can either buy the rights to the movie or help fund the project for you!
Cinematography students are able to hone their skills by practicing with an experienced photography director (DP) who will guide students and offer insider tips about how to create great shots. Film Connection Atlanta also hosts workshops to improve students' screenwriting skills as well as their editing abilities, making it an important member of our top 6 Atlanta film schools list.
Phone Number:
404-692-5910
Location:
3333 Piedmont Rd NE
Atlanta, GA 30305
The Art Institute of Atlanta offers two degree options, both an AA and a BA in Arts in Digital Filmmaking and Video Production. Both of these degrees build on a foundation of core ideas like the importance of shot composition and colors, then allow students to specialize their training during upper-level courses.
The program is meant to train students for jobs the part of the film industry that they feel is right for them. Students can train to fill roles as directors, camera operators, editors, and more.
Phone Number:
800-275-4242
Location:
6600 Peachtree Dunwoody Road, N.E.
100 Embassy Row
Atlanta, GA 30328
This two-course certification program is designed to help students learn the basics when it comes to on-set film production skills. Prospective students gain experience with film-industry standard structure, on-set procedures, and professional equipment needed to excel in the film and digital entertainment industries.
The school's hands-on opportunities count as credits toward AA, AAS, and BA degrees. That means you participate meaningful opportunities that prepare you for future classes and the field. If you're interested in learning the basics of film production, Georgia Film Academy at Pinewood might be the best option for you!
Phone Number:
404-962-3094
Location:
Pinewood Atlanta Studios Production Centre
461 Sandy Creek Road
Fayetteville, GA, 30214
This historic private college offers a Visual Arts Program in partnership with Spelman College. Students can choose from: studio art and art history. For prospective film students, the studio art track also includes "new media" (also known as multi media), which is beneficial to those looking to work with editing programs and other technologies.
Morehouse College's Visual Arts discipline best prepares students interested in production specialist and media specialist careers in the film industry, as the programs surround graphic design and other practical experiences. This key focus can be important for those sifting through the top 6 Atlanta film schools.
Phone Number:
470-639-0999
Location:
830 Westview Drive SW
Atlanta, GA 30314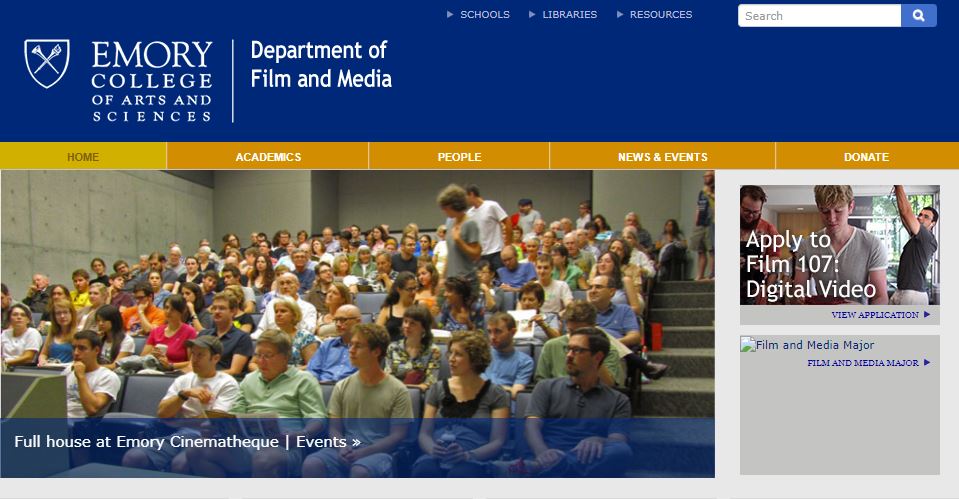 With visits from some of Hollywood's greats to educators with a passion for film and media, there are many reasons why Emory University excels as a favorite school for Atlanta students hoping to become the film industry's next greats.
In the Department of Film and Media at EU, you can get close mentoring and hands-on experience to prepare you for your future, offering education in film history, screenwriting, film and media theory, and more. From undergraduate programs to graduate programs, you can find the courses that are right for you at EU.
Phone Number:
404-727-6123
Location:
201 Dowman Drive
Atlanta, GA 30322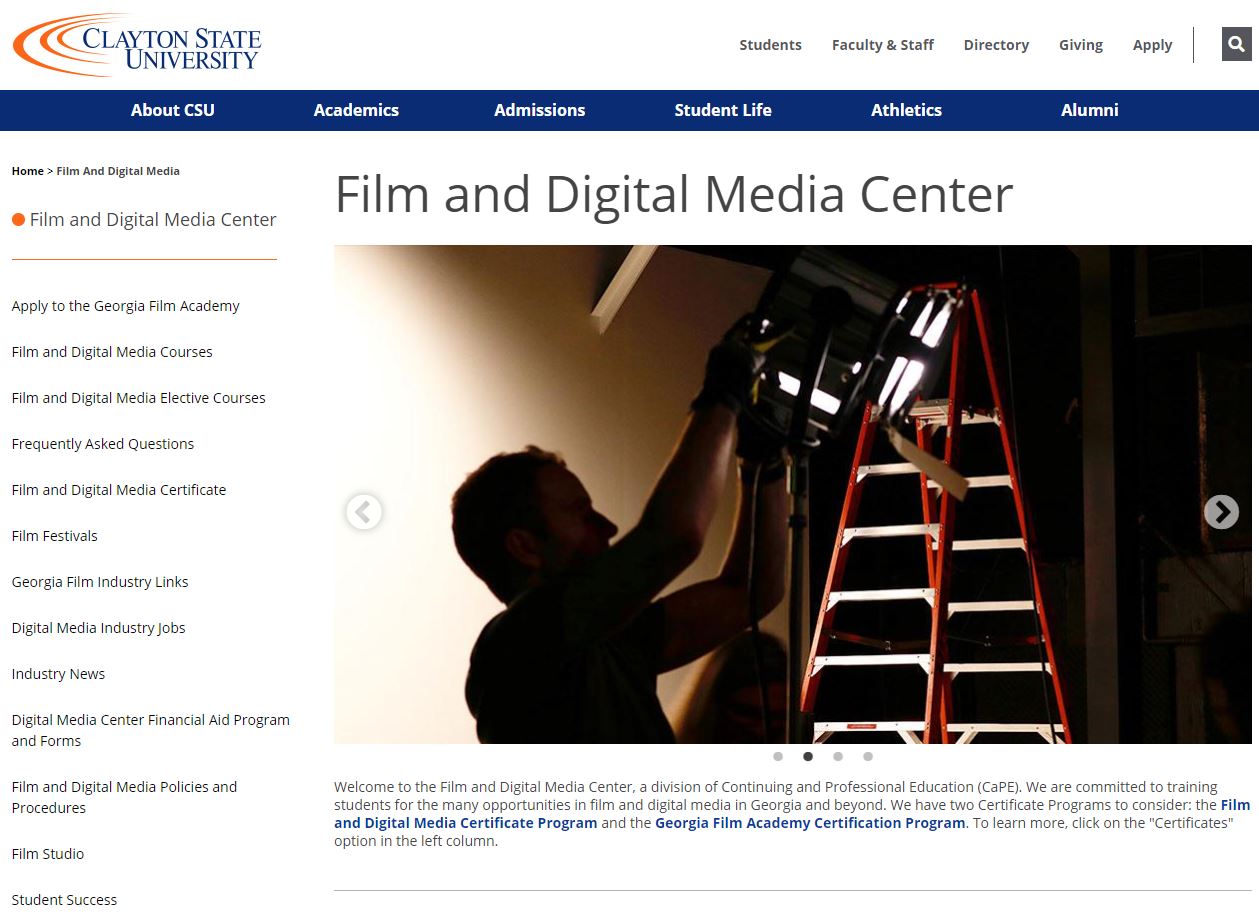 Offering different kinds of certificate programs in the Film and Digital Media Center, Clayton State University can help you prepare for a future in film and digital media.
From a BA in Theatre to quick 10-month programs, there are various options available for you to learn your practice that will lead you to a successful career in film. Whether it's writing or production, the CSU provides quality education in film and the arts.
Phone Number:
678-466-5085
Location:
2000 Clayton State Boulevard
Morrow, GA 30260
*As an Amazon Associate we earn from qualifying purchases. We receive commissions for purchases made through links in this post.