Top 4 Shanghai Film Schools for Upcoming Filmmakers to Consider
Shanghai, China, is home to a robust film industry with several options for filmmakers that want to learn and grow. Whether you're looking for a high-profile school or one of the smaller Shanghai film schools, read further to see what options may be available to assist you. Each of the schools below provides Shanghai filmmakers with a unique opportunity to receive training and support that will help in launching a career in the Shanghai industry. Several of the schools offer hands-on programs that provide filmmakers with intensive training, while others offer a more traditional approach to college. Each provides a stellar film program of its own accord.
Request more information here
We recognize the challenges that come along with being an active member of the Shanghai video production community. The schools listed below provide specialized training to prepare graduates for careers in Shanghai film production and the visual arts. Students that study the core principles of filming, editing, and production will likely find career paths within major film companies, news studios, and advertising agencies or may consider pursuing a path of self-employment or freelance work.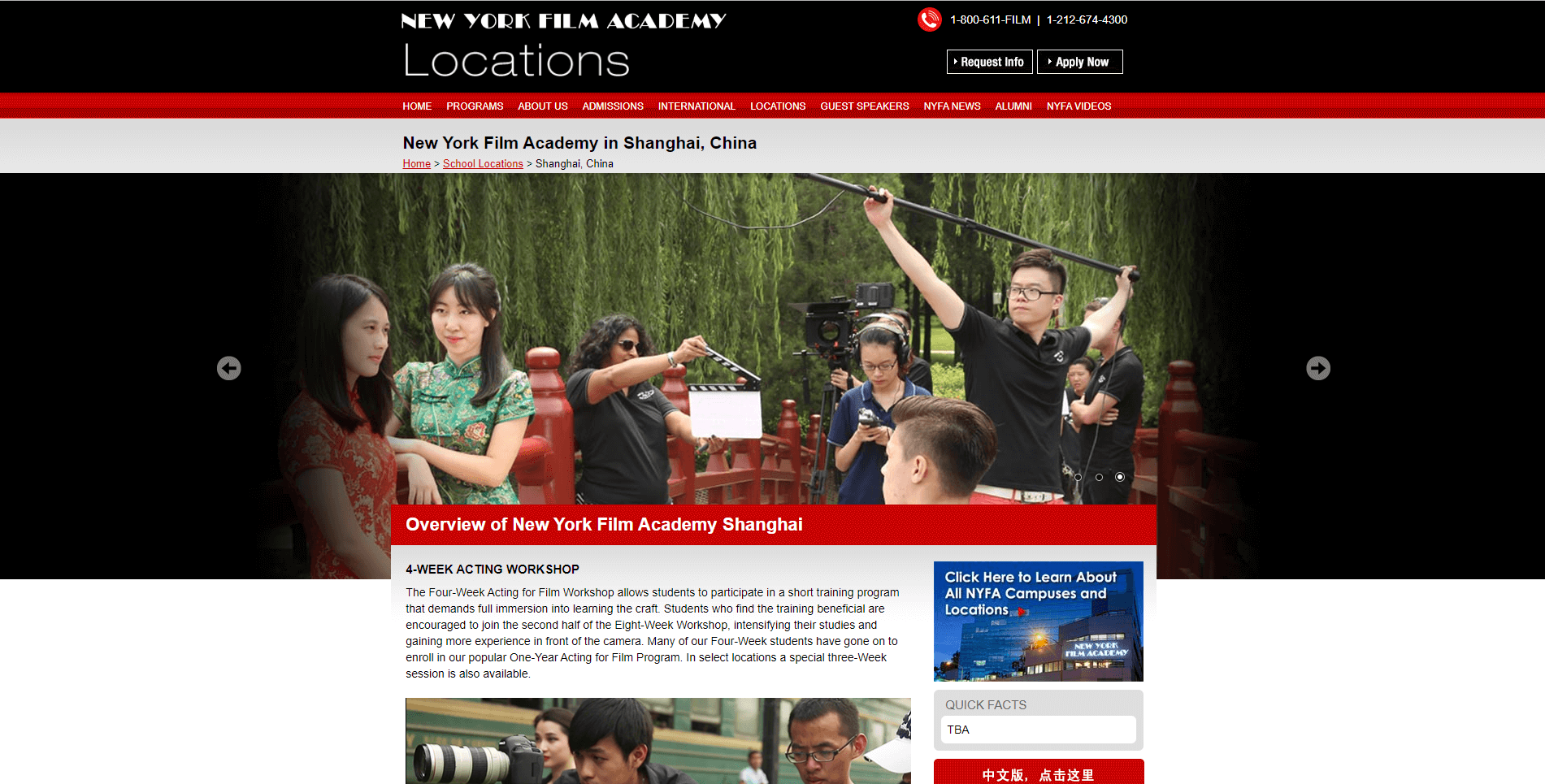 The New York Film Academy in Shanghai provides a four-week Acting for Film Workshop that immerses students in a short, but intense training program where they can gain experience in front of the camera. The program has a second half, making it a total of 8-weeks, for those who find the first half beneficial. Classes included acting for film, audition techniques, film craft, voice and movement, scene studies, monologues, and improvisation. All classes emphasize the craft of Stanislavsky's System with monologue and scene study used as starting points for educational training. Interested students should meet with a New York Film Academy representative to learn more about this and other Shanghai film schools.
Phone Number: 1-800-611-FILM
Location:
New York Film Academy Beijing Office
Room 404, Building A, No.4 Xitucheng Road,
Haidian Dist, Shanghai 201808
The Shanghai Film Art Academy is one of several Shanghai film schools that provides specialized film training digital arts, including several undergraduate programs. Schools feature visual arts, product design, digital art, environmental art design, arts and crafts research, and the school of handicraft, which features 6 majors ranging from arts and crafts design, jade design, and ceramic design to jewelry design and sculpture art. Shanghai Film Art Academy continues to seek innovative ways of incorporating arts education into current teachings and focuses heavily on hands-on training. Training workshops and studio work make up the featured education forms for programs throughout the college.
Phone Number: +86-21-69977814
Location:
851 Jiahang Rd.
Jiading District, Shanghai 201808 China
Shanghai Theatre Academy provides comprehensive training in theatre and art studies with more than 70 years of educational background to offer students. Considered one of the best institutions of higher education in China, Shanghai Theatre Academy is one of several Shanghai film schools providing theatrical training to students seeking advanced careers in television, media, and programming. The Academy features 37 separate undergraduate specialty programs covering the majors of acting, directing, Theatre/TV/Film design, art design, playwriting and screenwriting, broadcasting and TV hosting, TV and Film Programming and Directing, Choreography, Public Administration, Arts Education, Media Creativity, and Composition and Theories. In addition to these programs, Shanghai Theatre Academy also offers six master's programs offering degrees in Theatre Studies, Broadcasting and TV Studies, Arts Studies, Dance Studies, Cinema Studies, and Painting Studies. Those interested in furthering their education beyond undergraduate and master's programs can consider the single doctorate degree program offered by the university in Theatre Studies specializing in one of 8 subject research areas.
Phone Number: +86-021-6248220
Location:
630 Hua Shan Road Shanghai
Providing versatile and in-depth programs and courses, CUC offers everything from Journalism to Theater, Film, Art Theory, Communications, and more. With options both for degree and non-degree programs, the school is ideal for anyone looking to further their education in filmmaking and communications. With professional scholars and an international outlook, it's a highly popular school in the country.
Phone Number: +86 10 6577 9145
Location:
No. 1 Dingfuzhuang East Street
Chaoyang District, Beijing, P.R. China 100024
*As an Amazon Associate we earn from qualifying purchases. We receive commissions for purchases made through links in this post.