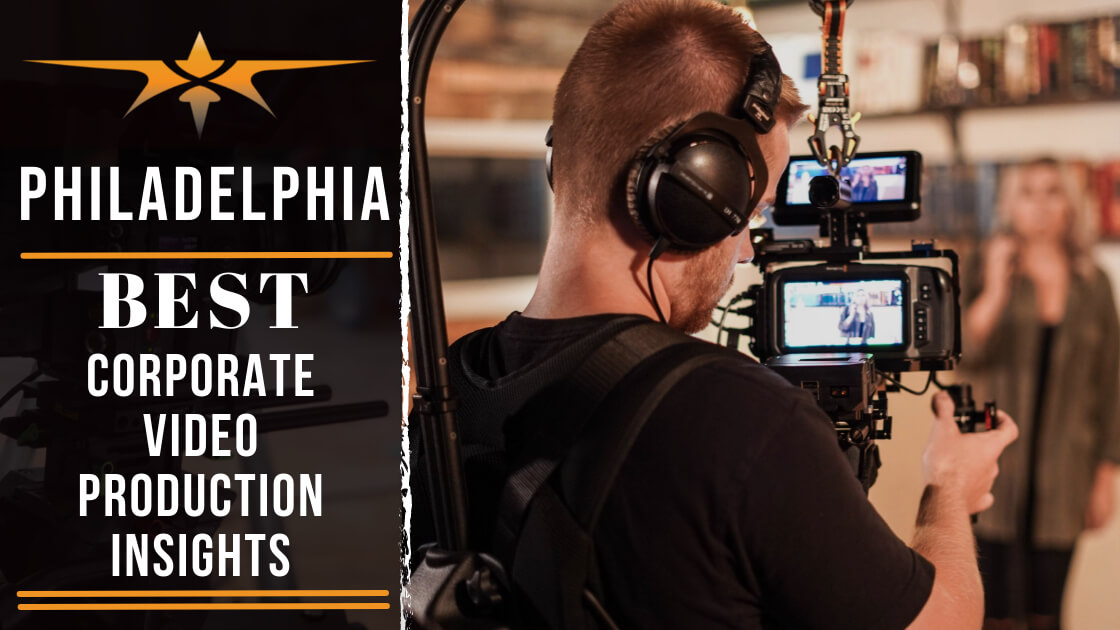 Best Philadelphia Corporate Video Production Insights
When deciding if you want to use video to help market your business, it is important to choose the best Philadelphia corporate video production company to assist you with learning about the process. Video campaigns have changed quite a bit, and now they are able to be personalized for certain markets and even to certain customers. When you tell your brand's story you are speaking directly to your consumers, and targeting your current clients, as well as future clients who want to know more about you, is key to helping your company grow.
Get a Philly corporate video Quote here!
When you hire a Philadelphia corporate film company to help you produce powerful videos for your brand, you are making an investment. Just like every other investment you make for your company, you need to give this one some serious thought before jumping in.
You may not know how to properly engage your audience through film, or what platforms you need to use to get the film to your target audience, but Top Philadelphia corporate filmmakers do, and that is why you should choose the one that knows the most about the industry.
Making the Best Use of Your Philadelphia Corporate Video
Despite being a top marketing tool, not all Philadelphia corporate videos are a success. For you to really get the response you want, you need to have authentic videos with substance, that make it easy for viewers to connect with the message.
Whether you're presenting at the EdFest in Philadelphia or looping it in your office in Center City District. It should make a lasting impression on those you're trying to reach and only High quality corporate videos will do this.
Low-quality visuals are going to leave people confused and most likely not too interested in your business. Starting off your project by asking the following questions is a good idea:
What is your business objective you're wanting to reach with this video? What is the purpose of this video? Understanding the answers to these questions will help you to produce an amazing and effective Philadelphia corporate video.
Examples
Let's check out some of the examples of how to use video effectively. For example, you can use repurposed video content for social media which will be much more effective than using a homepage promotional video or still photos for your website.
If you want to produce video for your email campaigns, you're going to need content that is different than what is used for television or using audio for radio-type services.
Philadelphia Corporate Video Production Cost
Business in Philadelphia, Pennsylvania, Philadelphia County is certainly a competitive field, so whatever it takes to stand out can be important for your success.
Apart from your company goals, consider things like what your target audience may be craving to see, the message you know you have to share, and the creative way you're going to make this happen for the result of a video that is simply perfect for your company.
It doesn't matter which kind of video you want to produce, there will be varying prices that depend on the corporate video production companies in southeastern Pennsylvania, but the cost will be largely dependent on the following:
(1) how long your video is and (2) the team and gear needed for it to come to fruition. Below, you will find the averages for typical corporate video production cost.
Get a Philly corporate video Quote here!
Philadelphia Corporate Video Production Pricing Sheet:
∙ Video Director: $25/hour to $250/hour
∙ Script Writer/Marketer: $60/hour to $150/hour
∙ Video Editor: $60/hour to $175/hour
∙Cameramen: $25/hour to $400/hour
∙ Actors/Presenters: $50/hour to $500/hour
∙ Equipment: $25/hour to $100's/hour
∙ Studio Shooting: $100/hour to $400/hour
∙ Narrators/Voiceovers: $100 to $400
∙ Audio Files: $30 to $1,000
∙ Video Rendering: $30/hour to $75/hour
∙ B-Roll: 10% to 50% addition to shooting costs
∙ 'Miscellaneous Fees': $100 to $1000's
Philadelphia Corporate Pre-Production
In any successful Philadelphia corporate video production, there are three important phases: pre-production, production, and post-production. Each of these phases include services that are important for your vision to become a reality.
With Philadelphia corporate pre-production, you're getting your project started on the right foot. When you produce with a top production team, you'll most likely start by drafting your project. If you would like to show a reference video, this is when you should do so.
The Draft Process
A reliable producer or director will go over what the entire production process will consist of while also coming up with a script for your narrator or anyone who will be presenting.
Depending on what you are creating, your crew may need to some extra work to make sure that you have everything you need in place, such as location permits or studio access.
Pre-production exists so that you can plan for an effective project. When you work with an experienced team, they'll make sure that you're happy with every stage of the process.
Corporate Production
During this corporate production phase, the magic happens. During this time, the footage will be captured according to the scenes and information you've planned out in pre-production.
A seasoned team will make sure to stick to all of your details to ensure that you get a finished product you can be proud of.
Every party of the corporate film making process is needed for a great production. The grip, electric, and design crews will start on the job before the camera and sound departments start to film.
Of course, the whole production process will be dependent on what you want to create. For an explainer video, animators or narrators would be more suitable than actors or other staff.
On the other hand, when filming employee testimonials, you won't need animators. Additionally, B-roll footage is also something that you can film during this phase while using it later on in production.
Corporate Post-Production
Post-production is necessary for creating top-quality corporate video. In this phase, footage is polished by talented editors. These editors will take care of the sound and color of the video. Things like dialogue and sound effects, as well as music can be taken care of during this part.
After the video has been edited and rendered, it's ready to be distributed. But, not before your crew has shown you the finished product. This way, you can be 100% sure that you love the video and would be proud to share it.
If you're satisfied with the finished product, then you're ready to use your video for the goals you want to reach. You've now completed corporate post-production, the last production phase.
Now, you'll have your video in hand. Whether you post it on social media or share it at a conference, you can share it all over, wherever.
Philadelphia Corporate Live Streaming
Live streaming and corporate webcasting is a great way to reach your target audience—whether they're your internal team or base market. This is because Philadelphia corporate live streaming allows for an immersive experience that can captivate your audience.
They can feel like they're at the event in person, which is a huge reason why live streaming is so successful—simple videos just don't compare. Live streaming in Philadelphia, Pennsylvania is used to cover events or even a company's services.
When you share a live stream on one of your interactive pages, you can get a lot of comments and interaction with your corporate streaming media, which makes it possible for more people to view your content and even connect with you in real time.
Other Valuable Uses
Apart from using Philadelphia corporate live streaming on social media pages, you can also use it for conferences or live meetings, so you can share it with your team or audience across the globe.
Many times, quarterly company webcasts are often used in a corporate setting. The good news is that streaming live corporate events is simple, especially for a professional team, so you can be sure that it will be a big success.
Best Practices for Philadelphia Corporate Video Production
First, it's a good idea to connect with your Chamber of Commerce for Greater Philadelphia and Wharton Small Business Development Center. They can give you great tips on how to go about the process.
Also, we've compiled some tips for a top-quality corporate video for your company. We suggest that you check out some of what we consider to be the best practices before you get started on the corporate video production process.
Tip #1-Determine the purpose of your video.
You'll most likely speak to the director and producer about this topic. But, before you go into the first consultation, make sure that you have an understanding of what you'd like to achieve.
Tip #2
–
Be clear and concise.
Not surprisingly, video is better when it's short. People are more apt to connect with a short and concise video that is high-quality over a long one that they have a hard time getting through.
Tip #3- Be sure to include branding.
Through engaging content, you can share your brand message in a way that really helps your audience to understand who you are. Allowing viewers to connect with your company's identity will make you more than just a good option—it will make you a memorable one.
Preparing Your Team for Corporate Video
Whether your company is found in 19112, 19114, or 19119, your team should always be on the same page. If you want to be sure to prepare your team for corporate video, something that has to be addressed is the wardrobe.
According to film protocol, people being caught on camera should not wear white or black tops, or have brands or logos on their apparel.
Pants and shoes are usually left to the person's discretion—although don't wear anything that is clearly not suitable for your subject matter.
We also think that it's a good idea to use makeup and have your hair done for the best presentation. Most of all, we recommend simply being natural on camera. Authenticity is needed for successful corporate video production!
Be Ready
If you're filming corporate testimonials, questions should be prepared ahead of time for the person that you're interviewing.
Questions like "What was it like before you received our product or service?", "What would you tell someone who's considering our services?" and "How do we stand out from other options?" are a great way to help you appeal to the audience that you want to reach in a clear and transparent way.
Hiring a Philadelphia Corporate Video Company
After putting your ideas together, you'll want to find the right team for your project. With so many companies to consider in Philadelphia, Pennsylvania, and Lancaster, Reading, and Allentown, you will have to do some research to find the right one for you.
Here are some things to consider when hiring a Philadelphia corporate video company: video samples and responsiveness.
Video Samples
One of the first things you'll want to do when looking for a company is start checking video reviews. Anyone can post anonymous, false reviews, but video is solid.
Apart from reviews, you can ask for samples. Look for consistency so that both the reviews and videos showcase quality on every level.
Responsiveness
A professional company should always provide a quick reply. Also, many times, top companies will let you get a free quote for your project.
That said, they should provide concise consultation that can simplify your job. Look for responsiveness in communication to make sure that they care about your vision and inquiry.
We hope this guide was will help you find the best Philadelphia corporate video production company. Let us know if you want to find out more information on the process. We'd be glad to help.
Philadelphia Corporate Video Filming With Beverly Boy
For over 15 years, we have worked in Philadelphia corporate video filming with various clients all across Eastern Pennsylvania. We have helped these clients create professional, expert videos that have been used to reach millions of their viewers all over Philadelphia.
While it may be true that just about any film company can offer you corporate video services, finding one with as much experience as Beverly Boy Productions in corporate video filming is going to be difficult.
It's important that you hire a film company with this type of experience because corporate videos are not the same as promotional videos or advertisements, even though they are often confused for one another.
Team Beverly Boy knows that they are not the same, so we are able to offer options for your brand that are specific to corporate video needs. Servicing the entire East Pennsylvania area including Lititz, Lancaster, Ardmore, and Media.
What Is Philadelphia Corporate Video Marketing?
Philadelphia corporate video marketing is a way for you to discuss your company with your current and potential consumers. It is not a way for you to sell a product or service that your company provides, but rather an in-depth look at what makes your company tick.
In these films, you can discuss your company's mission, your vision for the future, your history and how you got to where you are today, and any other details that you think might interest your consumers.
When you choose to utilize corporate video marketing in Philadelphia, you are choosing to open yourself up to your clients, which in turn invites them to support the company, and not just your products or services.
Create a Connection
Remember, consumers like to feel as if they have a personal connection with you, so when you discuss your company directly with them, they feel like they have connected with you.
This is an effective tool for marketing because it helps you create loyal customers who rally behind the whole company, and not just what you have to offer. If your company's values are similar to your client's values, you will create a customer for life.
This is why it is important to create the Best Philadelphia corporate video production that you can possibly make. This is an investment for your company's future that you definitely don't want to lose out on.
Vetting Philadelphia Corporate Video Making Companies
When starting your production, you first want to research Philadelphia corporate video making companies to see which ones can take on your project.
Don't just go with a company that claims they know corporate video production, but actually do your homework so that you know you are hiring a team that has experience in this field.
No matter if you have a design firm in Lancaster County, or a service company on South Street in Philly's East Side, you need a company that has created sound corporate videos in Eastern Pennsylvania.
Don't be afraid to ask for samples of videos to make sure the company can do something that matches your vision. After all, this is an interview to make sure you get the Philadelphia business video company that is the best fit for your company.
Choosing Your Philadelphia Corporate Video Company
Once you have chosen the best Philadelphia corporate video company to tackle your production, you need to make sure that they have all of the services you want for the budget that you are able to provide.
Don't just walk in and hand them a blank check and a basic idea. Really take a moment to decide the services you need from the Philadelphia corporate video company you have hired.
Will you need them to write a script? Scout locations? Do you need them to provide you with a green screen set? If so, you need to have a budget for all of these services.
Discuss Everything
If you list out the services then the process will be faster and easier for both you and the Philadelphia corporate video makers.
During your initial consultation, be sure to discuss this list so that you can be certain they are able to do everything within the budget you have in mind. This means there will be no surprises, for you or them, when filming begins.
How To Monitor Philadelphia Corporate Film Production Companies
One thing that will be evident right from the start is that Philadelphia corporate film production companies are generally efficient in filming a corporate video.
This is a fast-paced environment, and if you don't work with a company that can keep up, you have not chosen the best company. When the filming process is happening, someone from the company should keep you in the loop at all times.
If they don't, be sure to ask questions. Corporate video production is highly specialized, and working with people who have experience in the Philadelphia corporate film production industry is the best way to ensure that there are no issues with your production.
People who have experience in this type of production will always ask you to give feedback on your film. If they don't, that is a red flag.
How To Use your Philadelphia Business Video Production
Once all filming is done, you will be given a professional Philadelphia business video production that you are able to use to inform and advertise to your consumers, but what should you do with it?
If you have chosen the right production company, they will be able to help you get your film on air or online so that your audience will be able to view it.
Of course, you should always ask if this is a service that is offered when you are interviewing the company, so that you will know what to do with the Philadelphia business video production once it is complete.
You should be able to use the film on multiple platforms at one time so that you are able to reach various audiences with just one film.
Get a Philly corporate video Quote here!