Looking for the Best Wake County Video Production Services in 2021
You are reading this post probably because you are finding it hard to identify a reliable team that can provide you with professional Wake County video services. Today, we are going to look at some key tips that will help you to identify the best from the rest. Before we get started, we would like to highlight some statistics that will show you the importance of investing in Wake County video production.
By 2022, 82% of the internet traffic will be flooded by online video content. 92% of video marketers plan to stick or increase their current spending on video. Lastly, 85% of businesses market using videos on social media. These statistics show the importance of investing in video for marketing and branding. To get started, you have to choose a reliable service provider that can offer the best Wake County video production services in 2021.
Get Wake County video quote here!
Wake County businesses need professional video production services to market more effectively, in a world where video ads are number one in helping customers discover brands and purchase from them. There is a reason why you will discover marketers planning for YouTube campaigns.
In fact, 8 out of 10 markets choose YouTube as the most effective video marketing platform. A professional video production agency in Wake can help your North Carolina business to increase its sales and get new clients.
Beverly Boy Productions is a premier video productions company that is committed in delivering professional video production services for local businesses and brands in North-Central North Carolina. Call our local office today at 888-462-7808 and learn all about our Wake County video production services, and how you can take advantage of our 10+ years of videography experience.
Wake County, a Great Place to Film
Wake County has a lot to offer in terms of beautiful sites. You can shoot a scene in a vast hotel like the Renaissance Raleigh North Hills Hotel, or at a shopping mall such as Brier Creek Commons. There are great landmarks in the county that you can feature as unique backdrops in your video. Consider a scene at the North Carolina Museum of Art, or in the Pullen Park. Each of these locations reflects the natural beauty of the state.
Apart from the unique landmarks in the city, you can also explore historical landmarks in the county where you can shoot a scene. Examples of these sites is the Walking Through Historic Oakwood, the Historic Yates Mill, and the Mordecai Historic Park.
Proudly servicing the entire North-Central North Carolina area including Raleigh, Garner, Fuquay-Varina, and Apex.
Video Production Costs in Wake County
Video production costs in Wake County are similar across the board, even in the major counties in North Carolina. The cost of production is based on the experience and expertise of the production crew, and the unique needs of your film project. Day rates can begin from $250 going up for each camera crew member.
Basic
Wake County Production Crew Rates
Can Include:
Film Director – approx: $258 per hour
Editor – $48 –

$183 per hour

Actors – $58 –

$508 per hour

Narrator – >$408 per hour
Script Writer –

approx

:

$158 per hour

Cameraman – $58 – $408 per hour
Equipment – up to 108 per hour
Studio Shooting – up to $408 per hour
Audio Files – up to $1008
Video Rendering – up to $83 per hour
B-Roll – expect to pay a percentage between 10 and 50% of your total cost
Miscellaneous Fees – can cost very little up to 1008 extra
Wake County video production services and individual costs vary from one company to the next. The important thing here is that you hire a crew that has the expertise and experience required to carry out your video project production.
Live Streaming in Wake the "New Norm"
In 2020, many Wake business owners have been living under a "new norm" since COVID-19 shook the world and changed how businesses operated everywhere. Live streaming in Wake is the "new norm", and this trend is taking shape all over North Carolina and across other states in America. Businesses are now communicating through various remote features, and every day, people are getting comfortable with this mode of communication.
If you are in Wake County, you need to see how this service can improve your business. Fortunately, live streaming production services are widely available from professional film crews in Wake who are skilled in:
Bonded cellular streaming, 3G/4G/5G, and Mobile Satellite uplink trucks.

Webcasting virtual concerts & Graduations.

Funeral live streams, Church services & Weddings.

Live polling, LiveU & Paywall platforms.

Conference live streams & Virtual meetings.
Connect to Your Audience
Livestream technology has made it possible for many Wake County companies to deliver professional live video feeds to their remote audiences. In fact, even after the Covide-19 lockdowns are lifted, many companies will continue sharing their livestream video content on a regular basis. We Stream on different RTMP compatible services including YouTube Live, Wowza Media Server, Twitch, Ustream, and Akamai.
From the TriCaster to the Livestream studio HD550, the use of livestream video is enabling brands to creatively communicate with their customers from wherever they are. Livestream video technology is helping these businesses to boost viewer engagement and deliver interactive content that includes live Q&A polls, audience chat features, and customized call to action offers to each viewer.
Hiring the Right Wake Camera Crew
Get Wake County video quote here!
The first time going through the process of hiring a Wake County camera crew can be intimidating. But you have to select the right crew to produce professional quality videos for your business. That is why it is important to go through this article to discover how you can spot the right partner for your company. The initial step is to conduct a quick search for the best local providers in your area — Beverly Boy Productions offers full-service film production including pre-production planning, filming, and post-production editing.
We are now going to look at the tips you need to remember when you want to go about finding and hiring a professional film crew in Wake. The first tip is to conduct a background search on all the shortlisted service providers you are interested in. In your quest, you will find many great film companies that can offer Wake County video production services, and you will also find quack service providers who can market, but can't make an impactful video which your business is looking for.
Next, remember, a film crew in Wake is not all about the tools of trade and their experience. There is more to a master video productions company. You need to identify a team that is talented in creativity, storytelling, and the ability to bring your vision to life on film. The same team should be open to discussing your budget, and the individual needs of your project.
Then, you also need to know more about the project timelines before you go deep into planning. Once you get these details from each prospective service provider, you are going to make the right decision on the company you are going to hire.
Finally, remember that you get what you pay for. Film production services in Wake County are not the same, they actually vary from one company to the other. If you want a broadcast quality type of production, you have to go back to the drawing board and invest a little bit more on the production. So, in a nutshell, do your homework, check out the history of the company, and sample the videos they have produced in the past. After getting through this process, you will finally be ready to start hiring the right Wake camera crew for your business.
Corporate Video Production in Wake County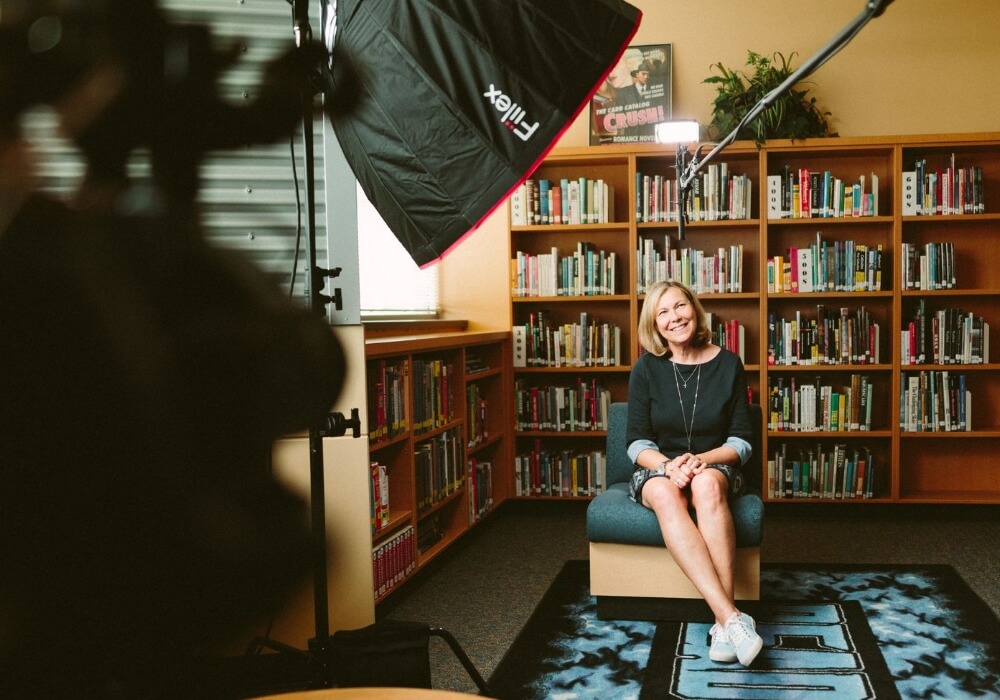 When talking about the best marketing content for businesses, video reigns supreme. In fact, 87% of marketing professionals invest in marketing videos. In addition, video content is the consumer's favorite type of marketing media, and 88% of marketers are satisfied with the ROI of their video marketing campaigns.
The interesting thing is that the discussion we are having is not really about whether or not your company needs video for business. It is also not about the number of videos your business can produce in a month. The core of this discussion is the need to create an effective video marketing strategy that will help you to take your business to a new level in 2021.
If you want to keep your viewers visiting your site, corporate video production in Wake County can help you achieve that. But it can also help you to increase your brand reach and boost audience engagement which will improve the chances of some of your viewers converting. Would you want to miss out on planning your corporate video marketing in 2021?
The professional
Wake County video production services
you get from your preferred service provider in 2021 will help you to:
Increase the marketing value

of your content,

drive more leads

, and

increase conversions for your brand.

Increase the organic reach of your site by more than

157%.

Web Pages with video

will boost your site's

rankings in Google search engine results.

Increase the organic traffic to your site by

55%

.

Increase the sales of your product or service by as much as 81%. Viewers make their purchasing decisions after

viewing a video about the brand.

Engage with your audience in the way that they appreciate.

44% of audience

members

prefer watching a video over reading about products

or services.

Increase the open rates of your emails once you begin your email campaign. The word "video" on the email's subject line will improve the open rate by

as much as 19%

.

Increase landing page conversions

by

80%

. Video has the power to improve conversions.

Grow your revenue by approximately 13.3% compared to an expected 8-9% when you market without video.
The benefits above are part of a larger list which you can benefit from if you hire the right corporate video production in Wake. Consider consulting with a professional team if you need help preparing your video marketing campaigns in 2021.
Booking an Event Videographer in North-Central North Carolina
Wake County video production services offer a broad range of videos that are certainly not limited to marketing campaign videos or live streaming. You can use this effective service if you want to begin capturing your business events with the intention of promoting newer events.
In fact, booking an event videographer in Wake will help you to film and publish the videos across the internet, to build brand awareness, and make your brand stand out.
You might be thinking, "I can film my event with my Nikon camera!" Now, there are a number of reasons why we recommend hiring an event videographer, they include:
Professional quality

–

event videographers

use professional gear and techniques to capture your event in a professional capacity. The end result will be a world class video product that will take your brand to a whole new level.

A team that stays out of your way –

event videographers know how to cover events without interrupting the proceedings in the event. Using professional equipment, they know how and when to take shots that will make the viewer experience your event in an emotional way.
Contact Team Beverly Boy
Finding and booking an event videographer in North-Central North Carolina that knows how to realize your expectations is powerful. Once you decide on when you want to host business events in 2021, work with a professional crew to plan how you can cover the event in the highest quality. To learn more about Wake County video production services and how your company can benefit from videography, contact Beverly Boy Productions at 888-462-7808 and we will cater to all your video needs.