23 Places to Find a Local Videographer in Salt Lake City
Are you wondering where you can find a local videographer in Salt Lake City? It can be difficult when you don't know where to look. However, you will be glad to know that there are tons of places where you can find HD videographers in Salt Lake City that can support your project. So, whether you are looking to hire a Salt Lake City videographer for a short or long term project, this list of places where you can find local Salt Lake videographers includes experts that are available to provide services all over the north-central region.
Get a Utah videographer quote here!
How Do I Find a Local Videographer in Salt Lake City?
Finding and hiring a Local Videographer in Utah with enough skill set to assist you is not hard if you know where to look.
From producing compelling marketing videos, creating customer testimonials, demos, tutorials, documentaries and live events.
Many benefits come with hiring a professional Salt Lake City videographers with dedication, experience and professionalism your project needs.
It pays to
hire a pro
.
Finding a professional videographer with resources, equipment, and the skills mentioned above can be difficult.
Whether you need ENG or EFP crew in 84044, a camera operator can lead you to the most exciting shops in Salt Lake County or a multiday shoot to capture a live stream in Temple Square.
You have to know where to look. This article puts together a list of places to find a local videographer in Salt Lake City that can help you kick start your project.
Beverly Boy production is our first one on the list. The company is an industry leader in the space and loves what it does. The company has enough experience in the field.
When it comes to hiring a Salt Lake city videographer, Team Beverly Boy does not guess.
The company has a very rigorous recruitment process and vets local Salt Lake film city crew that know Salt Lake well.
The company also does its job well. Call their offices to talk to one of their representatives, and they will line you up with an excellent videographer for your project. It's as easy as 1,2,3.
You may know it as a popular forum where people discuss anything from news, politics, cinema and the latest trends.
What many people don't know is that you can actually hire or get hired on this platform. Reddit has a "for hire" thread that makes searching for Salt Lake City videographers simple.
All you need to do is post a quick thread on the forum about the project and wait as others chime in. Reddit has about 52 million daily active users.
There is a high likelihood of meeting a videographer within your area after posting.
On PeoplePerHour, seeking a Salt Lake videographer for your project is relatively easy and quick. Submit a detailed post about your project and wait as other freelancers submit their proposals.
Posting a detailed description of your project means that it will attract more relevant freelancers.
The platform also has an intuitive artificial intelligence that can help match the best freelancers for your project according to their proposals.
You can then choose a Salt Lake City freelancer that you think is well suited for the project you are about to start. Pay a deposit at first and finish off the payment after the job is done.
Facebook is a great tool to search for local videographers that can assist you in your filmmaking.
The platform is considered the world's largest and most popular, with more than 2.9 billion active users globally, making it a fast way of reaching local videographers near you.
Finding a video crew in Salt Lake City, Utah, is only a matter of searching and posting.
Utilize Facebook Marketplace, a platform where you can find businesses and freelancers offering videography services that match your needs.
5. Personal Recommendations
Personal recommendation is one of the oldest and most effective ways people have used to find local videographers near me.
The tool has unique benefits over means found on this list to source a Salt Lake City videographer. How do you get personal recommendations?
First, you talk to some of your acquaintances and business owners that have had similar projects to yours. If the projects were successful, enquire whom they hired for the tasks.
It will lead you to a path of quickly finding and choosing a videographer with the skills and abilities you are looking for.
It will also save you a lot of time that you could have done sifting through and weeding out proposals that don't meet the skills you desire.
How much Does it Cost to Hire a Freelance Videographer?
Get a Utah videographer quote here!
Videographies.com is another platform explicitly built for providing a list of videographers in Salt Lake City, among other cities.
The platform connects media professionals with business owners that need their services. Videographies.com has a variety of professionals from the United States and Canada.
Videographies.com has made finding local providers very easy. Finding Salt lake videographers is only a few clicks away on this platform.
You only need to choose your state, city and you are good to go.
Mandy is a global platform dedicated to connecting you with video production professionals.
The platform is a great start when looking for videographers in your area. It features an extensive network of industry professionals, including actors and videographers.
Clicking the site connects you with thousands of other creatives that are ready and available for your project on the world's most extensive entertainment networks.
How about connecting with the local Chamber of commerce? Doing so connects you with industry professionals, videographers and other service providers and professionals in different industries.
You only need to contact the chambers, and they will direct you. Local commerce chambers list videographers in specific locations to make it easy for locals to find help and the resources they need.
Upwork has 145K active clients, with at least 14 million users across 180 countries globally. The platform is an ideal place to find a local videographer that can support your project.
In fact, it's the number one platform to find freelancers in a profession like videography. You have two options here.
Post a detailed project post and wait as freelancers bid, then choose one that meets your project needs. The second option is to find a Salt Lake City videographer that suits your needs and then request a proposal.
Craigslist is one of the oldest sites to source a videographer in Salt Lake City. Although not as popular as it was before, it still has great opportunities.
It features city-specific pages though most cities in the United States. This is where users can post their advertisements for jobs and even find freelancers who have posted on the site.
LinkedIn is a site that features businesses and freelancers from a variety of industries. The platform is an exciting place to book a Salt Lake City videographer who can assist you with your filmmaking needs.
In addition, it presents an excellent opportunity to grow your connections with area videographers in your locality.
You can then pick a videographer you think best suits your projects. People on LinkedIn say that the platform is a fun, engaging and effective way of building business relationships.
Another social networking site that features global users from many countries, cities and states.
Instagram is an exciting place to search and find local videographers with over a billion active users monthly. For a project like yours, Instagram can be a great place to hunt for a videographer.
This is because the platform is photo and video-based. Check top users and engage them for an excellent opportunity to showcase their skills.
Utilize hashtags like #SaltLakeCityvideographer #SaltLakeCitycameracrew, #setlife to find videography services in Salt Lake City.
GigSalad is an event planning platform that features full-service booking for various providers, from entertainers to videographers.
The site features users in the gigs industry who are vying for opportunities to showcase their talent.
Find a local videographer in Salt Lake City that is skilled in film production on GigSalad. The platform also has many other service providers available
Freelancer.com was built with freelancers in mind. The Australian marketplace has a significant reach in Vancouver, London and other places where freelancing is a major deal.
The platform has been around for more than a decade and boasts of over 20 million users worldwide.
Users that are highly skilled in videography and film editing, graphic design animation and special effects can be easily found on Freelancer.com
Finding and hiring Salt Lake City videographers here is absolutely free, not to mention quick and easy.
Bark.com is a search engine that connects sellers and buyers in the service industry.
All you need to do is perform a location search, and you will quickly be connected to professional videography services that are good for your business.
BNI is a worldwide network of local professionals. The American franchise networking organization boasts more than 270K members and at least 10K chapters from 70+ countries.
To find a local videographer is relatively easy through BNI. All you need to do is find a local chapter and reach out to join.
You will be surprised how finding event videographers in Salt Lake City on The Knot is easy.
The platform may focus primarily on weddings, but there is an excellent opportunity to find videographers that have the skill and resources for a variety of other video content for your brand.
The Knot is a number one source for videographers nationwide. You can also easily find other vendors that provide venue locations here as well
The Wedding Wire is similar to The Knot because of its focus on weddings and the fact that it includes a variety of other vendors and freelancers in the industry.
This includes videographers and video production and editing assistants. Connecting on Wedding Wire is easy.
You only need to engage users and select the one you think best suits your needs.
Simply Hired is a job search engine that features local videographers specializing in corporate filmmaking and live events.
The platform is a great place to source professionals for projects that you need expertise. You simply need to post here and vendors and professional videographers from Salt Lake will be vying for the project.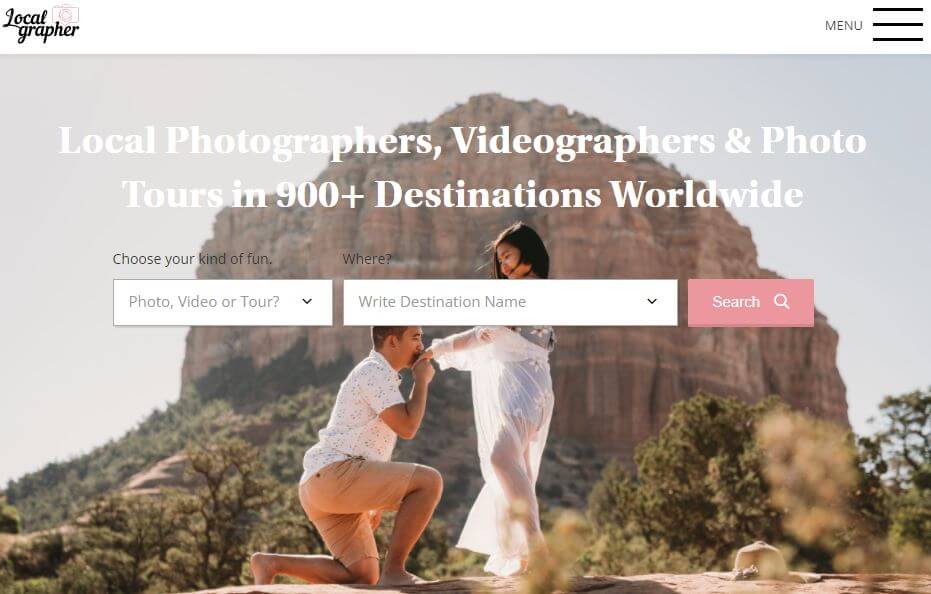 Another great place to find a Salt Lake City videographer. The platform is a search engine for videographers, photographers and cinematographers who are experts in their field.
At LocalGrapher, you will meet many creatives with various skills from more than 800 locations globally. You can then select your favorite to do the heavy lifting for you.
Planning is not just easy but also quick on EventEctive. The platform features a listing of Salt Lake City videographers and many other event professionals.
Also included in the platform's database of service and venue providers. You only need to search a venue for filming and review Salt Lake City videographer pricing and reviews.
On EventEctive, connecting with videographers is as simple as making a call or sending an email.
Whether you are planning a meeting, a business conference or organizing a medium or large gathering, the success of your planning begins at EventEctive.
Finding a local videographer on Thumbtack is as easy as entering your zip code and choosing a service.
The platform features over 250K professionals from various industries, including videography services in Utah.
Check the hourly rates given by each user, find out their specialties and the number of satisfied clients that each user has upfront before engaging them in a conversation.
Media-Match is another platform that was created for an online community of media professionals.
It features a videography database from 161K media professionals and over 100K media companies that are ready to take on various projects.
Simply connect a media professional in your area on this platform with a worldwide reach, including Rio de Janeiro, London and the United States, among other global locations.
Media-Match helps you find a Local Videographer in Salt Lake City and keeps you updated with the latest in the media industry.
Get a Utah videographer quote here!