Top 10 Video Tripods
Choosing the best video tripod takes knowledge and experience. You want to look for steady support and smooth functionality. Most of all, you want to look for sturdiness and reliability.
Whether you want to use a top-of-the-line option or one that suits your budget, we've put together a few options for you that many of the most professional Nashville camera crews love.
So, if you want to be sure to hit the mark when it comes to your video tripod, check out these options below:
Paired with the MVH502A Fluid Head, the Manfrotto video tripod provides the strength and durability that you can depend on for any job, and for however long you'll need to use this tripod.
It's smooth flexibility helps you to get the best support, no matter where you may be shooting in the city.
Ideal for heavy camera rigs used by the best videographers, but also dependable for the lightweight DSLR setups, the Manfrotto MKV502AQ video tripod is as efficient as it is versatile.
Simple to use, easy to take apart, and with rubberized feet to use it on any surface, it's an option that can't be beat.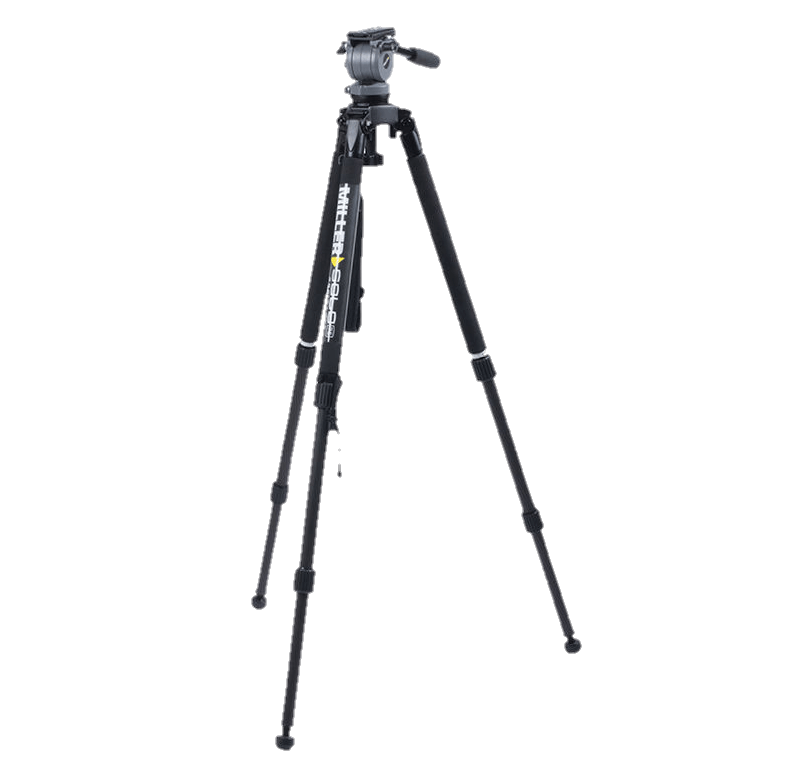 The Miller 1514 DS20 Tripod System is light and easy to carry but it also offers a sturdy design that allows you to use it with up to 10kg of weight and makes it easy to use it with any type of rig you have in mind.
A preferred option by many professional Nashville camera crews, both aspiring ones or veteran professionals, the Miller tripod system is "money" for those teams who want something that is as simple to use as it is dependable.
The quick-release mounts along with a 1/4inch pin or screw mounts allow you to easily change the battery and because it's so lightweight, you can use it on-the-go. The height extension is also quite impressive and while we don't love the two-leg section, we do love how portable this option really is.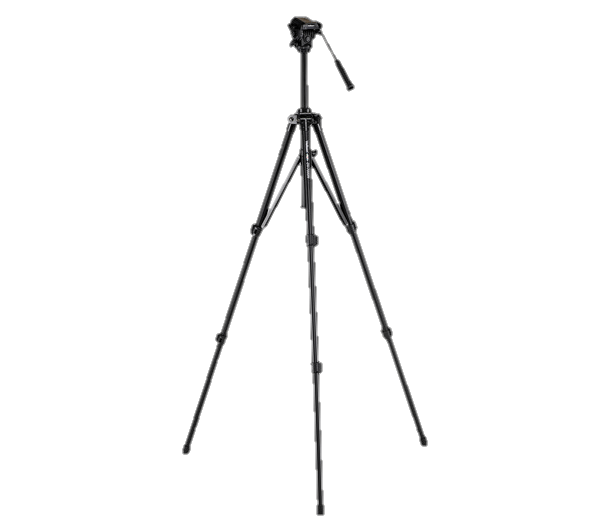 With a PH-368 Fluid Head, the Velbon DV-7000N tripod system is affordable. Those videographers who need support for DSLR or even mirrorless camera setups will love that this baby is available for under $250.
It's a low-priced option that offers amazing reliability, as well as a load capacity of 6kg. You'll also love the rubber feet that allow you to use this tripod on any surface.
While not the most appealing design, it's easy to use and one of the most affordable options around. The pan and tilt adjustments are simply two more amazing features that professionals love for studio-quality results that won't break the bank.
This Camlink TP has braced legs that ensure stability while not making the tripod too heavy.
As a durable option with an extendable height of up to 138cm and with the potential to be folded to just 73.4cm, it's a highly portable option to be used anywhere you need to.
The 3 leg sections allows you to get the sturdy support you need when using it on uneven ground or slick areas. Professional Nashville camera crews love that they can get smooth panning with this Camlink TP. It's easy-to-control with dual control handles, as well as built-in friction dampening.
Paired with the PH-368 head, the Velbon Videomate 638 video tripod is as affordable as can be at only $175.
This aluminum tripod is so lightweight, you'll barely notice you've been using it for many hours and the 3 leg sections make it easy to get the sturdy support you need on any surface.
Plus, the quick-release plates allow you to use it as a handheld tripod or mount placement. The one downside we find on this option is that the max payload is only 4kg, which isn't exactly what you want on every project. But, if you need an affordable option, this Velbon Videomate 638 Video Tripod with PH-368 head could work for you.
Whether you want to shoot Downtown or in the Hillsboro-Belmont area, this option is easy for use on-the-go. The carbon fiber build means you can carry it without even barely noticing its weight.
With 4 leg sections, you can also use it in unique places or on various surfaces. Whether you're filming in the city or on the road, this travel tripod is the dependable option you need. While it won't work with a huge camcorder, you can use it with a DSLR or CSC rig that is under 4kg total weight.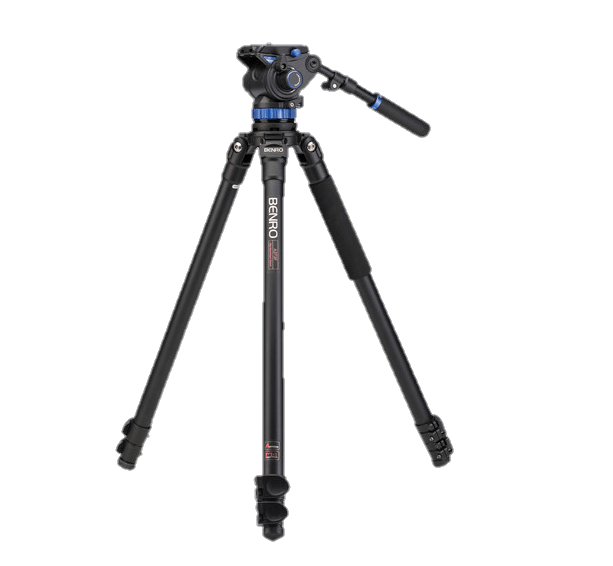 The Benro A373FBS7 video tripod isn't as affordable as a few of the options on here but the price tag of $350 is actually pretty decent.
You can expect balance and full control with the Benro, as well as a durable build.
It may not be the most lightweight option, due to being made from aluminum but it makes up for that by offering a 3 leg section that makes it easy for you to use with any rig that weighs up to 7kg of total weight.
The independent locks for panning and tilting, the Benro A373FBS7 tripod allows you to use it with any type of accessory you'd like, including recorders and monitors. The rubber feet and spikes mean you can use it in various places. It effectively counterbalances many rigs, which is why it's loved by so many professional videographers.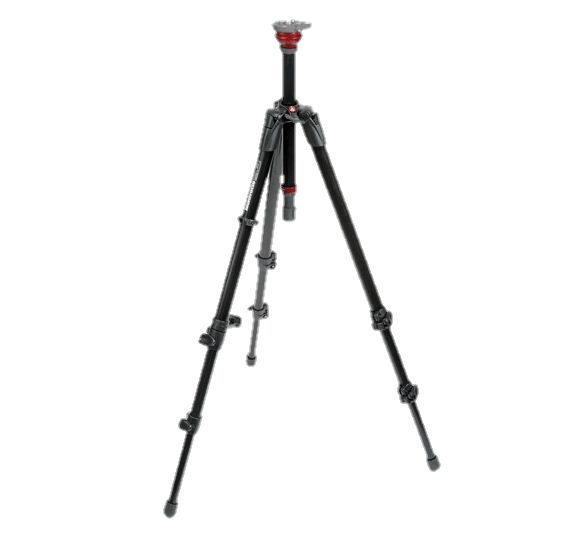 Made from aluminum, the Manfrotto 755XB MDeVe Video Tripod is highly portable and lightweight. The built-in leveling ball allows users to expertly guide and balance their shots, every time they use it.
The 3 leg section allows you to get the sturdy support and balance you need, even when using it in tricky places or on uneven foundations.
While the Manfrotto is built from aluminum, it offers the kind of precision balancing you can depend on. Also, it delivers on functionality while remaining relatively affordable at under $300.
This option is built from carbon fiber so you get the reduced weight you want while still getting sturdy support for the job.
With an extension height of 184cm, and the ability to fold it down to 88.4cm while only weighing 5kg, it's the portable option that allows you to use it anywhere you need to.
One thing to consider is that the Manfrotto 535BK 2 Stage video tripod can be found on Amazon for the cost of $800 so while it isn't that affordable, many professional Nashville camera crews still love how reliable the Manfrotto 535BK 2 Stage 535 B is for a variety of jobs. With max payload capacity at 7.5kg you can easily use it with the big rigs you need for the most professional production projects.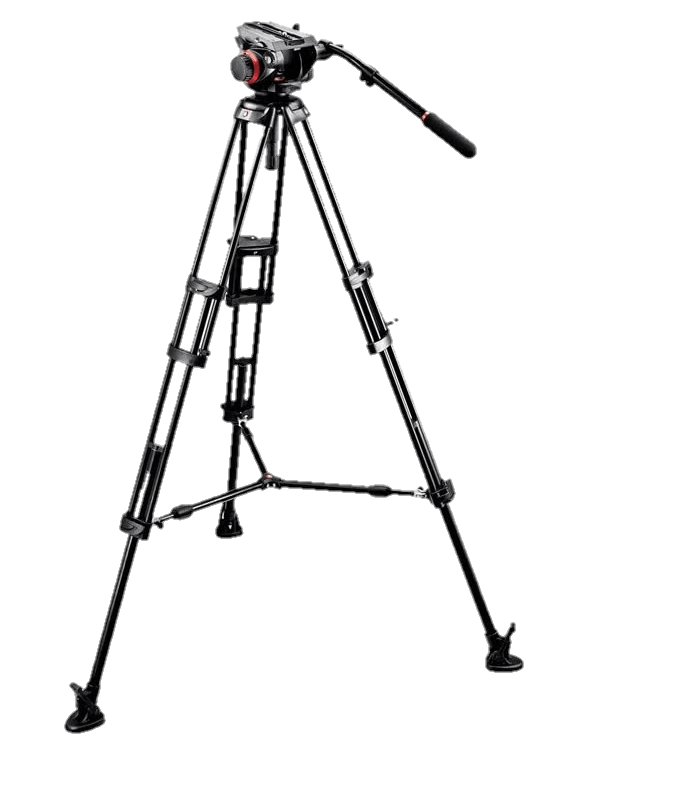 Featuring the 504HD head, the Manfrotto 546GBK video tripod system is under $1K. The payload capacity of 12kg means you can use it with a heavy rig.
Additionally, the Manfrotto 546GBK tripod system is actually only about 6.3kg with an aluminum build, so it's easy to take with you wherever needed.
The Manfrotto 546GBK has a reliable video bowl attachment that can be utilized in conjunction with other professional gear for optimal results. Because it has twin legs, this is a great choice for on-the-go use, and as it's so easy to use and set-up, it's a favorite for many professional Nashville camera crews.