Choosing the ideal St. Clair County video production services in 2021
Are you seeking professional St. Clair County video services? If so, this article will give you more insight on the most important factors you need to consider before hiring a company. St. Clair County video production is more than a trend- it's a marketing necessity. With over 500 million hours of YouTube video consumed every day, the average consumer spending at least one hour per week watching videos on social media, and over 85% of the U.S. internet audience watching online video content daily, the importance of video for marketing and branding is very clear. Choosing the best St. Clair County video production services in 2021 is an important task for business owners to handle!
Get a St. Clair video quote here!
St. Clair County businesses need professional video production services so that they can leverage their abilities in order to stand out in a world where more than 72 hours of video are uploaded to YouTube every minute.
What will your business do to stand? A professional video production agency in St. Clair can help your Illinois business acquire new clients, increase ROI, and develop a stronger following for your brand.
Beverly Boy Productions specializes in delivering professional video production services for local businesses and brands in South Illinois. Give us a call to learn more about our St. Clair County video production services and the experience that we bring to each project we produce.
St. Clair County, a Great Place to Film
St. Clair County is home to many beautiful sights including vast hotels like the Angad Arts Hotel and shopping in St. Clair Antiques Mall. Filming in the County lends to several great opportunities in which Illinois's natural flora and fauna can come into play.
Consider a scene along Scott Field Heritage Air Park, Prairie Lake Park or in Stemler Cave Woods Nature Preserve. Each of these locations represents Illinois's natural beauty with pristine quality.
In addition to the outdoor elements that bring a natural backdrop to any film project, St. Clair County is also home to some unique architecture.
Consider filming at one of the several historical buildings and landmarks located throughout the County including the National Shrine of Our Lady of the Snows, the World's Largest Catsup Bottle, or at Eads Bridge.
Each location lending to the historic glory of the County while providing insight into the history of old Illinois. Proudly Servicing the entire South Illinois area including Belleville, Columbia, and Madison.
Video Production Costs in St. Clair
Get a St. Clair video quote here!
Video production costs in St. Clair County lineup with most areas of Illinois or other counties. You can expect the cost you pay to depend on the experience of the production crew and the individual needs of your film project.
Day rates start at $250 or more per camera crew member depending on his or her skillset and your (and their) individual expectations.
Typical St. Clair County production crew rates can include:
● Cameraman $52 – $402 per hour
● Actors $52 – $502 per hour
● Studio Shooting – up to $402 per hour
● Narrator – >$402 per hour
● Equipment – up to 102s per hour
● B-Roll – expect to pay a percentage between 12 and 52% of your total cost
● Miscellaneous Fees – can cost very little up to 1000s extra
● Script Writer – approx: $152 per hour
● Audio Files – up to $1002
● Film Director – approx: $252 per hour
● Video Rendering – up to $77 per hour
● Editor $42 – $177 per hour
St. Clair County video production services and individual costs vary greatly from one to the next. The important thing for you to consider here is that you hire a crew that has the experience required to fulfill your video project.
Live Streaming in St. Clair the "New Norm"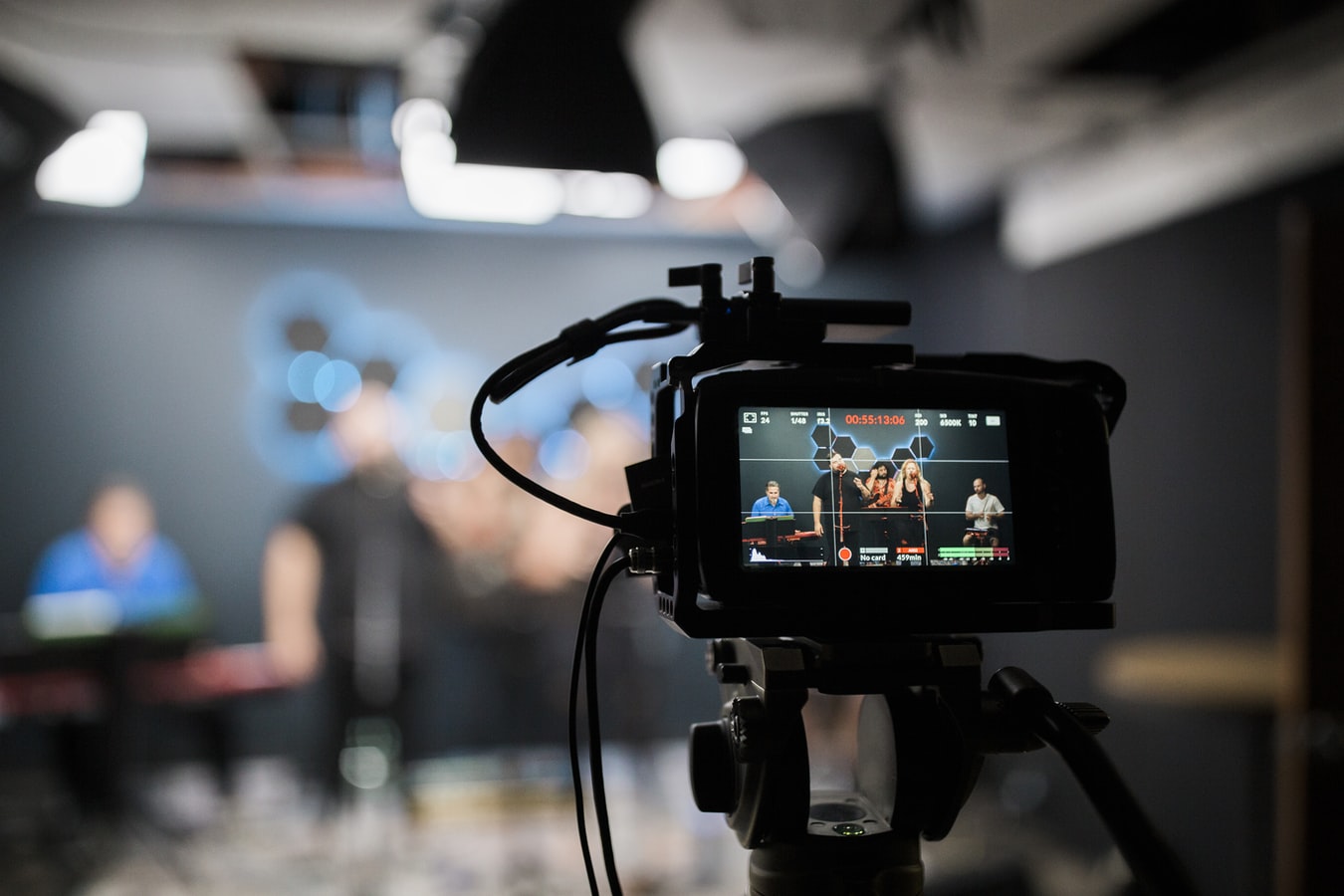 Various St. Clair business owners are experiencing a "new norm" since COVID-19 caused Illinois and much of the country to go through a pandemic lockdown in 2020.
Live streaming in St. Clair is the "new norm" and communicating through different types of remote features is now a daily effort for many brands in the county and beyond.
Fortunately, live streaming production services are easily and readily available from professional film crews in St. Clair that are experienced in:
● Webcasting virtual concerts & Graduations.
● Funeral live streams, Church services & Weddings.
● Conference live streams & Virtual meetings.
● Live polling, LiveU & Paywall platforms.
● Bonded cellular streaming, 3G/4G/5G, and Mobile Satellite uplink trucks.
New livestream technology has allowed a large number of St. Clair County companies to deliver top-rated live video feeds to their remote audiences easily and quickly.
In fact, many brands are still sharing their livestream video content on a regular basis even after the lockdowns and restrictions of Coronavirus have lifted.
Live Streaming Services
We Stream on many RTMP compatible services including Ustream, Wowza Media Server, Twitch, Akamai, and YouTube Live.
From the TriCaster to the Livestream studio HD550, utilizing livestream video allows businesses to connect with those who are distanced (for various reasons) including their workers, outside consumers, or other audiences.
Livestream video technology gives businesses the opportunity to boost viewer engagement and deliver interactive content that includes live Q&A polls, audience chat features, and customized call to action offers targeted to each individual viewer.
Hiring the Right St. Clair Camera Crew
Hiring a St. Clair County camera crew to help you produce professional quality videos for your business may be a daunting task to start, but with focus and know-how, you can find a film crew that's ideal for handling your project.
To start, conduct a quick search for providers in your area — Beverly Boy Productions offers full-service film production including pre-production planning, filming, and post-production editing. Call us to learn more about the value we can bring to your film project.
Do Thorough Research
First, one of the best tips we can give you for finding and hiring a professional film crew in St. Clair is to do your homework and research providers before signing contracts.
There are many great film companies that can provide you with St. Clair County video production services, but there are also many out there that claim they can provide quality work, but can't.
Next, a film crew in St. Clair should bring more than gear and experience to the table. They also need to bring creativity, storytelling, and the skills to bring your vision to life on film.
Discuss Everything
You should always be upfront about your budget, project deadline, and the individual needs of your project with each film crew that you speak with.
It's better to address budgets and timelines at the start to ensure that the company you're thinking about working with can work within your parameters.
Lastly, you get what you pay for. Film production services in St. Clair County can fluctuate greatly when discussing experience and their cost. You may spend a bit more in order to get the quality that you want and deserve.
But doing your homework, researching the history and past projects of the crew, and getting estimates in writing allows you to rest assured knowing you've made a solid choice when you do end up hiring the right St. Clair camera crew for your brand.
Corporate Video Production in St. Clair
Video is at the top for the best marketing content for businesses of all sizes and kinds. In fact, over 90% of businesses that have made marketing videos for their organization say that the ROI from video content is higher than other marketing media.
The conversation isn't about whether or not you need video for business, as much as it is about how many videos you need to create, and how often you should be creating them.
Expand Your Brand's Reach
If you're not already using videos, 2021 is the year for you to start considering a strong, effective video marketing strategy.
Corporate video production in St. Clair County can increase your brand reach and boost audience engagement while keeping viewers on your website longer and increasing the chances of them converting to what you are offering.
Can you really afford to ignore corporate video marketing in 2021?
Consider investing in St. Clair County video production services for your corporate video production needs to:
● Increase the marketing value of your content, drive more leads, and increase conversions for your brand.
● Increase your reach by as much as 157% or more. Web Pages with video are more likely to result in first page rankings in Google search engine results.
● Increase traffic by as much as 55% to your website.
● Increase sales by as much as 81%. Up to 81% of consumers state they will make a purchase after viewing a video about the brand.
● Connect with your audience in ways they prefer to connect. 44% of audience members prefer watching a video over reading about products or services or speaking on the phone about those things.
● Increase email campaign open rates by as much as 19%. An email with a subject line that has the word "video" gets opened up to 19% more often.
● Increase landing page conversions by as much as 80%. Adding a video has the power to do this.
● Achieve yearly revenue growth by as much as 13.3% compared to an expected 8-9% without using video.
These are some of the benefits that come with corporate video production in St. Clair and using video marketing campaigns in 2021.
Booking an Event Videographer in South Illinois
Get a St. Clair video quote here!
St. Clair County video production services are not limited to simple marketing campaign videos or live streaming- they're perfect for capturing your business events and sharing them worldwide.
In fact, booking an event videographer in St. Clair allows you to film your events to build brand awareness, stand out from the crowd, and increase event attendance and sales.
You may be wondering, "Can't I just film my event myself?" There are many good reasons that we recommend hiring an event videographer, which include:
● Professional quality – event videographers capture events in a professional way, reflecting the level of professionalism and the quality expected by your brand.
● A team that stays out of your way – event videographers capture events without interrupting or getting in the way of your attendees and their fun. They have all of the equipment and expertise to make that happen.
Finding and booking an event videographer in South Illinois that meets the expectations set forth by your business is important if you intend to host corporate business events in 2021.
For more information about St. Clair County video production services and what each of these specializations brings to your business, give Beverly Boy Productions a call. We'll provide you with free estimates for your needs.