Top 10 LED Lights for Video Production
LED lights are a big hit in the world of cinematography world nowadays. Why? Because LED lighting features has a broad array of color options, virtually zero heat, and because they use such little energy, they can save you money.
Plus, LED lighting doesn't flicker or dance in the way some traditional light bulbs often do, so you can get the flicker-free luminescence of any color you can think of—minus the heat impact.
What is there not to love about LEDs? We know that most HD New York camera crews love them, so we've compiled a list of our top 10 favorite LED, lights that can ensure your video production is everything you want it to be.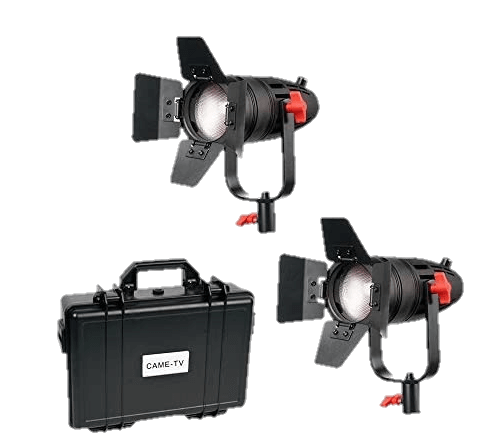 Priced at $600, this LED light kit offers the kind of quality lighting you need to magnify your output for the best on-set lighting imaginable.
The CAME-TV Boltzen 55W LED Fresnel Kit is easy to use and with top-notch magnifying Fresnel lenses, getting the job done has never been more simple.
The cost may initially seem a bit high but because it can double up as a diffusion set and provide optimal lighting and coverage for a full scene, you'll find that the features make it worth it.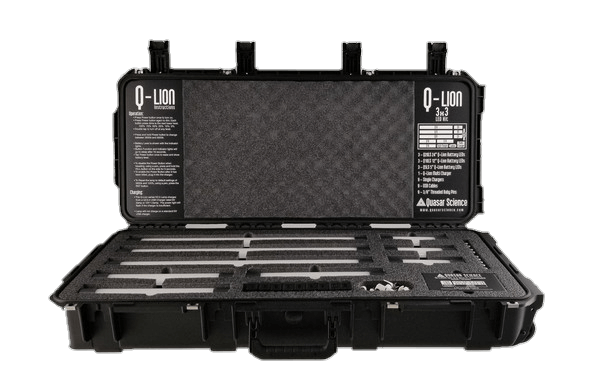 A full-function, 3×3 LED light set provides a total of nine lights, which is plenty for anything you need. You can also get the maximum RGB control over needed over each panel, and the Q-LION is a great option for sci-fi video productions and even music videos where practical lighting is everything.
It's even useful for those stylized recordings that require fill lights. Priced at $1500, the Q-LION is everything that a top gaffer could want.
These LED lights are impressive for the newbie, as well as the most experienced professional. One of our top choices, you can be sure that many video professionals love the Q-LION 3×3.
With dimmable technology, the Bescor Photon LED 2-Light Kit is powered by a top full function power adaptor or you can also use NP-F batteries to use on full-scale indoor sets or at the location of your choosing.
This LED light set has a set of colors ranging from 3200-5600K. The set features two Photon LED panels that can be set to a total length of 78 inches total length. Priced under $250, you get a professional-grade LED light at a budget-friendly cost.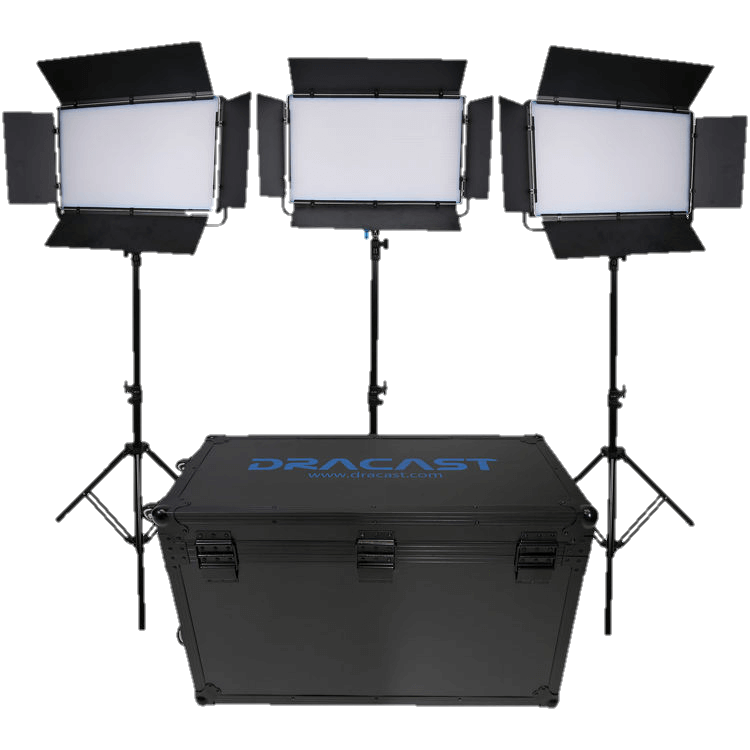 The Dracast LED2000 Kala LED light offers the kind of exceptional LED output you need from panels in which you are able to operate remotely from a control.
You can also easily adjust the lighting on set without ever having to get up from your chair if needed, thanks to the remote control Dracast LED2000 Kala set.
Featuring 4-way barndoors and a V-mount battery plate and even a multi-voltage AC adapter, the Dracast LED2000 Kala model offers the type of color temperatures you want and also has a fully dimmable appearance that provides the quality you're looking for at $1699.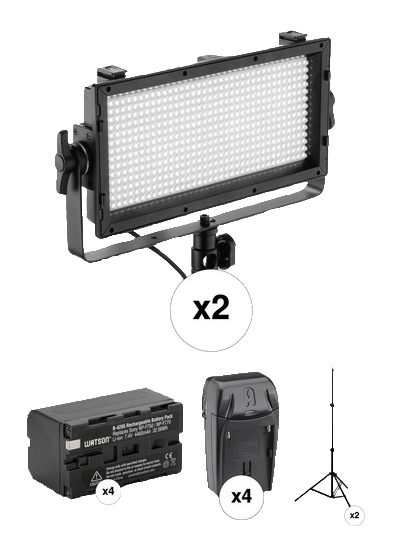 This LED light kit costs $390 making it a relatively inexpensive LED light option for sets that require mobility in the lighting.
Videographers who are on the go on the job like the Genaray Spectro Essential 500 lights because it offers great battery power so they can remain fully functional in a variety of situations.
The Genaray Spectro Essential 500 2-lights kit offers a panel light with ideal output and is a decent lighting option for interviews and other circumstances where you need variable brightness.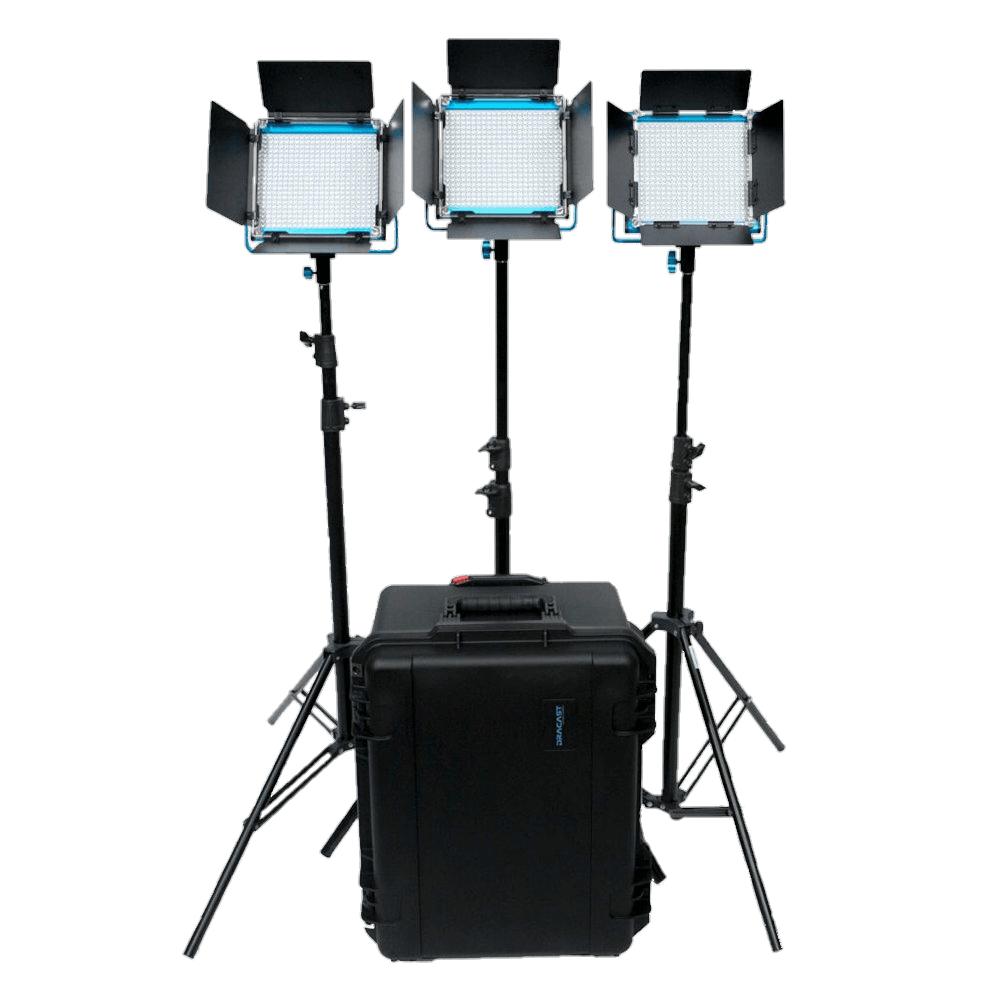 A LED light kit that has three bi-color panels and 4-way barndoors that allows for optimal versatility, the Duracast S-Series LED500 3 light kit is a bit expensive at $799, but you don't need to be scared away.
This LED light offers HD New York camera crews the ability to work their magic, thanks to the diffusers, light stand, NP-F Battery plate which allows for optional battery power, and a reliable multi-voltage AC adaptor that can be used on set or on location.
You can easily either use this LED at the dimmest setting or all the way up 100% lighting capacity.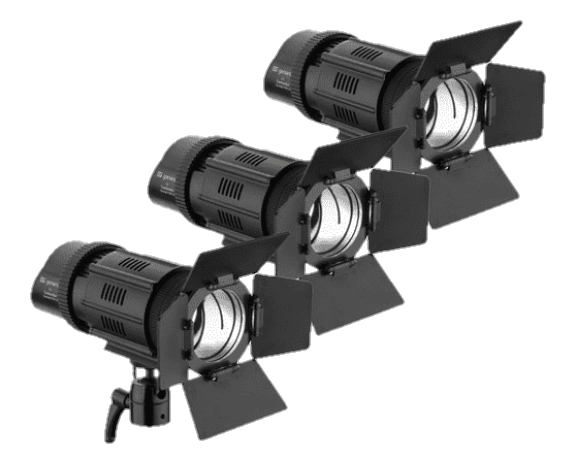 This 3-light LED kit is a favorite for many. Not only is it dimmable from 10 percent to 100% but it also boasts of an adjustable lens that helps you to set the lighting to be focused in various directions starting at 55 degrees and also allows for the focus to go down to a 25-degree spot.
Use the Genaray Contender LED lighting for unique lighting situations that warrant selective focus or when you want to create the appearance of sunlight inside.
While the price is high at $1400, many would say that the intensity and options for focusing make this 3200 to 5600K variable kit worth it.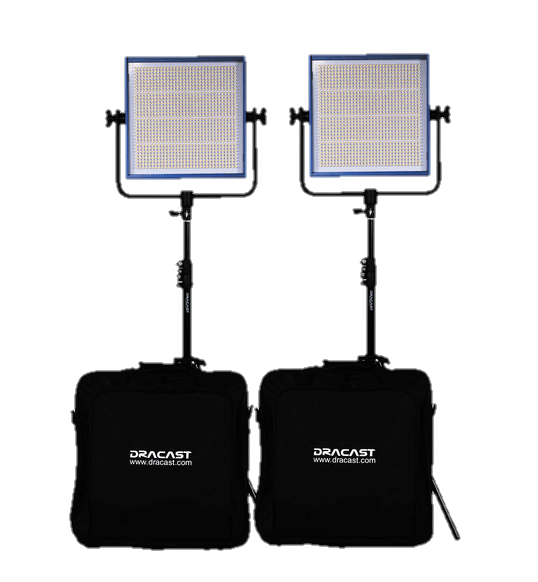 The Dracast LED1000 Pro offers variable color temperatures between 3200 and 5600K so you can get the best color and vibrance needed on any set.
Although this professional LED light is a lot costlier than other options, coming in at $1100, the Dracast LED1000 Pro lighting offers output equivalents nearing 1000w when you compare it to normal hot lighting.
Because it doesn't require high electrical usage and can be used with standard power, as well as V-Mount 12 VDC batteries, this LED light is an option that professionals love.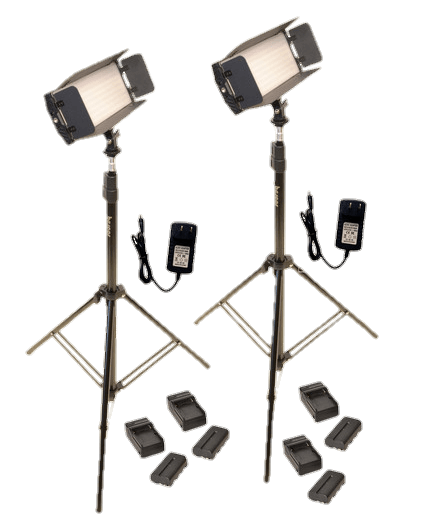 This LED light can be used for your video production at $350 and because it's more of a higher-end model than the previously-mentioned Bescor model, it shows in the features provided.
With a built-in dimmer that provides complete LED light output to range from 10 percent to 100 percent depending on the preference you have, the Bescor FP-312K 2-Point LED includes a variety of color temperatures ranging from 3200-5600K.
From barn doors to an LCD digital readout, and diffusion, you'll get the versatility you need on set, which is exactly what local HD New York camera crews could hope for.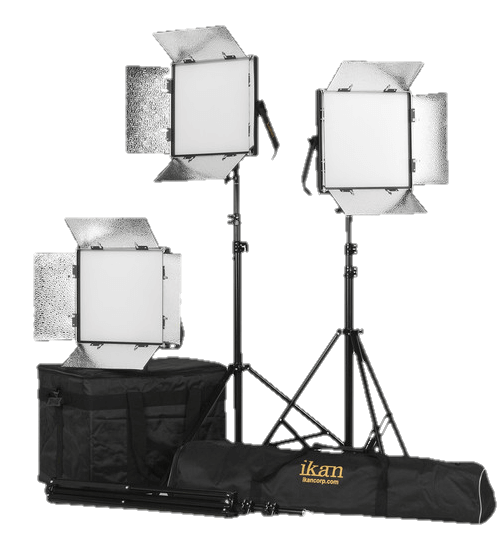 With 10 percent to 100 percent dimming technology, the IKan Lyran 1×1 LED lighting also has a remote control that can be used off-set, so whether you're filming at a studio in Williamsburg or you're shooting outdoors in Harlem, you can easily control the lighting, no matter what.
The four-leaf barndoor technology helps to eliminate light spill and option light intensifiers can be used as needed for additional flexibility when using this LED kit.
A V-mount battery plate, as well as a Gold Mount plate, are also offered in this set, so you can use the LED lighting on the go. If you are working with a low budget, the price tag may be a bit steep at $2000, but the iKan Lyra LED lights will deliver the quality any professional could hope for.
Of all the light kits and LED lights listed here, which one would you say is your favorite for working on the set? Beverly Boy Productions has gaffers that use a variety of LED lights to ensure the most vibrant lighting for any set.
We'd love to hear from you and find out which kind of lighting you deem the best for professional HD New York camera crews. From remote options to dimmable ranges—what are you looking for in your LED lighting set?