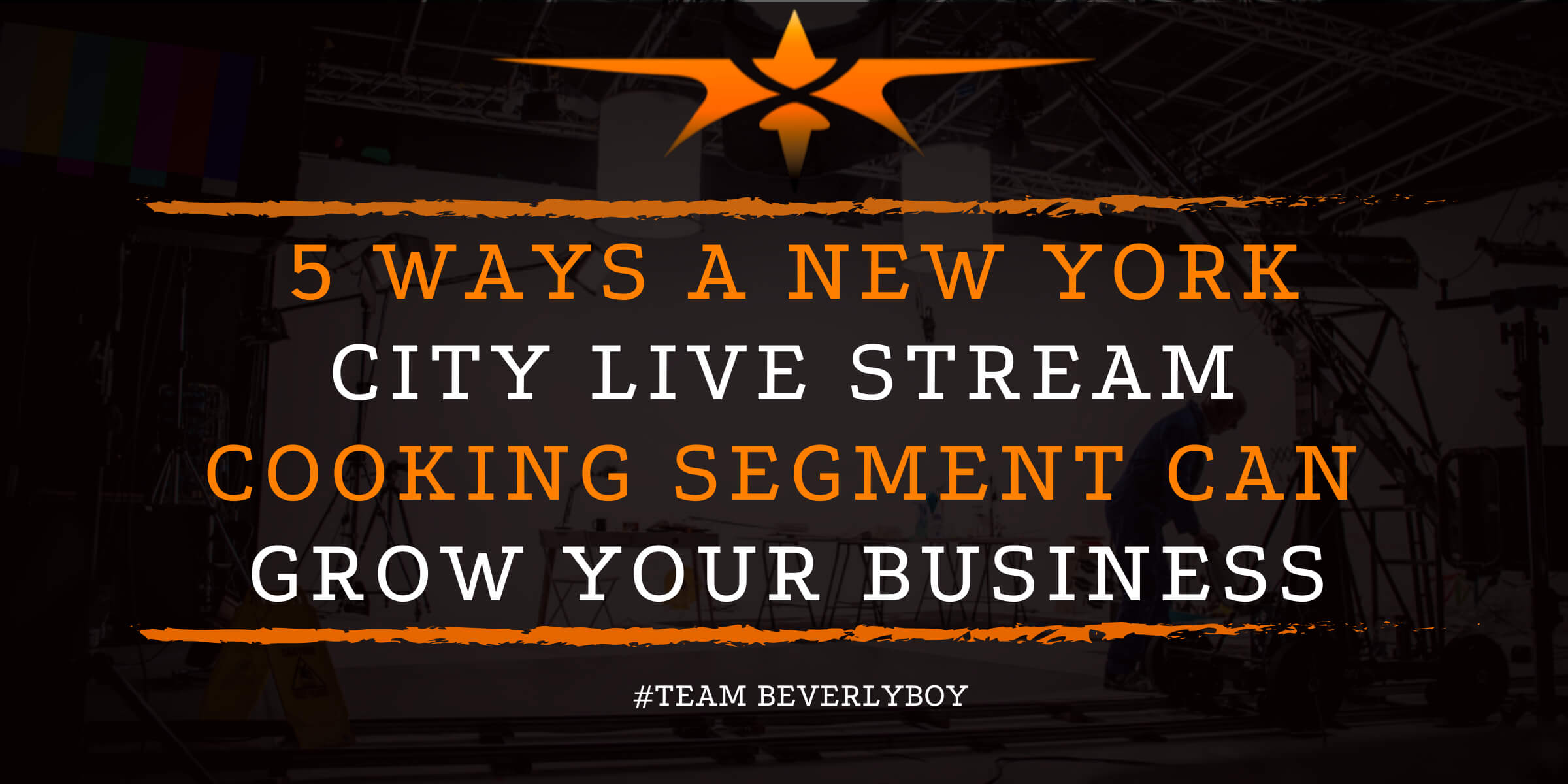 5 Ways a New York City Live Stream Cooking Segment Can Grow Your Business
Live streaming in the City that Never Sleeps has become a rapidly growing trend among business owners. The use of live stream video promotes powerful connections with remote audiences and increased engagement among both existing customers and those who may just be gaining interest in the brand. NYC culinary business owners have a lot to gain from a New York City live stream cooking segment.
Get a New York culinary stream quote here!
If you're a NYC business owner looking for tech-savvy ways to grow your culinary brand, consider a New York City live stream cooking segment that shows off your culinary skills and recipes.
Live streaming a cooking show can help your business to generate stronger brand recognition while generating more revenue for your brand.
Beverly Boy Productions provides professional live stream production services in New York City. Give us a call at 646-448-8787 to learn more about streaming your culinary show.
1. Gather Audience Insights & Create Targeted Marketing Campaigns
New York City business owners have the power to gather insights from their audience members during each and every live stream that they host. What your business does with this data is what has the potential to drive strong growth for your business.
Audience insights can be used to develop hyper targeted marketing campaigns for your future promotions.
2. Increase Audience Engagement
Consumers are instinctively drawn to your New York City live stream cooking segment for the opportunity to engage with your brand and with others in the stream.
Live streaming increases audience engagement by 30% or more compared to other forms of video. Live streaming increases audience satisfaction and trust among your customers, boosting business for your brand.
3. Viewers More Likely to Share Live Stream
If you're hosting a live stream for your New York City Business, there's a great chance that many others in NYC will recognize the brand – but will their friends, family or other acquaintances?
Ask your viewers to share your live stream with their contacts. This will boost brand recognition for your NYC culinary business, regardless of where the audience lives.
4. Targeted Call To Action Drives Audience Conversions
Incorporating a targeted call to action (CTA) into your live stream will assist you in growing conversions for your brand.
Using a call to action to help your audience see the exactly what it is that you want from them, whether it's a phone call or a form fill or something entirely different, an explanation will help to increase conversions. Just be simple, relevant, and to the point!
5. "Ask the Expert" Sessions Create Powerful Brand Acceptance
A New York City live stream cooking segment can be used to help your business connect with the audience and generate stronger brand trust. Consider Live Q & A style "Ask the Expert" sessions that allow your audience to ask you questions throughout.
The session will generate strong trust, and increased conversions for your brand.