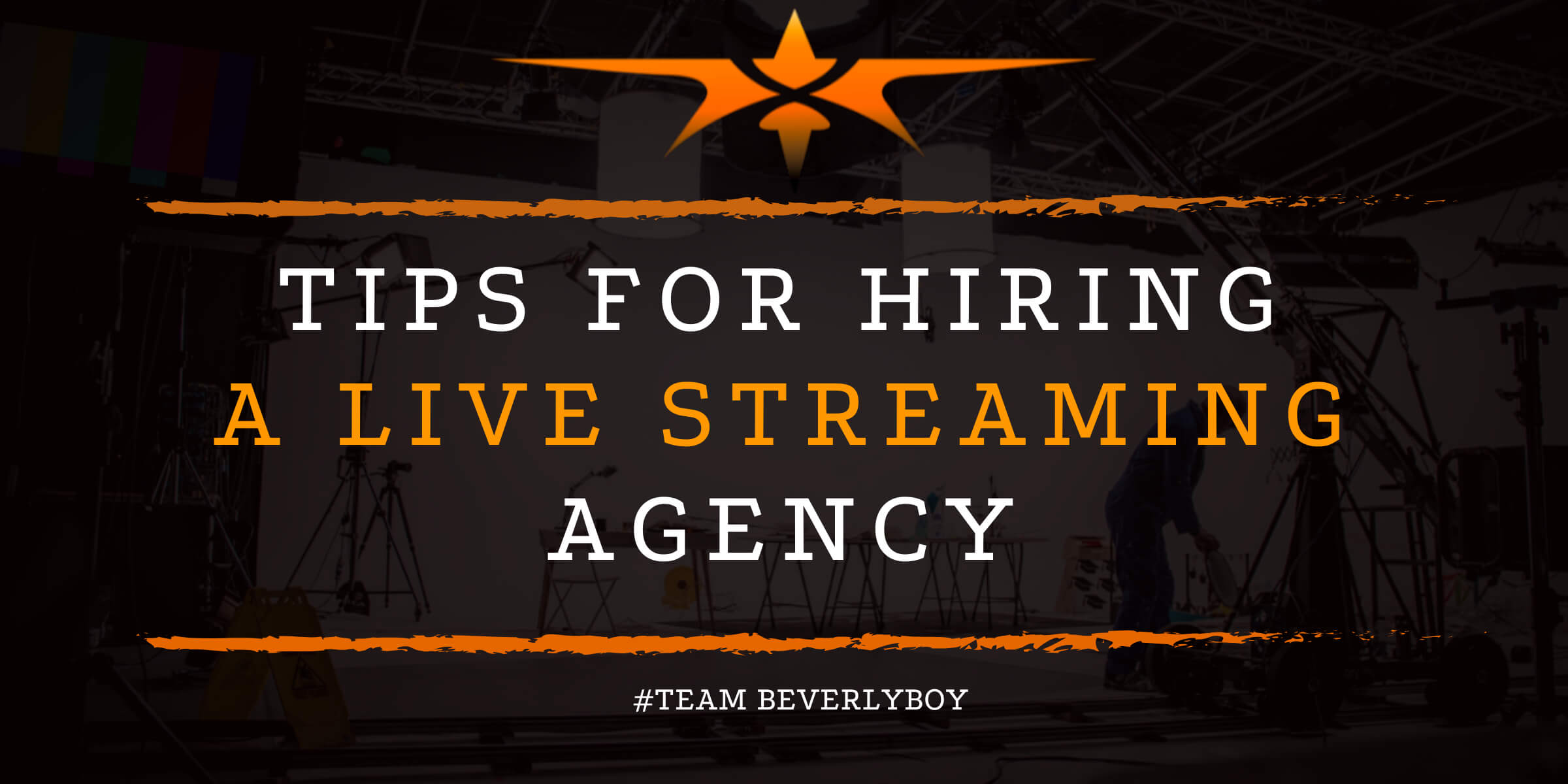 Tips for Hiring a Live Streaming Agency
Hiring a live streaming agency to work with your business is an important step that can help you to achieve success with your live streaming production. Knowing what questions to ask, or how to analyze the professional experience of each live streaming agency that you have access to is something that really requires practice and careful consideration. At Beverly Boy Productions, we think it's important to consider several factors before you decide on a live streaming agency to work with. These are tips for hiring a live streaming agency for your business.
Get a live stream quote here!
1. Ask About Equipment & Make Sure Quality isn't Limited
Hiring a live streaming agency to work with is a tall order. While many companies are capable of delivering live video feeds, they don't always have the appropriate equipment for the job. That's why we like to tell clients that they should start off by asking prospective live streaming agencies what equipment they have and whether they'll need to rent any added equipment in order to get the job done.
While there's nothing "wrong" necessarily with having to rent equipment, a lot of time rental equipment can be lower quality or getting your hands on the top quality equipment can be costly. There's also a chance that the live streaming agency won't have full knowledge of how to use the equipment that they rent, as gadgets can change a lot from one unit to the next. This is why we think it's important to hire a professional live stream agency that has their own equipment for the job.
2. Openly Discuss Internet Upfront
Hiring a live streaming agency that isn't concerned about your internet connection is a huge red flag! A properly wired and high speed cable internet connection is important to the overall success of the live video stream. A low quality connection or a slow connection can deliver horrible streams to your audience and may result in you losing viewers over time.
Hiring a live streaming agency should mean that they'll bring the appropriate equipment with them to ensure consistent, strong and fast internet speeds no matter where the production takes place. If they're not willing to openly discuss the steps they'll take to ensure the constant uptime of your stream when you chat — consider another company!
3. Make Sure Multiple Camera Angles will Be Captured
A live stream that includes a single camera angle can quickly get boring for your audience which will result in people leaving your stream. One of the greatest benefits of hiring a live streaming agency is that you should have a crew that provides at least 2 or more camera angles for your stream. Ask the company how many camera angles they offer and what they think is best for your intended event and the audience that will be viewing. Make sure that you have at least two cameras and opt for more if budget allows. This will also require additional equipment to ensure the angles are switched during the event and that your audience remains engaged.
4. Check Past Live Streams & Talk with Past Clients
Before hiring a live streaming agency you should be checking into their professional skill level by reviewing their past work. What do their past live streams look like? What did those who viewed the live stream have to say about the content? What about the clients? Were they satisfied and willing to work with the agency again?
While a poor review from a client doesn't necessarily signify that the agency will always provide poor service, it could be a glimpse into what you can expect.
Get a live stream quote here!
5. Make Sure You Talk Budget & Time Availability
Finally, hiring a live streaming agency that you feel comfortable working with will require that they can deliver the intended live video stream for you at the time of your event and within a budget that is acceptable for your brand. For this reason, it's important to discuss these details early on in the hiring process so that you don't waste too much time thinking that you know of a live streaming agency that can work on your project when really – they can't
. Make sure that you discuss your budget and timing with the agency before you make a final hiring decision this way you'll know you've got the right agency for your brand!