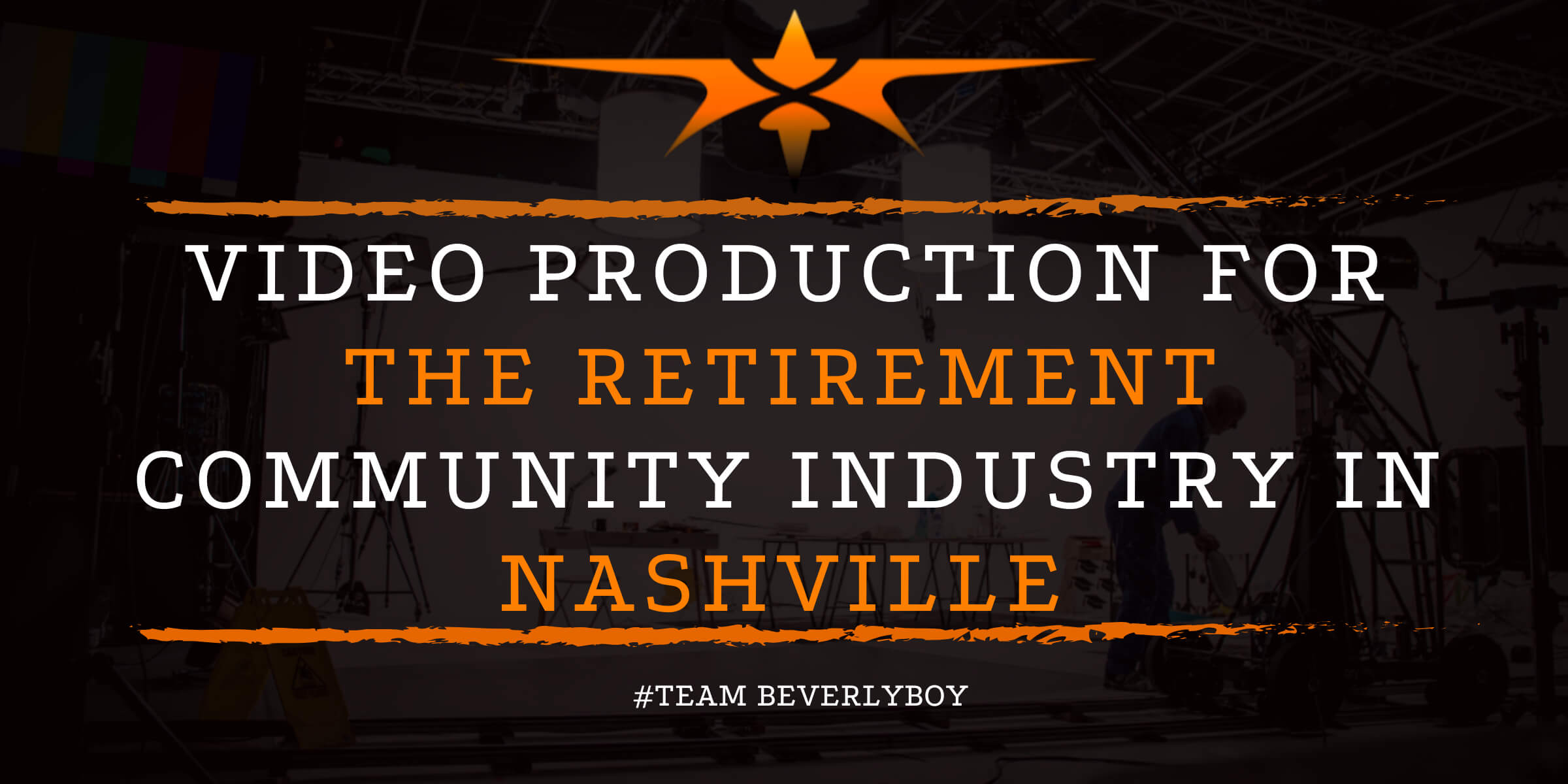 Video Production for the Retirement Community Industry in Nashville
The retirement community industry generates over $75 billion and employs over 1,000,000 personnel. Also, considering the economic rebound post-COVID 19, there can be an increase in retirement communities. Therefore, one of the ways to make your company have a success story is to come up with an effective marketing campaign. Video Production for the Retirement Community Industry in Nashville is an impactful form of advertisement to employ for the 50,000+ nursing homes across the U.S. We also service video needs of retirement homes in surrounding cities like Brentwood, Goodlettsville, Hendersonville, and Mount Juliet.
get a video quote for your community!
Video production services assist in coming up with an effective marketing strategy for retirement communities. It gives you a leeway to gain the interest of potential residents while retaining current ones. At Beverly Boy Productions, we work with Nashville retirement homes to create high-quality and powerful promotional videos, expert interview videos, and customer testimonials. With the use of video production, our team can help you showcase the senior living services that the company offers and how you are impacting families. This, in turn, increases your company's awareness and allows you to achieve your marketing goals.
Promotional Videos for the Retirement Community Industry
Highlighting your retirement community is needed in order to reach out to new residents. And with promotional videos showing how life is for the residents in your homes you can keep your current residents happy about staying with you. Promotional Video Production for the Retirement Community Industry in Nashville helps to form a connection with your target audience while educating them on the senior care services you provide.
Promotional videos for retirement communities produce results when they are designed to be short and captivating. Even though they work for TV, most brands distribute promotional videos across online platforms such as their social media pages, email campaigns, and business websites; wherever you may expect your target audience to spend more time online. The average internet user spends nearly two and a half hours on social media, making it more of a reason to invest in video marketing. Creating a brief, captivating, and effective promotional video for your social media page could increase your company's recognition, invite new residents, and boost your social media marketing efforts to peak engagements. Our video services can also be accessed in nearby counties like Robertson County, Sumner County, Wilson County, and Rutherford County.
Marketing Videos for the Retirement Community Industry
Video Production for the Retirement Community Industry in Nashville is a service you need to create the right tool for your marketing strategy. With over 82% of the internet consisting of video content, this is a chance to not only make quality videos, but work with a professional team like Beverly Boy Production to create comforting and endearing videos.
get a video quote for your community!
Even though your retirement community is a continuing care community, a nursing home, a village, or a different senior service, video marketing is an excellent way to help families find your business. Here are some of the many benefits of video marketing, they include:
● Spreading the word about their business, brand, products, or services
● Establishes the business as an authority in the retirement community industry
● Increases brand authenticity, building trust and credibility with clients
● Influences buying decisions (90% of customers say a video helps them make a buying decision, according to Forbes)
Video marketing offers a unique way to connect with your audience, inform potential residents, and share your senior living services across all digital platforms.
Video Production for the Retirement Community Industry in Nashville is the best service you can use to help your business find families who are in search of a trusting community they can approach to take care of their elder family members. Moreover, being able to successfully produce a professional marketing video for your retirement community will position your retirement community as the place to go for families that are looking for caregiving homes for their loved ones.
This type of video content will help to determine the kind of retirement community and senior living options which can include:
Age-restricted communities
Independent Living
Continuing Care
Assisted Living
Nursing Homes and Skilled Nursing Facilities
Convalescent Homes
Convalescent Hospitals
Old Folks' home
Retirement facility
Training Videos for the Retirement Community Industry
Training in the retirement community industry is a significant process that ensures that your company is adequately offering quality senior living services. New senior care professionals require training in order to apply the best industry practices to patients. At Beverly Boy, we can come up with personalized training videos that will help you eliminate the disadvantages of traditional in-person training. This will allow company owners to save time and money while building on the skills of their senior care professionals.
Indeed, training videos:
● Have a higher overall employee watch rate; employees are 75% more likely to engage in video training than they would with manual training
● Have greater flexibility; an estimated 42% of employees prefer the flexibility of video over other forms of communication and training such as scheduled in-person training or written manuals
● Have a higher retention rate; people recall upwards of 90% of what they see in a video compared to about 20% of what they read
● Will make employee training more effective while reducing training costs; each video can be used over and over again, and improved comprehension makes videos 83% more effective
Training videos are a simplified, easy to use, and accessible way of engaging your senior care professionals when teaching about complex concepts that might be tough to understand when reading textbooks or training manuals.
Video Production for the Retirement Community Industry in Nashville is a useful service that can produce videos that can help prospective senior care professionals decide on which type of senior care facility options they may be desire to develop in, which can include:
Independent Living
Residential Care Homes
Respite Services
Assisted Living
Memory Care
Skilled Nursing
Retirement Community
Interview Videos for the Retirement Community Industry
Interview videos for the retirement community industry are also used for other purposes other than in the application of jobs. Expert interview videos for retirement communities share the perspective of your company's team and staff members. Customer interviews on the other hand give glowing reviews of the experiences current residents have with your retirement home. Feel free to also hire our video service in 37011, 37027, 37086, 37135, or 37138.
get a video quote for your community!
These two types of videos help to establish an image for the company and build confidence in prospective customers. They share insight from a professional point of view in a way that residents and their families can relate and connect with. Whether you're interested in sharing your company's passion about the residents, or the positive reviews of your residents, interview Video Production for the Retirement Community Industry in Nashville is the right way to propel your senior care facility to be the best in the retirement community industry.