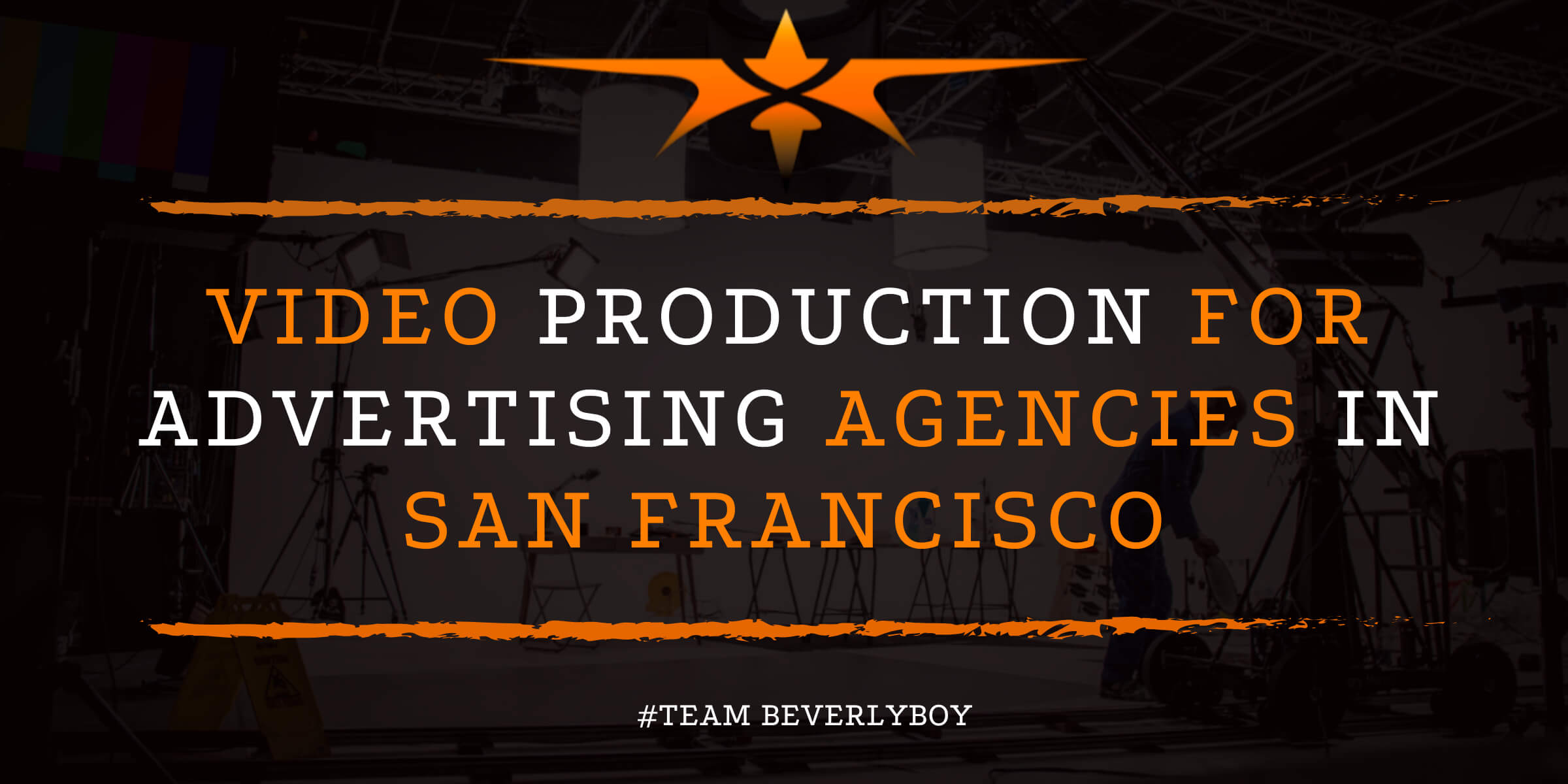 Video Production for Advertising Agencies in San Francisco
Browsing for experts in Video Production for Advertising Agencies in San Francisco? Talk to Team Beverly Boy. Now, advertising agencies are set for growth if they are able to navigate themselves past cross-platform competition which would impact revenue for any business that does not use the latest techniques to serve their clients. Smart advertising agencies and brands are taking advantage of cross-platform advertising opportunities to increase their market share and grow their revenue in the near future as this $59 billion-dollar industry continues to grow. Video Production for Ad Agencies in San Francisco is one of many services that can attract more clients, build strong consumer awareness, and increase revenue streams for competitive advertising brands.
Get a San Francisco video quote now!
There are more than 85K advertising agencies spread out across the United States that provide a variety of services that are aimed at revenue growth, audience & community building, and conversion optimization through various advertising campaign styles including newspaper ads, radio ads, television media, and periodical campaigns in magazines and similar publications. Advertising agencies provide in-house, third-party, or subcontracted media buying and creative services which include account management, media production, and ad placement that drives revenue and sales for major brands.
At Beverly Boy Productions, we work closely with advertising agencies to come up with unique video solutions that will solve the exact needs of the clients. Our expert video production services are targeted at boosting industry growth, driving up conversions & revenue, and generating consistent ROI for advertising brands. You can count on us to also service your video needs in neighboring cities like Oakland, Fremont, San Jose, and Stockton.
Promotional Videos for Advertising Agencies
Promotional Video Production for Advertising Agencies in San Francisco includes targeted content creation that will instantly engage with the target audience. We can help you create TV commercials, YouTube ads, and other bold content that will power up the marketing campaign for your clients. Although advertising agencies generally understands what it takes to run a targeted media campaign, they are not well equipped to go about producing video content that will generate traffic, organic reach, and conversions. And that is where Team Beverly Boy comes in.
Our videos are:
Created with the intent to drive industry growth and generate consumer connections.
Crafted with expert technology that is important to creating a consistent message that represents your brand.
Have the ability to help you grow your business and increase leads.
Our team will work closely with the creative director at the ad agency to package the client's message in the most captivating way possible. Whether you want to review a storyboard to design an informative TV commercial, or come up with the perfect spec video presentation for a pitch, we can do it all for you.
Marketing Videos for Advertising Agencies
Marketing Video Production for Advertising Agencies in San Francisco is essential to complement the efforts of traditional advertising campaigns and increase the conversion rates. Videos are effective tools for driving email campaign growth, boosting brand awareness, and bringing in leads to your advertising brand.
In fact, marketing videos have the following benefits:
They convince many consumers to make a purchase. Up to 84%of consumers purchase after seeing video ads.
They're preferred by 54%of consumers.
They bump up conversions and generate up to 66%more qualified leads & sales annually.
The boost landing page conversions by80% or more.
The online world is increasingly becoming saturated with video content to the point that as of 2022, more than 82% of all traffic is video related. These numbers provide context to the importance of video services in advertising. Any ad agency that is not using video is potentially missing out on a huge audience for their brand. Give us a shout if you also require pro video services in neighboring counties like San Mateo County, Marin County, Santa Clara County, and Alameda County.
Training Videos for Advertising Agencies
Any advertising agency seeks to have a team that works and communicates through a consistent brand voice. And the only way to ensure everyone is on the same page is by training. If you are used to the traditional way of staff training, you can reap more benefits if you include Training videos for advertising agencies in your training programs. These videos are so effective and they also help to reduce the time and amount of money required to perpetually train new staff; something you can do with a series of videos that are reused when new staff come in.
In fact, training videos will help train multiple positions, including:
Account Director / Manager.
Art Director.
Digital Strategist.
Media Planner / Buyer.
Creative Director.
Marketing Manager / Director.
Traffic Manager / Production Manager.
Brand Strategist.
Training videos are a one-and-done program that can be repurposed and updated on a regular basis to match the needs of the industry. So, why aren't you invested in video-based training for your team? Call us today if you also require our video skills in 94016, 94105, 94107, 94117, or 94118.
Providing Video Production for Advertising Agencies in San Francisco for the following:
Digital Advertising Agency
Media Buying Agency
Traditional Advertising Agency
Social Media Advertising Agency
Full-Service Advertising Agency
Creative Boutique
Interview Videos for Advertising Agencies
If you are an advertising agency looking to become an authority in the advertising industry, it is important that you build trust with your audience. And how can you do that? For starters, you can plan to produce interview videos that will show the ability for your agency to get results. When potential clients are able to listen to past or existing clients talking about their experience while working with you, it is a sure way for your audience to gain trust in your agency. Partner up with an experienced video production company to get the best interview videos for your agency.
Get a San Francisco video quote now!
Interview Video Production for Advertising Agencies in San Francisco is a critical service because it helps you to introduce your team to prospects. If you want to humanize your agency and make it easy for potential clients to feel comfortable about reaching out for your services, publish interview videos on your distribution channels. Apart from to introducing the experts in your agency, you can also film some of your loyal clients sharing their testimonies. These videos are crucial in building consumer confidence in your services because viewers will be able to listen to other clients who will have worked with you.
As we have already discussed, if you desire a reliable team that handles expert Video Production for Advertising Agencies in San Francisco, contact Team Beverly Boy today.