10 Great Tips for Shooting a Video in Orlando
The theme park capital of the world is certainly a great place for a shoot. Orlando, Florida represents larger than life theme parks with plenty of fun to be had for visitors young and old.
Whether you think of bars and the nightlife that comes about when you check out Orlando or Walt Disney World, Universal Studios & Sea World are the key players, this city is vibrant and full of life.
Home to more theme parks than any other city in the world, Orlando is a travel hotspot and the local economy thrives on visitors. With so much to see and do, it's no wonder Orlando is a great place for a video shoot. Here are 10 great tips for shooting a video in Orlando.
UPCOMING PROJECT? WE CAN HELP!
1. Plan
Navigating Orlando film shoot locations requires a bit of planning to ensure you don't miss out on any of the hotspots and, equally that you don't get hung up in hours of traffic on I-4.
If you're in Orlando during rush hour, consider making a pit stop at a film location near the outer edge of the city to save yourself some time. On the outskirts of town are several theme parks and major hotels abound.
You'll find enough green space to enjoy an outdoor shoot just about anywhere within the city. If you're heading into Orlando via OIA (the Orlando International Airport) make sure you allocate an additional hour to get through the airport and out. You can expect a 20-minute drive from the airport to most of the major attractions in the city.
2. Inner City Traveling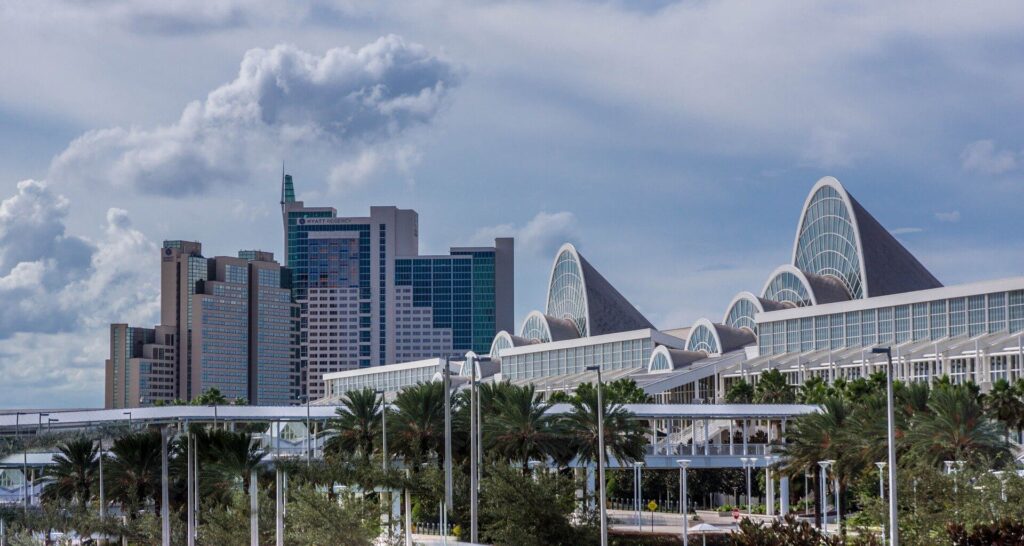 Traffic is not the worst in Orlando, but it's also not the greatest. If you're concerned about traffic, there are several bus routes and the LYNX services the entire city and surrounding counties as does the Sunrail. Fares are low.
Equally enjoyable are the bike rentals available throughout the city. Visit the "Visit Orlando" website for additional details.
3. Weather
Orlando is a very humid and hot city. In the summer, you're likely to reach 100• on a given day. When shooting a video in Orlando, be prepared to hydrate regularly if shooting outside.
It's also important to expect rain in the afternoons. Florida humidity often results in thunderstorms on an afternoon basis throughout summer. Winter months are mild. Less to be concerned about outside with your shoot.
If you're planning a shoot from March through October, make sure to hire a makeup artist to help you touch things up between scenes, or else it could get messy.
4. Filming B-roll in Orlando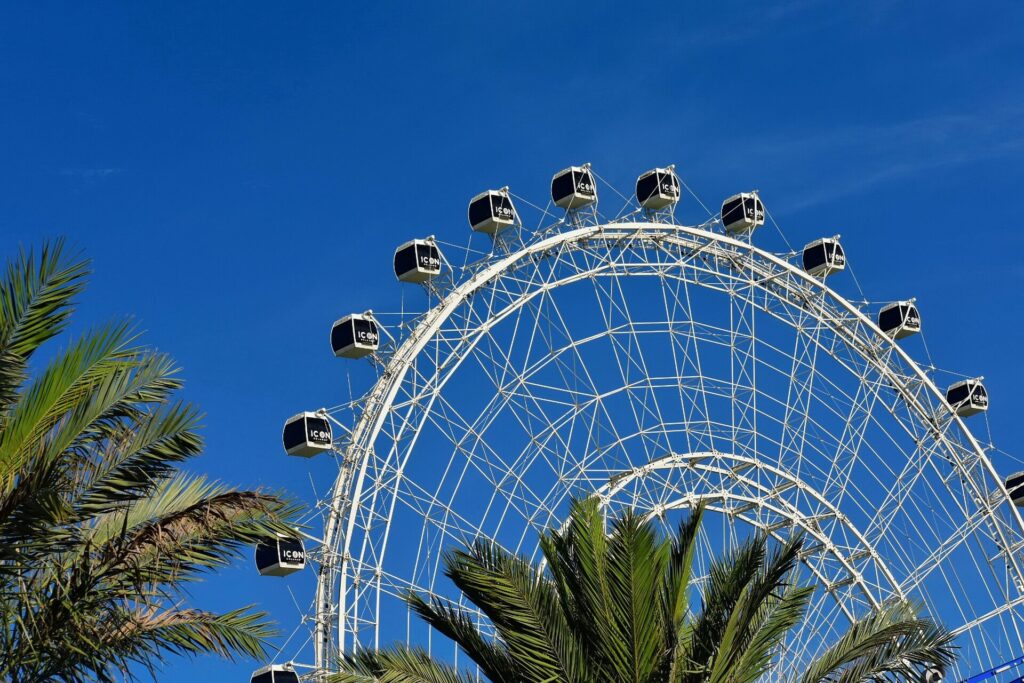 Orlando has plenty of open opportunities for you to film B-roll. Consider a shot of the Harry Potter land at Universal Studios or try your luck at capturing Cinderella's Castle at the Magic Kingdom.
The Wheel at ICON Park is another sight to see that is a great backdrop for B-roll footage. Additional options include venturing just outside the city limits to an Airport tour with Boggy Creek Airports or a visit to Wonderworks the upside-down house. Plenty of exciting backgrounds can be found throughout the city depending on what you're looking for.
The sunrises just outside the city represent a unique opportunity for Golden Hour shots, just know that you'll only have about 20 minutes to make it happen.
5. Power and Lodging
Central Location of Orlando lends to plenty of power throughout the city. You shouldn't worry too much about potentially losing energy if you shoot from an outskirt or from somewhere else within the city.
Likewise, lodging is found in all parts of town although the closer you get to the airport the more you'll find lower value lodging and higher crime rates. Stay away from Orange Blossom Trail if you can as the area is a high crime trafficking zone.
6. Film Permits
Because much of Orlando is located in the heart of the city and features backdrops that are locally owned businesses, you'll find that you need a film permit for most shoots.
Permits can be obtained from the Orlando Economic Partnership, One Stop Permitting, part of the Orlando Film Commission.
Film permits range in price and are free in various jurisdictions throughout the city except where additional city, county, or state services such as crowd control or public works services are required. The max price for a daily film permit is $500 for the Oakland area. Most permits are under $100.
7. Resources
The Orlando Economic Partnership in conjunction with the Orlando Film Commission will work with you to ensure your film crew has the resources necessary to get your video shoot completed.
If you have questions about film permitting in Orlando or you're wondering what resources are available to you, a visit to the One-Stop Permitting section of Orlando's website will help you out. Further questions can be directed to their contact center.
Keep in mind that you WILL need a permit for basically any film production, independent or commercial, in the city. Even shooting on private property will require a film permit that includes the specifications of your shoot. The Orlando Film Commission can be contacted with additional questions.
8. Film Exceptions
Permits are not required in Orlando IF you're using a handheld camera and you're not carrying any other equipment or setting up other equipment on site.
You must have no more than 3 total crew members and may not impact locally owned property with your shoot if you intend to attempt to shoot in Orlando without a film permit.
However, if you're shooting a news segment or a feature that is being produced in an Orlando production studio, you may not need a film permit for your shoot – confirming with the film commission prior to your shoot is the best way to avoid hassle.
9. Scenery
The scenery around Orlando is as diverse as the city and its residents. To the south, you have Lake Eola, a beautiful lake that provides a vast backdrop for a film shoot.
To the north, you have greenery that includes pastures and vast farmlands. Throughout the city, you get the hustle and bustle of all involved. Each represents an excellent opportunity to capture b-roll.
10. Local Food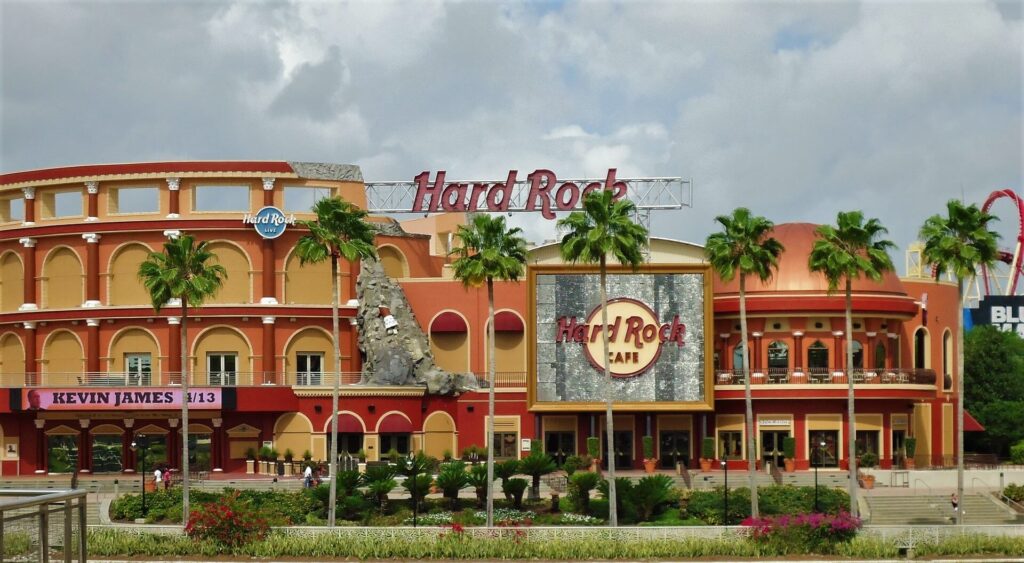 Are you hungry? Orlando is home to several major restaurant brands as well as hundreds of eateries. Whether you're in the mood for Steak and Seafood, drinks & donuts, salad, and water, or anything in-between there's a restaurant local that will serve you.
A recent study estimated that there were enough restaurants in the city to feed you breakfast, lunch, and dinner at a new place every day for 5 years – so if eating local food is your go-to idea of travel fun, Orlando is your place!
While you're in Orlando shooting a video, make sure you take time out to enjoy the splendor of this city. From pristine grounds to exciting theme parks, dining and lodging and plenty to see and do, Orlando is your O-town Beautiful.
If you're looking for a crew in Orlando to help out while you're here, Team Beverly Boy represents a pool of talented camera crews in Orlando that are ready and waiting to help you out. Call for a free quote.