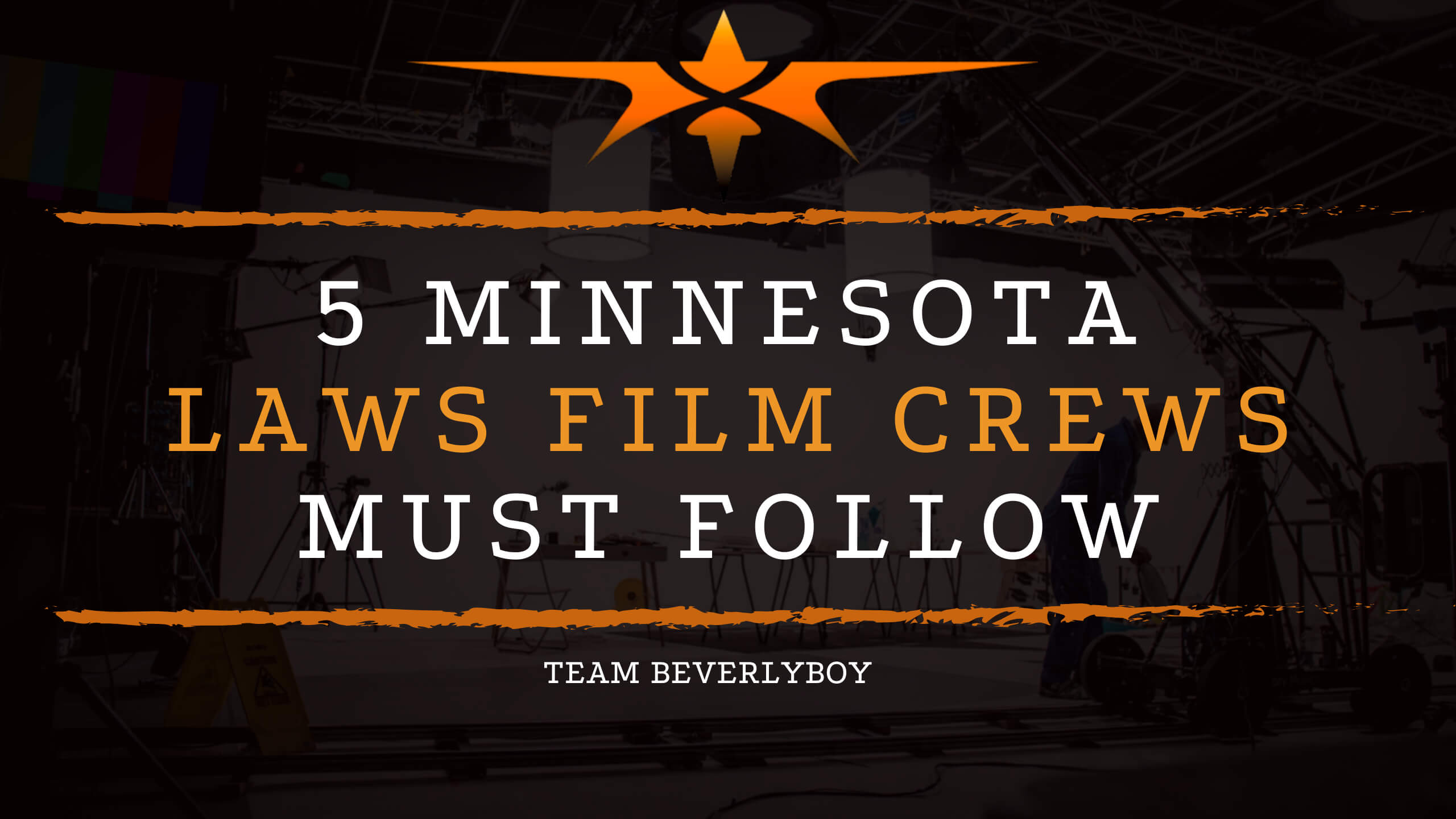 5 Minnesota Laws Film Crews Must Follow
Whether you're a large traveling film crew that visits all corners of the world to shoot commercially. Or you're a member of a small, indie film crew that's visiting the Land of 10,000 Lakes for a film shoot that is low-budget and equally low-key. You're going to be expected to follow local laws and regulations when you arrive. Film producers and their film crews are bound by the local laws in the states. In which they film in whether they are close to home. Or far from town and whether they've been there once or many times. These Minnesota laws film crews must follow represent brief insight into the potential compliance issues that could arise if a film crew is not legally prepared for a film shoot.
1. Wage Theft in Minnesota is Illegal & You Will Get Caught!
The film industry, and really the entertainment industry as a whole, is incredibly challenging work in. Not only is there a ton of competition.
But there's also several Minnesota laws film crews must recognize and follow. If they're going to work, employ, and otherwise interact with residents of Minnesota.
Recently, in May 2019, the Minnesota Legislature was passed to protect workers from shady film crews. Or production studios that believed they could get away with hiring people. And then not paying them for their work.
The Wage Theft Prevention Act offers protections for workers and criminal penalties for employers that do not pay their workers what is owed to them. Once work is performed, a worker must be paid. Otherwise wage theft penalties can and will arise.
2. An Electrical Inspection is Required
Of the Minnesota laws film crews should be aware of. The law surrounding inspections is probably one of the most profound.
Under this rule, Minnesota film crews must be sure to schedule an on-location electrical inspection. Before any film shoot that will involve portable generators or any additions or changes to wiring systems. Or the permanent alteration of wiring on location.
While few states go as far as to require an electrical inspection like this in advance of the shoot. Minnesota law is very specific on the need to have equipment inspected. And in compliance before it is put to use.
3. The Film Production Jobs Program Provides Payments for New Jobs
Film production companies, studios, and those who produce feature films. As well as national television programs, Internet televised programs, documentaries, music videos or commercials.
Which create new film industry jobs in the state of Minnesota are entitled to special payment. Through the Film Production Jobs Program under statute 116U.26.
Film crews that move into Minnesota and intend to build businesses. Which will create jobs in the film industry could be eligible for payment for production costs incurred in the state.
Which are attributable to the production in Minnesota of a film product. In fact, film crews could benefit greatly from the Film Production Jobs Program.
4. Minnesota is a One-Party Consent State
Film crews must be aware that Minnesota is a one-party consent state which means that as long as one party is aware and consents to the filming then it is legal to do so.
Like many other states, Minnesota also recognizes an individual's right to a reasonable expectation of privacy which essentially states that filmmaking may occur in public and without consent, provided an individual does not have a reasonable expectation of privacy.
Now things could get tricky in areas where privacy is expected, such as if you're filming inside a public restaurant which technically would then be considered a private location.
In such cases, it's best to get a release form signed rather than deal with the complications that could come from not having the release.
5. State Permits are NOT Required, But City Level Permits Are!
One of the most important Minnesota laws film crews must know is in regards to film permits. Minnesota, like most states, does not require a film permit at the state level.
However, film permits are required at most local levels within each designated city in which you intend to film.
For example
A film permit is required if you'll be filming in Minneapolis and applications cover street and sidewalk obstruction, traffic control and amplified sound and meter hooding.
For individual questions about permits in Minnesota's cities, visit the Minnesota Film & TV Office. Or the individual city website for the location in which you are considering or planning a film shoot.