Top 5 Dallas film schools for upcoming filmmakers to consider
Dallas, Texas has a healthy film industry, with plenty of filmmakers who are waiting to get started in the arena. If you're in the market for small or large Dallas film schools, keep reading to see which one will work best for you. All of these schools offer Dallas filmmakers a chance to receive one-on-one training that can help them get their career in the Dallas industry started. These schools have programs that can be very hands-on, intensive programs for new filmmakers or a smaller college or university that has a traditional film program.
Request more information here
As an active part of the Dallas video production community, we know the challenges you'll face in the journey. A lot of these schools prepare graduates for careers in Dallas film production, photography, and also visual arts. Studying the main principles of filming, editing and production can lead students to achieve career paths with major film companies, news studios, and advertising agencies or go after self-employment."
From acting to theatre, KD Conservatory offers an Associate of Applied Arts degree in Motion Picture Production, so if you want to learn everything from screenwriting to directing, you'll get a solid foundation for your film-education journey here.
The professors at this school have been in the industry and worked in the specific trades they teach, so you can learn from people with hands-on experience. The immersive program is ideal for anyone who wants to gain working knowledge before they get started in the industry at one of the best Dallas film schools.
Phone Number: 877-278-2283
Location:
2600 North Stemmons Freeway, Suite 117
Dallas, TX 75207
Whether you hope to study an Associate of Applied Science, Filmmaking, and Video Production or would rather go for the Bachelor of Fine Arts in Digital Filmmaking and Video Production, so you can choose the one that works best for your current goals as an aspiring filmmaker.
The school offers a foundation for you to study everything from producing and directing to writing and critical thinking, all of which are needed for a successful career in the industry.
The Art Institute of Dallas boasts of some well-known alumni, and is an ideal place to get connected in the local Dallas film scene.
Phone Number: 214-692-8080
Location:
8080 Park Lane, Suite 100
Dallas, TX 75231
A great school for anyone looking for a modern and immersive approach to learning about film, Film Connection Dallas offers a hands-on program that makes it easy to get working knowledge before you get started in your film career.
From cinematography to film production, and screenwriting, there are various programs available, so you can have a focused experience learning all about the future career you want to be in.
Students who have studied at Film Connection leave the experience with hands-on experience they can quickly use in the real world, making it one of the best Dallas film schools.
Phone Number: 469-385-4422
Location:
2101 Cedar Springs Office 1050
Dallas, TX 75201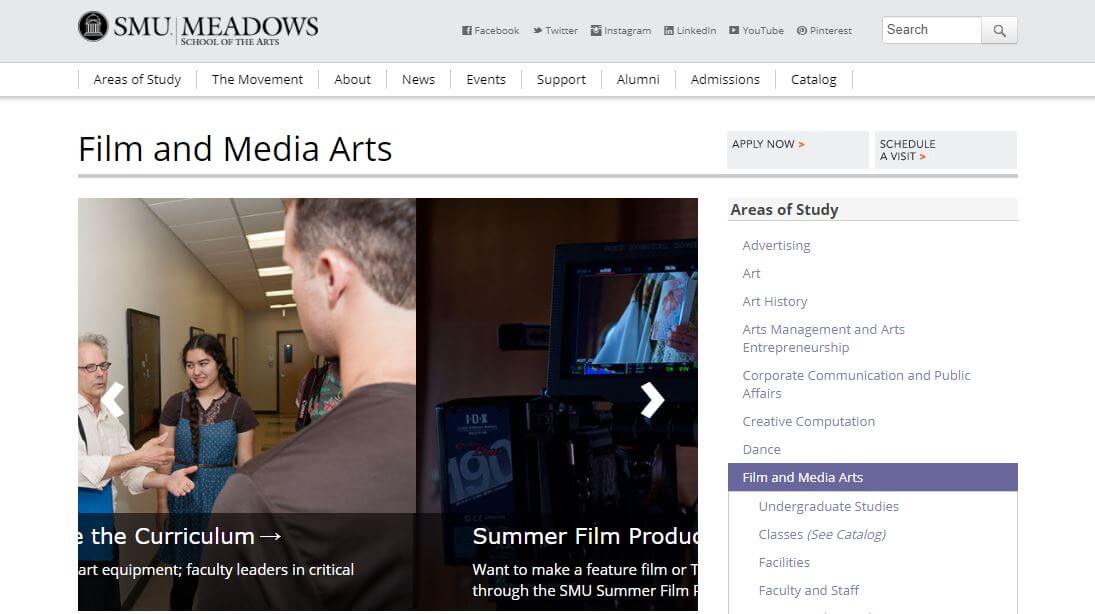 Film and Media Arts at SMU offers a program that will both teach students the theory and history of film and media while preparing you with hands-on experience. With both B.A. and B.F.A degrees available, you can choose the option that will work best for you.
Both programs offer an immersive experience for students who want to walk away from SMU completely prepared for a successful career in film.
Phone Number: 214-768-2000
Location:
6101 Bishop
Dallas, TX 75205
For those who would love to attend a Christian school, TCU is an ideal option as not only is in line with your beliefs but it also offers a great program.
In truth, this is one of the best Dallas film schools, offering a plethora of degree programs, from a Bachelor of Arts in Cinema and Media to a Bachelor of science in Film, Television, and Digital Media. The professors at TCU also have had experience in the industry, so they can provide you with real-world instruction.
Phone Number: 817-257-7000
Location:
2800 South University Drive
Fort Worth, TX 76109
*As an Amazon Associate we earn from qualifying purchases. We receive commissions for purchases made through links in this post.