Dubai, United Arab Emirates offers aspiring filmmakers several local options to gain a strong education in filmmaking. Whether you're considering a large, high-profile university, or small Dubai film schools are more you're forte, continue reading to see what's available to you. Each of the schools listed below offer enthusiastic Dubai filmmakers industry training and support to help them launch a career in the Dubai industry. Each film program features a healthy mix of traditional teaching as well as hands-on, technical training for advanced proficiency in media and entertainment.
Finding and choosing a film school is one of several challenges faced when seeking a career in Dubai video production. Fortunately, these schools prepare graduates for roles in Dubai film production, fine arts, and media by providing students with training in core principles such as filming, editing and production. Graduates often pursue roles with major film companies, news studios, and advertising agencies or work as self-employed freelancers.
SAE was established in 1976 and is currently one of the world's largest creative media educators providing film and media courses at 47 campuses in 23 countries including Dubai. Courses help students achieve Bachelor's degrees in Animation, Audio, Design, Film and Games. SAE, like other Dubai film schools, has a rich culture that encourages students to establish roles in highly successful fields including television, computer media and the big screen.
Phone: +971-4-360-6456
Location:
Block 2, Ground Level
Dubai Knowledge Park
Dubai
Luminance Film Institute
Luminance Film Institute offers short beginner courses and short professional courses in several areas of filmmaking. Students can major in Directing, Cinematography, Editing, Producing, Production Design or Management, Screenwriting, Script Development, Sound Design, Sound Recording or Visual Effects. Similar to other Dubai film schools, Luminance Film Institute trains students in all levels of production for optimal performance output. Visit the Luminance website or contact a representative to learn more.
Phone: +971-505518782
Location: Dubai Media City
Shatha Tower 3310 PO Box 502703
Dubai 502703
United Arab Emirates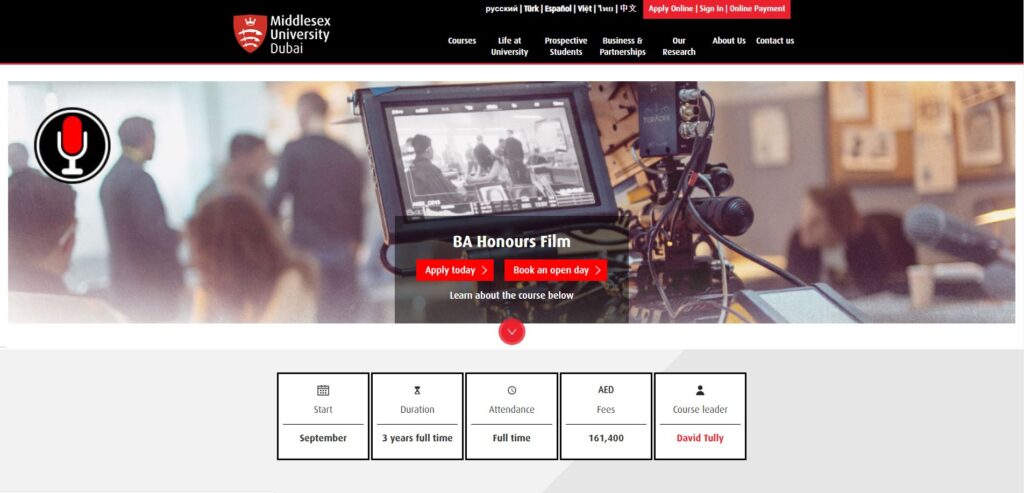 Middlesex University Dubai offers a single BA Honors Film program that provides aspiring filmmakers with background in filmmaking, screenwriting, film research and various other core aspects of education necessary for a role in the industry. Courses are taught by professional producers, directors and screenwriters with vast experience in the field. In addition to the educational opportunities that come with attendance at Middlesex University Dubai, students also enjoy opportunities for internships and networking.
Phone: +971 (0)-4-3678100
Location:
Middlesex University Dubai
Dubai Knowledge Park
Blocks 4, 16, 17, & 19
Dubai, United Arab Emirates
The hands-on, intensive 2 day filmmaking class offered at New York Film Academy Dubai prepares students for entry level roles in filmmaking. The program features intensive study in camerawork, writing, directing and several other areas media. Similar to other Dubai film schools, the New York Film Academy coursework provides students with a higher understanding of the requirements of filmmaking while offering experience in core principles of film including community, collaboration, decision making, and skill enhancement. For details, visit the website or call to speak with an admissions representative.
Phone: 1-800-611-FILM
Location:
Murour Road, E22
Abu Dhabi, UAE