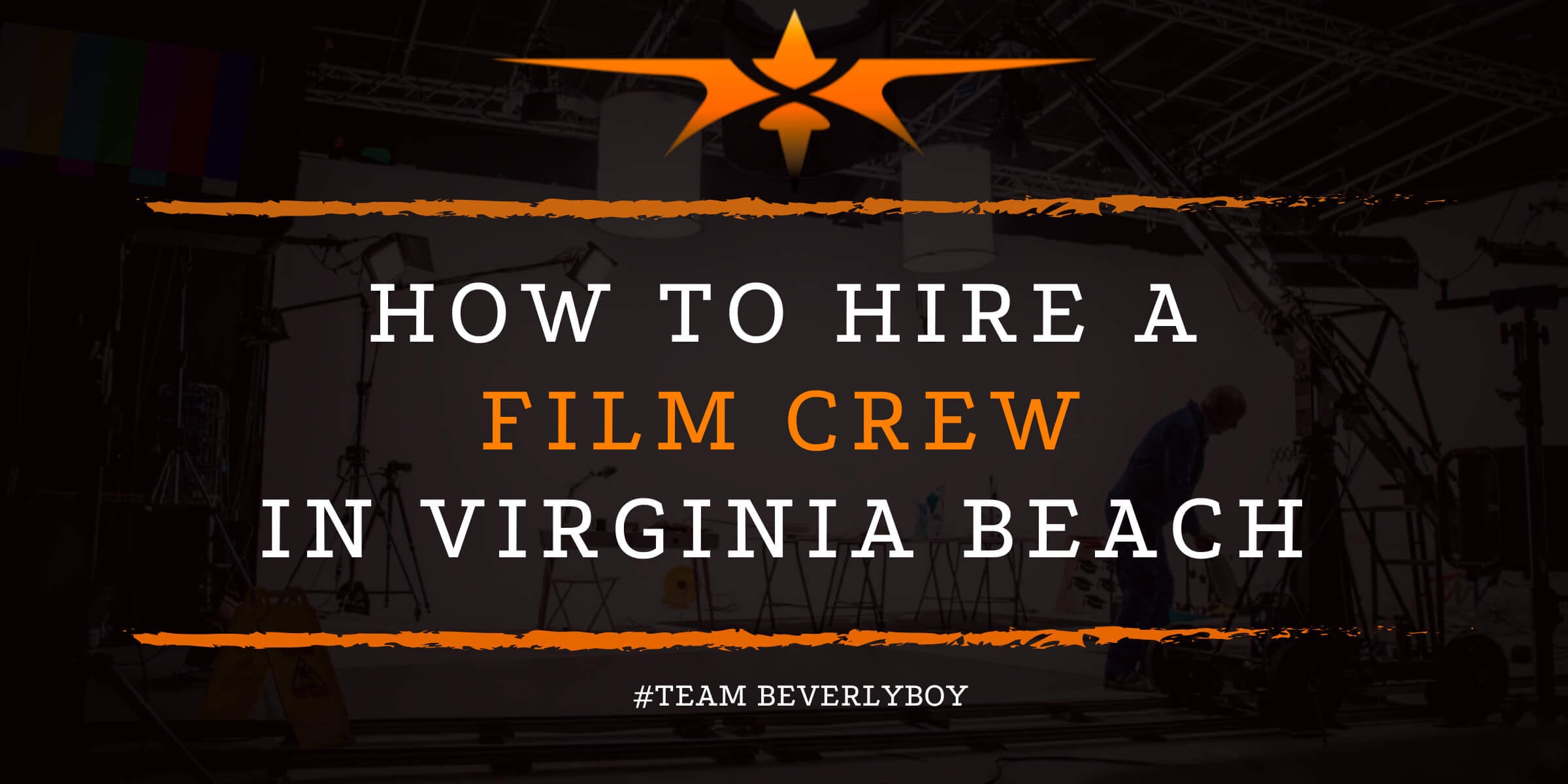 How to Hire a Film Crew in Virginia Beach
Learning how to hire a film crew in Virginia Beach is an art. Picking the best crew will guarantee the production of high-quality videos! So, some of the aspects you need to consider when hiring a film staff include the budget of your project, and the reliability, as well as the experience of the team. To boost your confidence on this quest, we have outlined important resources that you can use.
Get a Virginia Beach film crew quote here!
Drop us a line if you need our services in the following zip codes, 23459, 23460, 23461, 23462, 23464, and others.
Film Crew Positions
The first step is to familiarize yourself with the different roles of each professional in the film production process. When you go about hiring the crew in a specific order, you can be assisted by the first picks to get the rest of the members of the professional Virginia Beach crew.
At Beverly Boy, we offer full service Virginia Beach film production services that range from location scouting to getting the Virginia Beach film permits. Whether you need a 3-man film crew at Virginia Aquarium & Marine Science Center, or you are shooting an independent film on 24th St, our team is here for you.
Director

– The person who steers your production. They can also recommend the best people for certain positions.

Script Writer

– a necessary addition if you have not written a script. You may have to present your script to the prospective directors if you have one, before they take on your project.

Line Producer

– keeps the production on budget.

Unit Production Manager

– Responsible for production logistics. Together with the line producer, they may have great options for the rest of the required crew members.

Production Coordinator

– For larger productions, you will need this person to help you with contracting, paperwork, and other administrative tasks.

Locations Manager

– Scouts for appropriate filming locations outside of a studio, or in other studios.

Cinematographer

– The person who will shoot your event or your project! One of the most important people to have on set.

Production Manager

– The person in charge of production expenses and negotiating contracts. You can get recommendations from cinematographers.

Production Designer

– In charge of the creative processes of a project. Can be recommended through production managers.

Sound Engineer

– The one who can ensure that the quality of your audio is on point.

Sound Crew

– A sound crew helps to ensure that the sound engineer has everything necessary to process the best audio quality.
How to Find a Film Crew in Virginia Beach
Get a Virginia Beach film crew quote here!
If you want to find a film crew in Virginia Beach, the easiest way is to hire an experienced film production company like Beverly Boy Productions. You would still need to perform a background check on the crew, to ensure that the best crew is carrying out your project. It can also be challenging to decide on the crew, considering that most of them have extensive experience and knowledge in their skills set.
If you prefer to pick the film crew on your own, below are some tips to help you find film crew professionals in Virginia Beach:
Virginia Beach's Film Commission

– you can get all the info you need about filming in your location by checking out the local commission. Most importantly, you can use their production directory to connect with local qualified crew members.

Virginia Beach

Film crew websites & forums

– is another place where you can scout for specific talent for your project.
Hiring a Film Crew in Virginia Beach
Let's say you have already identified the ideal candidates to add to your film crew, what should you be looking for to ensure the whole film production in Virginia Beach runs smoothly? You need to keep in mind that the size of your film crew in Virginia Beach depends on the needs of your project.
Contact our office if you need our services in nearby counties like Isle of Wight, Surry, Sussex, and Southampton.
Discuss film crew Pay Rates
The topic of film crew Pay can be a challenge, but you have to figure it out during the hiring process. As you discuss the pay rate, you should also be open to listening to the expectations of each film crew member. Just because there is a crew that can service your project with a cheap rate does not mean that you will get a quality product. As you decide on your budget, expect to pay a fair price for top quality film crew members.
Demos & Resumes
A demo reel is a collection of short clips that display what an individual has achieved in the past. When you pair it with a resume, you will know if the abilities of the candidate are suitable for your project.
There are cases where the position does not have a demo. The alternative is to look for references. Resumes are the most basic method of gauging a person's experience, but in some cases, it is talking to the people who have worked with the person before that will shed light on the skills of the individual, or lack thereof.
Dos and Don'ts
DO ask others for a second or even third opinion on a candidate you're heavily considering.

DON'T promise a position to any individual, you might find a better person for the role.

DO ask for crew recommendations if you're having a hard time filling a position.

DON'T hire someone that may be skilled, but has a personality that doesn't mesh with the rest of the crew.
Ready to Hire a Film Crew in Virginia Beach?
Get a Virginia Beach film crew quote here!
You now have all the information you need to hire a film crew in Virginia Beach. Put it to practice and get the perfect crew to work on your project. If you find this process tough to go through, just contact Team Beverly Boy, and let us sort out all the needs for your upcoming film production. We're a full-service film production company with award winning film crews in Virginia Beach that you can rely on.
When it comes to your film project, we are ready to work with you from pre-production to post. Whether you need professional services for interviews, documentaries, event coverage, or feature films, we're here to help. For hiring a film crew in Virginia Beach, we are the go to guys!
Give us a shout if you need our services in neighboring cities like Norfolk, Portsmouth, Chesapeake, and Hampton.