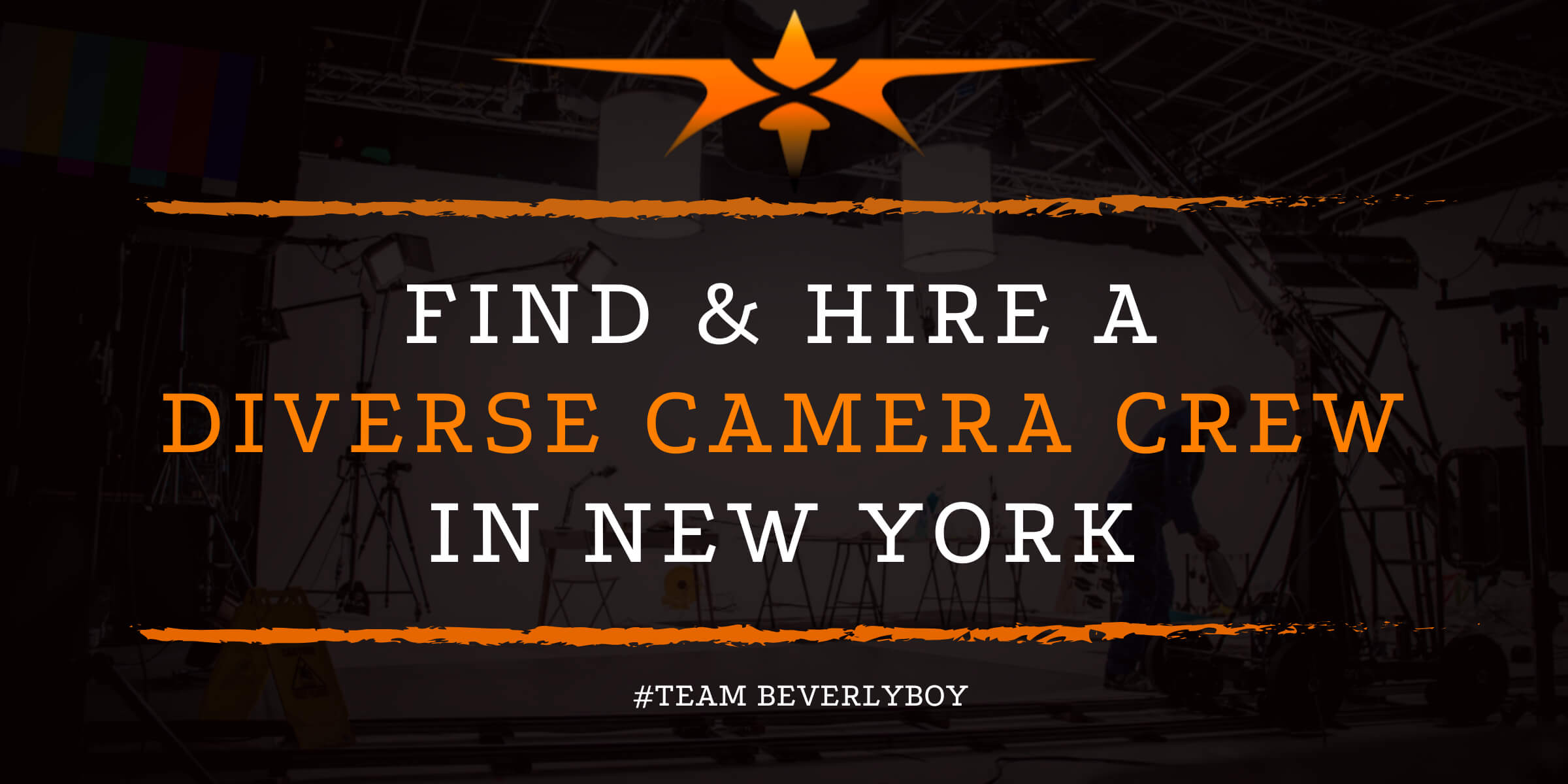 Find & Hire a Diverse Camera Crew in New York
A Diverse Camera Crew in New York can assist with your marketing & advertising materials. Vendor diversity is achieved by hiring a Diverse Camera Crew in New York. You and your company are setting a positive example in the community by seeking out these individuals for their services. Their main goal is to provide you with professional film and video content. This high quality footage can be used in any way you see fit. It is for your business after all.
Get an NYC diverse camera crew quote now!
A minority owned business is still capable of offering expert video production. Just take a look at Beverly Boy productions. We're beyond capable. We bring something to your project that no other company offers, a culturally diverse video crew. We offer other services as well. Perhaps you might need local live streaming in New York, event filming, commercial production, testimonial and interview video creation. We also offer post production editing services as well. There are many different ways we can help your project. You'll also find our services in: Jersey City, Weehawken, West New York.
Diverse Camera Crew in New York
There's always a reason to hire a Diverse Camera Crew in New York. Yours might be different from another company though. You might want to help a minority owned company while someone else seeks merely to support small business enterprises. Your decision is helping to improve the cultural diversity of your brand. Who better else to understand diversity than a culturally diverse video crew? Your video project is going to be the one to leave a memorable impression on the audience. Diversity makes you stand out from the competition. It identifies you as someone committed to positive growth and change.
Businesses that are owned by underrepresented individuals need all the assistance they can find. Your decision to hire a company goes a long way in supporting these underserved communities. A decision like this identifies your business as one that supports supplier diversity. Team Beverly Boy supports many companies like this. You'll see the many minorities we actively hire when you work with us. You'll be side by side with our knowledgeable female crew members and diverse LGBTQ film crew, veteran camera crew. We even assist clients in these counties: Bronx, Nassau, Richmond.
Are you curious about the positive aspects of working with a culturally diverse video crew? Do you want to know what supplier diversity does for your project? You'll see many benefits including the ones below when you decide to incorporate cultural diversity, inclusion, and acceptance in your supply chain as well as into other aspects of your business.
Some of the positive benefits will include:
Achievement of a more diverse thought, experience, and underlying approach to filmmaking and to the delivery of your film project.
Flexibility is an innovation above and beyond what you might have experienced in the past.
Increased creativity & resilience which is essential to the outcome of your video project.
The ability to look at, and perceive challenges in an entirely new light as well as to implement new solutions.
Diversity impacts filmmaking and video production. Beverly Boy productions is aware of these. There are many different aspects that make up the entire industry. It is not just confined to a diverse camera crew. As a black-owned, minority-inclusive film production company in New York we are aware that diversity must be shown in every sector of the company. Starting with upper levels and working on from there. Our two decades of working in the film industry has taught us this. This knowledge helps us assist diverse clients and create successful video projects. Look for our services in these nearby zip codes: 10001, 10002, 10003.
Black Camera Crew in New York
There are now many things that are considered socially acceptable. One might be hiring a black camera crew in New York. This will demonstrate racial equality and acceptance in your company. Your audience will see this and be more likely to work with such a supportive and accepting company like yours. Not to mention you'll be hiring a company that understands your diversity needs. This should motivate you to want you to work with a Diverse Camera Crew in New York.
Cultural diversity and the inclusivity of staff members needs to be of importance to everyone. It's always on our minds at Beverly Boy productions. We've worked hard to become an equitable and socially acceptable business. This makes us an example to others in the industry. We help all those in underrepresented communities and minorities. We proudly provide opportunities to members of the African American community and have done so since we started in the industry.
Traditional economic impacts from working with a black camera crew in New York are one positive effect to your business. You already know social responsibility is another one. What else can you be sure of when working with a diverse company? Increased diversity in your project for one. This isn't just limited to only one. Chances are if you're pleased with services you'll want to continue working with our company. This ensures lasting diversity for you and your brand.
Members of a Diverse Camera Crew in New York include:
producer
Director
Director of photography
cinematographer
camera person
grip
gaffer
sound operator
DIT
Female Film Crew in city
Women in film is not something that is common. Though we are slowly working our way towards growth, the lack of representation here is apparent. We're no closer to acceptance here than we were years ago. This was pointed out in a 2022 study conducted from the Center for the Study of Women in Television and Film. Their findings indicate women made up less than 24% of average film roles and other industry positions. This information should lead you to take a favorable stance on Hiring a Female Film Crew in New York. Team Beverly Boy has these talented film crews available as well.
Get an NYC diverse camera crew quote now!
What do female film crews in New York contribute to a project? Something more than standard industry skills and practices. There might be an emotional connection or something else that your project had been missing. Maybe there was a lack of audience relation that only this camera crew can bring? Give Team Beverly Boy a call to see what our Diverse Camera Crew in New York can offer you. You'll also find LGBTQ film crew members on our teams in New York. Let them help book your video at: Midtown Loft and Terrace, 583 Park Avenue, Venues NYC.