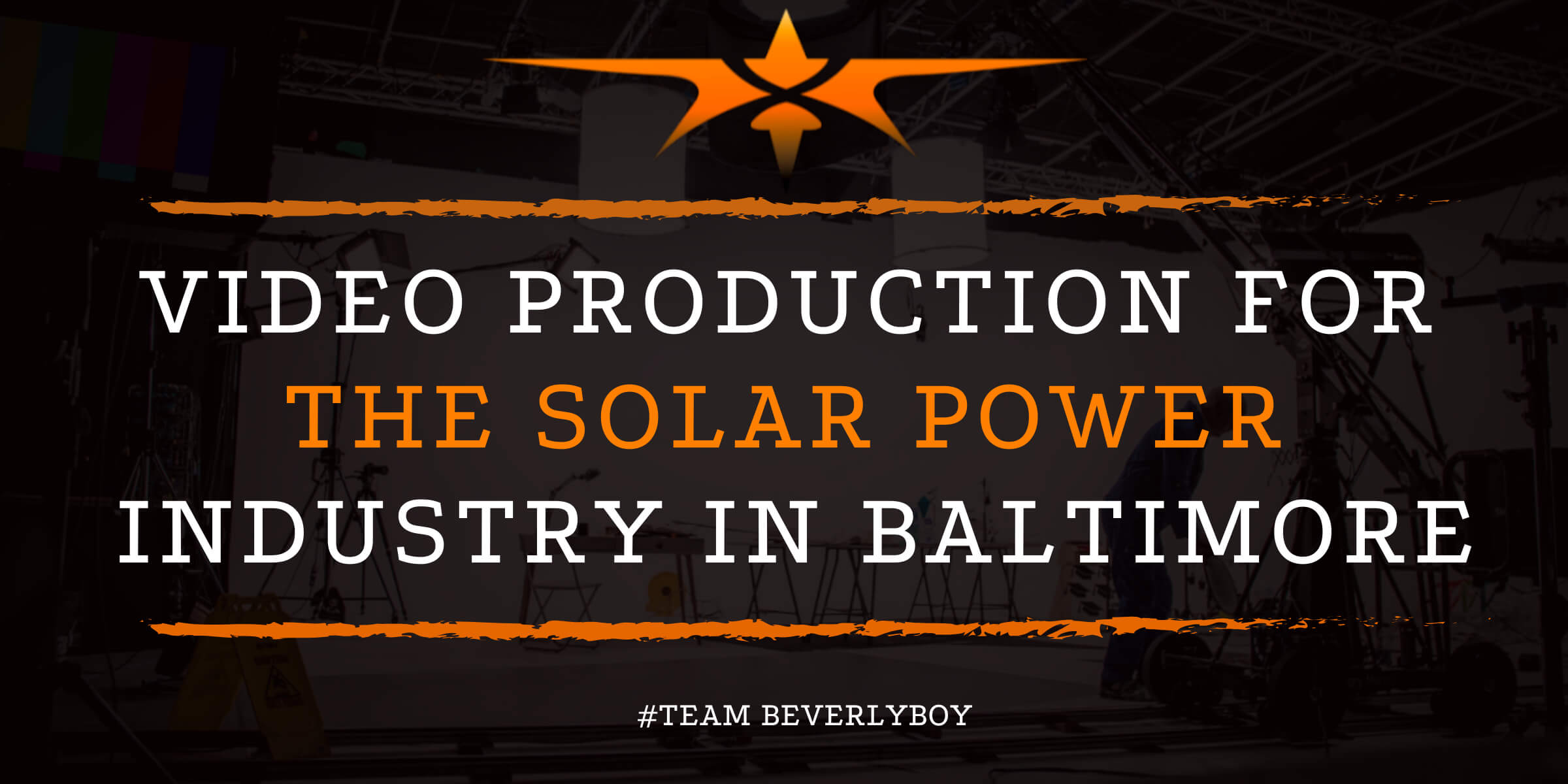 Video Production for the Solar Power Industry in Baltimore
The solar power industry is continuously growing, thanks to the much-needed support from the government and the gradual adoption of solar power products by consumers. As a result, increased desire for clean renewable energy continues to drive solar growth. Now, as the market continues to grow, solar power companies must take advantages of the perks provided by video marketing to target homeowners and commercial businesses with great brand messages that will boost business growth. Video Production for the Solar Power Industry in Baltimore will assist you in improving brand awareness, driving consumer confidence, and increasing ROI for competitive solar brands. Give us a shout if you desire to hire video services in nearby cities like Arbutus, Rosedale, Dundalk, and Catonsville.
Get a Baltimore, Maryland Video Quote Now!
There is great importance in using professional marketing for solar power industry brands operating photovoltaic panels and solar thermal power stations. These brands handle the production of utility-scale solar power through the use of mirrors and branded lenses which collect the sun's energy for residential or commercial building. So, if you want to simplify the complex messaging of your brand for consumers to understand, you can use videos. For example, you can choose animated videos to build knowledge and understanding of the latest technological breakthroughs in solar power. You can also use expert interviews and product demos to promote solar brands and increase credibility among energy-conscious consumers.
Beverly Boy Productions is a top-tier service provider of professional video production services for the solar power industry in Baltimore aimed at improving consumer knowledge of solar-fueled power generation and increasing the scalable growth of the estimated 440 businesses in this $11 billion-dollar industry. To achieve these goals, and to help solar power brands achieve their growth goals, Team Beverly Boy can produce promotional videos, customer testimonials, training videos, and expert interview videos that drive consumer interest and boost conversions for solar power companies.
Promotional Videos for the Solar Power Industry
Promotional videos for the solar power industry can be used to promote products and services provided by renewable energy providers and experts in solar power. To expand your reach to a wider market and increase customer attention to your brand, post promotional videos that represent the solar power industry across social media, on your landing pages, and other media sites like YouTube where video marketing campaigns are highly successful.
The production of high-quality, informative videos that represent key products or services provided by solar power stations and other forms of solar power brands can deliver remarkable benefits including improved standing in this highly competitive industry, increased conversions, and increased ROI. Our video services are also available in nearby counties like Anne Arundel County, Carroll County, Frederick County, and Harford County.
Marketing Videos for the Solar Power Industry
Video occupies more than 83% of the internet, and consumers turn to video media to guide their decision making and support for renewable energy brands. It is not by chance that video marketing for solar power companies is a critical service that can prepare a company for success. Marketing Video production for the solar power industry in Baltimore includes the creation of amazing videos that capture branded messages and speak directly to a target audience to drive consumer interest, product knowledge, and influence brand growth.
Professionally produced marketing videos for the solar power industry can:
• Increase SERP dominance and boost the total number of first page rankings.
• Improve market support and generate strong growth amid the competition.
• Increase knowledge and boost solar support among industry stakeholders.
• Deliver clear, concise messaging despite an otherwise competitive and complex environment where misunderstanding or lack of understanding of technical concepts can prevent consumers from converting.
• Present media that more than 72% of industry professionals prefer. Most prefer to watch video over written text or still photos and visuals.
• Boost social awareness and increase social media specific ROI for solar brands
Marketing videos can help reach your message to decision makers, improve SEO, boost brand recognition, and build consumer trust for increased conversions for both b2b and d2c solar power brands.
Get a Baltimore, Maryland Video Quote Now!
Training Videos for the Solar Power Industry
The growing embracement of the solar power industry by many consumers is increasing the need for some of the top solar power brands to consider improving their staff training programs. Training videos provide a trusted, credible, easy to access, flexible training options for solar power businesses without compromising on the validity of the training, the distribution of training materials, or the level of professional knowledge received by the trainees.
Training Video production for the solar power industry in Baltimore can reduce training costs for renewables and solar power brands while:
• Improving staff engagement and knowledge retention.
• Increasing the amount of information and training that can be provided while decreasing overall training time.
• Improving employee understanding of complex topics by providing interactive training pathways, resources, and additional insights.
• Increasing accessibility to training by providing an always available training option that staff can engage in from anywhere.
Beverly Boy Productions is a company with specialized services in the production of training videos for solar power companies that desire to improve training outcomes, boost consumer support, and improve service delivery.
Training video production for the solar power industry will show prospective solar energy engineers the different types of solar energy engineering positions that they can look forward to if they look to advance within their career. These are just a few different roles in the industry:
• Project/ Design Engineer
• Technical Lead
• Electrical Service Engineer
• Field Engineer
• Operations and Maintenance Manager
Interview Videos for the Solar Power Industry
The production of expert interview videos is one of the best ways a company can attract potential customers and even prospecting employees. Expert video interviews provide consumers with industry specific knowledge and key details that will boost customer confidence in the brand as they listen to a professional discussing the company core values and how they service their customers.
Get a Baltimore, Maryland Video Quote Now!
By utilizing videos in marketing and advertising for the solar power industry, solar power companies can build overall trust among their core audiences by establishing themselves as credible service providers. It's all a part of how Video production for the solar power industry in Baltimore can change the fortunes of solar brands by helping them reach their business goals.
Interview videos are a great way for solar power companies to present themselves to their return-customers and new audiences. This type of video content is also a great way to humanize your company by giving photovoltaic design engineers an opportunity to display their personality to the audience. Professional interview videos offer great insight to customers because the interviewee is given enough time to think of better answers that will influence the decision-making process of new clients. This is not the case with regular interviews that provide weak, on-the-spot answers that might not work. Hire our video crew if you also desire professional video services in 21201, 21206, 21210, or 21214. Contact Beverly Boy Productions today and get started on your video production for the solar power industry in Baltimore today!